Introduction to CNC milling machines and milling machining parts

Mar 24,2022

Shenzhen Tuofa Machining Manufacturer is a manufacturer of CNC machining partslocated in China, with dozens of CNC milling machines and CNC lathes in the production workshop. In this article, we specifically introduce the types of CNC milling machines, the requirements of the tool, and the types of parts processed by CNC milling machining.
CNC milling machines are divided into vertical CNC milling machines and horizontal CNC milling machines

The main spindle of a vertical CNC milling machine is perpendicular to the workpiece table, so the workpiece is easy to clamp. It is easy to observe the parts during processing, but the disadvantage is that it is not convenient for chip removal. Vertical CNC milling machines can be divided into three types: small, medium, and large. A small one adopts the way that the table moves and lifts, and the spindle does not move. A medium one adopts longitudinal and lateral movement, and the spindle can move up and down in the vertical direction.
Considering the technical factors such as expanding the stroke, reducing the floor space, and maintaining rigidity, the gantry movement is generally used. The spindle can move horizontally and vertically on the gantry frame, and the gantry frame moves longitudinally along the bed.
The main spindle of a horizontal CNC milling machine is parallel to the surface of the workpiece table. It is inconvenient to observe during CNC machining, but the chip removal is unhindered. It is generally equipped with a CNC rotary table, which can process different lateral positions of mechanical parts. The size is larger compared with a vertical CNC milling machine. At present, most of them are equipped with an automatic tool changer as a horizontal machining center.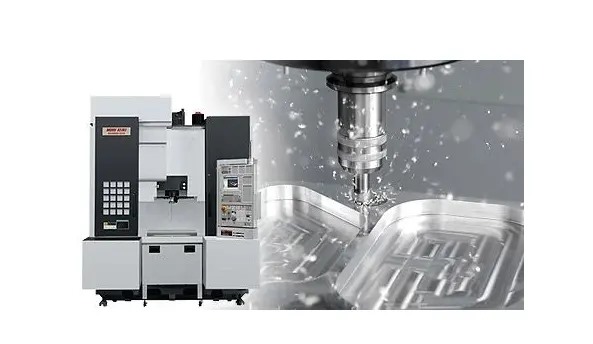 CNC milling machine requirements for tools
A CNC milling machine has the characteristics of high machining accuracy, high machining efficiency, a centralized machining process, and a short clamping time of parts. So, the requirements for the CNC tools used are high.
The requirements for CNC milling tools are as follows:
High stiffness and high strength.

Good cutting performance.

High precision.

High reliability.

High durability.

CNC tools should be able to be changed quickly.

Good chip breaking and chip removal performance.

Commonly used milling cutters for CNC milling machines include face mills, end mills, keyway mills, and ball end mills.

(i) (ii) (iii) (iv)
Commonly used milling cutters (Figure 1-2)
(i) A face mill (ii) An end mill (iii) A keyway Mill (iv) A ball end mill
A face mill is mainly used to process large planes. It can also be used to process stepped surfaces and planes on vertical milling machines or horizontal milling machines. Production efficiency is high.

An end mill is the most commonly used milling cutter in CNC machining. It is mainly used to process stepped surfaces with small grooves and planar contours.

A keyway mill is mainly used for machining cavities and round head closed keyways, etc., on a vertical milling machine. It cannot be used for machining bottom surfaces.

A ball end mill is a tool with a blade like a ball head that is assembled on a milling machine for milling various curved surfaces and arc grooves.
The alloying elements in a high-speed steel milling cutter, including tungsten, chromium, molybdenum, and vanadium, are high in content. At a high temperature of 600 degrees, they can still maintain high hardness, edge strength, good toughness, and strong vibration resistance, which can be used for manufacturing tools with an average cutting speed.
A carbide milling cutter is made of metal carbide, tungsten carbide, titanium carbide, and cobalt-based metal, and the binder is manufactured by a powder metallurgy process, which can withstand high temperatures, high hardness at room temperature, and good wear resistance.
Parts that can be machined by CNC milling machines
CNC milling machining is one of the most commonly used machining methods in mechanical parts machining. It mainly includes plane milling and contour milling, and can also drill, expand, ream, bore, countersink, and thread parts. CNC milling is mainly suitable for the processing of flat parts, curved parts, and variable bevel parts. For example, milling of various cams, gears, connecting rods, blades, propellers, boxes, and other parts.