The Dos and Don'ts of Aluminum Milling

Mar 28,2022

With the increase of aluminum alloy material grades and the continuous development of CNC machining, the application field of aluminum alloy products is constantly expanding, which puts higher requirements on the quality and level of aluminum alloy CNC machining. The following introduces the commonly used aluminum grades for CNC machining and the notabilia in CNC machining.
The following table shows the suitability of common aluminum alloys for milling:
Milling precision machining of metal aluminum

Aluminum alloy

Germany

(DIN, WNr)

Inter

ISO

Machinability

Weldability

Corrosion resistance

Specified minimum yield strength [N / mm²]

EN AW-1050A

3.0255

Al99.5 (Reinalu)

Poor

OK

Good

20

EN AW-2007

3.1645

AlCuMgPb

Excellent

Poor

Poor

210

EN AW-2011

3.1655

AlCuBiPb

Excellent

Poor

Poor

195

EN AW-2017

3.1325

AlCuMg1

Excellent

Poor

Poor

220

EN AW-2024

3.1355

AlCuMg2

Good

Poor

Poor

270

EN AW-5083

3.3547

AlMg4,5Mn

Good

Excellent

OK

110

EN AW-5052

3.3523

Almg2.5

Good

Good

Good

70

EN AW-5754

3.3535

AlMg3

OK

Good

Poor

70

EN AW-6012

3.0615

AlMgSiPb

Excellent

Poor

Good

200

EN AW-6026

-

AlMgSiBi

Good

Good

Good

240

EN AW-6060

3.3206

AlMgSi0,5

OK

Good

Good

160

EN AW-6061

3.3211

Mg1SiCu

OK

Excellent

Good

230

EN AW-6063

-

AlMg0,7Si

OK

OK

Good

110

EN AW-6082

3.2315

AlMgSi1

Good

Good

OK

200

EN AW-7020

3.4365

AlZn4,5Mg1

Good

OK

OK

270

EN AW-7075

3.4365

AlZnMgCu1,5

Excellent

Poor

OK

400
Because the aluminum material is soft, it is easy to stick to the tool at high temperatures. To make the size of aluminum alloys precision machining by CNC more stable, the following points should be paid attention to during processing:
The state of the precision machine tool
CNC equipment should be stable during processing. Before processing, we should check the lathe itself and start the equipment after making sure there is no problem.

Material cooling problem
Aluminum alloys need to be cooled after CNC machining is completed, and deformation may occur during the cooling process. At this time, special attention should be paid to the use of coolant, and the possibility of material deformation and deflection should be considered during measurement.
Processing technology
Inappropriate processing technology can easily cause dimensional errors in parts. After ensuring basic processing technologies such as roughing first and then finishing, first making the surface and then punching, first large surface and then small surface in CNC milling, or reducing the number of clamping times and using combined fixtures as much as possible in the use of fixtures, it is necessary to minimize the processing errors caused by iron filings on aluminum alloy parts.
Parameter settings
Cutting speed, feed, depth of cut, and tool compensation for turn-milling would affect the stability of the machining, so special attention should be paid to it.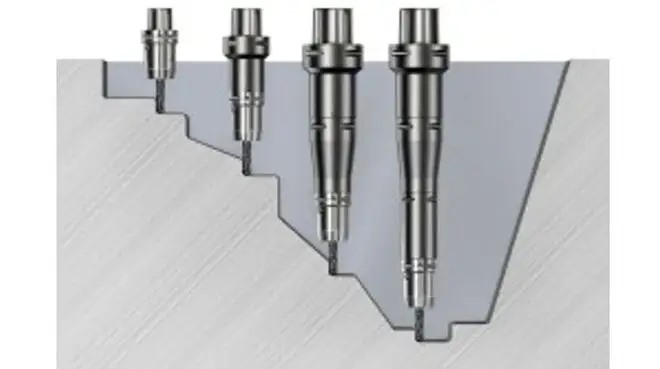 Tool selection
When machining aluminum parts, try to use special tools, which are often more targeted. For example, the milling cutter specialized for aluminum milling usually has a larger rake angle and helical angle, and a sharper cutting edge, which is more conducive to the processing of aluminum parts and better surface quality.
Stress
The material of aluminum parts is soft, so it is necessary to pay special attention to the clamping force. During processing, the aluminum parts are roughed and left to stand for a period before proceeding to the next process to eliminate stress.
Stability of CNC precision machining of metal aluminum
In addition to the above six points, do check the chip removal and the amount of cutting fluid used during the processing of aluminum parts. Many factors affect the processing stability of aluminum parts. Therefore, it is necessary to respond flexibly during processing and analyze specific problems. Stable machine tools, reasonable machining techniques, tools, and the skill level of operators are all factors that affect product quality.