Turning Parts Machinery and Turning Materials

Mar 08,2022

What is turning?
Turning is the process of machining parts. The parts that are turned can be called turned parts (referred to as turning parts) or machined parts. Turning is a process involving the rotation of the spindle on the machine to drive the rotation of the machined parts.
Through the movement of the turning tool on the surface and interior of the rotating parts, the processed surface and interior of the workpiece form the required parts. The turning parts are in the shape of rotary bodies such as cylindrical, conical, truncated conical, spherical, or combinations of the previous shapes.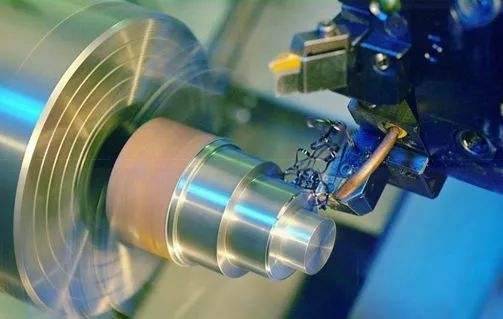 Lathe Machining Parts
Due to the progress of society and the development of science and technology, turning machinery (known as a lathe) has made great progress, from the traditional manual turning machinery to now including ordinary turning machinery, automatic turning machinery, computer numerical control (CNC) turning machinery (also referred to as CNC lathes) and other turning machinery.
The main way to distinguish between these turning machines is to see how they control the turning tool's movement and feed. The traditional manual turning machine tool relies on the manual operation of skilled workers to control the feed and movement of the turning tool to process parts. The automatic turning machinery relies on the feed and movement of the tool by each CAM mechanism to complete the processing of parts.
The most advanced turning and processing machinery is computer-controlled turning machinery, which is what we often call CNC lathes. CNC lathes achieve automatic machining of parts with the help of onboard computers to program the feed and movement of turning tools (CNC programming programs prepared by CNC programmers). Since CNC lathes are managed by the onboard computer, the machining accuracy of parts has improved compared with other turning machinery, and high-precision parts can be turned and processed.
Materials for turning
Due to the advancement of chemical and smelting technology, there are now more choices of materials that can be used for turning parts: hard plastics, ordinary steels, alloy steels (tool steels, die steels), stainless steel, copper and copper alloys, aluminum and aluminum alloys, titanium alloys, nickel alloys, Kovar alloys, etc. can be used to turn machining into mechanical parts with different needs and different functions.
The hard plastics that are commonly used for turning are PP (polypropylene), PE (polyethylene), HDPE (high-density polyethylene), UHMW-PE (ultra-high polymer polyethylene), PU (polyurethane), PTFE (polytetrafluoroethylene; referred to as Teflon), PPS (Polyphenylene Sulfide), PVC (Polyvinyl Chloride), PVDF (Vinylidene Fluoride), PA (polyamide; referred to as nylon), POM/Delrin (polyoxymethylene), PEEK, etc. These plastic materials can be CNC turned into corresponding parts of diverse colors and precision.
Commonly used ordinary steels that are usable for turning are low carbon steel (1214, 1215, 1020, Q235, etc.), medium carbon steel (1045, C45K, ST52, 45, etc.), high carbon steel, and etc. These materials can be turned into machined parts with distinct functions, shapes, and precision.
Commonly used alloys that are usable for turning are titanium alloy (GRADE 2/TA2, GRADE 5/TC4, etc.), nickel alloy, Kovar alloy, and nickel-chrome alloy. Due to their distinctive characteristics, these alloys will have different processing and use requirements, including the accuracy, hardness, and surface treatment of turned parts.
What are the commonly used turning materials?
There are also three major types of materials that are commonly used in turning parts: copper and copper alloys (copper, brass, bronze), stainless steel (such as SS303, SS304, SS316, SS420, SS430, SS630, etc.), and aluminum and aluminum alloys (AL7075, AL6061, AL6063, AL6082, AL5083, AL5052, AL2024, AL2017, etc.). Regarding the grades of materials, the names of grades are different in various countries and regions, and the commonly used grades will have corresponding grades.
Precision turning parts
From ordinary manual turning equipment to CNC turning equipment, this is the development through the times and the result of the progress of science and technology. With the development and progress of higher and faster technology, there is more turning processing machinery to be manufactured. More materials will be invented to turn parts, and CNC metal parts supplier will produce more high-quality, high-precision parts.