How to Brush Aluminum: A Step-by-Step Guide

Aug 08,2023

Brushing also known as mechanical polishing which is mostly used for Aluminum and its alloys. It used in many applications like edge blending, deburring which involves the removal of imperfections from the surface of aluminum, roughening and polishing/cleaning. Sometimes rough surface having a certain texture is required for improving the adhesion and also increases the friction. This article will give you a guide on aluminum brushing process, types of brushes that are used and the type of surface finish achieved as a result of this process. Brushed metal finishes have a smooth finish which allows it to be used in indoor which gives a decorative as well as innovative look.
What is Brushed Aluminum
Brushed aluminum surface is achieved by mechanically moving an abrasive brush over the surface of aluminum. It gives a brush or sand blasted look to the aluminum metal. Brushed surface is smooth and also provides with an expensive look. Along with providing good aesthetic appearance it also has durability and scratch resistance. This finish has a capability of being utilized for various types of required products. It gives aluminum an expensive look through simple processing and is used in many indoor and outdoor aluminum products.
Brushes for Aluminum and Aluminum Alloys
There are plenty of brushes used for Aluminum metal brushed finish. Here is a list of different types of brushes used on the basis of material being use in them [3]:
Nylon brush: It contains nylon fibers or filaments. They are used in final polishing processes and light leaning due to their soft nature.
Sisal brushes: During the initial polishing steps, sisal brushes are used which are composed of sisal fibers. They are hard and abrasive used to remove the scratches and other imperfections from the surface
Cotton wheel brush: They are made up of cotton fibers and used for the intermediate steps of polishing process. They are cheaper and readily available in market
Felt wheel brush: These brushes are made up from a felt material which is soft and ductile in nature. They are used in buffing of the aluminum process.
Brass wire brush: Brass wire brushes are used for the omission of irregularities on the aluminum surface before the polishing processes. Brass wires are hard as compared to the aluminum substrate so they are not used for cleaning.
Stainless steel brush: These brushes are made using steel wire bristles but they are not commonly used on aluminum substrate because they can become a potential cause for corrosion.
Nylon abrasive brush: These brushes are made by mixing abrasive particles in nylon. It can remove imperfections having high degree of roughness. It is also used in the initial stages of polishing. These brushes are also used for removing rust over the surface of metal before welding process. It cannot be used as a polishing tool due to its abrasive nature.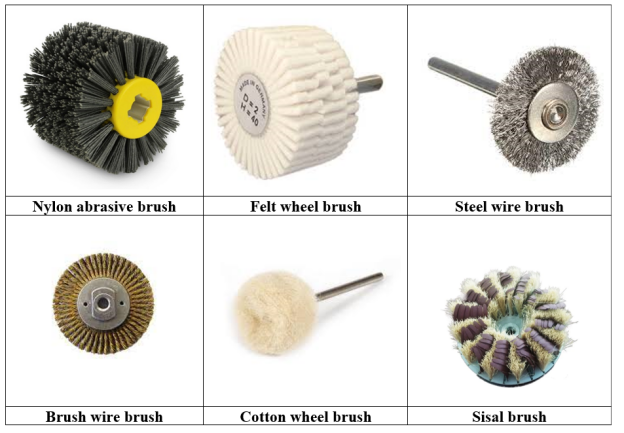 The table below is showing the aluminum components and the types of brushes used for mechanical polishing. You can use nylon brushes on vast variety of components for a highly polished surface.
| | |
| --- | --- |
| Aluminum components | Brushes used |
| aluminum sheets | Nylon Brush, Brass Wire Brush, Abrasive Nylon Brush |
| aluminum sign | Nylon Brush, Brass Wire Brush, Felt Wheel Brush |
| aluminum paint | Nylon Brush |
| aluminum wrap | Nylon Brush |
| aluminum laminate | Nylon Brush |
How to get a brushed aluminum finish
For understanding how to get a brushed aluminum finish. You need to understand the process of brushing. Given below is a process in different steps showing how brushing textures is achieved over the aluminum substrate [7].
How to brush aluminum: Brushing Finish Process
For your better understanding brushing process is divides in three different stages
Pre-brushing
It is made sure that the substrate is fully clean before applying metal brush over the surface. Most of the manufacturers also used fine-grit sand paper for surface preparation to get rid of any scratches.
Brushing
In this stage, an abrasive brush is moved in a circular motion for vanishing any kind of irregularities present on the surface. Brushing develops unidirectional lines which have direction parallel to the brushing direction. Most of the companies are utilizing this unidirectional method.
Post Brushing
After the brushing process, aluminum substrate is rinsed inside a water tank contain acid, alkalis and other common solvents. Rinsing removes tiny metal particles produced during the brushing process.
Here is a YouTube video showing brushing of aluminum:
https://www.youtube.com/watch?v=K2LVvAG0FJA&pp=ygUaYWx1bWludW0gYnJ1c2hpbmcgcHJvY2VzcyA%3D
Brushed finish specification
Brushing process produces a unidirectional satin textured surface. In the first step the metal substrate is polished using 120-180 grit belt. During second step the material softening is done by using 80-120 grit belt. The surface roughness that is achieved through this, lies in the range of 0.5 to 1.5 micro;m. Brushed finish specifications are different for different alloys used in various applications.
Here is an example of specification table for manufacturing architectural panel by using brush aluminum.
| | |
| --- | --- |
| Material | 6061-T6 |
| Surface Finish | Brushed with a linear pattern |
| Thickness | 0.125 inches |
| Pattern direction | Vertical or horizontal, as the design needed |
| Environmental effects | Recyclable material |
| Certifications compliant | ASTM B209, ASTM B221 |
| Maintenance | Low maintenance and less cleaning |
| Supplier | Architectural Metals Solutions Inc |
Brushed aluminum texture
There are many types of textures depending upon the type of brush being utilized. Coarse and fine brushed texture, directional brushed texture, cross-hatched brushed texture, circular and random brushed texture. These different types of textures are achieved using the movement of brush differently. The space between the wires of the brush determines whether the texture is coarse or fine.
Best Approach to Brushed Aluminum Parts
Optimal approach used by many industries consist of multi-step processing. Aluminum substrate is anodized after mechanical brushing. When a desired texture is created by using an abrasive brush that can be coarse or fine. Now for preserving this aesthetic appearance anodizing is done dipping the substrate in an electrolyte solution. It also increases the durability and corrosion resistance. This approach is relatively much expensive than the simple brushing method. Best approach is always link with the required application, you should always consider the expense and time of the process. Black brushed aluminum which is common in industries is coated or anodized with black color.
Tips for Brushed Aluminum
Following important tips are used to ensure good quality of the end product. We can control following factors for process optimization:
Type of brush: The type of material subjected to brushing has a great influence on the selection of the brush. Brush quality not only improves the brushing process but increases the life of brush being used. Fine wire brush gives a high-resolution surface finish.
Wheel speed: Increasing the wheel speed also improves the brushing. It makes the surface smoother and gives the best results. But very high speed also causes the material surface to burn and bending of the brush filaments. So, a safe limit of speed should be set by the companies to avoid material wastage.
Direction of brushing: Traditionally unidirectional brushing is used by most companies. But recently brushing process is also started in reverse direction which increases the process efficiency and also save brushes from becoming dull.
Pros and Cons of Brushed Aluminum
Following are the pros and cons of mechanical brushing.
Advantages
It gives aluminum an expensive look with smooth and polished surface, using a simple technique which isn't much expensive.
Brushed aluminum has diverse applications and can be used selectively for a desired application. Highly textured aluminum is used for adhesion and also used in interior or exterior of cars and buildings as they provide a sophisticated look. Brushed Aluminum is also used where high corrosion resistance is required
It is used for decoration purposes inside and outside the buildings. It doesn't need an extra decor for final finishing.
Along with good aesthetic appearance brushed aluminum also provides you with good weather resistance.
Disadvantages
Only one side can be printed using brushed aluminum.
It is mostly used in indoors; it can be used outdoors and can be much cheaper as compared to the materials being used.
It does not provide good scratch resistance. The aluminum sign however have a long life about 5 years if it is dealt properly [14].
How to clean Brushed Aluminum
Following steps are taken to clean the brushed aluminum:
First of all, to remove dirt from the surface of brushed aluminum you should choose a non-abrasive piece of cloth. The surface is rubbed with the cloth.
To remove of the dirt and debris, liquid soap used for dish washing can be mixed with hot water. This mixture should be applied in circular motion using a cloth piece.
Still if you are left with dirt and spots over the brushed surface, you can make a bath of 50% vinegar and 50% eater to make another cleaning solution.
Everyday items like baking soda and lemon juice combination also provides cleansing effect.
Glass cleaner glint can also be applied for cleaning the surface,
When the brushed aluminum is dried and cleaned, a metal polish can be used to provide a glossy metal finish.
A transparent sealant can be applied over the parts to have a longer cleaning effect.
This is the simplest and effective of all cleaning techniques that are being used by different organizations.
How to clean brushed aluminum wheels
First of all, wheels should be thoroughly rinse with water and a cleaner should be applied. Aluminum wheel cleaners available in the market. Wheel cleaner should not be acidic, rather non, acidic in nature which will avoid any kind of spots production over the wheel. Use a brush which is composed of soft bristles. If it is hard, it will produce wear on the aluminum surface. After cleaning the wheels should be dried properly, water stains over the wheel are not attractive. You should use a different towel for drying purpose.
How to clean brushed aluminum rims
Cleaning of aluminum is done in three steps:
Preparing rims for cleaning: Before the cleaning process wait until the car cools down. If sun is out, you should clean your car in a shade.
Choosing the right cleaner/polish: There are many cleaners present in market specific to the alloy which the rims are made from. WD-40 is commonly used for cleaning alloy wheels but products like Meguiar's G180132 ultimate wheel cleaner, Chemical Guys Diablo Gel, or Duragloss 821 are made specifically for this purpose and does better job.
Cleaning the rims: while cleaning you should keep this thing in mind that you cannot use an abrasive brush made up of steel wool.
You can also take help from this YouTube video link:
https://www.youtube.com/watch?v=izTtq9HY_oU&pp=ygUaaG93IHRvIGNsZWFuIGFsdW1pbnVtIHJpbXM%3D
Why choose Tuofa to custom brushed aluminum parts
One of the main services provided by china Tuofa is surface finishing. Different methods are used for machining different materials. Here at Tuofa you have also given a facility of brushing metal surface to produce a desired textured surface with high accuracy. The labor is skilled and competent enough to deal with the complexity of the problem. You should choose Tuofa because of there
Modern Technology
Customer satisfaction
Low cost
Customer satisfaction lies in the top priority of the organization. At Tuofa small to large number of samples can be brushed depending upon the customer demand. Functional prototyping is also available which will save time and material. These types of materials can undergo the process of brushing which are ABS, Brass, Stainless Steel and Steel.
FAQs about brushed aluminum
Does brushed aluminum rust?
Aluminum does not rust because it forms a layer of aluminum oxide Al2O3 which is non porous in nature. It is hard and uniforms covers the surface of metal and doesn't peel off easily like in the case of iron oxide. Bare aluminum metal is Highly reactive. However, it can undergo corrosion such as galvanic corrosion when it comes in contact with different metals.
Is brass brush safe for aluminum?
Brass has a moderate hardness value and can be used to remove surface irregularities and create a smooth polished surface without damaging the surface. While using it for cleaning the aluminum surface brass is not recommended as it is harder than aluminum and will produce scratches. So, a less abrasive material should be utilized for the cleaning process.
What type of wire brush to use on aluminum?
Stainless steel wire brushes are generally used on aluminum to remove any kind of corrosion product or oxide over the aluminum substrate. This precleaning with stainless steel is required before the welding process. Carbon steel and brass wire brushes are not suitable to be used for pre-weld treatment.