Mold vs Mould: Understanding the Differences

Aug 10,2023

Mold vs Mould describes shaping, pouring and forming of profile with reference of two terms, both of terms have meaning of same process but they differ in spelling, origin, country nomenclature and English system of literature. If one spelling is present in brochure, flyer and manual of some manufacturing company then reader may get confusion about process and it does not make good marketing of selling product just due to wrong reference of spelling.
Mold vs Mould Meaning
Mold is an American origin word and Mould is British origin word which has the meaning of shaping, forming or making some liquid/ flow able material into solid profile with support of cavity, solidification and casting process. This process has an application in almost all small manufacturing and casting industry. Because it can reduce the cost of machining or cutting with the reduction of process / manufacturing time. Thus industrial economical factor make it viable for us in product manufacturing but design analysis is also an essential part for completion of defect free product.
For more information please visit following YouTube links,
https://www.youtube.com/watch?v=jK0K0ozzMDI
and
https://www.youtube.com/watch?v=Bp5fTtN-LlM
Mold vs Mould Reference in Literature
Mold vs Mould both have references in literature of engineering design and manufacturing, thus reader can make confusion about the same that which either both have same meaning of work or has some difference of point between them. But in real scenariobothwords havesamemeaning, processandreference. Thusif onewordmake reference in research paper then it is obvious that that it has relation with other without any discrimination. Comparison between these words is up to the extent of literature formatting not for technical / academic process difference.
Mold
It has excess useinthe fieldof castingforAmerican literature/ publishedresearch papers, because casting industry description cannot explain its process of manufacturing without use of molds. Although fungus development on humid place has also the meaning of mold but their use is common in field of biological literature or in house construction.Click here for Chinese Tuofa mold parts information.
Mold in American Standards
As most extensive use of ASTM, ASME and ASM is much known in field of manufacturing, fabrication and testing of all kind of product in all over the world. And all of these references are of American origin that is why they use word mold for reference of pattern in casting. Figure.No.1 shows the reference of word mold in American literature,
ASTM C470/C470M-15 @Standard Specification for Molds for FormingConcrete Test Cylinders Vertically

Figure.No.1 Mold in American Standards.
Sentences with Mold
Use of mold in literature is obvious due to its informative and application wise nature, thus few are example of sentences which use the same word in American style:
1. The molten metal must solidify in wooden mold before I can process it. 2. Mold of clay should have water absorption property in it.
3. He molded the ceramic slurry into home decorative article.
4. Please!Mold a shape of icecream forme.
5. Casting mold is essential part of foundry workshop.
Mould
As British literature is more historic and has presence on all old references throughout the world, therefore most of the cases old technical drawings, manuals, books and course contents have Mould reference in it. British standards BS also have significance in different parts of world because they are the only established standards which were using before developing of latest American standards in modern world. Figure.No.2 shows the use of word Mould in British standard (BS).
BS EN 12390-1: 2000 Testing hardened concrete - Part 1: Shape,dimensions and other requirements for specimens and moulds (Eng)
Figure.No.2. Mould in British Standard.
Sentences with Mould
Here are few sentences which describe the use of Mould in sentences:
1. Mechanic Mould the epoxy into rubber part of car.
2. Mason worker Mould the plaster of Paris into wall decorative part. 3. Metal casting Mould should have runner and riser in it.
Historical Context
Mold vs Mould has historical context in world because both have references in different regions and literature. But it is obvious that both have origin of word from which they have relationship, otherwise modification in literature without some origin or historical context is very rare.
Mold Historical Context
This word has historical reference of word Molde in American literature, which has meaning of pattern or to shape or model with reference to shaping of product. This word has historical context of verb use rather noun but writer can use its own style to describe the academic literature to reader. Otherwise mold verb is still common in sentences of research paper because it has significance value whenever the casting industry parameters come on paper.
Mould Historical Context
This word is older than the mold because British literature has deep roots in history, even some of the world have history of Anglo French in it. This word has also traces of Latin word modulus (or moule), but the current ascent of it Mould and same has application in literature, books, research papers and magazine in all over UK. Even sometimes personal preferences of molding spelling has influence in literature or internet searching but question of is it Mould or Mold remains as it is for general user.
Influence of British English on American English and ViceVersa:
British English has less volume of context throughout the world because it has less volume of research papers, manufacturing industry and product documentation. But in case of American English, lot of projects, collaborations, industrial units and joint ventures have existence in world which can describe that American English can have influence on other country too without hanging available research and documentation data. That is why Mold reference in larger part of word has application and same documentation is available with their products for understanding of users and technical staff.
Mold vs Mould: Regional Variations in Spelling
Regional variation of spelling has existence because English influence in that particular region is very important factor for determination of spelling use. Thus it is important to take look on that regions which from the industrial product and also make the commerce documentation of world.
Mold vs Mould Australia
Australian English has influence of British region that is why most of the word has same grammar and pronunciation which the British English has in its hometown. That is the reason that word Mould has influence in Australian literature, Industrial documentation and books. Australian industrial guideline also describes the use of word Mould. For example AMG (Australian Mould Guideline) 2005-1 document use the word Mould for reference of shaping and pattern of product. That is why famous industry of agriculture of Australia use the word Mould in their references and literature.
Mold vs Mould UK
Off course UK is hometown of British English and same rules have presence in their hometown which are applicable in British language system. Literature, Manuals, Books and Research Paper in UK use the word Mould in their documents and verbal training / communication. Hence it is evident that if product from UK goes to another part of world then it has Mould word in its documentation, thus it is up to user that can understand the difference between these two cords. Table.No.1 shows use of word Mould in British Standards.
| | |
| --- | --- |
| British Standard BS 89100:2018 | Plastics: Joining of Thermoplastic Moulded components Specification of Variables for Thermal Joining Processes. |
Mold vs Mould Canada
Canadian English has influence from both American and British side but due to larger working volume of American industry and its allied accessories, Mould word has presence in Canadian literature and research publications. Thus it is obvious that for having strong communication with all over the world Canadian product has to compete in market with user friendly manuals and publication, that is why Mould word is present in Canadian documentation. Canadian construction association has its guidelines and information in nomenclature of word Mould rather than Mold, this is because American literature has links with published literature and on conformance of spelling can create confusion in it.
Difference between Moulding and Molding: Summarizing Chart
Difference among Mold vs Mould have description in Table.No.2 about its origin, literature reference, standards, regional history and english influence.
| | |
| --- | --- |
| Mold | Mould |
| American English Word | British English Word |
| Origin from word Molde | Origin from word Moule and the Modulus |
| ASTM, ASME, ASM and Canadian Standards use the same word | British Standard (BS) and Australian Standards use the same word |
| American school system all over the world use this word | UK and Australian text books may use this world |
| All countries which are already in working relationship with ASTM standards, they will use the word Mould | All countries having relations with BS will use this word |
| Extensive amount of publications and technical documents are using this word | Not too much extensive literature and technical documents are using this all over the word |
Table.No.2. Difference between Mold and Mould
When to Use Mold
This world should have application whenever international document is under consideration which come under the influence of American organization. Because in this way any misinterpretation will not occur in the translation of technical document. In most parts of word people are using translator websites for understanding of document, thus using wrong spelling in a region where it has no application will create problem. For example if there is instruction in manual i.e. "Fitting the Mould" but the region where product is using has American english influence then wrong instruction will take place which can create accident situation also.
Common Words:
Common word relating to mold noun are like casting mold, ceramic mold and plastic mold. While mold verb also has application like molding the tube as per die.
When to Use Mould
All the technical documentation which have application or they can interact with user having influence of British English should have use of word Mould in it. Because misinterpretationof MoldvsMouldcancreatecommunicationgapbetweenmanufacturer instruction and user. Thus safety concern also has much importance in spelling of word. Even past tense of mold vs mould can create problem in understanding of language, thus correct use of word spelling has its significance in its place. Another option is to put note in start of technical document for understanding of user that mold or mould have same meaning in same document.
Common Words
Common words relating to noun are Alumnium shop mould in foundry and mould of masonry work in construction site. While verb use is as Moulding of section pipe to shape of installed structure.
Which Spelling Should You Use?
Answer to this question have relation with the nature of audience and related technical documents because if document have users of region where there is American english influence then of course word should be Mold instead of mould. Another factor is that if target regionof technicaldocument worddoes not conformtocode andstandards of local industry then miss understanding can occur. Thus mold vs mould should have use in technical document with respect to same English code and standard reference otherwise note should be added in document for explanation of meaning of mold vs mould.
Choose Mould Maker to Custom Mold and Machining Service
Mold vs Mould has significant importance ion field of design beyond spelling difference because they define basic function of casting the material in it and give final solid product after process of heat removal and solidification. Thus custom mold or mould making is important process with thehelpof designanalysis andmachiningprocessbecause under design and machining defect mold can destroy final product. Click here for reliable services by Tuofa, Chinafor custom mold making and machining process. It has ISO certification with experience in machining.
For more information please visit tuofa-cncmachining.com
Design Injection Molded Plastic Parts
Plastic parts are increasing day by day in volume and application due to lightweight and low energy manufacturing requirement, thus it is important to design and fabricate proper moldfortheseparts sothat defect freeproduct get applicationin market insteadof metallic part.
Good design of injection molded parts need expertise in design analysis, mold a sculpture and machining process, otherwise under design injection molded part can break or damage in field test without completing lifespan. Click here for information about design of injection molding parts. Figure.No.3 shows plastic injection molding.Click here for inquiry about plastic injection molding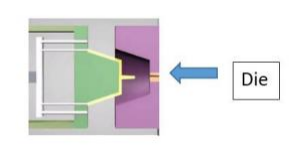 Figure.No.3. Plastic Injection Molding.
FAQs about mould and mold
Mould Synonym
Synonym for mould is Form, Pattern and Frame because all these words have application in manufacturing industry for use instead of mould. For example technical manual of casting workshop can say that "Metallic pattern should have clean surface for defect free casting".
Fit the Mold vs Mould
Fit the mold is correct phrase because it is fix sentence with meaning of describing someone commitment to do best in their job. For example He is determined to fit the mold of the perfect machinist in workshop.
Crown Molding vs Moulding
Both phrases i.e. crownMolding orcrown Moulding have application in use of phrase with meaning of decorative cornice type design at top of inner walls of home with plaster of paris material and crown form.