How to Clean Aluminum Wheels: Proven Methods for Restoration and Care

May 26,2023

Aluminum is a versatile earth metal, which has been playing a prominent role in all industrial areas due to its exceptional qualities like being lighter and less expensive nature than steel while being strong and durable. Among its major applications, Aluminum rims and wheels are the ones that have emerged as a populous thing among drivers because of their distinct appearance. There is a belief in the automobile industry that an inventive rim design can change the performance and appearance of a vehicle, so, a continuous change in rim and wheel design derives special attention towards the cleaning sector, as the wheels are the dirtiest part of the vehicle, which might detract from the aesthetic.
The wheel hub is an important part of the car, which plays the role of support and fixation. If the wheel hub is deformed or damaged, it will bring hidden dangers to driving safety, so the daily maintenance of the wheel hub is essential. Compared to steel and other hard materials, these aluminum rims and wheels are more responsive to cleaning. Therefore, after this treatment, they become shiny surfaces like chrome and be able to perform their work effectively. Here, you will be able to gain some knowledge regarding the cleaning methods of aluminum and the ways oxidation over aluminum can be removed. Therefore, after reading it, you can easily regain your vehicle wheel's shiny and beautiful surface.
Which Aluminum Wheel Needs Cleaning?
Materials and Tools Required for Cleaning Aluminum Wheel
How to Restore Aluminum Wheels
Tips and Tricks for Maintaining Clean Aluminum Wheels
FAQs about Clean Aluminum Wheels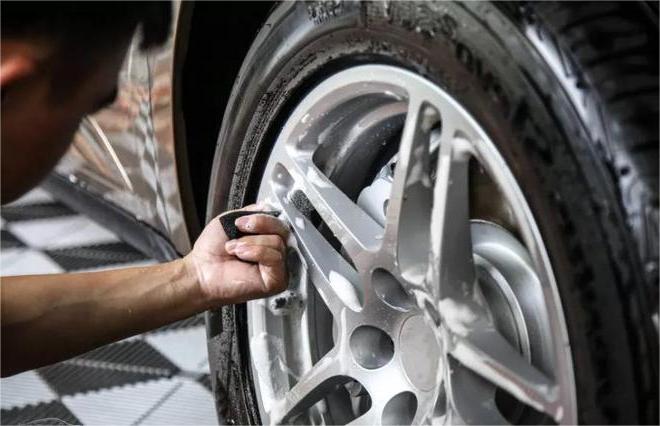 Which Aluminum Wheel Needs Cleaning?
When one of you owns a vehicle, it is necessary to clean aluminum alloy wheels and rim to maintain their working condition and efficiency. Wheels and rims are the major parts of vehicles that encounter surroundings and the earth's surface. Therefore, they highly catch dirt, sand, and dust, and everything else on it and lose their aesthetic appearance.
Motorcycles, the most efficient and commonly used vehicle in different countries need cleaning for its effective working. As some major components of the bike are composed of aluminum bodies like bike wheels and engine parts, they need cleaning and polishing properly to increase the efficiency of the overall bike. Someone may ask why bike wheels and engine parts need cleaning and especially aluminum parts. You can easily assume the answer that just as you need to polish your shoes for their beauty and appearance; the same is the condition for bike wheels with some extra benefits. Bike wheel cleaning not only improves vehicle appearance but also increases the life span of your bike with an increment in overall efficiency. Additionally, cleaning and polishing prevent your vehicle engine parts and wheels from corrosion. So, if you want to enjoy your ride and want your bike to be your long-term partner, you should clean its aluminum wheel and engine parts after a specific time period and then you can easily enjoy your ride.
Other than bikes, some other vehicles like cars and truck wheels also need cleaning and polishing for their effective working. The maintenance of this specific region of trucks is necessary for prohibiting future disasters due to corrosion, heat, and baked-on brake dust problems.
Materials and Tools Required for Cleaning Aluminum Wheel
The wheels shining procedure starts with the selection of the proper tool and material. If you select a productive material, you will be able to get an aluminum rime chrome-like image. The rims can also be easily cleaned with some household items and using them is considered one of the best approaches to getting fine results. For your information, below is the list of some tools and materials that are easily available for aluminum wheels and rims cleaning:
Water
Alloy cleaner ( mild detergent)
Microfiber cloth.
Sandpapers of different grid sizes for rough and smooth grinding
Water bucket
Personal protective equipment.
Aluminum polisher and protective coating
Baking soda
After the selection of perfect cleaner depending, you need to follow a systematic procedure to get the required results.Here, a complete pathway for cleaning anodized aluminum or corroded aluminum is described below:
Choosing the right cleaner:
A perfect cleaner for aluminum wheels and rims is everything you need for the elimination of all the dirt and rottenness that occurs due to long driving periods.
A stove or oven cleaner is considered one of the best cleaner for hard or difficult-to-remove stains like minerals, rust, or oily ones. When you use this specific cleaner, you can clearly observe the difference after a few minutes as the hardest stains become softer in a few minutes and you can easily remove them with a cloth. You can easily purchase this cleaner from any supermarket for just a few dollars.
Vinegar is another option that you can choose from household items to clean aluminum. It has the ability to consume dirt due to its acidic nature and clean the aluminum wheel or other products very well. The steps that need to follow during using vinegar as a removing agent are as follows:
In open areas, start by opening a container of pressurized water to remove dust and grime from the inner area of the brakes and wheels.
It is necessary for you to clean the inner sides of the barrel and other intricate areas of the wheels to avoid further corrosion in the future.
Now, splashed and sprayed your selected cleaning agent over the wheel entirely. Spray as per requirement over the areas and it would be beneficial if you sprayed higher over the area where the dirt accumulation is higher and difficult to remove to wipe any over-abundance brake dirt and solidified grime.
Then allow the spray to settle for about 1-2 minutes.
It is a wiser decision to spray the cleaner at once on all the parts where cleaning is required and then rinse them one by one.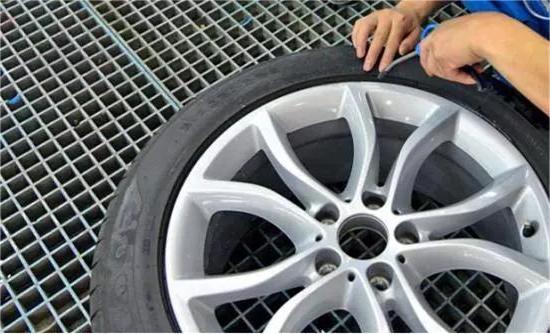 Correct Use of WheelBrushes
If there is hard-to-remove tar on the surface of the wheel that won't work with cleaners, use a brush to remove it. However, please do not use too hard wheelbrush, especially iron brushes, which are easy to damage the surface of the wheels.
After the application of cleaner, brush the aluminum rims with a soft-bristled brush to remove and clean the corroded region easily. Apply pressure over the regions where debris is highly accumulated and difficult to remove. You can easily purchase a brush from the store with a few dollars and can scrub the entire wheel within 5 minutes. Following are some steps that need to follow for cleaning aluminum with soft bristle wheelbrush:
1. Rinse the wheel thoroughly
Rinse the wheel after brushing with a waterpower hose to remove the dirt around the wheel. Wash it with a keen eye so that there is no dust remaining on the surface ofthe wheel as its presence will create the problems in future like corrosion and Pitts can be formed easily over these regions.
2. Use microfiber to remove extra water
After rinsing it properly, remove the extra water with a microfiber cloth to absorb any remaining dust and water. This cloth has a special ability to soak water and dust due to its higher surface area and dust-catching ability.
3. Use of sealant over the rims:
Now, it is time to coat the aluminum with a protective coating or sealant as a future precaution. The sealant will not allow aluminum to become dull and dirty in the future within a short time. You can easily purchase the sealant from Market for a few dollars and apply it over the will with a pad for about 30 minutes. Allow the sealant to cure and then clean the surface with a microfiber cloth to make it shiny and ready to use.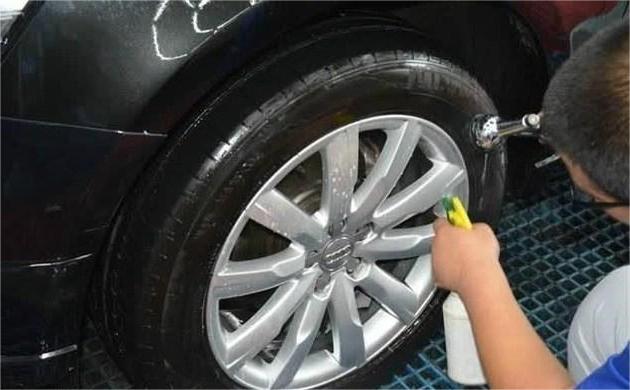 How to Restore Aluminum Wheels
Apart from cleaning, one should restore the aluminum wheel to prevent it from pitted corrosion, losing its mirror finish, and increasing its resale value. Below are the several steps that need to be followed to get cleaned polished aluminum wheels:
Collection of required materials
The first step is to get all the supplies required for this project. Aluminum wheel cleaners, buffing wheels, vinegar, paper towels, metal polish and wax, and microfiber cloths are some major ones that are all included.
Wash the wheel
Wash the wheel with a pressure water hose to remove unnecessary dirt from the surface of the aluminum wheel.
Application of Cleaner
After washing, spray the cleaner over the entire area of the wheel or apply it with a paper towel in a circular motion. This technique may need to repeat many times to remove all dirt and grime from the surface.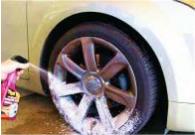 Application of polisher
Now it's time to polish the wheel with an aluminum polisher. Polisher will help in increasing the shines of the wheel and remaining it for a longer period. Apply the polisher in a required amount over the wheel by using a microfiber cloth in a circular motion. This will also help with the removal of any oxidation discoloration on the wheel's surface.
Application of wax
It is a wiser decision to apply the wax after cleaning and polishing to prevent the wheel from further harm. To apply it, use a microfiber cloth and apply a light coat over each wheel. This will help to form a protective layer, allowing your wheels to look excellent for a longer period.
Final Inspection
Finally, after you have finished your work, check the wheel twice. Make sure that you have not missed any area for cleaning. If present, repeat the steps until the wheel looks clean and shiny.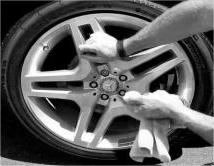 Tips and Tricks for Maintaining Clean Aluminum Wheels
Necessary prevention when taken within time can maintain the aluminum wheels and machines for a longer time, this will make them look new again. You can clean aluminum rims and household products with household- based items like dish soap or vinegar. The use of mild soap and water can help you to prevent and clean dullness, dirt, and debris from the surface.
Apart from preventive maintenance and regular cleaning, another effective way is to do coating over the surface of the aluminum rim. The application of a protective layer such as wax or sealer keeps dirt and other contaminants from sticking to the wheel surface, making it easier to clean later.
Common Mistakes to Avoid
Several common mistakes that are needed to avoid by users during aluminum rim cleaning:
Do not use abrasive nature cloth or pads during cleaning and restoring aluminum wheels as it may results in inducing lines over the soft material and damage the aluminum wheels
Do not use pressure washers as it may lead to damage to the aluminum coating surface if the presence produces dents over the surface
Brushing the wheel when it is wet is the best approach one can use for its vehicle. Use of brush over the dry surface may result in scratching of wheel
Always clean the deeper area of wheels like wheel wells to avoid providing a surface for corrosion in future
FAQs about Clean Aluminum Wheels
How to clean oxidized aluminum wheel?
The exposure of aluminum wheel to the air results in oxidation and drive the need for continuous cleaning. One way to clean the rim is the usage of Water Cleaner, which is an aluminum wheel cleaning agent. Application of water and brushing of the wheel results in removing the surface debris and oxidation and finishing with a polish to give your wheels that new-car shine.
How do you clean aluminum wheels with baked-on brake dust?
The brake region of automobiles is the major region where dust and debris accumulate majorly. If it is left uncleaned, the etching and oxidized aluminum wheels will be resulting the failure of the major vehicle part. One way to clean this specific region is to use a soap and water mixture. A systematic step starting from rinsing with water, sparing the mixture, brushing the dust accumulated region and then rinsing it again is needed to follow to gain the required results.
How do you clean polished aluminum wheels?
Some necessary steps need to follow for polishing aluminum wheels. Firstly, you need to clean the wheel with a clean cloth. Then make a mixture of mild soap and water and apply it over the surface of the wheel. Allow it to settle over the surface. You can also use an aluminum polisher for this purpose. Do not brush the wheel with a hard brush or steel wool as it can damage the aluminum base. To remove hard stains and dirt, use a soft brush and brush it in a circular motion. After brushing, rinse the wheel with water and then clean it with microfiber cloth.