What is Anodized Copper | Ultimate Guide

Aug 31,2023

Copper is a brilliant and reliable metal that has been in human use since the bronze age. Its alloys can have a range of hues. However, it has a tendency to change appearance, texture and metal finish and show patina on its surface with the passage of time. Moreover, due to its low surface hardness, you might see scratches on it while it's been placed in use. So, you might want to anodize your copper parts to avoid these problems. Here's an insight to this topic.
Quick View of Article Content
What is Copper Anodized Used For
Pros and Cons of Anodizing Copper
Why Choose China Tuofa Custom Machining Copper Parts and Anodizing Services
FAQs about Copper Anodizing Services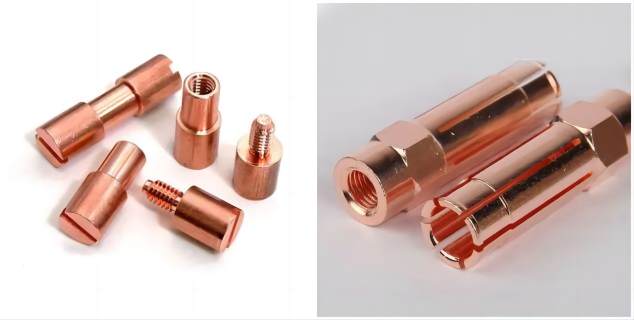 Is Copper a Cathode or Anode?
Realistically speaking, being a cathode or anode is a relative term, based on the electrochemical series. Learn more about the electrochemical series on the following video link:
As the electrochemical series chart indicates, copper has a relatively positive electrode potential to most of the common metals like Aluminum, Zinc or Iron. It means that its least likely to oxidize or release its ions in comparison to these metals. It has an even more positive electrode potential than the hydrogen ion which are found in aqueous solutions. So, common aqueous solutions or humid environments won't affect it. However, under certain conditions it becomes anodic and it can therefore be oxidized.
Table 1 Electrochemical series chart for common metals. Copper metal is highlighted in yellow colour.
Element

Half-reaction

E° / V

Electrons

Oxidant

⇌

Reductant

Ca

Ca+

⇌

Ca(s)

-3.8

1

+  e−

Li

Li+

⇌

Li(s)

-3.0401

1

+  e−

Cs

Cs+

⇌

Cs(s)

-3.026

1

+  e−

K

K+

⇌

K(s)

-2.931

1

+  e−

Ba

Ba2+

⇌

Ba(s)

-2.912

2

+ 2 e−

Ca

Ca2+

⇌

Ca(s)

-2.868

2

+ 2 e−

Na

Na+

⇌

Na(s)

-2.71

1

+  e−

Mg

Mg+

⇌

Mg(s)

-2.7

1

+  e−

Nd

Nd3+

⇌

Nd2+

-2.7

1

+  e−

Y

Y3+

⇌

Y(s)

-2.372

3

+ 3 e−

Nd

Nd3+

⇌

Nd(s)

-2.323

3

+ 3 e−

Al

Al3+

⇌

Al(s)

-1.662

3

+ 3 e−

Ti

Ti3+

⇌

Ti(s)

-1.37

3

+ 3 e−

Mn

Mn2+

⇌

Mn(s)

-1.185

2

+ 2 e−

Zn

Zn2+

⇌

Zn(s)

-0.7618

2

+ 2 e−

Cr

Cr3+

⇌

Cr(s)

-0.744

3

+ 3 e−

Pb

Pb2+

⇌

Pb(s)

-0.126

+ 2 e−

Sn

Sn2+

⇌

Sn(s)

-0.13

2

+ 2 e−

Fe

Fe3+

⇌

Fe(s)

-0.04

3

+ 3 e−

H

2 H+ + 2 e−

⇌

H

0

2

2(g)

Sn

Sn4+

⇌

Sn2+

0.151

2

+ 2 e−

Cu

Cu2+

⇌

Cu(s)

0.337

2

+ 2 e−

Tl

Tl3+

⇌

Tl(s)

0.741

3

+ 3 e−

Ag

Ag+

⇌

Ag(s)

0.7996

1

+  e−

Hg

Hg2+

⇌

Hg(l)

0.85

2

+ 2 e−

Pt

Pt2+

⇌

Pt(s)

1.188

2

+ 2 e−
What is Anodized copper?
Anodization, generally is an electrochemical process for metals, in which the surface oxide layer thickness is intended to increase to enhance wear resistance, corrosion resistance and appearance. But, in its natural state copper might doesn't have any oxide layer. By using an electrochemical process, an oxide layer is produced over the surface of copper. It might be to achieve the following objectives:
To change the color of metal
To prevent scratches or surface damage by increasing surface hardness
To prevent appearance of copper patina
To enhance metal finishing
Some people confuse anodized copper with copper electroplated metals or copper anodized aluminum. It'll be discussed later in this article.
Can you anodize copper?
Just like other metals, copper can also be anodized following a proper set of steps, in which electrochemical reactions are involved inside an electrolytic reactor. However, the set of parameters is a bit different than that for aluminum.
How to Anodized Copper
Here's a step-by-step guideline for anodizing copper and copper alloys:
Clean the metal part thoroughly with a detergent to remove any dirt, grease or surface contaminants.
Desmut it with a desmut cleaner. Care must be taken while immersion. The longer it is inside the solution the rougher will be its surface. So, ideally, it should be taken out quickly for a good surface finish.
Prepare an acidic electrolyte, but adding KF-HF salts to distilled water. Many solutions are patented.
Attach the positive terminal with the metal part thereby making it the anode. Immerse it in the electrolyte.
Attach the negative terminal to the container making it the cathode.
Adjust voltage and current according to the size and shape of the metal part. For best results current should be consistent.
Take the copper part out of the container after specified time (as per part's dimensions).
Rinse it well and wipe it off.
What is Copper Anodized Used For
Anodizing copper is taking attraction of many manufacturers in the fields of ornamental jewelry, cookware, hi-tech power supplies, electrical materials, architectural components and industrial equipment, owing to the enhancement in material properties like better metal finish, variety of colors, better wear resistance, and super hydrophobicity.
Anodized Copper Jewelry

Anodized copper jewelry has a long-lasting metal finish due to the deposition of cupric oxides onto the copper surface. Simple copper jewelry can fade out quickly, but anodized copper jewelry keeps it's shine and color lively for a long time.
Hard anodized Copper Cookware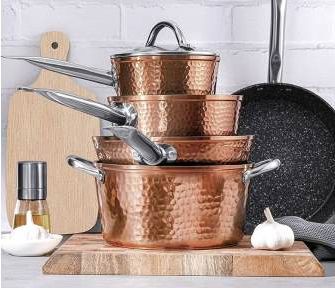 Figure 2: Steel hammered anodized copper cookware
Though copper has a relatively excellent thermal conductivity, but its use in cookware is limited due to potentially harmful chemical reactions with the food. Anodization can make the cookware inert to forming any hazardous compounds in food. The oxide layer is hydrophobic and has non-stick properties making it ideal for such applications. Research is undergoing in making it anti-fouling in order to enhance the quality of food that is being cooked in it.
Anodized Copper fitting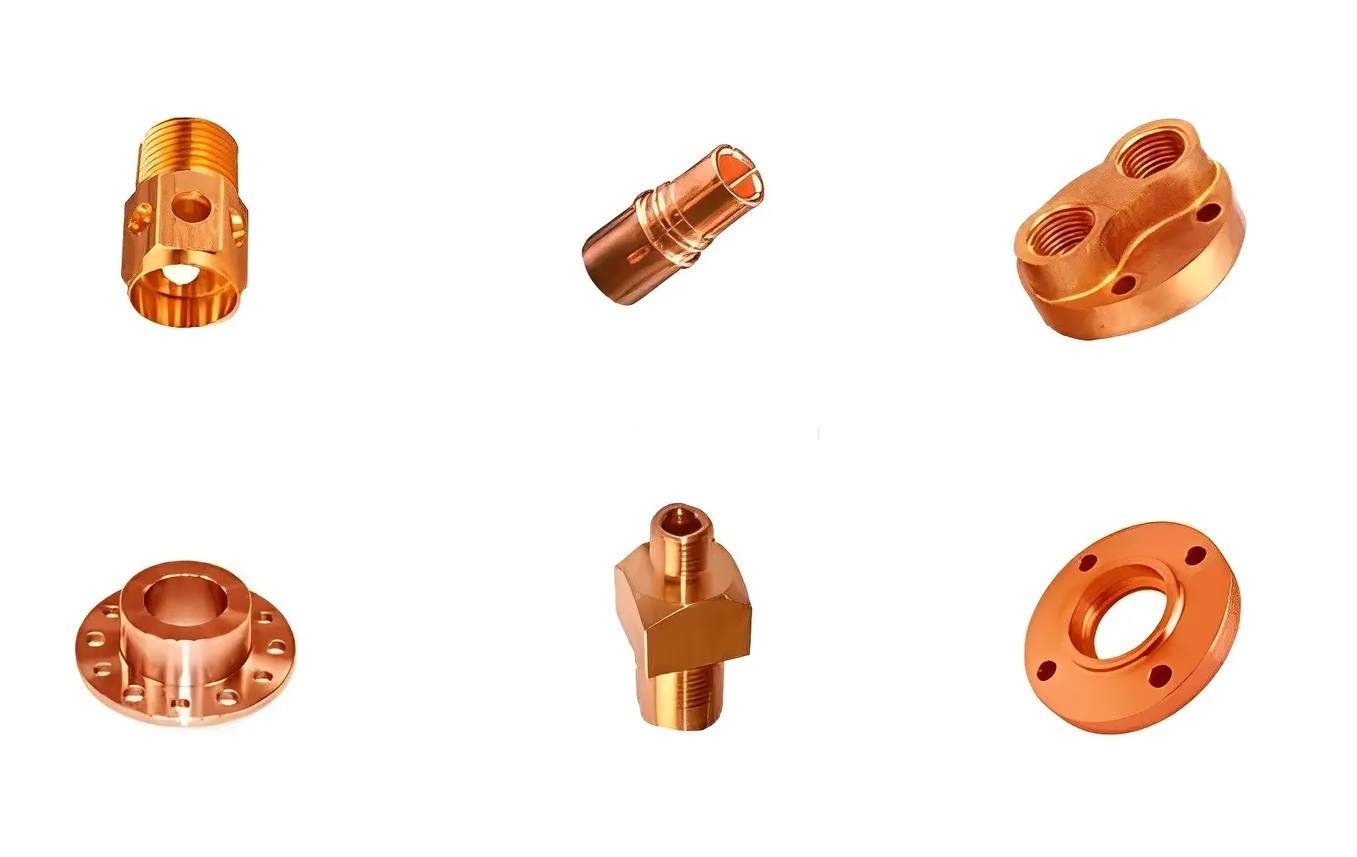 Anodized copper fitting ensures the prevention of patina on copper surfaces. It also prevents the formation of undesirable substances likes copper sulfate in water and other chemicals that it may deliver.
Copper Anodized Aluminum
Copper anodized aluminum is a wonderful material that has a good strength-to-weight ratio of aluminum and an attractive surface finish of copper. Anodized aluminum is colored with copper in this process. Besides other advantages, it is less costly than pure copper parts.
Anodized Copper VS Copper
Anodized copper is superior to simple copper in the sense that due to enhancement in the following properties:
Wear resistance
Corrosion resistance
Chemical inertness
Surface finish
Surface hardness
Anti-fouling
Hydrophobicity
However, there is a downside to it that surface becomes insulative to heat and electricity. But, it can be solved by fine grinding the contact points.

Figure 3: Anodized copper color shades
Anodized copper color
As it can be seen in Figure 3, color of anodized copper can be changed by varying the process parameters. For the exact color codes, please see our color shades chart for anodization.
Anodized finish
Table 2: Anodization finishes that can be made
| | |
| --- | --- |
| Metallic Finish Type | Description |
| Matt | It is the traditional and the most common surface finish. It is slightly reflective and produces but the saturation of color is strong. |
| Brushed | It imitates the brushed stainless steel finsh that is common in market. Surface is reflective but brushing marks appear on the surface. |
| Polished | Flaw-less mirror finishes can be created with a lustrous gold appearance |
| Patina | As the name suggest, a tradiion 'patina' effect can be made. |
Pros and Cons of Anodizing Copper
As with every industrial process, there are certain pros and cons associated with anodization of copper. Below are the advantages:
Excellent wear resistant
Long-lasting color
Long-lasting metal finish
Variety of available colors
Chemical inertness
Anti-fouling properties
Non-stick behavior
Some of the limitations are
Insulative behavior of surface
Complexity of process
More expensive than simple Copper metal
Why Choose China Tuofa Custom Machining Copper Parts and Anodizing Services
First-tier Chinese suppliers like China Tuofa offer the best product quality coupled with years of professional expertise. Due to mass production and process optimization on-site, the cost of process is greatly reduced. Typically, Chinese suppliers offer the best price with the best quality, that is unmatched with any other origin.
FAQs about Copper Anodizing Services
Can copper be black anodized?
Black anodization is typically used for ferrous metals where a hard and dense layer of Fe3O4 is made over the metallic component to prevent it from wear and corrosion. For copper, black anodization is not usually used. Though, thicker oxide layer on Copper can have a black color.
Comparing Anodized Copper to Other Finishes
Although, like other metals, mirror polished finishes can be created in anodized copper. But the most common finish type is 'matte'. Anyhow, there is a choice of colors that can be made. Unlike powder coating, the color is not from pigments but from the refractiveness of light by the oxide layer. So, it doesn't fade out and it lasts longer.