3Cr13 Steel: The Complete Guide

Jun 01,2023

3Cr13 martensitic stainless steel has intrinsic metallurgical properties. These properties decide the category of the 3Cr13 item. One has to understand the edge retention and corrosion behavior of a knife. Edge retention decides the life and maintenance over the life span. Corrosion behavior tells about the medium of cutting.
Martensitic Stainless Steel applies to the cutting tool. It may decide the fate of your expensive cutting machine. Cutting operation ceases due to little knowledge about this material. Thus metallurgical understanding is the priority. 3Cr13 steel pressure low-strength pipe may fail. If application parameters are wrong. Application parameters always come from material properties.
Overview of article content:
3Cr13 Stainless Steel Properties
What is 3Cr13 Stainless Steel Equal to?
What is 3Cr13 Steel?
This type of Stainless Steel has excess carbon in it. It has a high carbon and a strength of three hundred series. The easiest method is introducing carbon in low carbon Stainless Steel. Major alloying elements in this Martensitic Stainless Steel are Carbon, Chromium, and Nickle. Carbon imparts tensile strength & resistance to deformation. This property forms edge retention in knives. Chromium is famous for imparting oxide stability. Around 13 % chromium makes it corrosion-resistant. But this factor sacrifices the strength of the material. It has corrosion resistance and strength in it. Nickle is present in a very small amount of percentage. But it is enough to form tough properties.
Minor alloying elements do the same function. They remove the impurities from molten material. Sulfur in combination with manganese increases the machinability. Manganese sulfide can improve ductility. Finally, heat treatment improves the strength at termination. It inherits the corrosion resistance from chromium. Figure. No.1 shows the 3Cr13 knife.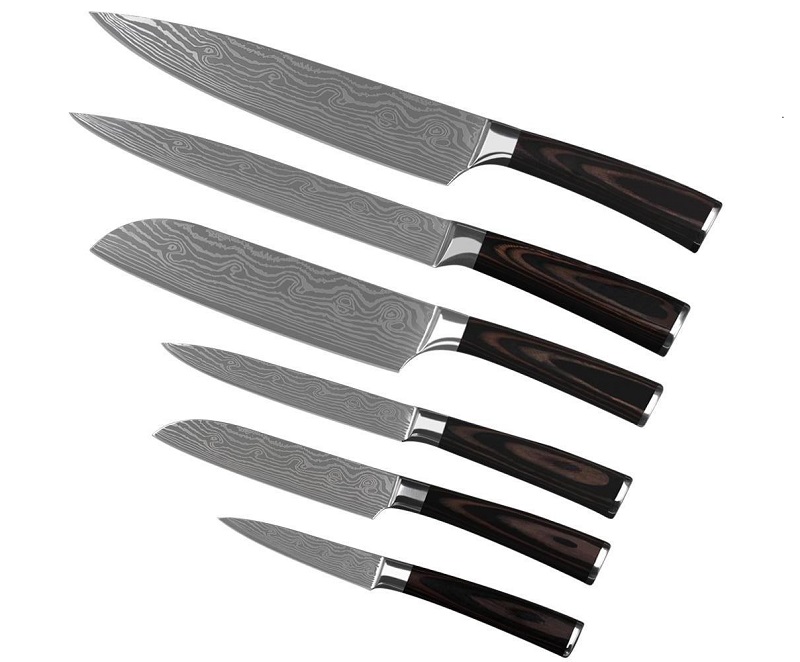 Figure. No.1. 3Cr13 Knife.
3Cr13 Stainless Steel Properties
It has the best properties for field application. Hardness and corrosion resistance decide the exact product. A strength increase can decrease corrosion resistance. Wear resistance is proportional to the hardness of the material.
Chemical and mechanical parameters decide the material selection. Both parameters tell about material behavior. Chemical composition changes the hardness and strength of the material.
3Cr13 Steel Chemical Composition
Chemical composition is like Martensitic Stainless Steel. The carbon percentage lies in the middle of it. The high carbon percentage of this series is 1.20 percent. And the low carbon percentage is 0.15 percent. 3Cr13 lies between them. Chromium percentage also lies in the middle. Thus it has the best properties of the Martensitic Stainless Steel series. Carbon gives the greatest strength in it. So high-temperature sensitization does not occur. It has an application temperature of about 400 centigrade.
Chemical Composition (%) of 3Cr13

C

0.26-0.35

Si

1.0 maximum

Mn

1.0 maximum

P

0.040 maximum

S

0.030 maximum

Ni

0.60 maximum

Cr

12-14
Table. No.1.Chemical composition of 3Cr13.
3Cr13 Steel Mechanical Properties
Strength comes from the martensitic phase of 3Cr13. Carbon helps in the formation of this phase in it. Thus quenching and tempering results in high-strength material. Ductility comes from chromium percentage. Chromium helps in ferritic phase formation in the material. The ferritic phase makes good elongation and impacts energy in it. Strength gives edge retention to cutting items. Edge retention makes 3Cr13 knives stable for long life. And chromium prevents rusting of the surface. Chromium creates a balance between corrosion and ductility.
Mechanical Properties of 3Cr13

Yield Strength, MPa

540 minimum

Tensile Strength , MPa

735 minimum

Percentage Elongation

12 minimum

Reduction in Area, %

40 %

Impact Energy, Joules

24 joules
Table. No.2.Mechanical Properties of 3Cr13.
Heat treatment
Martensitic phase allows quenching and tempering of material. Hardening gives strength to 3Cr13 material. Low tempering temperatures can increase strength. But low tempering temperatures can damage corrosion properties. Because chromium is sensitive to carbide formation. Thus tempering temperature of 600 centigrade is suitable. Annealing can improve ductility many times. But it does not bear stress in the application. Annealing can decrease the shearing force of cutting items. Thus it is useless in this condition.
Heat Treatment of 3Cr13

Unified numerical Code

S42030

New Designation

30Cr13

Old Designation

3Cr13

Annealing Temperature

800 to 900 Centigrade with furnace cooling.

Quenching Temperature

920 to 980 Centigrade with oil quenching.

Tempering Temperature

600-750 Centigrade.
Table. No.3.Heat Treatment of 3Cr13.
Hardness & Strength
It has approximately 55 HRC Hardness on the material surface. The material's Ultimate Tensile strength is more than 735 MPa. Material yields deformation at the stress of 540 MPa. These properties are best for structural materials with moderate corrosion resistance. In austenitic stainless steel, strength cannot go beyond 210 MPa. Even plain carbon steel cannot have yield strength beyond 250 MPa. This material has high strength of 540 MPa. Hardness increases surface retention and stability. And corrosion resistance comes from stable oxides at the surface. Hardness and strength come from high carbon content. In austenitic stainless steel, the carbon percentage is less than unity. Thus it cannot form martensitic phase reinforcement.
Corrosion Resistance
It is useful in applications of moderate corrosion environments. Even it resists atmospheric and aqueous corrosion. It resists corrosion in hardened tempered conditions. The strength and ductility advantage is great. Because every application requires strength. Although corrosion is also important for life stability. But strength with moderate corrosion resistance makes it great. In atmospheric and aqueous conditions it works well. It can resist dilute nitric acid attacks. Because chromium is not less than 12 percent in it. This quantity is enough to make a chromium oxide layer. And dilute nitric acid cannot break this layer.
Wear Resistance
Martensitic Stainless Steel has good wear resistance. It can shear and cut non-metallic items. Wear resistance comes from strength and hardness. High strength resists the surface crack formation process. Thus it has good fatigue properties. Because fatigue starts from the surface crack. Cyclic stress increases this crack formation. And it fails before the expected life span. Materials need maintenance for maintaining good wear resistance. But high wear resistance makes long life. High hardness maintains its surface profile. High force cannot deform the material. Corrosion resistance makes it stable for a time.
Applications of 3Cr13 Steel
Cutlery and kitchen knife requires this material. Because food processing material requires corrosion resistance and stability. If food processing material has low corrosion resistance. It can diffuse the metallic particles in the food. Metallic particles are injurious to health. Thus it results in loss of human health. But this martensitic stainless steel does not corrode in food processing. It can withstand the stresses of food processing. Food processing requires cutting operations many times. This material can cut and does not corrode.
Pipes and fittings need stable material. Because liquid or gaseous medium flow in their cavities. Thus it can lose properties if the material is not stable. Pipe material should withstand hydrostatic pressure. Thus it requires strength and corrosion resistance. Martensitic Stainless Steel is the best option. It gives strength in a corrosive medium. Martensitic Stainless Steel can perform in inaccessible fittings. Because it does not need timely maintenance.
Cutting tool requires stable and strong material. Because they cut material many times. Martensitic stainless steel can cut material without corrosion. It prevents material from contamination. Because it does not have a coating and loose particles on the surface.
Is 3Cr13 good for Knives?
Good knife material is stable and strong. Stable material does not corrode with time. It does not lose its surface sharp edge. It should resist the fatigue phenomenon. Strong knife material has strength and ductility in it. Because knife material should cut items with flexibility. It can bend itself after striking the base shelf. These properties are the requirement of good knife material.
3Cr13 Martensitic Stainless Steel has these properties. It can resist the corrosive substances of kitchen items. It does not develop surface cracks. Thus it works with fatigue cycles. It yields at stress of 540 MPa. This can cut food items. 24 Joules impact energy makes it perfect for flexibility. It can elongate up to twelve percent before fracture. Thus it is good knife material.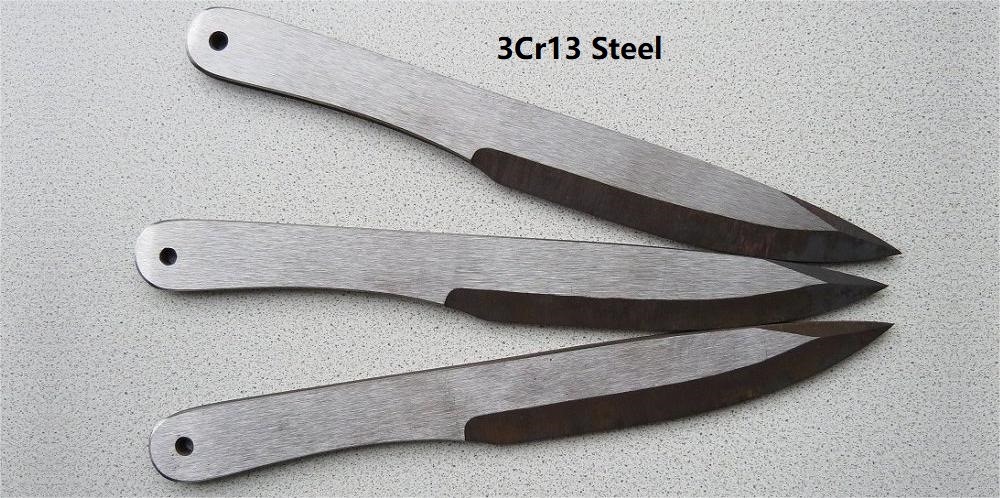 3Cr13 for Different Types of Knives
Knives have classification due to application mechanism. It differs in shape for different purposes. Outdoor knife requires less space during transportation. The indoor knife needs a fixed shape.
Elk Ridge Knife: This knife requires cutting operation in at outside environment. It should have resistance to the humid and smoky atmosphere. This knife can perform hunting operations. Thus it needs material that can bear stresses more than normal conditions. It can bear collision with a hard surface. 3Cr13 Martensitic Stainless Steel can bear outdoor humid and smoky atmospheres. Thus it is suitable for elk ridge knife material.
Butterfly Knife: This knife material requires stability for a thin sheet. It requires corrosion resistance in a closed environment. This Stainless Steel can provide strength for thin material. It inhibits oxide formation in a closed environment.
Hunting Knife: A hunting knife requires strength for bone cutting. It requires sharp cutting with a thick metal sheet. It can provide extra strength with a high moment of inertia.
Folding and Pocket Knife: It needs foldability in a packed environment. 3Cr13 Martensitic Stainless Steel has good impact resistance for this job. It can maintain edge during folding operations.
Kitchen Knife: The kitchen knife needs edge retention and stability. 3Cr13 Martensitic stainless Steel has edge retention. It does not contaminate the kitchen food items. Thus it is suitable for kitchen knives.
3Cr13 VS 440c Stainless Steel
The carbon percentage is three times in 440c. Thus it has more strength than 0.3 percent carbon stainless steel. But it loses corrosion strength in the environment. 440c cannot bear high corrosive environment. Figure. No.2 shows the corrosion of the 440c knife. 440c can form the bearing body. Because it needs strength with moderate corrosion resistance. 440c is brittle due to less ductility. Thus it cannot offer good flexibility in cutting operations. High cutting force can damage the 440c blade. A comparison of properties is presented in Table. No.4.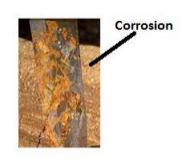 Figure. No.2 Corrosion in 440c Knife.
| | | |
| --- | --- | --- |
| Property | 440c | 3Cr13 |
| Carbon % | 0.95 - 1.20 | 0.26-0.35 |
| Chromium % | 16 - 18 | 12-14 |
| Tensile Strength MPa | >1500 MPa | > 735 MPa |
| Elongation % | 14 % | 12 % |
Table No.4. 3Cr13 Vs 440c Stainless Steel.
What is 3Cr13 Stainless Steel Equal to?
3Cr13 is equivalent to 420 Martensitic Stainless Steel. Properties are almost equivalent to 3Cr13 Martensitic Stainless Steel. 420 has a small nickel percentage in it. Nickel is also present in 3Cr13. The nickel percentage can never reach zero percentage. It is the requirement for the austenitic phase. It increases strength. 3Cr13 limits the nickel to 0.60 percent. It has lower strength. But overall they are the same material. 420 is an American-grade material. 3Cr13 can replace 420 in any application. Because it qualifies the properties. Properties are present in Table. No.5.
| | | |
| --- | --- | --- |
| Property | 420 | 3Cr13 |
| Carbon % | 0.15 minimum | 0.26-0.35 |
| Chromium % | 12 - 14 | 12-14 |
| Nickel % | No requirement | 0.60 |
| Tensile Strength MPa | > 800 MPa | > 735 MPa |
| Elongation % | 20 % | 12 % |
Table No.5. 3Cr13 Vs 420 Stainless Steel.
Maintenance and Care Tips for 3Cr13 Stainless Steel
3Cr13 can resist a corrosive atmosphere. But it does not support acidic media. If it undergoes an acidic environment for a long time. Then it can lose a sharp surface. Figure. No.3 shows edge defects in it. It may suffer from blistering. It needs maintenance in this case. Surface machining is the best option for this problem. 3Cr13 does not need maintenance in an ordinary environment.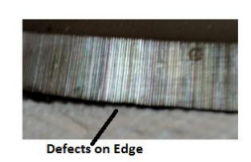 Figure. No.3. Edge Defects of Knife.
Conclusion
3Cr13 is the optimum material for cutting items. It can resist the corrosion attack and stress cycle. It needs less maintenance for continuous application. Ordinary carbon steel cannot provide strength and corrosion resistance at once. But 3Cr13 can offer both properties at the same time. It does not need expensive processes. Ordinary product has a long life. Thus it is a good option for knives and cutting tools.
FAQs
Frequently asked questions are described,
Is 3Cr13 Steel good for Sword?
3Cr13 Martensitic Stainless Steel is the best option for the sword. It offers resistance to corrosion in outdoor environments. High-carbon steel swords cannot resist rusting. Because high carbon corrodes steel. The sword needs corrosion resistance in an outdoor environment. Thus 3Cr13 is the best option.
3Cr13 Vs D2:
D2 tool steel has high carbon and strength. It has applications in cutting items. But it cannot bear rusting. Because it has high carbon in it. The high-strength application requires D2 Steel. It can perform in a low-corrosive environment. Thus corrosion resistant cutting requires 3Cr13. A comparison of properties is presented in Table. No.6.
| | | |
| --- | --- | --- |
| Property | D2 | 3Cr13 |
| Carbon % | 1.40-1.60 | 0.26-0.35 |
| Chromium % | 11 - 13 | 12-14 |
| Tensile Strength MPa | > 1500 MPa | > 735 MPa |
| Elongation % | 16 % | 12 % |
Table No.6. 3Cr13 Vs D2 Steel.