What is the Difference Between Acetal and Delrin?

Sep 18,2023

You must have at least heard about the material acetal or Derlin once in your life which are engineering plastic. But most people don't know about them unless they have a project related to them. Well, Derlin is a homopolymer and acetal is a copolymer. These engineering plastics both excellent features as a polymer. Acetal is best suited for the applications at higher temperature. And the Derlin is better option for the continuous cyclic loading applications. Their applications are specific, but their properties are very interesting and unique. To get most of the advantage from their properties, it is necessary to have information about their main differences. This piece of article will highlight the differences, application and properties and other important aspects of these engineering plastics materials that is necessary to know for any project. For a little introduction, if you require a material with low friction coefficient, tensile strength and hardness, Acetal and Derlin both are good choices.
Quick View of Article Content
What is the Difference Between Acetal and Delrin
Delrin vs Acetal: Advantages and Disadvantages
When to choose Delrin or Acetal
How to Custom Delrin and Acetal Parts with Machining Services by Tuofa
FAQs about Delrin and Acetal Parts
What is Acetal
Acetal is a copolymer which is integrated with many monomers in the repeating units of CH2O. it is also referred as polyacetal, polymethylene, glycol and polyformaldehyde. Acetal acts a metal. therefore, it can be replaced with some metals in plastic machining and other production techniques.
Is Acetal a Thermoplastic?
Acetal forms are generated by copolymer and homopolymer resins. It provides a high ratio of flexibility along with providing excellent strength, durability and stiffness. Acetal also possesses low friction coefficient and has outstanding bearing features. Therefore, acetal is a thermoplastic.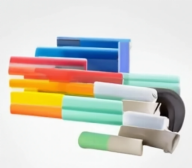 Acetal Plastic Manufacturing Processes
The manufacturing process of acetal homopolymer plastic is consisted of aqueous formal Hyde building blocked mixing with alcohol. They then react together to generate hemiformal. This further dehydrated or distilled to release the formaldehyde. These monomers then polymerized in the presence of catalysts to finally produce acetal formaldehyde.
Acetal Applications
Acetal material has many applications. Some of them are mentioned here:
They are widely used in pumps and valves parts, as gears, jigs and fixtures, bearing and bushings, in electrical components, manifolds, wear pads and in food processing industries for packing machinery parts.
What is Delrin
Derlin is a tradename for acetal homopolymer. It is produced by Dupont. It has recurring CH2O units. This then elongated and shortened to generate various products. It is a very common plastic material in plastic machining. Because it has higher tensile strength and injection molding because of the high flow rate beside its other unique features.
Is Delrin a Thermoplastic?
Derlin material is also called polyoxymethylene or POM. It has high performance acetal resin with many desirable physical and mechanical features. This high crystalline engineering material has high durability, hardness and have outstanding dimensional stability. Therefore, it is thermoplastic.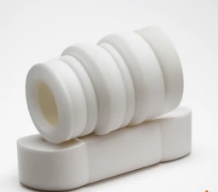 Delrin Plastic Manufacturing Processes
Suitable manufacturing processes for Delrin products are turning and milling. It is supplied in sheets and extruded bars. Laser cutting can also be caried put for this material. it is a granulated form which is used for injection molding and plastic extrusion.
Delrin Applications
Derlin products has many applications because of its properties which make it ideal material for a variety of industrial applications. Components that have service in moist environment like valves and pumps are made of Derlin. Other applications include bearings, rollers, fittings, bushings and other electrical components and insulation parts.
Is Acetal and Delrin the Same
Black Derlin is classified as homopolymer while the Acetal is categorized as copolymer. It is a generic name for acetal. Both possess different but excellent properties. Acetal performs best in continuous high temperature applications while Derlin material has application in continuous cyclic loadings.
What is the Difference Between Acetal and Delrin
Acetal material and Derlin material has main difference of composition as a homopolymer. As Derlin material has uniform crystal structure. This results in better properties like stiffness, fatigue resistance and creep resistance. Derlin has high dimensional stability in terms of mechanical properties.
However, one drawback of Derlin is it has higher center line porosity. This causes a gas leaked in plastic in cooling processes. This feature is not an issue in application of food and medical application.
Evern though both engineering plastic material belongs to same family but still has many differences. The plastic material comparison based on their composition, mechanical properties, thermal properties and chemical properties are discussed below:
Material Composition
The material composition of Derlin is consisted of medium viscosity homopolymer resin with 20% Teflon fibers. It is especially designed for low wear and low friction coefficient against steel and plastics.
Acetal is a copolymer at different chains every 70-100 units. The molecular different affect the crystalline nature of both materials.
Polymer structure
Black Derlin has large crystalline structure because of the organized stacked polymer. Acetal has disruption in crystalline structure and has unorganized polymer structure.
Mechanical Properties
Derlin possesses higher mechanical properties than acetal. It has high yield strength as compared to Acetal. But both materials are suitable for structural applications.
Tensile strength
Tensile strength of black Derlin is higher as it contains 13,000 while Acetal has 12,00 Psi tensile strength,
Impact resistance
Impact resistance of black Derlin is higher as compared to Acetal material.
Hardness
Stiffness and hardness have observed higher in black Derlin as it is more suitable option as a structural material as compared to Acetal.
Thermal Properties
Thermal properties of both materials are fair as these are polymers and polymers normally burnt in high temperature rather than melting. It is better to use both material under 90℃ temperatures to avoid their burning. Both are also flammable and should not be used in high flammability ratings.
Melting point
The Derlin melting point is 175℃ same as Acetal homopolymer. Delrin® acetal resin is a crystalline resin with same melting points. The preferred range is observed to be for Derlin melting point is 205–225°C for standard grades. And for modified grades it is 195–215°C.
Heat resistance
Black Derlin retains heat resistance at temperature as high as 200°F at elevated temperatures with tensile strength of 2,000 psi and flexural modulus at 180,000. It can 180° F in open air and 150° F in water. And can withstand brief temperature peaks of 250° F.
Acetal homopolymer can withstand continuous service temperature of 180°F (80°C) at low stress levels and high strength assure flatness and dimensional.
Chemical Resistance
Acetal homopolymer has less reaction with acidic and basic chemicals as compared to Derlin products. It is less susceptible to chemicals, hence having higher chemical resistance. the higher chemical resistance makes it a good choice for not susceptible to industrial solvents, lubricants and agricultural for various applications.
Compatibility with chemicals
Acetal material is less compatible with chemical as compared to Derlin material. It is less prone to chemical.
Resistance to moisture
Moisture absorbance is higher in Derlin as it does not absorb moisture at all. Hence it is a more suitable material for used in humid conditions. It also has high corrosion resistance, and higher resistance to organic solvents and chemicals. Therefore, it is good for many production processes. Furthermore, acetal material has low moisture sensitivity because of high chemical resistance, rigidity and density. It cannot break down easily when dipped in water. It also has high resistance to solvents, neutral chemical and hydrocarbon.
Dimensional Stability
Acetal homopolymer has higher dimensional stability because it is lighter in weight as compared to Derlin products. It has crystalline structure which can reduce the dimensional stability. The plastic material can disturb the large crystalline organized structure by not conforming to an organized polymer stacking.
Low moisture absorption
Acetal has high moisture absorption as compared to Derlin material. black Derlin does not absorb moisture at all.
Low coefficient of thermal expansion
The coefficient of thermal expansion of black Derlin is 5.0in/inᵒFx10-5. While Acetal has thermal expansion coefficient of 5.40in/inᵒFx10-5. The low coefficient of thermal expansion gives low friction and high wear resistance against metal in acetal. Hence it is a good choice for cams and gears with internal bearings.
Cost Comparison
Derlin is costly as compared to Acetal homopolymer. Acetal material is cheap and can be ranges in $1500 to $2500. Derlin material is expensive because of branding. And it also has better mechanical features as compared to Acetal.
Environmental Considerations
Derlin products offers high durability and reliability with less environmental waste as it has world class environmental impact profile and less carbon footprints. Acetal plastics has tendency to be heated, cooled and can be reformed without degradation, this feature in this plastic makes it recyclable and environmentally friendly. Hence both are sustainable materials in material selection guide.
Summary Chart
The summary chart for the plastic material comparison is given below:
| | | |
| --- | --- | --- |
| Features | Acetal | Derlin |
| Mechanical properties | fair | high |
| Chemical resistance | High | fair |
| Moisture absorbance | less | high |
| Dimensional stability | high | less |
| cost | less | high |
Delrin vs Acetal: Advantages and Disadvantages
Both have excellent features but also has some disadvantages. These features are discussed below for both materials.
Delrin Advantages
The advantages of Derlin are:
Fair dimensional stability
High machinability
High impact resistance
High creep resistance
High fatigue resistance
High stiffness
Higher strength
Delrin Disadvantages
Derlin also has some drawbacks which are as:
It is not a good choice for food storage because it has less acid resistance.
It has high flammability.
It is very difficult to bond.
Acetal Advantages
Acetal has many advantages which are discussed below:
Higher tensile strength
Higher dimensional stability
Less friction
Low thermal expansion coefficient
Low moisture absorbance
High rigidity
High creep resistance
High abrasion resistance
Acetal Disadvantages
There also some drawbacks of Acetal which are:
It can be attacked by acids and base and especially with nitric acid.
It has poor UV radiation resistance.
When to choose Delrin or Acetal
Derlin is a homopolymer while Acetal is a copolymer. When you have any project which requires high temperature exposure, then Acetal is a good choice. While Derlin is suitable for the application of continuous cyclic loadings. Both engineering plastics have excellent mechanical features and corrosion, water and water resistance. it is necessary to have knowledge about their properties to get maximum benefit in material selection guide for any project.
Delrin vs. Delrin in Machining Services
Derlin is basically plastic material. it is specially designed for high stiffness, strength with higher machinability and low friction. In CNC machining, Derlin is a best choice for the project which has rigid materials, dimensional stability and high precision and accuracy.
How to Custom Delrin and Acetal Parts with Machining Services by Tuofa
Tuofa specializes in manufacturing precession spare parts for bikes, automobile, aircraft, and medical devices and many more. It offers many services with many advanced machine equipment and have experience in handling many engineering materials, such as metals, alloys, and plastics. For plastic, if you are looking for a reliable supplier TUOFA can be a best choice. As it offers many services in engineering plastics such as nylon, Derlin, and Acetal. The machining scope of TUOFA is mainly focused on: CNC Machining of Engineering plastics, CNC milling, bending, stamping and 3D printing of plastics like Derlin and Acetal
FAQs about Delrin and Acetal Parts
What materials are used for Guitar picks?
Guitar pick is an American word which is a plectrum used for guitars. Picks are normally produced from one homogenous material like any type of plastic such as Derlin material, nylon or rubber. Other materials that can be used are wood, metals, glass or stone.
Acetal Homopolymer vs Copolymer
Acetal homopolymer has higher machinal properties as compared to acetal homopolymer. It has low density which is also called center line porosity. It is found in normally large cross sections.

What is Anodized Copper | Ultimate Guide