Titanium Vs Stainless Steel, Only Weight to Density Ratio Is Not the Decisive Factor!

May 16,2023

High cost Titanium can make financial lose to your project. Titanium density is half of stainless Steel. Stainless Steel can increase the massive cost of your project due to high weight to volume ratio. Understanding of material is an essential thing.
What can you learn by reading?
Difference Between Titanium and Stainless Steel
Titanium or Stainless Steel: Easier to Fabrication and Machining?
Titanium Vs Stainless Steel: Price
What are the Pros and Cons of Titanium VS Stainless Steel?
FAQs about Titanium and Stainless Steel
What is Titanium?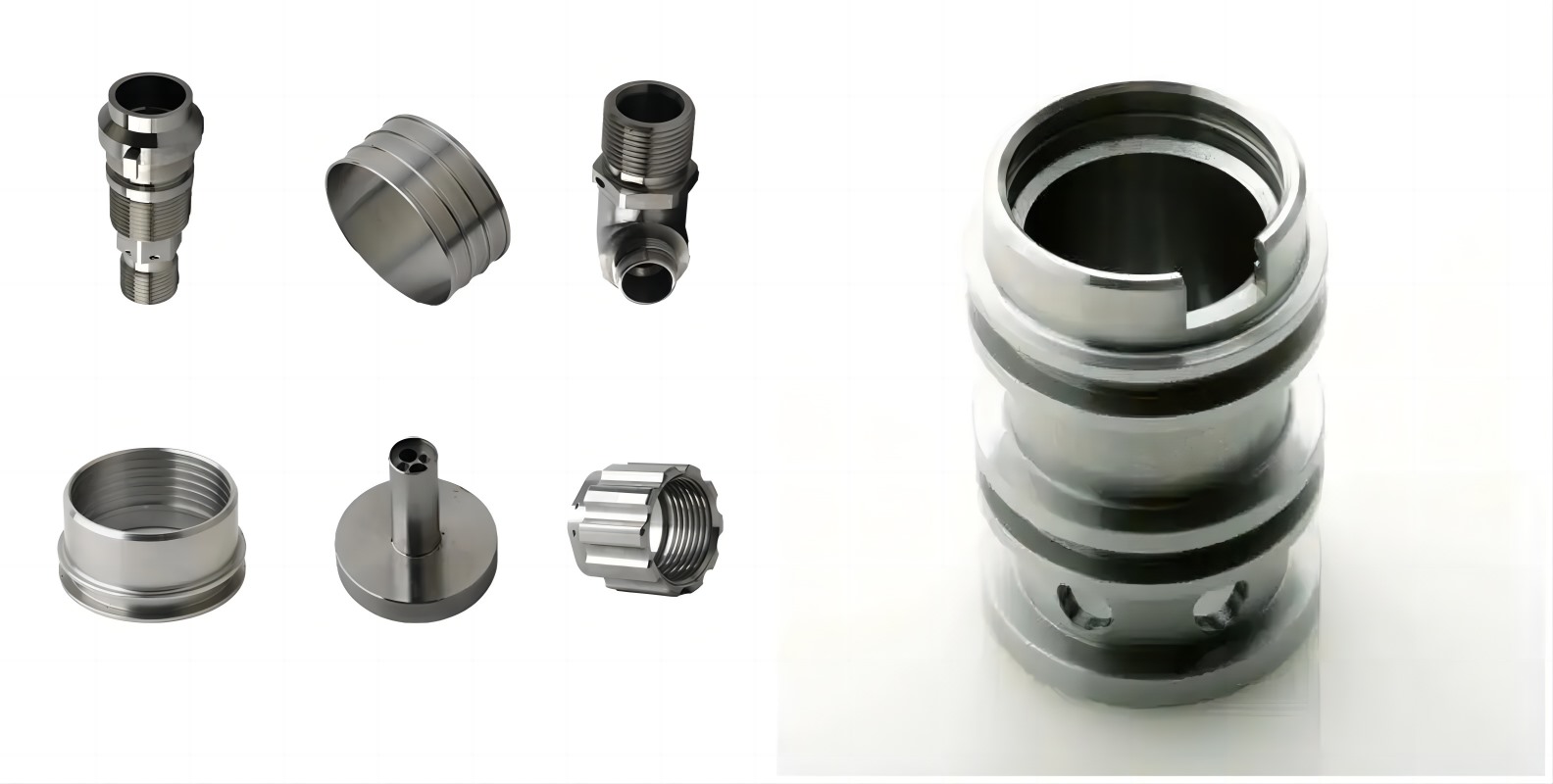 Titanium is 22 atomic number hcp alpha phase metal. But commercial production of Titanium was viable after 1970's. Melting point of Titanium is 1668°C. Grades of Pure Titanium are Ti Grade1,Ti Grade 2,Ti Grade 3, Ti Grade 4.
It exhibits high Strength to Density ratio. It offers extraordinary corrosion resistance in atmospheric environment. Especially it resists the chlorides and acidic media. Protective layer of TiO2 (adherent and stable) forms on the surface. It can recover itself after corrosion attack. Titanium is stable up to 500°C. Titanium is not magnetic material.
Hexagonal closed pack alpha phase exists in Titanium. Above 833 Centigrade body centered cubic beta phase structure forms in titanium. If the engineering design requires corrosion strength. Then Ti grade 1 to 4 is the best option. In Titanium cladding core consists of Stainless Steel. If an application cannot afford expensive titanium. Then stainless steel product with titanium cladding is the best option.
Titanium alloy does not react with bio material. So it can perform its function for long time. Titanium is not the best choice against crevice corrosion. Poor structure joint can contain corrosive fluid. And this increases the hazard of crevice corrosion. Titanium structure joint should be continuous in shape. So corrosive fluid does not stay inside it.
Titanium requires two step melting activity. Because in two step melting activities impurity particles make oxide. And can go from casting heat. Titanium alloy has impact energy comparable with low alloy steel. During impact testing titanium can absorb huge amount of energy before fracture. Titanium has good performance at higher temperature. Even it performs at 300 °C without creep phenomenon.
Titanium shows good thermal conductivity. Various types of titanium tubes can conduct heat transfer operation in heat exchangers. Elastic modulus and machining properties of titanium is on low. Titanium has crucial role in tubes of thermal heat exchangers. And it works in blades of dynamic equipment.
What is Stainless Steel?

Stainless Steel consists of Fe,Cr,C and Ni with other elements. It resists to corrosion in moderate conditions. Ferritic, Austenitic, Martensitic, Duplex and PH are five types. Stainless Steel 304 and 316 are common constructional material.
Stainless Steel offers use in allowable stress of 170 MPa and 450 MPa. Yield strength of Stainless Steel varies from 170 MPa to >450 MPa. ASME SA 240- 304 exhibits sensitization above 425 centigrade. Hence this material makes chromium carbides above 425 °C. Thus SS 304 is not the best option for use at 425 °C.
Carbon content of metallic scarp reduces in Argon Oxygen De carburization furnace. And are present in global construction codes. Codes are ASME, RCCM, GB, EN-ISO DN and JIS. Standard available shapes are Plate, C- Channel, Angle, Wire and Fasteners.
Stainless Steel offers good allowable stress values. It offers standard shapes with moderate corrosion resistance. But only few manufacturing codes have Titanium shapes. One of such code is ASME Section II-B.
Stainless is suitable for sub-zero temperature. It does not loose ductile properties. Hence it offers properties without any painting. It works well at sub zero temperature.
Stainless steel has use in Processing plants and Fluid Tanks.
Types of Stainless Steel
Description for different types of Stainless Steel is as explained below.
Ferritic Stainless Steel
Ferritic Stainless Steel have carbon around 0.08% . It contains 30 % Chromium. It consists of ferritic phase. Strength is comparable with austenitic grade. 409 and 430 are ferritic grade Stainless Steel. Ferritic Stainless Steel has application in vessels. These vessels store fluids at high temperature.
It is not useful for high temperature. It has low impact energy at high temperature. Thick plates show low impact energy. Ferromagnetism makes them magnetic in nature.
Austenitic Stainless Steel
Austenitic Stainless steel consists of C, Cr and Ni. Austenitic phase is the dominant one. Three hundred series is common engineering material. It is nonmagnetic material. It has good application at low temperature. Heat treatment for this type of Stainless Steel is not possible for higher strength. Major applications include Vessels, Fasteners and Piping.
They have face centered structure. One of the major drawback of austenitic stainless steel is magnetism on cold working. This magnetic phase can lower the corrosion resistance. Solution treatment is the best option for removing it.
They need bending and rolling work. And solution treatment requires.
Martensitic Stainless Steel have carbon Cr, Ni and Mo. It is magnetic in nature. Major applications are Automotive industry, Cutlery, Molds and Dies.
It is ferromagnetic in nature. Magnetic phase forms inside on heat treatment. Chromium makes magnetic phase. Carbides forms due to the presence of carbon in it. And these carbides put wear resistance inside. Nickel contents improves the corrosion resistance.
Duplex Stainless Steel
It's phase is combination of Austenite and Ferritic one. Chromium content is present from 21 to 26%. Nickel ranges from 3 to 8 %.And Molybdenum can be up to 4.5%. Duplex Stainless Steel shows good allowable stress values and resistance against corrosive fluids. Industrial housing and structural components of corrosive medium industry use Duplex Stainless Steel.
PH (Precipitation Hardened) Stainless Steel
It consists of Chromium, Ni and C. 17-4 alloy (17 % Cr and 4 % Ni) falls in this category. They contain properties of martensitic and austenitic stainless steel. Heat treatment usually enhances their mechanical properties. They are useful in Thermal Power Plants. Because they show good stability at high temperature.
Difference Between Titanium and Stainless Steel
Titanium

Stainless Steel

Chemical Composition

Pure metal grade 1 to 4 (>99 % Titanium).

An alloy of Fe, C, Cr, Ni with minor alloying elements.

Mechanical Properties

Yield Strength = 172 to 483 MPa

% Elongation= 24 to 15%

Density = ~ 4.57 g/cc

Yield Strength = 170 to > 790 MPa

% Elongation = 40 % to ~5 %

Density = ~ 8 g/cc

Durability

Has an excellent durability over time

Durability is moderate to good

Weight

Is 43 % lighter

Heavier

Scratch Resistance

Titanium scratches with normal force

Has good scratch resistance

Heat Treatment

The heating temperature of annealing is 500-600°C

Cooling time is 15-60 minutes

Heating to 300-350°C tempering

Machined and welded parts of ultra-low carbon and Ti, Nb stainless steel to be heated at 500-950°C

Corrosion Resistance

Shows corrosive in Acidic and Basic

Cannot resist corrosion in acidic and basic corrosive media for longer run

Mechanical Stability

Shows an excellent mechanical stability during the intended design cycle

Has good mechanical stability
Titanium or Stainless Steel: Easier to Fabrication and Machining?
| | | |
| --- | --- | --- |
| | Titanium | Stainless Steel |
| Fabrication: | Difficult to fabricate, weld and formed | Shows good response to fabrication and forming operations. Welding of Stainless Steel is not a big task. |
| Machinability | Titanium is difficult to machine due to low elastic modulus and galling behavior. | Is easy to machine |
Fabrication
Bending and Forming produces crack in Titanium. One of the major defect is spring back in forming process. And to solve this problem hot working operations use inter step-annealing. Hot working operation induces embrittlement in titanium. Thus cracks produce in it. Annealing soften the material in process. And removes stress in it. After annealing material comes to zero stage.
Long Titanium product are not straight. Titanium loses tolerance value after forming and bending. While in case of Stainless Steel no considerable spring back phenomenon exists. Thus it does not render the achievement of flatness values in it. That is why common construction code of ASME, RCCM, GB, JIS and DN have standard profiles in it. Stainless Steel does not corrode during forming. It does not spring back. It does not develop stress in it. Thus it is easy to from and bend.
Machining
During machining galling occurs between machine tool and piece. Heat forms during machining. Titanium tends to cold weld with machining tool. Thus process becomes difficult. Precise machining cannot tolerate this thing. It requires solid piece to machine. Because small tool deforms itself. Titanium needs special attention for it. And aerial titanium piece needs precise machining. To do this high technology requires. And it increases the cost.
Main reason for this type of cold welding is low elastic modulus and larger deformations. And material gets damage at surface. It results in formation of machining defects. These machining defects are not desirable in final product of Titanium. Because fatigue crack initiates from the surface defect. And with the passage of time this crack becomes wider. Fatigue failure occurs at the end. Hence to avoid these machining defects high tech. machining techniques are the best option. These machining operations increase the cost of product.
Welding
Titanium welding practices also exists in manufacturing codes. But due to its affinity with atmospheric oxygen it can form the unwanted oxides. Welding discoloration is sign. Gas tungsten arc welding is the best option for smooth weld. Normal workshop welding techniques are not suitable. This hurdle makes the site weld very difficult. Shielded Metal Arc Welding technique is not recommended for Titanium weld. Because it does not fulfil the inert need.
In this welding titanium reacts with oxygen. And crack starts growing in it. Only inert welding technique can solve this problem. Which need special equipment with it.
Stainless Steel does not need any special welding technique. Shielded Metal Arc Welding is the suitable welding technique. Standard welding techniques and procedures are available for it. Heat treatment is not essential need for it. Its welding is quite easy even though gas cylinders are not available at weld site.
Titanium Vs Stainless Steel: Price
Titanium price is higher than Stainless steel. Titanium is not an option for Stainless Steel in mass production. In case Stainless Steel replaces the Titanium. Then it should qualify the working atmosphere.
Titanium machining is difficult .It increases the cost. Forming requires heat treatment. Thus includes extra process. Welding also requires inert atmosphere. So it is costly to make.
What are the Pros and Cons of Titanium VS Stainless Steel?
Titanium

Stainless Steel

Pros

Good biocompatibility.

Light weight.

Good corrosion Resistance. Good Mechanical stability. No Magnetic.

Available in common market. Cheap.

Easy to Fabricate.

Easy to Machine.

Variety in grades.

Cons

Difficult to Fabricate

Difficult to machine

Prone to scratches

Very Expensive

Corrosion resistance is not high

Heavy Weight.

-Less stable at high temperature

Biocompatibility is low.
FAQs about Titanium and Stainless Steel
What is stainless Steel Made of?

Stainless Steel is an alloy of Fe, C, Cr, Ni and other elements. Stainless Steel replaces the carbon steel. Whenever corrosion resistance is the main need in absence of surface coating.



Does Titanium last Stronger than Stainless Steel?

Yes, Titanium lasts stronger than Stainless steel. Titanium is stable and stronger. Because it has good fatigue and creep strength. It also resists to corrosion. Titanium shows resistance in biological fluids and substances.



Is Titanium Magnetic?

No, Titanium is not magnetic. Alpha phase structure of Titanium makes no response to magnetic field. Alpha structure exists at room temperature. But alloying addition of elements can make it magnetic. Because alloying addition have affinity to magnetism.



Does Titanium Scratch Easier Than Stainless Steel?

Yes, Titanium Scratch Resistance is less than stainless Steel. Titanium shows more deformation. Load makes defect on titanium. And defect removes it. And this space becomes empty. Thus it is sensitive for scratch.