How to Clean Oxidized Aluminum: A Step by Step Guide

May 26,2023

Cleaning oxidized aluminum and making it stain free. The versatility of aluminum metal made it durable and the most commonly used metal for vast applications ranging, from household items like kitchen utensils to industrial level products. This special metal present on earth surface in large amount and its unique properties made it feasible for even sophisticated applications. Even the current research is employing over the making of new aluminum alloys for biocompatible materials, and energy saving devices. This material has property of forming oxide layer, which act as passive one by the exposure with atmosphere. However, this layer is sometime acting as a significant flaw and hinder the performance of the aluminum-based products. Therefore, in some areas where this oxide layer is not required, different methods are implemented to remove this layer and make the aluminum shiny again. Selecting one of the removing process will make your aluminum components shine like new and will help you avoid any long-term harm.
Contents
Click the links below to skip to the section in the guide:
How to Get Oxidation off Aluminum Wheels
What is the Best Way to Remove Oxidation from Aluminum: Using 9 Materials
How to Remove Oxidation From Aluminum: A Step by Step Guide
How to Stop Aluminum Corrosion
FAQS about Clean Oxidized Aluminum
You will not only achieve the real and aesthetic appearance of aluminum by different ways of cleaning but also gain different benefits:
Cleaning will enhance the surface appearance of aluminum
It will make the product Prepare for further treatment like industrial paint
Cleaning further removes the corrosion and the rest of the colored oxides colored from the aluminum product and restore shine
Tuofa takes you to understand how to remove oxidation from aluminum
What is Oxidized Aluminum?
Rusting of iron and oxidation of aluminum are not the same terms and do not define the same meaning. At one place aluminum oxidation improves the corrosion resistant properties but on the other rusting of iron corrode the iron sample and reduce its working life. The term oxidation in the case of aluminum does not give the same meaning as rusting iron. The corrosive properties of the aluminum metal are the least due to the formation of the oxide layer. The term corrosion can be defined as metal contact ion with surroundings and leaning to rusting of the metal surface. When aluminum alloys are exposed to oxidative environments, aluminum atoms react chemically with oxygen to form a dense oxide film, which prevents further corrosion of the metal and improves its corrosion resistance. The oxide film can have colors like black, silver, and gold. It acts as a barrier that hinders the continued reaction between aluminum and oxygen, providing protection against corrosion.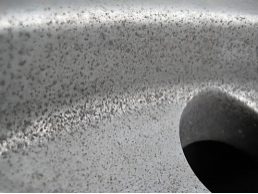 However, this layer when exposed to extreme conditions, the layer breaks and increases the corrosion of the aluminum and ultimately affecting the final properties. For an instant, in heavy steam engines aluminum-based components when coming in the exposure to high-temperature steam and other chemicals, there is a high chance of breakage of this passive layer, so there is a need of doing high-temperature resistant coating over these aluminum-based components.
Oxidation Types
The question arises here is that what happened during the oxidation of aluminum. This term specifically defines the loss of electrons and increase in the oxidation state of atoms, ions, and molecules. In the case of aluminum metal, when exposed to oxygen an oxide layer formed above the aluminum metal surface and improve the corrosion-resistant properties. Different types of oxidation are present in real-life scenarios. Few are described below:
White Oxidation
This type of oxidation is common in household items and business products of aluminum. White oxidation is commonly caused with the exposure to air, water and some other selected chemicals. After oxidation, the aluminum surface converted into dull and fade surface. Despite of the protective oxide layer, this anodized aluminum removal is necessary as it can enhance the corrosion of aluminum.
Black Oxidation
This oxidation type can results in the chemical conversion coating of your product. When aluminum metal exposed to air for a longer time with heat, this type of oxidation occurs. This coating appearance is black or grey. On touching, your hand can easily catch the coated material and turned black. Therefore, you can easily observe this oxidation over your aluminum cookware's and aluminum utensils as they are daily used product and exposed to air and heat on regular basis. Additionally, the presence of acidic food in the utensils can enhance the black oxidation process and resultantly fade your utensils surface.
Galvanic Corrosion
When two metals come in direct or indirect contact with each other, galvanic corrosion starts there. This specific corrosion enhance the corrosion rate of one metal which act as anodized aluminum while the other one remain same throughout the process.
The question that will come to your mind is that why two metal contaction results in corrosion. This is because of the difference in electrode potential of two metals. They formed a bimetallic pair when they contact with electrolyte. Resultantly, one metal act as anode and the other act as cathode.Oxidation occurs as anode resultantly corrosion starts here. While other one remain same. The rate of oxidation depends on the distance from standard electrode potential. The more is the difference in the electrode potential of two metals and more away from standard electrode potential, the more is the rate of corrosion occurs at the anode.
Pitting Oxidation
Another type of corrosion that formed over the metal surface ism pitting corrosion. This is also known as localized corrosion as on specific regions pits formed over the surface. These pits are small diameter cavities on the different and localized surface of the sample while other remain same. One of the major flaws of this corrosion is that it spread vastly with time and considered as one of the most dangerous type of corrosion due to its unpredictable nature tends to cause sudden and severe failures.
Pits formed over the metal surface where the passive layer of aluminum is inconsistent and some irregularities are presents. These inconsistency results in the direct contact of air and other surrounding gases with base materials. Additionally, if paint or other coting is present over the aluminum surface, this corrosion results in the deterioration of the coated surface thus damage the over product properties. Areas that reduce or lost passivation now act as the anode. While the surrounding areas act as the cathode. The anode and cathode create a corrosion cell in the presence of moisture. Since corrosion is limited to a small area, pitting tends to penetrate through the thickness of the material.
Types of Aluminum
Different types of aluminum are used in different industries depending on the requirements. some of them are described below:
Painted Aluminum
This type of aluminum is used where aesthetic appearance and protection is first priority. Aluminum paints or painted aluminum is a solvent-based paint containing aluminum flakes. It is a protective metal finish applied to prepared metal surfaces such as tanks, roofs, and pipes. Its heating resistance is up to 150 degrees Celsius. It is an excellent reflector of heat and light as well as resisting water penetration.
Aluminum paint gives a true aluminum finish and is resistant to rust and corrosion. It is ideal for finishing rusted aluminum or steel products in industrial environments.
Casted Aluminum
The heating and pouring of metal in the mold is known as the casting process. Its products are made by die-casting, die-casting, or sand casting. The above processes are used to smelt aluminum to create parts for a variety of products. When melted, aluminum and many of its alloys have a low melting point and viscosity, but cool to form a solid. The metal then cools and hardens, taking the shape of the hollow it fills.
Die-casted made cookware can withstand the high temperatures required for efficient meal preparation. The products can even will last for years without maintenance.
Siding Aluminum
Aluminum due to its moldable and durable nature is being used for house and interior siding. Aluminum siding has the ability to resist corrosion. Thus increasing the shielding life. Moreover, this material has dent free nature.
Hammered Aluminum
Hammered aluminum is the one, which is made by hammering the soft aluminum and converted to any shape. This hammering process is used to make metal crafting products.
Brushed Aluminum
This type of aluminum is a metal finishing system and can be seen in almost every house. your kitchen to washroom accessories and even your car body is composed of brushed ones. One of the best advantages of brushed aluminum is that it makes your product appearance good and expensive.
How to Get Oxidation off Aluminum Wheels
From your household items to your vehicle parts, Aluminum encompass all of them. Engine parts of vehicles and wheels consist of Aluminum that gets dirty and oxidized over time. This oxidized aluminum needs special attention as it will lead the engine toward pits. Apart from vehicles, kitchen utensils are also oxidized, and usually, black corrosion occurs. To clean these kitchen items, one must use the products like aluminum cleaner and Tartar solution to make them shiny.
Among all major household items, the house window reeling's also composed of aluminum. They are in direct contact with oxygen and can be easily oxidized. Therefore, this region of the house also needs special attention and need proper cleaning.
What is the Best Way to Remove Oxidation from Aluminum: Using 9 Materials
Alkalis or acids can be used to remove oxidation from aluminum, but both are corrosive to aluminum. We recommend the following 9 materials for cleaning oxidized aluminum metal. Because of the versatility of aluminum products, the best method will appear after you actually use it.
Vinegar
Microfiber cloth
Soft bristled Brush
Mild soap and water
Soft pads
Aluminum cleaner
Cream of tartar
Metal polisher
Wax
How to Remove Oxidation From Aluminum
How to remove oxide film? In the manufacturing industry, a commonly used method is to use chemical nickel plating, followed by treatment with ''aluminum oxide remover'' to make the surface of the aluminum metal shiny. However, this method is not suitable for daily life. Next, we will introduce three simpler and more effective methods to help you solve this problem. After using one of the given described approaches, one can get a shiny aluminum surface easily.
The methods are as follows:
Best Chemical for Cleaning Aluminum
There are different chemicals including natural and household items that can be used for cleaning purposes. One chemical that is naturally occurring is lemon juice. Acetic acids from lemon juice also have some special cleaning agent qualities. When this acid with salt is applied over the surface of the aluminum product, it removes the oxide layer.
In addition to using lemon juice, you can also mix white vinegar and water in a ratio of 1:1, and then use a sprayer to evenly spray the mixture on the aluminum surface. The application of this solution and brushing with a soft-bristled brush can easily remove the oxide layer and make the product shiny.
Another cleaning agent that you can use is Tartar Cream. Tartar is a gel of potassium bicarbonate and water. This cream when applied over the aluminum-oxidized product, can remove the oxide passive layer easily. Thus, depending upon the required circumstances and conditions, you should select a cleaning agent.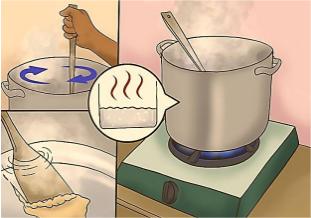 Figure 2 chemical cleaning while heating vinegar and water solution to remove the oxide layer
Mechanical Cleaning
This cleaning is another approach that one can use to remove the passive layer from the products. This cleaning method is usually used in industries. The procedure includes machining, rough grinding, and then fine grinding and polishing. You can also use any type of polisher like hand polisher or rotary polisher to enhance the product's appearance.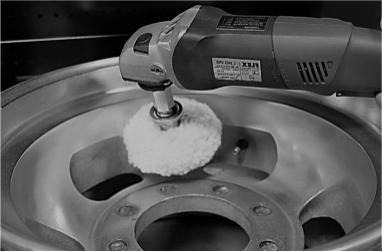 Figure 3 Mechanical buffing after rotary grinding andpolishing
Abrasive cleaning
The use of abrasive nature products like sand papers and abrasive cloth is implemented in this cleaning method. You can also use a house spatula or any other steel spoon as an abrasive material to clean the utensils.
How to Clean White Oxidation on Aluminum
White rust, also known as chromate conversion coating, is a type of corrosion that can occur on aluminum when it is exposed to acidic or alkaline solutions. To clean white rust from aluminum, you can try the following steps:
Use a wet cloth to clean the extra dirt from the surface
Make the solution of water and vinegar in the oxidized sample and then heat it. Salt is abrasive and lemon is acidic, they are mixed together for a good cleansing
After 10 minutes, take a steel wool and start rubbing the heated product. The steel wool will remove the oxide layer fastly and then the shiny appearance of the product will regain
Now, use a soft pad to clean the aluminum material
Apply lemon juice for an extra shiny appearance
You can also use a polisher and wax in the last steps to enhance the appearance and productive life of the material
How to Stop Aluminum Corrosion
Several measurements that are needed to be taken by users during oxidized aluminum cleaning:
Do not use abrasive nature cloth or pads during cleaning aluminum wheels.As it may results in inducing lines over the soft material and damage the product.
Do not use pressure washers as it may lead to damage to the aluminum coating surface. If present, then produces dents over the surface.
Brushing the wheel when it is wet is the best approach one can use for its vehicle. Use of brush over the dry surface may result in scratching of wheel and damaging product.
Always clean the deeper area of wheels like wheel wells to avoid providing a surface for corrosion in the future.
FAQS about Clean Oxidized Aluminum
What does oxidized aluminum look like?
Aluminum has a shiny and clear silver appearance when it is unoxidized. However, when it oxidized, its appearance changes into diffused and dull. its shininess changes into an opaque surface which reduces its reflective ability.
Is the oxide layer harmful?
The porous aluminum oxide layer is not harmful. But it will affect the properties and appearance of the metal. This layer has the ability to increase the strength of materials. However, will reduce the heat transfer properties.
How to remove oxidation from painted aluminum?
Painted aluminum can oxidize when the air went between aluminum and paint. Without removing the paint, it is nearly impossible to remove the oxide layer. The best approach to remove this passive layer is first to strip off the paint layer. Then use an aluminum cleaner that can chip off this oxide layer.
You can also use oven cleaner and allow it to set over the surface for some time. Then rubbing the surface with steel wool can chip off the oxide layer easily and the metal will regain its look.
How to clean aluminum engine parts
Aluminum is a lightweight metal that is often used in the construction of engines and other automotive parts. While aluminum is easy to work with and can provide a sleek and stylish finish, it can also be prone to corrosion. To keep your aluminum engine parts looking their best, it's important to take steps to protect them from the elements. Here are a few tips for cleaning and maintaining aluminum engine parts:
Use a mild detergent: When cleaning aluminum, it's important to use a mild detergent that is specifically designed for aluminum. Avoid using harsh chemicals or abrasive cleaners, as these can damage the surface of the aluminum and cause corrosion.
Use a soft-bristled brush: Use a soft-bristled brush to gently scrub the surface of the aluminum part. Be sure to avoid using steel brushes, as they can scratch the surface and cause damage.
Use a cleaning solution: If the aluminum part is particularly dirty or has accumulated a lot of grime, you can use a cleaning solution to help remove the dirt. Look for a solution that is specifically designed for aluminum and follow the instructions on the label.
Rinse the part thoroughly: After using a cleaning solution, rinse the part thoroughly with water to remove all of the dirt and grime.
Dry the part: Once the part has been cleaned and rinsed, be sure to dry it thoroughly. You can use a soft, clean cloth to wipe away any excess water.
Protect the part from the elements: To prevent corrosion, it's important to protect the aluminum part from the elements. This means keeping it clean and dry, and avoiding exposing it to harsh chemicals or high temperatures.
Use a protectant: If you want to further protect the aluminum part from corrosion, you can use a protectant. Look for a protectant that is specifically designed for aluminum and follow the instructions on the label.
By following these tips, you can keep your aluminum engine parts looking their best and protected from the elements.