What is Brushed Stainless Steel?

May 22,2023

This article will help you to know the answer of this question. This also highlights the important features of brushed stainless steel. It will help in understanding its differences from stainless steel and polished stainless steel. These two types of stainless steel have different properties and unique applications. But to explain this subject, first, we need to understand brushed stainless steel. This knowledge will help you to know about polished types of stainless steel. And you will know how to decide when brushed stainless steel is best suited for our requirements. The brushed stainless steels are famous for exterior and interior decorative applications.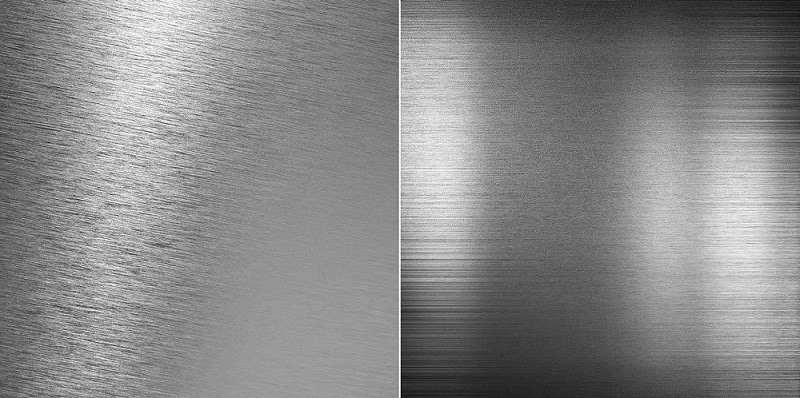 What is brushed stainless steel?
Stainless steel is an alloy made of iron and carbon. The chromium addition makes it stain-free and rust-free. You will be surprised that brushed stainless steel is also a regular stainless steel. But a polish treatment is given in which an abrasive material is used to polish it with friction. This creates a seamless dull looking finish. This polish resulted in an alloy with a high-resolution surface of unique textures. In regular stainless steels, no treatment is given after production. The surface of brushed stainless steel is matte, with a slight grain on the surface, improving the surface smoothness. However, it cannot be touched by hand and is more wear-resistant than ordinary bright stainless steel, giving it a more upscale appearance. The wire drawing process will lose the thickness of the stainless steel plate, with a loss of thickness ranging from 0.1 to 0.2mm.
The treatment of this polished metal is carried out in the same direction over a wheel. It has brushes with fine bristles. Then a non-wove abrasive belt is used to make it soft and smooth. The final surface results in a dull or matte polished metal with fine lines. These lines are in the brushing directions. It is therefore known as 'brushed stainless steel'. This seamless alloy has low-light reflection, high resolution abilities. The appearance of this alloy is distinctive and is suitable for decorative purposes. It is often utilized as polishing material. The most use is over kitchen appliances like refrigerators, microwaves, coffee makers, etc. This alloy need lesser maintenance than stainless steel. This is due to their polish and unique texture.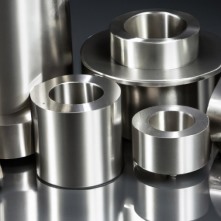 Brushed Stainless Steel Texture
The brushing method with sander or grinder resulted in a long stroke texture with a distinct pattern. In brushing, first step is a bright annealing process in which a very low reflective surface is produced that provide oxidation and scaling protection. This surface helps in producing airborne contaminants and leaves no fingerprints on the surface. This feature makes it much easier to clean and a very good choice for the application in kitchen appliances, cabinet hardware and food containers. These steels also have slightly warmer texture than the regular stainless steel and is useful for hiding imperfections and stains.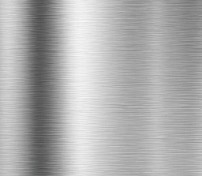 Brushed Stainless Steel Finish
During the finishing process of brushed stainless steel, friction is introduced with the help of sander or grinder. This leaves a matte finish or dull look in the material but smooth in nature because the steel left with some of its luster and has very fines in the brushing direction. The finished stainless steels normally have Ra (Average Roughness) value ranging from 0.05 to 1mm. It has been scientifically proved that finishing processes provide a reduced surface roughness which results in cleanable surface. This finish is different than the other finishing methods as used in electroplating which is commonly used for bright finish of steel. This is a cost-effective option with aesthetically appealing therefore used for coating purposes in kitchen appliances.
What is Brushed Stainless Steel Used for?
Brushed stainless steel has a wide range of applications. It is widely used for decorative purposes such as vases. The surface of kitchen appliances is specially made of brushed stainless steel such as of dishwashers, microwave ovens, coffee maker and refrigerators etc. this material has ability to hide flaws and fingerprints therefore it is preferable material in application of high-traffic areas and object. The less surface roughness of this material makes it to be cleaned easily and less likely to be contaminated with airborne germs, thus have wider range of applications in kitchen cookware and food containers, food processing and pharmaceutical industries.
The warmer tone of this material than the regular stainless steel helps it is disguising stains because of its corrosion resistance properties and making it more useful in the areas of regular usage of objects and public spaces. Corrosion resistance is an important feature for the materials that have many applications in moist environments such as kitchen and bathrooms and hence the stainless steel is always the first choice for these areas. Other than that, the application of home decor and cabinet hardware has first choice of brushed stainless steels.
Brushed Stainless Steel Cookware
The popularity of brushed stainless-steel cookware is immense among its consumers. This is due to its compatibility and versatility with cooktop. And it is durable and can bear temperature changes because of its ferromagnetic nature. This material possesses a heat-conductive nature and distributes heat evenly during cooking. The brushed stainless-steel cookware has long service life because of its non-corrosive nature. hence, it cannot rust, chip off, or be scratched. It also responds well to induction cooktops because of its ferromagnet nature. Elevated temperatures can easily be handled in brushed stainless steel cookware. The brushed stainless-steel cookware has lifetime warranties due to these properties. The brushed stainless steels cookware is easier to clean. Because its textured surface prevents dirt from sticking.
Brushed Stainless Steel Appliances
Finishing brushed stainless-steel appliances are aesthetically appealing. Hence, it looks great in the kitchen. They usually have a matte and smooth finish. this is decent yet cost-effective at the same time. Their surface is non-porous and has high bacterial growth resistance. Hence, it is easy to clean. These appliances are usually utilized in high-traffic areas. It can sustain daily wear and tear and rust. These features make it suitable for modern kitchen designs. The protective film over the appliances also makes it scratch resistant. This makes it an attractive choice among users.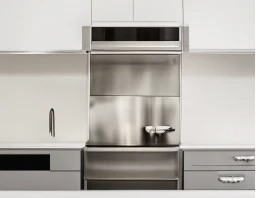 Brushed Stainless Steel Sink
Brushed stainless steels are the most popular type of sink among consumers. They tend to have the best match with the appliances and decor in the kitchen. For durability and usage, this alloy is the most practical. It is suitable for tougher jobs and areas with high traffic. These are less likely to be damaged because of their finish. Their high resistance to corrosion making them useful in moist environments. These are easily cleanable. If they are cleaning in the direction of brushes or grains gives them extra shine. These have better scratch and wear-and-tear resistance.
Brushed Stainless Steel Sheet
Brushed stainless-steel sheets have many applications in kitchen. It is utilized in appliances, cookware, and decorative purposes. It has high tensile strength, durability, ductility and stiffness. Especially higher non-corrosivity makes them the best choice for these applications. Because of that, they have domestic and many industrial applications in the areas of heavy-duty jobs. Their strength-to-weight ratio suits them for aerospace, architectural, and construction applications. Their good ductility makes them easily mold into any shape or size during fabrication processes. Hence, they have become versatile alloy for vast applications.
Brushed Stainless Steel Faucet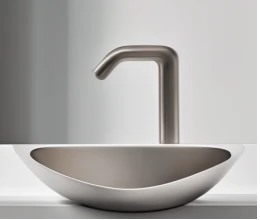 The brushed stainless-steel faucets last for up to 50 or more years. This alloy is almost stain-free and durable. Their popularity among users is high. Because it is utilized as plumbing fixtures, appliances, and has a rust-free nature. Faucets with other materials change their color with time, and it is difficult to clean them. But brushed stainless steels provide high color resistance. It also has high resistance to corrosion, and wear and tear resistance. This alloy is easy to fabricate and install and can easily be recycled. This makes them suitable for the environment from a sustainability point of view.
Brushed Stainless Steel VS Stainless Steel
Brushed stainless steel is treated with a final polishing treatment while stainless steel not, is the major difference. The final polish gives finish a dull or mate look with the fine lines in the brushing direction. This provides a unique texture to brushed stainless steel. this makes it more aesthetically appealing than regular stainless steel. it is a suitable choice for the decoration, especially in the kitchen and bathrooms. The best feature is they sustain all the parenting properties of stainless steel. They are better durability, non-corrosivity, and stiffness. Furthermore, their unique texture needs less maintenance. And is more easily clean than regular stainless steel. Brushed stainless steel gives a modern look. They are likely to be a better match with kitchen appliances and cookware. So, brushed stainless steel is a better alloy for the kitchen and bathrooms. It is also best for decorative purposes. Moreover, it does not need further polishing like other alloys to look best over time.
| | | |
| --- | --- | --- |
| Features | Brushed stainless steels | stainless steels |
| Appearance | Aesthetically appealing | Rough look |
| Corrosion resistance | low | high |
| cleanability | high | low |
| Usability | For decoration | Aggressive areas |
Brushed Stainless Steel VS Polished Stainless Steel
The stainless steel given a final treatment after production results in mainly two types of products: brushed and polished stainless steel. The brushed stainless steels have dulled and matte finished surface while the polished stainless steel have a brighter and shiny surface. An abrasive material is used to polish brushed stainless steel and has a rough look. Polished steels have a smoother finish. The corrosion resistance of polished surface is therefore better than the brushed steels and are more wear and tear resistant. They are more easily cleanable than the brushed stainless steels.
The application of polished stainless steels is suitable where less aggressive environment is present for the material while the brushed stainless steel can easily be used in highly aggressive environment and high-traffic areas. The brushed stainless steels have high luster than the polished stainless steel because of the grainier look in the brushing direction. However, polishing provides a uniformity in the surface and helpful in fabrication processes like welding, furthermore it is less likely to collect deposits, which means it is lesser harmless to steels.
| | | |
| --- | --- | --- |
| Features | Brushed stainless steels | Polished stainless steels |
| Appearance | Dull and matte | Smooth and shiny |
| Corrosion resistance | low | high |
| cleanability | low | high |
| Usability | Tough areas | Less tough areas |
At Tuofa Custom Stainless Steel Project
Tuofa established in 2006 providing the on-demand manufacturing services of stainless steel: custom machining, 3D printing metal, sheet metal custom for our OEM customer. We are specialized in fabricating CNC parts, sheet metal stamping components, metal bending parts and many other custom processing services. We also surface finish process services like sandblasting, anodized polishing and electroplating.
FAQs about Brushed Stainless Steel and Stainless Steel
Is brushed stainless steel as good as stainless steel?

Yes, the brushed stainless steel has same properties as the stainless steel while having an aesthetically apparent look which makes it more suitable for the applications where decorative purpose is important. Therefore, it is most widely used for the applications of kitchen appliances, cooktops, cookware and sinks and faucet.



Is brushed stainless steel the same as satin stainless steel?

The final treatment given to stainless steels results in: brushed and satin stainless steel. They both possess slightly different properties in the application of kitchen appliances and other applications because the satin steels have smoother, shinier and bright look while the brushed steels have dull and matte look and result in slight different features like, cleanability, luster and corrosion resistance.



Is brushed stainless steel durable?

Yes, brushed stainless steel are very durable and long lasting. These durability makes them useful for the application in the high-traffic areas and public places and their good corrosion resistance makes them useful for applications as kitchen sink and faucets which has lasting life of 50 or more years.