What is Metrology in Manufacturing: A Comprehensive Guide

Oct 28,2023

In the world of manufacturing, precision and quality are non-negotiable. To achieve this, industries rely on a discipline that often operates behind the scenes but plays a pivotal role in ensuring that products meet the highest standards: metrology. In this comprehensive guide, we will delve into the intricate world of metrology, exploring its significance, the tools it employs, and the role it plays in maintaining quality control. So, let's embark on this journey and discover the world of metrology in manufacturing.
Quick View of Article Content
What is Metrology in Manufacturing
What is Metrology in Manufacturing
Metrology, the science of measurement, is more than just a buzzword in the manufacturing industry. It's the art of ensuring that products meet exacting standards of quality and precision. But, what does "measure" really mean in this context? In the manufacturing world, to measure means to assess, evaluate, and analyze. Metrology is the practice of doing this accurately and consistently. It's about quantifying the characteristics of an object or a process, so you know it's up to par.

Metrology Certification: NIST-Traceable Calibration
Metrology Certification, specifically NIST-traceable calibration, is a critical aspect of quality assurance and precision in various industries. Here's a concise explanation:
Metrology Certification: This refers to the process of certifying that measuring instruments and equipment meet specific standards for accuracy, reliability, and precision. Metrology certification ensures that these instruments provide trustworthy measurements, which is crucial for industries like manufacturing, healthcare, and scientific research.
NIST-traceable calibration: The National Institute of Standards and Technology (NIST) in the United States maintains rigorous measurement standards. NIST-traceable calibration means that measuring equipment has been calibrated using NIST-certified standards or equipment. It ensures that measurements can be traced back to NIST's highly accurate standards, providing confidence in the accuracy of measurements.
For instance, in CNC machining service, NIST-traceable calibration is vital for ensuring product quality and regulatory compliance. It guarantees that measurements of CNC parts and products are precise and reliable.
Metrology Examples
To grasp the practicality of metrology, let's consider a few examples. Imagine a manufacturing plant that produces precision components for the aerospace industry. In such a critical environment, even the slightest deviation in measurements can lead to catastrophic consequences. Metrology ensures that every component, from bolts to bearings, is measured with utmost accuracy to meet industry specifications.
What is Metrology Used For<+/h2>
In manufacturing, precision isn't just a goal; it's a requirement. Metrology plays a crucial role in ensuring that products are of the highest quality. Let's dive into how it accomplishes this feat.
Guaranteeing Quality
When it comes to manufacturing, quality control is paramount. Metrology is the linchpin in this process. It ensures that products meet the standards and specifications laid out, leaving no room for error. This is especially vital in industries like aerospace, automotive, and medical, where safety and precision are paramount.
Precision in Manufacturing
Precision is not an option; it's a necessity. Metrology guarantees that products are manufactured to exacting specifications, eliminating any deviations. This not only ensures quality but also reduces wastage and improves efficiency.
Innovation and Research
Metrology is also vital for research and development. It provides accurate measurements for experimentation and innovation, enabling the development of new products and technologies.
Types of Metrology
| | |
| --- | --- |
| Example | Description |
| Dimensional Metrology | Measures physical dimensions of objects |
| Optical Metrology | Uses light and optics for precise measurements |
| Coordinate Measuring Machines (CMM) | Accurate 3D measurements |
| Surface Roughness Measurement | Evaluates surface quality |
| Non-destructive Testing | Ensures integrity without damaging the item |
| 3D Scanning | Captures detailed 3D models of objects |
| Laser Interferometry | Measures minute changes using laser beams |
| Vision Systems | Uses cameras and image analysis for inspection |
Metrology isn't a one-size-fits-all solution. It's a diverse field with various branches, each dedicated to measuring different aspects of products and processes.
Dimensional Metrology
In this branch, measurements focus on physical dimensions such as length, width, height, and more. For example, in the manufacturing of a car's engine components, dimensional metrology ensures that every part fits perfectly.
Geometric Metrology
Geometric tolerances are crucial in manufacturing, especially when it comes to assemblies. Metrology ensures that the geometric features of parts and assemblies are precisely aligned to meet design requirements.
Surface Metrology
Surface finish can greatly impact a product's performance. Think of a medical implant – surface metrology ensures that it has the right texture and smoothness for optimal functionality.
Form and Position Metrology
Manufacturing often requires ensuring that various features are in the correct form, orientation, and location. Metrology plays a pivotal role in making this happen.
Metrology Tool
To accomplish all these measurements, metrologists employ a wide array of tools and technologies. Here's an overview:
Common Metrology Instruments
Calipers: These handheld tools are used for measuring lengths, both inside and outside diameters.
​
Micrometers: For precision measurements, micrometers are indispensable. They measure thickness, depth, and outside diameters with incredible accuracy.
​
Coordinate Measuring Machines (CMMs): CMMs are like the Swiss Army knives of metrology. They can measure complex geometries with high precision.
Advanced Metrology Technologies
Metrology is continually evolving, and new technologies are pushing the boundaries of what's possible. This includes 3D scanning, which allows for the precise measurement of complex shapes, and laser-based systems, which provide incredibly accurate distance measurements. These cutting-edge solutions are changing the game in manufacturing.
Importance in Quality Control
Metrology's significance in maintaining quality control cannot be overstated.
Ensuring Precision
Precision is the backbone of quality in manufacturing. Metrology ensures that every product is crafted to meet the exact specifications, guaranteeing precision in every aspect.
Regulatory Compliance
Metrology isn't just about maintaining quality; it's also about meeting industry standards and regulations. In highly regulated industries like healthcare and aerospace, compliance is non-negotiable. Metrology ensures that products meet these stringent requirements.
Conclusion
In conclusion, metrology is the unsung hero of the manufacturing world. It ensures that products are not only manufactured with precision but also meet the highest standards of quality and regulatory compliance. With its diverse branches and cutting-edge tools, metrology continues to evolve, playing a pivotal role in modern manufacturing. So, the next time you marvel at a perfectly functioning piece of machinery or a lifesaving medical device, remember that metrology is the invisible force that makes it all possible.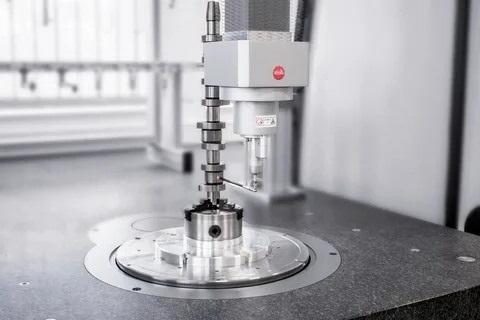 How to Metrology in CNC Machining Service for China Tuofa
In China TUOFA custom CNC machining service, metrology plays a crucial role in ensuring precision, quality, and accuracy in the manufacturing process. Metrology in CNC machining involves the following key aspects:
Quality Control
Metrology is used to measure and verify the dimensions and tolerances of machined parts to ensure they meet design specifications.
Inspection
Metrology tools such as Coordinate Measuring Machines (CMMs) are used to inspect and verify the dimensions of complex parts with high accuracy.
Surface Finish Measurement
Metrology tools assess the surface roughness and finish of machined components, ensuring they meet the required standards.
Geometric Tolerancing
Metrology aids in verifying geometric features, such as concentricity, perpendicularity, and parallelism, in CNC machined parts.
In-Process Monitoring
Some CNC machines are equipped with in-process metrology systems that monitor machining operations in real-time, making adjustments if necessary.
Tool Wear Monitoring
Metrology is used to measure tool wear, helping to optimize tool life and maintain consistent quality.
Statistical Process Control (SPC)
Statistical analysis using metrology data helps identify trends and variations in production processes, enabling continuous improvement.
Reverse Engineering
Metrology techniques are employed to create accurate 3D models of existing parts or prototypes for reproduction or modification.
China Tuofa CNC machined parts manufacturer used these metrology practices to ensure the quality and precision. Please feel free to ask more specific questions if you need further information on any of these aspects,
Contact us now [email protected]