The Ultimate Guide to CNC Motorcycle Parts

Oct 13,2023

If you're a motorcycle enthusiast, you know that every detail counts when it comes to enhancing your ride. One of the most significant advancements in the world of motorcycle customization is the use of CNC (Computer Numerical Control) motorcycle parts. These precision-engineered components are designed to not only improve the performance of your motorcycle but also add a touch of personalization to make your ride truly unique. In this comprehensive guide, we'll delve into the world of CNC motorcycle parts, exploring what they are, where to find them, and how they can take your motorcycle to the next level.
Quick View of Article Content
CNC Motorcycle Parts Online of Various Brands
Custom Motorcycle Parts and Accessories
Advantages of CNC Motorcycle Parts
How CNC Motorcycle Parts Achieve High Precision
Where to Find CNC Motorcycle Parts
Motorcycle Parts Manufacturer: CNC Racing vs China Tuofa
CNC Meaning in Motorcycle
CNC, or Computer Numerical Control, refers to the technology that enables the automated control of machining tools and 3D printers by means of a computer. In the world of motorcycles, this technology has revolutionized the way parts are designed and manufactured. CNC motorcycle parts are created with utmost precision and accuracy, resulting in components that fit perfectly and perform exceptionally. The use of CNC technology has transformed the way motorcycles are built, making it possible to create intricate and precisely crafted components that were once unimaginable. This technology ensures that each part is consistent and meets the highest standards of quality.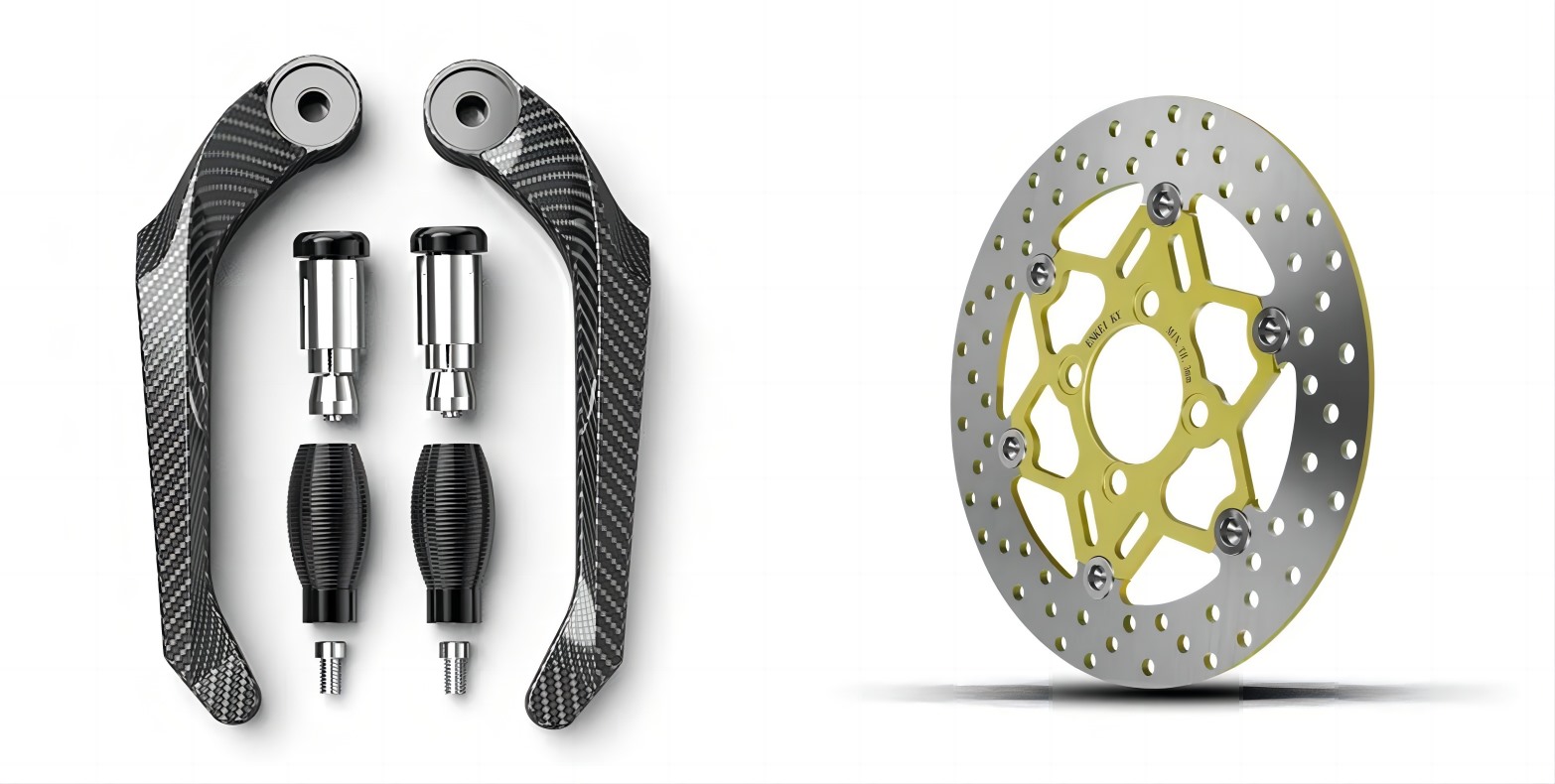 Motorcycle Parts Materials
Before we explore the brands and types of CNC motorcycle parts available, it's essential to understand the materials commonly used in their production. Some of the materials include:
Aluminum 6061-T6: Renowned for its lightweight and durable properties, this aluminum alloy is frequently used for various motorcycle parts, including frames, swingarms, and side mirrors. Its combination of strength and low weight makes it ideal for components that need to balance performance and durability.
​
Steel: Known for its exceptional strength, steel is often used for components that require high structural integrity. It's commonly found in parts like the frame and structural elements that must withstand heavy loads and stress.
​
Titanium: Highly regarded for its corrosion resistance and exceptional strength-to-weight ratio, titanium is often used for exhaust systems and other high-performance parts. Titanium components are not only durable but also significantly lighter than their steel counterparts, contributing to improved performance.
​
Plastic and Composite Materials: For certain motorcycle components like fairings and body panels, lightweight and impact-resistant plastics or composite materials are preferred. These materials are excellent choices for parts that need to be both durable and lightweight, as they offer the advantage of easy customization and a wide range of color options.
CNC Motorcycle Parts Online of Various Brands
Let's take a closer look at some of the popular brands and the types of CNC motorcycle parts they offer.
Custom Harley Parts
For Harley-Davidson enthusiasts, customizing your ride is a way of life. Custom Harley parts crafted with CNC precision not only enhance the aesthetics of your motorcycle but also contribute to improved performance and durability. From CNC-machined air cleaners to custom derby covers, you can add a touch of personal style and elevate your Harley's performance.
Yamaha Aftermarket Parts
Yamaha motorcycles are known for their performance and reliability. Adding CNC aftermarket parts to your Yamaha motorcycle can take it to the next level in terms of power and style. Consider upgrading to CNC-machined brake and clutch levers or custom foot pegs to enhance your riding experience.
CNC Ducati Parts
Ducati motorcycles are synonymous with precision and performance. CNC Ducati parts are designed to complement these incredible machines, offering enhanced performance and a unique look. Whether you're interested in upgrading your handlebars, adding a CNC fuel cap, or enhancing your Ducati's aesthetics with custom CNC parts, there's a wide range of options available.
Custom Motorcycle Parts and Accessories
The world of custom motorcycle parts and accessories is vast, catering to riders with diverse tastes and preferences. Here are a few categories to explore:
Custom Chopper Parts
Chopper enthusiasts can add a touch of uniqueness to their motorcycle with CNC custom chopper parts. From custom handlebars to unique foot controls, the possibilities are endless. Create a chopper that's truly your own by selecting CNC-machined components that match your style and performance needs.
CNC Racing Engines
For riders seeking maximum power and speed, CNC racing engines are a game-changer. These high-performance engines are built to deliver incredible acceleration and top-end speed. With CNC-optimized engine components, you can unleash the full potential of your motorcycle and dominate the racetrack.
CNC Side Mirror (Aluminum 6061-T6)
One of the most common motorcycle parts that can benefit from CNC precision is the side mirror. CNC machined aluminum side mirrors not only look fantastic but are also highly durable. These mirrors provide a clear and stable view, enhancing safety during your rides. Choose from a variety of styles and finishes to match your motorcycle's aesthetics.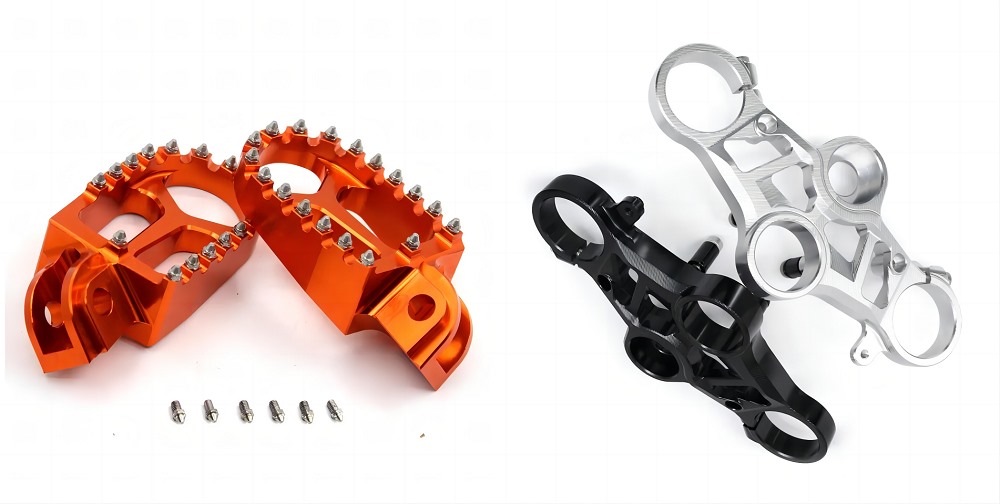 Advantages of CNC Motorcycle Parts
Now that we've explored the types of CNC motorcycle parts available, let's delve into the advantages they offer.
Improved Performance
CNC motorcycle parts can significantly enhance your motorcycle's performance. You can expect increased power and speed, making your rides more exhilarating. CNC precision ensures that each part is optimized for performance, whether it's a custom exhaust system, a set of high-performance brake calipers, or precision-machined engine components. Your motorcycle will respond more effectively to your commands, giving you a thrilling riding experience.
Enhanced Durability
With CNC precision, parts are built to last. Your motorcycle's lifespan is extended, reducing the need for frequent replacements. Whether you're navigating rough terrain or pushing your motorcycle to the limits on the track, CNC parts can withstand the rigors of riding. Their durability ensures that your motorcycle remains reliable and ready for your next adventure.
Customization Options
Customization is at the heart of CNC motorcycle parts. You can choose unique designs that reflect your personality and style. CNC technology allows for intricate and personalized designs, ensuring that your motorcycle stands out from the rest. Whether you prefer a sleek and minimalist look or a bold and aggressive style, CNC parts can be tailored to your preferences.
Reduced Maintenance
Precision-engineered parts result in lower maintenance costs. Your motorcycle runs smoothly, with fewer breakdowns and repairs. CNC parts are crafted to precise specifications, reducing wear and tear. This means less time and money spent on maintenance, allowing you to spend more time on the road. You'll have peace of mind knowing that your motorcycle is in optimal condition.
How CNC Motorcycle Parts Achieve High Precision
High precision is the hallmark of CNC motorcycle parts. Let's explore how this precision is achieved.
Design and Prototyping
Parts are meticulously designed using computer-aided design (CAD) software, ensuring every detail is perfect before production begins. CAD technology allows engineers to create 3D models of each component, optimizing its design for both form and function. This detailed planning stage ensures that every CNC-machined part meets the highest standards of precision.
Small Batch Custom Precision CNC Service
Many CNC machining services offer custom precision parts in small batches, allowing riders to get unique components tailored to their motorcycles. These services cater to riders who want something truly unique. Whether you're looking for a one-of-a-kind triple tree or a personalized CNC gas cap, custom CNC machining services can bring your vision to life. This level of customization is a testament to the flexibility of CNC technology.
Quality Control and Testing
Stringent quality control measures are implemented throughout the manufacturing process to ensure the highest level of precision and quality. Each CNC part undergoes meticulous inspection, with tolerances measured in micrometers. This level of scrutiny guarantees that every part meets the exact specifications set during the design phase. Rigorous testing ensures that CNC parts not only meet but often exceed industry standards, providing you with components of the highest quality.
Ensuring Safety and Performance
CNC motorcycle parts undergo rigorous testing to ensure they meet safety standards and enhance the overall performance of your motorcycle. Safety is a top priority, and CNC manufacturers go to great lengths to ensure that each part contributes to the overall stability and safety of your motorcycle. By choosing CNC parts, you can have confidence in their reliability and the protection they provide while you're on the road.
Where to Find CNC Motorcycle Parts
Now that you're convinced of the benefits of CNC motorcycle parts, you might be wondering where to find them. Fortunately, there are several options to explore.
Local Dealers and Shops
Many local motorcycle dealers and shops stock a range of CNC parts. You can consult with experts who can guide you on the best options for your motorcycle. Visiting a local shop allows you to see and touch the parts, and knowledgeable staff can provide advice on which components are best suited to your motorcycle.
Online Retailers
The internet is a treasure trove of CNC motorcycle parts. Numerous online retailers offer a wide variety of parts for different makes and models. Be sure to read reviews and check for reputable sellers. When shopping online, you have the convenience of browsing a wide selection and comparing prices. Just ensure that you purchase from a trusted source to guarantee the authenticity and quality of the CNC parts.
Custom CNC Machining Services at China Tuofa
For those seeking truly bespoke CNC parts, custom machining services like China Tuofa provide tailored solutions. You can work with professionals to design and create parts that are uniquely yours. If you have a specific vision for your motorcycle and want parts that are not readily available on the market, custom CNC machining services can turn your ideas into reality. This option is ideal for riders who want their motorcycle to be a reflection of their personality and style.
In conclusion, CNC motorcycle parts are a fantastic way to enhance the performance, durability, and style of your motorcycle. Whether you're a Harley enthusiast, a Yamaha rider, or a Ducati aficionado, there are CNC parts available to suit your needs. With precision engineering, customization options, and the promise of improved performance, CNC motorcycle parts are a must for any serious rider looking to take their motorcycle to the next level. So, rev up your engine and explore the world of CNC motorcycle parts to unlock the full potential of your ride. Your motorcycle will not only look amazing but also deliver a performance that matches your passion for the open road. Whether you're cruising through city streets or conquering rugged terrain, CNC motorcycle parts will be your trusted companions on every journey.
This extended version provides a more in-depth look at CNC motorcycle parts, including the materials used, the advantages they offer, and how precision is achieved. It also provides additional information about where to find these parts, offering readers a comprehensive guide to making their motorcycle truly exceptional.
Motorcycle Parts Manufacturer: CNC Racing vs China Tuofa
CNC Racing incorporates innovative technology or features into their parts, provide high-performance parts for personal enthusiasts.
As the top CNC parts manufacturer in Shenzhen, China, since 2006,Tuofa have customized CNC machining services for the electronics, aviation, and automotive industries, providing more timely response to batch order processing.
The choice between the two depends on your specific needs, whether you need custom CNC machining services or if you are looking for high-performance motorcycle parts.