Lug Bolts Vs Lug Nuts: What is the Differences Between

Jun 02,2023

Every vehicle uses lug nuts or bolts in the wheel assembly. And the vehicle uses the wheel to move on the road. A lug nut or bolt clamps the wheel with the hub. Two methods are present for clamping vehicle wheels. One method is lug bolt clamping. The second method is lug nut clamping. Wheel clamping decides the dynamics of the vehicle. Wrong wheel alignment causes damage to the wheel. Thus right fastening method decides the life of the vehicle. The difficult fastening design causes damage to wheel parts. Car maintenance depends upon the right fastening method.
So it is important to understand the engineering of wheel fastening. Little knowledge can damage your car. Right customer feedback is also important for Car designers. Improper design can fail the expensive car. This article can clarify the fastening method.
You will learn about the following content
What is the Differences Between
Advantages and Characteristics
How often Need to be Replaced?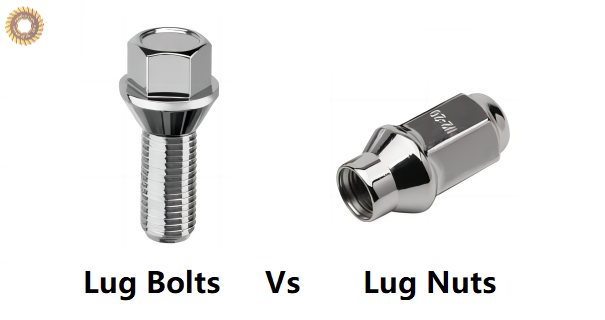 What is Lug Nut?
It is a nut of aluminum or titanium. It moves on the stud of the wheel hub. And clamps wheel assembly. This system needs three parts. One is a lug nut. The second is a stud. And third, is a stud in the wheel hub. The wheel can join the hub by lug nut fastening. The torque wrench tightens the lug nut in a star position. Conical tapper design is famous for lug nuts. The 45-degree angle is the easiest approach for this design. Because handling is easier in this case.
What is a Lug Bolt?
The lug bolt is a metric bolt with threads on it. Mechanical calculations decide the right diameter of the bolt. The material of this part is usually steel. The car wheel hub has female threading in it. And lug bolt moves in the threading area. Two parts are necessary for this mechanism. One is the female threading portion in it. The second is the threaded bolt. Wheel replacement needs the removal of this bolt. The lug bolt comes out of the wheel hub. And the wheel is free to go. It is a simple system. Because it needs only two parts. One is a threading hole. The second is the lug bolt.
What Size are Lug Nuts?
The majority of design calculations follow the following size of nuts,
10 mm diameter
12 mm diameter
14 mm diameter
Size of lug nuts depends on many factors. But the design stress is the important factor. It decides right diameter of lug nut. Lug nut size is always in whole numbers. Because too many sizes can confuse users. Standard-size nuts make the replacement easy. Because they are easily available in market. Shape of lug nut also decides the size. Hexagonal lug nut needs adequate torque. And conical lug nut needs adequate torque.
Types of Lug Nuts
Classification of these nuts is due to different head shapes. Head shape of nut is the requirement of tool application. Common type of tool fits with a conical head shape. But every head shape has importance. Learn more about the different types of lug nuts encountered by Tuofer during the manufacturing process through articles on nuts.
Conical Lug Nut
Usually there is a raised part with a conical top, this design can provide better sealing performance and more reliable connection. A 45-degree angle is the best option for this cone. Easy gripping is possible in it. It has vast applications in vehicles.
Extended Thread
It has a long straight portion on it. It is easy to grip during installation. Some application requires a long edge for gripping. Extended thread can move on stud with extra length.
Tuner Style
It has a particular shape with a conical top. A special key can handle this type of lug nut. They have an application for wheel security.
Spline Type
It has spline type drive groove. They are more particular to keys. Customized keys can drive these lug nuts. Installation becomes difficult without key.
Spherical Lug Nut
These lug nuts are spherical at the top of it. It is a simple design. Any ratchet or spanner can handle it. It is compatible with any tool. It is suitable for general applications. Spherical lug nut wheel is for general purposes. It does not contain a security feature.
Mag Seat Lug Nut
This type of nut contains a flat washer seat. They are very common to use.
What is the Differences Between Lug Bolts and Lug Nuts
Structure of these two fasteners is different. Thread mechanism is different in working. Force-bearing capacity can recognize the right job for it. Number of parts is not same for lug nut and lug bolt.
Design and Structure
Lug nut design is for bearing of all the load application. But lug nut design holds the wheel hub and stud.
| | |
| --- | --- |
| Lug Bolt | Lug Nut |
| Lug bolt is threaded rod. Length is approximately 4 to 8 inches | Lug nut is threaded nut. Threaded length is between 2 to 6 inches |
| Lug Bolt head is hexagonal. Other option is designer choice | Lug nut head is conical or hexagonal |
| External threads are present on surface. These threads are similar to hub thread | Internal threads are present on internal surface. These are similar to stud thread |
| Lug bolt tighten inside the hub female thread | Lug nut moves on stud external thread |
Lug nuts design needs special attention. Thread size is the key factor. It is their identification. Because wrong thread size cannot work. It can cause damage to hub assembly. Pitch of lug nut is important. Wrong pitch selection can cause cross threading of hole. Seat has relation with assembly tool.
Good design take care of tool and lug nut seat. Surface treatment of lug nut can decide life. Poor surface treatment make it rusty. Length is important design factor of lug nut.
Lug Bolts Vs Lug Nut: Easier to Install and Remove
Lug nut is very easy to install and remove. Lug bolt is difficult to handle during installation.
| | |
| --- | --- |
| Lug Bolt | Lug Nut |
| Lug bolt is inserted in wheel hub. | Lug nut moves on stud |
| Lug Bolt is inserted in wheel Hub | Lug Nut moves on Stud |
| Wheel aligns at its position. Then lug bolt inserts in its location | Wheel matches with pitch circle diameter of hub. Then lug nuts moves over stud in star position |
| At the end lug bolts are tightened by wrench or spanner | Lug nuts are tightened by socket or spanner |
| They are difficult to install. Because each time alignment is not possible | In this case wheel always align on fixed stud |
| Wrong placement of wheel can cause misplacement in movement | Lug nut are easy to handle after matching of wheel with fixed stud |
| Similarly it is difficult in removal process. Because all bolt should be loosened in one go | It is easy to remove because wheel always stay on fixed studs |
Material Differences
Lug nut is made from Aluminum. But lug bolt is made from alloy steel.
| | |
| --- | --- |
| Steel Lug Bolt | Aluminum Lug Nut |
| | |
| Is made of steel material | Can be of aluminum |
| Needs torsional and axial stress | Needs axial stress only |
| Steel can bear high stress value | Aluminum is weaker material |
| Major load is acting on steel bolt | Major load is acting on stud of wheel hub |
Steel yield strength is approximately 650 MPa. So steel lug bolt bear stress value in this range. Shear stress act on lug bolt. Torsional and axial forces act on the same. So three types of force system act upon it. Steel is the best option to handle this system. Low weight aluminum cannot bear these forces. After assembly only shear stress is important. Torsional forces terminate after tightening procedure.
In lug nut assembly stud has major role. Stud takes axial stress. Lug nut only takes torsional stress. Aluminum material can perform well in this case. Low weight aluminum also lessen the weight.
Lug Bolts Vs Lug Nuts: Advantages and Characteristics
Lug nut has many advantages due to its design. But lug bolt has less advantages in common application. But every system has its own properties for fastening.
Advantages of Lug Bolt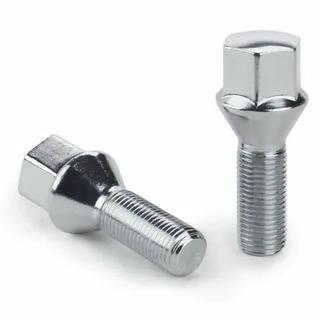 It is simple system. In lug bolt only two items are essential. One is lug bolt. Second is threaded hole in wheel hub assembly. Thus it needs only items in system.
It needs less quality inspection in manufacturing. Only two items needs inspection during manufacturing. In vehicle manufacturing every part need attention. In lug bolt system two parts need attention. So manufacturing process becomes easy.
This is a cheaper system as it only restricts two items: high cost requires qualified parts and qualification tests are required. Therefore, it needs to be low-cost.
Lug bolt replacement is very easy. It needs purchase of new lug bolt. Hub assembly does not need any alteration.
In heavy vehicle weight is important factor. Less weight system increase the speed of vehicle.
Advantages of Lug Nut
It needs less attention in alignment. Studs do not remove. And wheels stay on fixed stud. So installation process become easy.
Stud is major part in this system. Stud is stronger than bolt. Because stud has more engagement length.
Small stud is the requirement in this system. Because stud needs less length than bolt. Therefore it takes less space in vehicle.
Lug nut have special key. If security is concern. Then customized key is best option.
It needs low torque value. Perfect alignment of four studs needs less force.
It has low chance of cross threading.
It does not need professional person.
Disadvantages of Lug Bolt
It needs perfect alignment for assembly. So training is necessary before wheel installation.
Cross threading can happen during wheel installation. In cross threading lug bolt moves in wrong direction. And damage can occur in thread hole .In this case complete wheel assembly needs replacement.
Steel lug bolt have less corrosion resistance.
They need early replacement.
It requires high torque value for installation.
Disadvantages of Lug Nut
Wheel can strike stud during installation. Wheel assembly needs replacement due to faulty stud.
High torque value can damage weak aluminum lug nut. So wheel installation needs attention.
Lug nut system increases the cost of manufacturing.
Application and Compatibility
Germans and Europeans vehicles use lug bolt system. Perfect alignment is the result of dedicated lug bolt installation. Lug bolt needs one time attention. After right wheel assembly it has more strength. It can go longer without slippage. No displacement occur between wheel and suspension. Car suspension can have longer life. This system is successful in developed countries. Because it needs less frequency of wheel replacement.
Lug nuts are the best option in low quality road system. It can perform during frequent wheel replacement. Because it remain in original position on fixed studs.
Small vehicles uses lug nut system. Because they need frequent replacement of wheel. And lug bolt system can cause failure in it. Majority of cars use lug nut system. Suzuki, Toyota and Honda uses lug nut system. Lug bolt system has application in heavy buses. It needs less replacement of wheel. They need strong bond between wheel and suspension. Small slippage can fail the drive. Lug nut does not bear high displacement force. Daewoo and Yutong bus use lug bolt.
How often Need to be Replaced?
Lug bolts need high torque values. Because major load lies upon bolt. Wrong torque can damage the bolt thread. So replacement becomes vital. Lug nut needs less torque. It can go longer. It has less wear on thread. High torque in lug nut system indicates fault in system. Stud damage can cause this fault. Torque wrench can prevent this failure. Every vehicle has maintenance manual for torque values.
Lug nut needs stud attention for long life. Defective stud can cause cross threading in nut. So maintenance of stud is important. Because lug nut replacement is not problem. Standard lug nuts are always available in market. Lug bolt has requires assembly training. Unprofessional manner can cause damage in thread hole. Rusting of steel lug bolt can damage thread pitch. Proper greasing is the maintenance requirement of this system.
Safety is great concern for lug bolt. Bond of wheel and hub depends on it. Failure of this system can disassemble the suspension system. So proper torque value and alignment can mitigate the safety concern. Lug nut system is comfortable with end user requirement. It does not need high safety concern. Proper preventive maintenance can eliminate the risk. Lug nuts needs replacement of nut. Aluminum nut can break over time.
Conclusion
Lug bolt is the need of heavy vehicles. It requires less replacement of wheel. So it is not suitable for low quality roads. Lug nut is compatible with small vehicles. They do not need special attention in wheel replacement. Standard lug nuts are available in market. So lug nuts are good for daily use vehicles.
FAQs
Frequently asked questions are described.
Lug bolts: Are They Use Fewer Parts?
Lug bolts requires bolt and threaded hole. And lug nut requires stud, hole and nut. So lug bolt requires few part than lug bolt. This fact makes lug bolt cheaper than lug nut.
Why Lug Bolts instead of Lug Nut ?
Lug bolts are cheaper than lug nuts. They use less parts. And contributes low weight is assembly. Reduce the cost of design and manufacturing. They can bear the forces of heavy vehicle suspension.
What is Lug Nut Key?
Lug nut key is tool for nut removal. Customized sizes are available for this key. It prevents heft of wheel. This key can remove its particular nut. Alternative arrangements are also available to remove lug nut. But lug nut key is the standard tool.