What is CMM | Definition, Types, Components and Used

Sep 09,2023

The dimension and geometry plays a very important role in manufacturing of a part design or prototype, as a small error in the measurement may cause a great damage and may jeopardize the whole process. In order to minimize such type of errors engineers have developed various instruments and machines. CMM is one of such great machines. The CMM is acronym of coordinate measuring machine. It is best suited for maintaining workflow during a manufacturing process. This machine is used in industries for the measurement of large and complex components of machinery. It is helpful in measuring the physical qualities of different objects.
In this article we are going to discuss about the CMM machine, its components, application, its advantages and also the limitations of this machine. We are assured that after reading this article you will have an ample amount of knowledge about CMM machine.
Quick View of Article Content
How China Tuofa Helps You Custom Precision Machined Parts with CMM Machines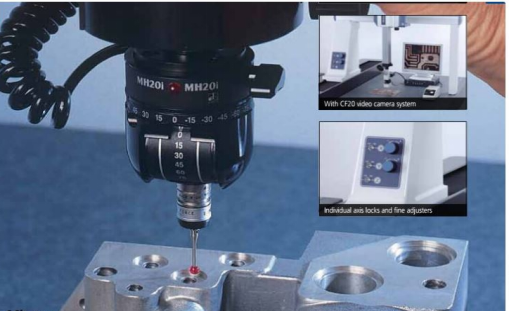 What is CMM Machine
As it is obvious from the name CMM machines are coordinate measurement machines. There are two methods that people usually used for accurate geometry and physical dimension measurement during a manufacturing process. These include measuring by hand tools or by using coordinate technology. The former being less accurate as it requires high expertise. The latter is done by using CMM machine. To achieve more precision the machines and equipments are modified accordingly. Coordinate measure machines best examples of innovative technology use in which large scale products and objects are measured efficiently. It is necessary equipment for to control the quality of the product up to a new level. It measures every aspect of the object and provides information whether the finished product is according to customer's requirements or not. This machine operated with the help of a machinist or computer aided. CMM machine works on 3-axis i.e. X-axis, Y-axis and Z-axis. The probe is attached to the 3rd moving axis for the measurement purpose. These probes can be working based on white light or laser light. The degree of freedom for a CMM machine is 6 DOF. To achieve the accurate and precise geometrical measurements during a manufacturing process CMM is the best tool to use.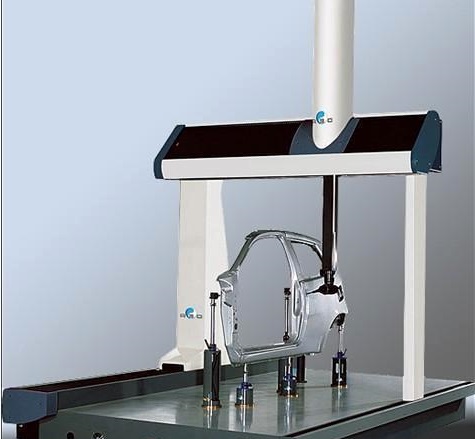 What does CMM stand for?
In actual as it is explained earlier CMM stands for coordinate measuring machine. But its definition changes according to its use in different fields. The following is different fields in which CMM have its own definition according to its use.
In Engineering
Engineering is very vast field. Every manufacturing company is using different techniques to manufacture products. Every industry is working hard to get best quality finished product to satisfy customers need. In engineering CMM is to ensure the design and geometry dimensions up to micro level. The reason is that to stabilize in any sector you need to provide quality products to satisfy customer and to be at highest mark in the market as well.
In Aviation
Aerospace and aviation industry needs parts and components that can easily sustain high temperature and pressure. Similarly the parts should be perfect quality wise to persist in different aerodynamics conditions. So to achieve this feature CMM is making lives easier by providing complete quality control for these kinds of products.
In Machining
Traditional machining helps human beings over a long period of time. But with the evolution of the world and in machining processes traditional machining is unable to answer many questions. Now machining processes have to be precise to meet the complex geometry of the design. And in this regard CMM is the best solution for machinist to check the complete dimensions in all the three axes with ease.
What is a CMM machine used for?
CMM machines are widely used in heavy machinery industries to control the quality of the products. CMM use to test the product's geometry or physical dimension at any point during manufacturing, whether the product is according to the given dimensions. These inspection methods are made with respect to the design specification with the help specially designed software. These CMM machines perfectly design to check for the flaws in any given product to meet the design specifications. Human error reduced significantly with the use of CMM machines.
CMM Technical Facts
Coordinate measuring machines CMM operates in 3D system. It works with the entire three axes, X, Y and Z. scaling has been done on each axis to show its position with respect to some other points. CMM are very efficient in sensing the input of the probe. The probe is controlled manually by a human or can operate with the help of software. Discrete point's technology is used to check the position and size. This operation is highly accurate and precise.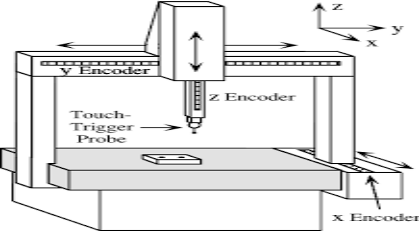 1.Three motion axes
The probe moves in all the 3 axes X, Y and Z with a reference points in space. This technology helps the manufacturer to check the object dimensions for perfect thickness, height and width of the product. This three axis motion is done with the help of a probe which moves over the object.
2.Specific parts
Every CMM has specific parts and components through which it measures the complete dimensions of the work piece. These parts are a probe which slides over the work piece, granite table on which the product is kept for inspection, fixture use to support and fixing the components. Air compressors and dryers also key components. A nonphysical part is software which operates and adjusts the positioning of the probe.
3.Accuracy
CMM basic purpose is to ensure the accurate and precise dimensions of the product. The accuracy is achieved by the software. In precision machining CMM manufactures the most accurate measurements.
Types of CMM Machine

Coordinate measurement machines are classified according to the following types. Every type of CMM has different operating technique and uses in industry.
Horizontal arm CMMs
In this type of coordinate measuring machines the probe is mounted horizontally not vertically. This machine is used to measure the part lengths which are difficult to measure with the help vertical machines. They are very accurate also but less accurate than the other vertical probe machines. Thin metal sheets are easily measured with the help of horizontal CMMs. These machines are best suited for micro-positioning, micro-alignment and Non-destructive testing NDT.
Bridge CMMs
The most commonly used CMM testing machine across various industries is Bridge coordinate measuring machine. Their anchor is very stable to measure apparatus. These machines have very tight tolerances and can easily measure high scale objects. But there are some limitations as well. Bridge CMMS measurement capability is limited from small to midsize machined parts. Also\ very small sized components cannot be easily measured with the help of the bridge CMMs.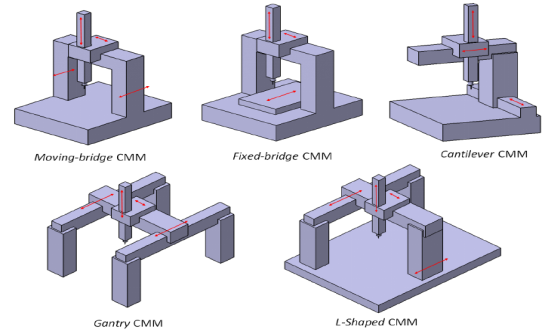 Gantry CMMs
The mechanism of gantry CMMs is quite alike the bridge CMM with some changes in design and different in it capabilities. It is mounted directly on to the floor, while its bridge is raised by pillars to a height. This design enables the Gantry CMM to measure the dimensions of very high volume and size. It also uses a 3D coordinate measuring system.
Cantilever CMMs
These types of CMMs are supported by one end only. This feature make them less rigid in comparison of Gantry or bridge CMMs. Their single supported end helps them to measure the dimensions of low weight materials in measurement technique. They move more quickly than the others and hence are more accurate.
CMM Machine Components
Probe
The most important component of any CMM machine is its probe. The probe comes near the work piece and as it tip touches the work piece it started to measure its dimensions in different axes. It was one of the most important traditional CMM machining components. One of its great features is that temperature variation has no effect on them i.e. they ar temperature resistant. Probe is usually made by using ruby or zirconia.
Granite Table
Due to stability point of view a granite table is used in CMMs. The work piece is kept on the granite table for measurement. High temperature does not affect the granite. Its wear and tear is also low as compared to other materials. Its shape stays the same over a long period of time makes it suitable for these kinds of jobs.
Fixtures
Another component of CMM is fixture. It is used for fixing the work piece and supporting it. They keep the work piece in fix place for proper functioning. The tools that are available for fixing are fixture clamps, magnets and plates.
Air compressor and dryers
In bridge and Gantry CMMs air compressors are the basic components with dryers.
Software
Software enables the perfect functioning of the tool. They also ensure the quality control of the product by comparison of the measured object with the actual measurement of the object.
How to Use CMM Machine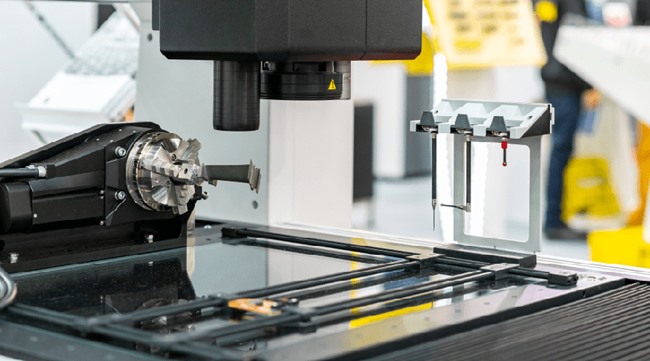 The most common measuring techniques in CMMs are two.
Contact mechanism: in this mechanism the probe touches the work piece to measure the tools part.
Camera/Laser mechanism: in this mechanism a camera or a laser is used to measure the tools parts.
How CMM Works? (Working principle)
A CMM works to do two things. Firstly, CMM measures the geometry and physical dimension of an object or part by using a probe. Then it compares its measurement with that of a standard in order to ensure whether it is corrected design or not.
How to Calibration of Machine
CMMs are used to measure the dimensions of large scale physical parts and components. The calibration is done with the help of a probe. The probe touches the object that has to be measured on different parts and send it to the computer. Then after taking all the measurements the parts dimensions are surface analysis to construct these features accordingly. This mechanism is same for contact CMMs and camera/laser mechanism.
CMM measuring Device
The working principle of CMM machine is defined in the following steps:
Step 1
The work piece whose dimensions have to be checked is placed on the granite table/ base plate. This base plate must be strong or rigid made from a dense, stable and rigid material enough to withstand various load, because this base plate ensures the accuracy of measurement.
Step 2
CMM contains a moveable gantry above the basic plate. The Gantry probe is movable and equipped with a touching probe. The software then controls the motion of the probe in all the three axes. In this fashion it replicates every aspect of the measurement. When the probe touches the work piece on any point it sends an electric signal to the attached computer which map out. And this happens for many parts of work piece and the dimension of the work piece is measured.
Step 3
The last step involves the analysis of the measure gathered by using probe. This step is done before the construction of features. The analysis can be done by using camera or laser guidance.
Pros and Cons of CMM Machine
Nowadays, CMM is widely used in measuring the geometry and physical dimension during a manufacturing process. This is due to a wide range of their advantages. But there are certain limits to its use. In this section we will discuss both the pros and cons of CMM machine.
Advantages
The use of CMMs is very time saving and cost effective too.
The control quality product is a guarantee
With many tools and components versatility is techniques
It is highly automated and has less human
Limitations and Challenges
The probe needs to touch the surface for measurements
There could be wear and tear of soft material with the edge touching
To measure different parts specific probe should be selected
The advantages and CMM machines disadvantages are given in the following table.
How China Tuofa Helps You Custom Precision Machined Parts with CMM Machines
Shenzhen TUOFA is one the leading manufacturer for CMM machine parts with precision and quality assurance all over the world according to industry standards. The following advantages comes when CMM is done by TUOFA
The CMM parts are highly accurate and precise in measurements. Our experts are very well experienced in ensuring accuracy of any measurement. They are very well aware of using CMM ensure 100% reliability and accuracy.
For every product TUOFA is providing is the solution of reverse engineering mechanism. In this process the product is measured according to dimensions with very less efforts and efficiently manufactured.
The design can be easily replicated by automated machining and by custom as well. TUOFA is highly experienced in converting a custom design and converting it into a highly precise CMM part.
Design Optimization
TUOFA provides the best solution and online services for all kinds of complex design geometry optimization.
11 Ways to Cut Titanium | Cutting Guide 2023
The aerospace, medical and automotives industry all employ titanium, which is light weight and has good corrosion resistance. It also has high strength to weight ratio. Machining of titanium is not a simple task because of its high hardness value and it i

Aug 12,2023

How to Polish Titanium | 8 Polish Ways
After the fabrication of titanium parts, the final step is how to shine the titanium surface finish to give a titanium mirror-like polished surface. Titanium polishing is also done by metallurgically to see the microstructure analysis of the titanium. Tit

Aug 23,2023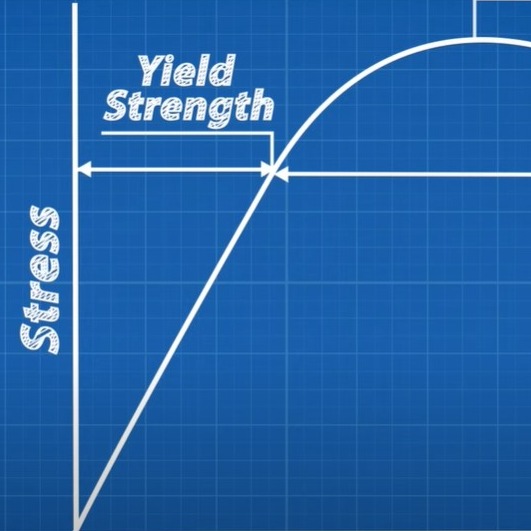 Strength VS Stiffness: What is the Difference Between?
StrengthvsStiffnessdictatesdesignengineertoqualifyMaterialdesign, Structuraldesign, Functional design and Dynamic design with the application of Design conditions, Environment, Function and Operation, so that job can do its work in due course of life span

Aug 31,2023