11 Ways to Cut Titanium | Cutting Guide 2023

Aug 12,2023

The aerospace, medical and automotives industry all employ titanium, which is light weight and has good corrosion resistance. It also has high strength to weight ratio. Machining of titanium is not a simple task because of its high hardness value and it is difficult to choose the right process for machining. Here are 10 different ways to cut titanium and its alloys, their processes, tools required and their specific advantages. Based on which you can select the appropriate process according to your requirements.
Is titanium easy to cut?
Due to its reactive nature, cutting titanium is not simple at all. The process of cutting should take place in a cold environment to save the metal from contamination and discoloration. It has low conductivity and less heat is transferred by the tool which shortens tool life. Titanium may be cut precisely and effectively using a variety of tools like band saws, waterjets, plasma and laser cutters.
Can you cut titanium with carbide?
Yes, mostly for titanium cutting carbide tool is used. Carbide tools are divided into two major groups titanium carbide and tungsten carbide. They retain their hardness value over a range of temperatures. Different coatings like PVD are used on carbide tools which dissipates heat and extend their life. Most of the time, fine or medium-grain carbides are used for the cutting process which have low binder content in them.
Titanium Alloy Properties Table
Physical Properties
| | |
| --- | --- |
| Density | 4.5 g/cm3 |
| Melting Temperature | 1650-1670°C |
| Boiling temperature | 3260 °C |
Mechanical Properties
| | |
| --- | --- |
| Tensile strength | 220 MPa |
| Modulus of elasticity | 116 GPa |
| Hardness, Brinell | 70 |
| Shear Modulus | 43 GPa |
| Elongation at break % | 54 % |
| Poison's ratio | 0.34 |
Thermal properties
| | |
| --- | --- |
| Thermal expansion co-efficient (at 20-100°C) | 8.90 µm/m°C |
| Thermal conductivity | 17 W/mK |
Titanium cutting tools and equipment
Any business that deals with cutting of titanium should have a solid understanding about different equipment and tools being utilized. Choosing the wrong tool may cause excessive wearing which will result in time wastage during changeover and high overall tool cost. Most of the tools lie in four major categories Cast alloys, High speed steels (HSS), Ceramics and carbides.
Can diamond cut titanium
Diamond hardness is much higher than titanium in fact it is the hardest element. On Rockwell's scale diamond hardness is 98.07 and titanium has a value of 36. A diamond coated disc or diamond blades are used in cutting of titanium rings.
How to Cut Titanium: 11 Way Cutting Guide
Cutting titanium sheet by hand
Cutting titanium sheet is possible but the high hardness value has made it a difficult task. It can be cut used power hacksaws, band saws and circular saws. Hacksaws are readily available and easy to use by marking the specimen and then applying the tool with force. It will take a lot of time but will save money.
Saw cut Titanium
Precision saw cutting of titanium produces clean, smooth edges that are essential for aerospace and medical applications.
Band saw blade for cutting titanium
In band saw titanium cutting method, a special blade is used whose teeth contains carbide tips which maintains their sharpness longer than the tools having steel tips over them. Coolants are necessary for this cutting process to increase the cutting accuracy and also stops contamination as titanium is highly reactive. Band saw blades have relatively longer life and provide fast cutting.
With angle grinder
Cutting of titanium can be done using an angle grinder with a cut off disk. An angle grinder with masonry cutting disks is probably the fastest. Masonry disks use a silicon carbide abrasive instead of the normal aluminum oxide. If you use normal grinding disks, you almost melt it out of the way instead of properly cutting. You have to be a little patient; titanium is really hard and it would take a while.
Laser cutting titanium
A laser cutter can also be used for cutting titanium. Combination of nitrogen and oxygen in carbon dioxide laser is used for this process. This process can also cause burning of the metal substrate. So, an expert metal fabricator is required to optimize the gas combination which will provide a superior finish.
Plasma cutting titanium
Plasma torch or a plasma CNC machine can also be used for the precise cutting of aluminum. It is incredibly adaptable and is particularly beneficial for the specimen that are difficult to position on the bench or CNC bed. Specialized gases are used for cutting of titanium. Argon and nitrogen gasses are used for this process. Argon gas provides better precision whereas nitrogen is used to increase the cutting speed.
Turning titanium
Milling of titanium is not as simple as other non-precious metals. A lot of factors have to be looked upon for effective cutting. Titanium can overheat during the milling process to the point where the equipment is damaged and the process stops. The life of a titanium machining tool is from 45- 90 minutes. Cutting titanium on a lathe requires a lot of patience, because it is effective only at low speed which increases the tools life. Titanium aluminum nitride (TiAlN) tool coated with carbide with the help of PVD process is effective for the process of milling.
Milling titanium
Milling of titanium is not as simple as other non-precious metals. A lot of factors have to be looked upon for effective cutting. Titanium can overheat during the milling process to the point where the equipment is damaged and the process stops. The life of a titanium machining tool is from 45- 90 minutes. Machining titanium requires a lot of patience, because it is effective only at low speed which increases the tools life. Titanium aluminum nitride (TiAlN) tool coated with carbide with the help of PVD process is effective for the process of milling.
Waterjet cutting
Cutting titanium using waterjet is very effective process. It can cut titanium blocks having thickness up to 8 inches (softer materials like aluminum can be cut up to 12 inches). This cutting thickness is far superior than that of any other technique like laser or plasma cutting. Almost all titanium grades available in the market can be cut using this technique. It produces samples with no heat affected zones. Titanium pie cut for exhausts are made through waterjet cutting.
CNC machine cutting
Computer numerical control machines are also feasible for this process. The machine can easily and safely program to cut titanium plates and sheets. Operator at Tuofa use unique techniques, angles and speed to ensure a damage free cut. Using CNC machining precision titanium cutting can be done.
EBM electron beam machining
Electron beam machining (EBM) technique can be used for advanced titanium cutting. It is especially helpful for hard-to-machine materials like titanium because it removes material accurately by subjecting a stream of high-velocity electrons. EBM is a specialized technology compared to conventional methods like laser or waterjet cutting which makes it expensive, but its reduced heat effect and precision make it useful for the process of cutting.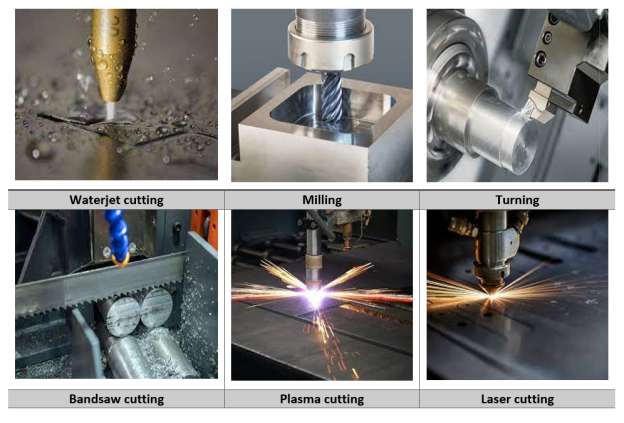 Cutting Method Summary Chart and Advantages
| | |
| --- | --- |
| Cutting Method | Advantages |
| Manual cutting | Increased control, Reduced heat affected zone and less material wastage |
| Saw cutting | Fast speed, Minimum Heat transfer |
| Laser cutting | High Precision, Narrow Kerf Width |
| Plasma cutting | Fast Cutting Speed, Versatile Materials are compatible |
| Turning | Suitable for Cylindrical Shapes, High Removal Rate |
| Milling | Complex Shape Machining, Wide Range of Materials |
| Waterjet cutting | Cold Cutting Process, No Heat-Affected Zone |
| EBM cutting | Additive Manufacturing, Complex and Custom Designs |
| CNC machine cutting | Automated Precision, Consistent and Reproducible |
Here is a YouTube link for better understanding of machining titanium.
https://www.youtube.com/watch?v=aUhHaIkQGX4&pp=ygUadGl0YW5pdW0gY3V0dGluZyBwcm9jZXNzZXM%3D
Best way to cut titanium
Titanium alloys have high strength and hardness values. The best way to cut titanium is to use a carbide tipped band saw. They not only provide you with a precise cut but also increase the life of the blade and the cutting speed. Mostly tungsten carbide or titanium carbide cutting tools are used.
Can titanium rings be cut off
Yes, titanium rings can be cut off but it uses special cutting tools such as dental saws, drills or diamond tipped saws.
How to cut titanium rod
Titanium rods possess exceptional mechanical properties and are used in various applications that require strength and durability. Hence, it's necessary to use the appropriate cutting tools and techniques. Common methods for cutting titanium rods include hacksawing, abrasive sawing, bandsaw cutting and plasma cutting. These techniques assure precise and straight cuts. To retain the properties of titanium it is crucial to minimize the heat generated by using coolants or lubricants.
How to cut titanium sheet metal
Titanium sheet metal can be easily cut by laser cutting, water jet cutting and shearing. These methods offer minimal heat generation, which is necessary to avoid the work hardening phenomenon. Furthermore, these methods offer precision which is essential when cutting sheet metal since it is typically utilized in contexts where close tolerances are of great importance.
How to cut titanium tubing
The titanium tubing is hollow and cylindrical in shape, used in applications requiring fluid or gas conveyance. Cutting can be done with methods such as abrasive cutting, bandsaw cutting, or tube cutting machines. The selection of tube cutting machinery depends on specific tube requirements such as production speed, end quality and available raw materials. These tools are designed to make precise cuts without damaging the tubing. A suitable lubricant can be used to reduce friction to prevent damaging the tubing and blades. It's necessary to use light and even pressure to produce a seamless finish.
What is cutting titanium used for
Due to the exceptional properties of titanium, it has versatile industrial applications. Cutting titanium plays a major role in aerospace, medical, and manufacturing sectors. Its high strength to weight ratio makes it ideal for fabricating precise components used in aircraft construction. Titanium is a first-generation implant biomaterial, renowned for its biocompatibility and corrosion resistance. It is crucial in the medical field for creating implants and surgical instruments. It is non-toxic, durable and resistant to extreme conditions which make it an ideal candidate for industrial applications.
Tips for Successful Cutting of Titanium
Following tips can be helpful for you in cutting the titanium substrate
Low cutting speed: low cutting speed can minimize the heat input, lower the possibility of material distortion and also maintain material's mechanical properties.
High feed rates should be given: High feed rates minimize dwell time on the material, which maximizes machining efficiency and lowers tool wear.
Use large amount of cutting fluid: A sufficient amount of cutting fluid contributes to lubrication and cooling, extending tool life and minimizing overheating.
Sharp tools usage and replacement when required: While prompt replacements maintain consistent machining quality, sharp tools ensure accurate cuts and eliminate excessive friction.
Avoiding damage when tool and workpiece are in contact: Continuous feeding keeps heat from building up, preserving the integrity of the tool, and avoiding workpiece damage.
Why Choose Tuofa to custom titanium parts
Tuofa uses different manufacturing technologies in cutting and machining parts precisely and swiftly. Engineers in Tuofa advise you choose the best process for different materials for a specific application.
Functional Prototyping
Functional prototyping facility is also available at Tuofa. A prototype of a material is made and is tested before starting large scale production.
High performance Components
They have high quality standards and is ISO 9001:2015 certified. Give you services like process, design and materials. They also provide you a way for cost optimization.
Affordable Price
Services are given on affordable prices. They also leverage supply capacity in China's large market.
Low-volume Production
They also give you an opportunity to have million parts produced to a single prototype.
FAQs about cut titanium
How to cut titanium at home
For cutting titanium substrates at home, you can choose different methods and tools such as hacksaw, circular saw, jigsaw, angle grinder or Dremel tool. This equipment is cheap and readily available in market. The processing takes a lot of time and requires patience. Fast equipment like bandsaw, plasma and laser cutting machine are used in industries.
You can mark the area of cutting with the help of a permanent marker and while cutting thick sections also you should use a lubricating agent like machine oil. Last but not the least take care of the safety first. Titanium chips fly during the cutting process so you should wear the safety goggles.
How to cut titanium angle
Angle between the specimen and a tool is very important. Angle which gives you the maximum cutting speed, finishing and thin chips is considered the best. Cutting angle depends upon tool and the specimen geometry as well as the material which they are made up of. For band saw cutting specimen is directed towards the tool at a little angle of 5o-10oC from the vertical position. This prevents the heat input and reduces friction.
Blade for cutting titanium
For the cutting of titanium metal, you choose carbide or high-speed steel which has positive rake angle and sharp teeth. Choose the tool having the higher tooth count, required width and thickness. Titanium coated blades can also be used for corrosion resistance.