How to Polish Titanium | 8 Polish Ways

Aug 23,2023

After the fabrication of titanium parts, the final step is how to shine the titanium surface finish to give a titanium mirror-like polished surface. Titanium polishing is also done by metallurgically to see the microstructure analysis of the titanium. Titanium polishing uses tools like abrasive media to remove oxide surfaces, belts, and wheels. After the polishing is done, additional surface restoration process can be carried out like duffing of titanium to achieve a perfectly desired surface.
Polishing the titanium surface helps in improving intrinsic properties like corrosion resistance, strength, biocompatibility, and wear resistance. Titanium alloys with surface finish reduces the surface roughness and increase the physical appearance with additional protection and a better surface finish.
Titanium Alloys Easy to Polish?
Titanium and its alloy have certain properties that make it difficult to polish and anisotropic. Anisotropic behavior means its properties changes in different direction and also microstructure changes create an alpha-phase mechanical twinning which makes it challenging to have uniform mechanical properties and surface finish during polishing. Also, its highly stability, chemical resistance layer and hard TiO2 make it difficult to remove by mechanical or chemical polishing.
Can you Polish Titanium
Yes, titanium polishing is difficult but can be done through different processes mechanical polishing, electropolishing, vibratory polishing, lapping, plasma polishing, and diamond polishing. This article will help you understand all of these titanium finishing processes in detail.
Polish Titanium Tools and Equipment
Titanium surface finishing includes different steps and every step required unique tools and equipment depending on the process you choose.
Rotatory tools like polishing pads, abrasive wheels, brushes, sisal, cotton polishing wheels, buffs for buffing titanium. Special abrasive polishing compounds are used to achieve mirror polish titanium. It is made from the diamond because of its hardness. Due to high hardness of diamond paste, it can easily remove the TiO2 layer from the titanium surface. Sandpaper and abrasive sheets as well as lapped films of controlled particle size are used to gradually decrease the roughness of titanium. The diamond polishing pad is used with water as lubricant attached to rotary tools. For electroplating special tools and solutions are used for ultrasonic cleaning i.e., high-frequency sound wave ultrasonication is required in titanium cleaning method.
How to Polish Titanium: 8 Ways
8 Ways to Polish Titanium: Summary Chart
Mechanical polishing​
Electropolishing
Vibratory Polishing
Lapping
Diamond Polishing
Plasma Polishing
Coarse/intermediate/fine cutting of titanium for polishing
Magnetorheological Polishing Technique
Mechanical Polishing
Metal polishing technique known as Mechanical polishing is considered the best polishing method for titanium gloss restore including grinding and buffing of titanium which help in the removal of gouges, damaged rappers, deformations, and scratches from the surface. Titanium surface polishing helps the surface to increase its wear and corrosion resistance as well as fatigue life of the material.
To shine titanium first, the surface dust, grease, or any other contamination is removed from the surface by normal washing with DL water-ethanol or acetone. In the case of deep cleaning, ultrasonic bath cleaning can also be done for 2 to 3 minutes.
Dry the surface completely, either leave it until dry or use a blow drier.
Rough polishing is done initially with coarse abrasive grade paper and then moves to fine grades (600-2000 grade sandpaper papers) with the help of buffing wheels for buffing titanium.
Again, the sample is washed through DL water and dried.
Then, neat polishing is done to shine the titanium and to retore its gloss by using cotton fiber or nylon cloth attached on buffing wheels with diamond lubricant until the mirror-polished titanium surface is achieved.
To shine titanium, wash with water several times and dry it. A smooth and clean titanium surface is prepared.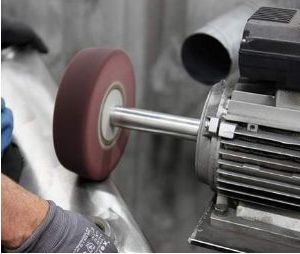 Mechanical polishing of titanium part.
Here is youtube video showing mechanical polishing.
https://www.youtube.com/watch?v=8o5Nu0kaScI
Electropolishing
This titanium finishing process uses an electrochemical reaction to remove surface impurities. The electrochemical cell is arranged in which titanium which has to be polished is connected to the anode (positive terminal) of the cell while the cathode is attached with either conducting material like stainless steel and this metal is selected from the electronegativity chart. The acidic electrolytic solution is filled in the cell. Usually, very rough surfaces with deep cuts have to be first mechanically polished and then electropolished. Electropolish is a fast, efficient, and controllable method that provides uniform and high-quality shine by restoring the gloss of titanium surface.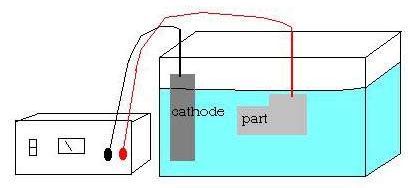 Electro polishing set up.
Electropolishing YouTube video link
https://www.youtube.com/watch?v=O3OKHNDiI&pp=ygUbZWxlY3Ryb3BvbGlzaW5nIG9mIHRpdGFuaXVt
Vibratory Polishing
In this titanium cleaning method, titanium surface restoration after fabricating a part is done by a vibratory tumbler. It is placed in a vibratory tumbler with an abrasive media and water. The vibration in vibratory timber causes metal parts to rub against the media until the whole surface is polished and shines. After that final cleaning and drying may have to be done. The titanium part which has to be polished, is placed in a vibratory tumbler with an abrasive media and water for a smoother finish. The vibration in vibratory timber cause metal parts to rub against the media until the whole surface is polished and shines.
After that final cleaning and drying may have to be done to completely restore the gloss of titanium. It uses a centrifugal high-energy machine with the walnut shell, which is pretreated. This process gives you a titanium shine surface with reduced surface roughness and defect removal. In this process, no special tooling is required and no part specification is required. It can offer an internal and external polishing for the smoother finish of hollow surfaces to provide you consistency and repeatable results.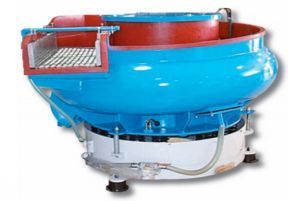 Vibrator polisher.
YouTube video showing vibratory polishing
https://www.youtube.com/watch?v=z1928Tlmp0&pp=ygUedmlicmF0b3J5IHBvbGlzaW5nIG9mIHRpdGFuaXVt
Lapping
One of Metal polishing techniques is lapping which help in surface restoration by using lapping plates made of stainless-steel abrasive components and lubricants. Clean the titanium with water then starts polishing the titanium with a coarse abrasive. Later, move to fine ones. Then to restore the gloss of the titanium polish with diamond polisher lubricant. Finally, clean the titanium with water and dry it. It gives you a high-quality titanium surface finish.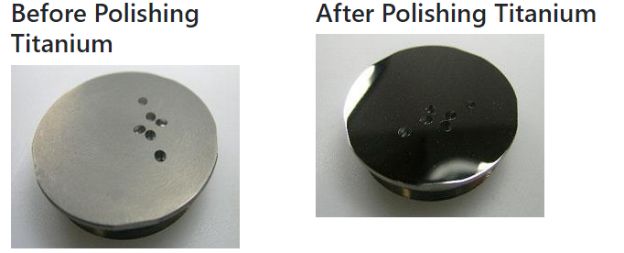 YouTube video showing lapping of image
https://www.youtube.com/watch?v=bwi_JQEOjqk&pp=ygUdbGFwcGluZyAgcG9saXNpbmcgb2YgdGl0YW5pdW0%3D
Diamond Polishing
How to shine titanium in the best way the answer is to use diamond particles to polish because they are hard and can remove the TiO2 layer in order to fully restore the gloss of titanium. Buffing, cleaning, shining and surface restoration of titanium all can be done best with monocrystalline diamond paste which is effortless and time-saving machining to get mirror polish titanium surface. The high concentration of diamond allows a mirror polish finish with maximum surface restoration with low paste consumption. This titanium finishing process ensures uniform grain size and allows working in two steps. These diamond pastes are soluble in water oil and alcohol. These pastes are stable at temp up to 130°C which help in attaining a maximum smoother finish to the product .
Plasma Polishing
How to shine titanium with plasma metal polishing method? In this titanium surface finish process, material is subjected to a high-energy plasma environment to get surface restoration and a smoother surface finish. The surface is bombarded with ions which are reactive species that cause the removal of the thin surface layer of titanium. This titanium finish process includes low material waste and preserves material integrity. As ion selectively etch the surface and remove dust, defects, and scratches. This is not only clean the titanium bus but also restores the gloss and provides an excellent smoother surface finish.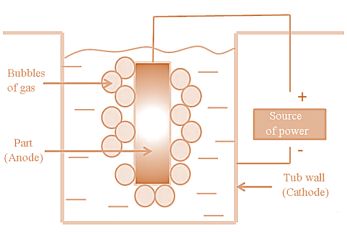 Here is YouTube video showing plasma polishing
https://www.youtube.com/watch?v=09mgV79ZD2U&pp=ygUacGxhbWEgcG9saXNpbmcgb2YgdGl0YW5pdW0%3D
Coarse/intermediate/fine cutting of titanium for polishing
All the titanium surface finishing process uses the surface for mechanical abrasion aur chemical etching. Normally, there are three types of cutting depending on the abrasive paper grade. We use coarser cutting as coarser grades are used for buffing titanium and titanium alloys. Then, for surface restoration, we move to intermediate cutting in which mirror polished titanium is almost achieved. To retore the gloss of glass, fine cutting is done with very fine polishing with nylon or cotton cloth.
These all-titanium cleaning processes uses different type of cutting abrasive papers made of different material like diamond abrasive, aluminum abrasives, silicon carbides, ceramic abrasives, zirconia abrasives and cubic boron nitrate abrasives. Depending on the titanium and titanium alloy grades, we use specific abrasive detailed specification on specific metal polishing technique which can be achieve from this website.
Magnetorheological Polishing Technique
New metal polishing technique used for titanium finish of tubes. This titanium finishing process, uses a compound magnetic field which is specifically designed for micro-level smoother finish of titanium tubes used for aviation pipes. This titanium tube finish process is compact and easy to install, can recycle the polishing fluid. The movement speed of MR is controllable. The indispensable function of reciprocal linear motion of the polishing head is included in the MR polishing apparatus. The whole apparatus is given below.

Magnetorheological Polishing Technique
Methods for Polishing Different Titanium Products
Different types of titanium products may require different methods and techniques for polishing, depending on the composition, surface treatment, and end use of the titanium alloy.
Like these titanium products, we are good at machining and surface treatment:
titanium bike bell
titanium auto parts
titanium aircraft parts
titanium EMT shears
titanium alloy tools
Before performing any polishing operation, it is recommended to first understand the properties of the material and the requirements of the product in order to select the most suitable polishing method. If you need polishing advice for specific titanium products, it is best to consult a Chinese Tuofan Materials Engineer or machining expert.
The following are some common titanium products and possible polishing methods:
How to clean titanium ring
Titanium cleaning method of rings for smoother finish to apply Band Balm with lint-free cloth or Q-tip. Use side cloth to remove balm residue. For excellent mirror polish titanium surface use nylon pad. The nylon is best for titanium and its alloy for polishing to get best titanium.
How to clean titanium jewelry
Best way of surface and gloss restoration of titanium jewelry in home is to soak it in the soap and soda water for few hours. Ultrasonic bath can be used which is present in jewelry shops or with the help of brush in home gently scrub the jewelry after that rinse it with water and dry it to get clean titanium.
YouTube video of how to shine titanium jeweler.
https://www.youtube.com/shorts/N_ch2QBihag
How to clean titanium exhaust
To shine the titanium exhaust, use a contact cleaner or solvent such as WD-40 on muffler, outer sleeves and pipe itself. A soft clean dry cloth microfiber is ideal to restore gloss. Wheel brush for buffing titanium surface can also be used gently for smoother finish.
YouTube video of how to shine titanium bike frame.
https://www.youtube.com/watch?v=WeacEGGbDio&pp=ygUZY2xlYW5pbmcgdGl0YW5pdW0gZXhoYXVzdA%3D%3D
How to polish titanium watch band
Remove the watch band then soak it in the clean water to clean titanium from dust. It can be done by ultrasonic bath cleaning, if possible, provide better titanium surface clean. With the help of brush, scrub the surface gently then washes it through water. To get surface restoration and a smooth finish use a special titanium diamond wax or paste on the surface and polish the titanium with the help of microfiber of nylon for a few minutes wash thoroughly with water and dry it. You will get a mirror polish titanium watch band.
How to polish titanium bike frame
How to shine titanium bike frame to restore gloss and smooth finish clean the surface with soap using a scotch-brite pad and avoid using steel wool or any other power full tool because it can cause sharp scratches on the surface and then surface restoration will be difficult. Then, use diamond paste, WD-40, and Band balm on the surface and scrub it with microfiber gently all over the surface. Clean the residue of paste or wax with a clean cloth and wash it, which is followed by drying. Afterwards, spray it with bike polish which is commercially available. You will get mirror polish titanium surface.
YouTube video of how to shine titanium bike frame.
https://www.youtube.com/watch?v=SvNWyeEGyfc&pp=ygUdY2xlYW5pbmcgdGl0YW5pdW0gYmlrZSBmcmFtZSA%3D
What are Polish Titanium Parts used for
Titanium surface finished parts are used in the following applications. Because they provide high strength. corrosion resistance, high heat resistance, and mirror polish titanium surface with glass glow.
Titanium bolts: used in aerospace engine assembly and automotive engine assembly.
Titanium chain: used jewelry, accessories, and specific industrial application.
Titanium mufflers: are used in automotive and motorcycle exhaust systems.
Titanium valves: used in high-temperature bearing applications like engines of racing cars and air crafts.
Titanium exhaust pipe: used in high-performance motorbikes and automotive exhaust pipes.
Titanium shift knob: used to give grip to gear shifting and interior vehicle appearance.
Titanium headers: used in high-performance exhaust systems in automotive and aircraft systems.
Titanium pistons: used in high performance engine of bikes, racing cars and aircrafts polished smooth titanium surface provide less friction and increase efficiency.
How to Polishing Titanium to Mirror Finish
To get a mirror finish of titanium, it is essential to fully follow all the steps with care if you miss any step or you don't follow the proper guidance, you will end up with more scratches and irregular grain sizes and rough surfaces. You must go from coarse to intermediate and then to fine abrasive grade and then microfiber should be used with diamond paste for proper gloss restoration of titanium surface.
Pros and Cons of Polish Titanium
Advantage
polishing titanium surface removes scratches, planner deformation, removes dust and contamination, equalizes the grain, helps in surface restoration, restores gloss, smoother finish, and gives you a high-quality aesthetic look. Titanium cleaning method and titanium finishing process helps the part to have high on service life by providing them high wear and corrosion resistance along with good fatigue life.
Disadvantages
The major disadvantage is material waste, maintenance and cleaning costs of each time titanium cleaning. Titanium surface finishing is difficult from other metal polishing techniques because its hard metal-oxide surface which is tough and chemically stable.
Why Choose China Tuofa to Custom Titanium Fitting Service
As we know that to shine titanium and restore gloss, we need precise machining because it is strong and lightweight proper titanium finishing process is very critical. Toufa uses a CNC machining process for cutting and polishing titanium providing full surface restoration and equal grain sizes with a smooth finish and gloss will be achieved. They help you to get high-quality, precise, and accurate titanium machining parts with an excellent smoother finish and glass-like glow.
FAQs about Polished Titanium
Brushed vs polished titanium
Titanium surface finishing using a brush does not restore gloss. These are foggy and don't provide a glassy smooth finish to clean titanium compare to polished titanium restores gloss and a high-quality surface finish.
Tips for Successful Polishing of Titanium
Always clean titanium before the titanium surface finishing process. Move from coarser to intermediate and then to fine abrasive paper. Use microfibers like nylon for surface restoration. Don't use any sharp steel wool or dirt dusty cloth on the surface because it will cause more scratches and rough surfaces compared to glossy or a smoother finish.