How to Sandblast Brass | 4 Key Tips

Aug 12,2023

Brass is an alloy of copper and zinc. It has improved strength and ductility as compared to copper. Recently many industries started using sandblasting technique for the surface finishing of brass. To optimize the process of sandblasting you need to have control on certain parameters. So here is a guide if you are getting started with sandblasting of brass.
Is Brass Sandblasting Easy
Brass is a soft material and sandblasting can produce scratches over the surface of brass. It can also cause work hardening in brass and makes it brittle. After blasting, during cleaning process it is difficult to remove sand or bead over the surface. Alternative techniques like water honing technologies are more affective for this process. Water is used instead of air for sandblasting block. Regardless of the complexities still sandblasting of bronze is used commercially and to make this process effective you have to keep in mind the tips that are given in this article.
Do you think those brass products need sandblasting?
brass pipe
brass ball valve
brass elbow
brass sheet metal
brass ferrule
brass check valve
brass tee
brass inserts
Brass fitting
Sandblasting can be applied on almost all types of brass products. It can be done for any of the above-mentioned parts if they need a clean or textured surface. But if they need a great aesthetic appearance sandblasting is not the right choice.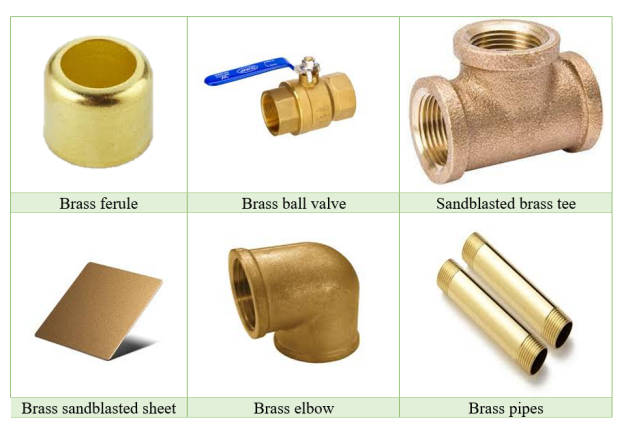 Some sandblasted brass products mostly used in domestic water supply.
What's your sandblast kit?
Your sandblasting kit should consist of following equipment:
Sandblasting gun or nozzle attach with a pipe.
Air compressor for blasting sand with pressure.
Abrasive media (which is sand in this case)
A cabinet with an exhaust system (optional, it stops contamination)
Safety equipment (goggles, respirator, gloves)
How to Sandblast Brass
Following steps are normally used for brass sandblasting:
Brass surface preparation
Before sandblasting parts should be disassembled first than any kind of dirt or oil stains should be removed by using soap water.
Safety precautions
Health and safety equipment gloves, goggles, respirator and appropriate cloth should be worn.
Blasting process
First of all, the nozzle is connected to the air compressor and then sand particles are filled inside the nozzle. After that, the substrate is placed inside the chamber having good ventilation. You can hold the material by yourself or it can be placed. First the sandblasting is tested on any waste substrate other than brass substrate to check the output.
It is started with low pressure and a distance of 6-8 inches between the nozzle and the substrate. Gun is carefully moved across the substrate to achieve uniformity over the brass surface.
Brass Finishing
According to your requirement you can polish or buff the surface and can also apply protective coating over the brass substrate.
Here is YouTube video showing sandblasting of brass to remove nickel coating over the substrate:
https://youtu.be/Wuf-xF7VH-g
Pros and Cons Sandblast Brass Chart
Here are some advantages and disadvantages of this process
| | |
| --- | --- |
| Advantages | Disadvantages |
| Effective cleaning: It effectively get rids of rust, paints, coatings and other contaminants. | Damaging the surface: Wrong selection of media and setting of pressure can cause surface damage on brass. |
| Complex shapes: You can easily blast over the selective regions by moving the nozzle over the surface. | Health concerns: Inhaling these abrasive sand particles can cause many respiratory illnesses. So, the use of protective equipment is necessary |
| Easy process: The process is quite simple you just have to direct the nozzle over the surface of brass substrate after setting up the equipment. | Equipment availability: Equipment is not easily accessible and also very costly. |
| Surface texture: Along with cleaning this process can also provide a textured appearance on the brass substrate. | High precautions: You have to be highly precautious for the health of workers and also with the parameters for saving material from damage. |
| Restoration of materials: This process is also used for the restoration of old brass products by the removal of rust and coatings. | Affecting Environment: During large scale sandblasting, abrasive material also get suspended in the surroundings after getting through the exhausts and causes major health issues for the people. |
4 Key Tips for sandblast brass
Here are the four tips that you should always keep in your mind before sandblasting brass
Selecting the appropriate abrasive material
As discussed before brass is a soft material and it requires a fine abrasive media for cleaning purpose. A course abrasive will scratch the surface and it can even cause pitting. Most commonly used abrasive media for sandblasting are aluminum oxide, glass beads or fine sand etc.
Air pressure and nozzle distance
Air pressure and nozzle distance are very important parameters for getting the desired texture on the surface. Due to the delicate nature of brass air pressure is kept low which will also save the material form scratches and work hardening. Nozzle distance is normally from 6-8 inches, you can vary it to produce a desired texture.
Surface preparation
Any kind of dirt or oil stains should be roved before the blasting this will help the abrasive media to adhere uniformly over the surface and good quality finish is achieved.
Testing before blasting
Testing sandblasting before using on a brass substrate will help you to gain control over the result and also stops the wastage of the brass substrate.
Is sandblasting brass increase pressure?
Sandblasting brass using increased pressure has some advantages and some disadvantages as well. To remove heavy corrosion product and coatings high pressures are used. It is also used for creating a deep onto the brass surface.
It also has some disadvantages like scratching, pitting and creating uneven textures on the brass surface.
Does sandblasting make the Brass feel rough at all?
Sandblasting can be used as a roughing process. The degree of roughness depends upon the sand particles and the pressure used. Fine particles and low pressure will produce a smooth surface and high pressure and coarse particles will produce a rough surface.
How to Clean Sandblast Brass
Cleaning of brass after sand blasting can be done using warm soapy water and a soft cloth. It is done to remove the residual abrasive material. You should not use abrasive cleaners because they can damage the textured surface. It can also be cleaned using a wax or a grease remover and at the end it should be blow dried.
Why Choose Tuofa to Custom Brass Parts
China tuofa is known for its CNC machining but it also has great experience in metal fabrication and surface finishing. Brass is among the alloys that are being fabricated at Tuofa. The labor is skilled and competent enough to deal with the complexity of the problem. You should choose tuofa because of there. Contact Tuofa: [email protected]
Modern Technology
Customer satisfaction
Low cost
Customer satisfaction lies in the top priority of the organization. At tuofa small to large number of samples can be anodized. Functional prototyping is also available which will save time and material.