Chrome vs Stainless Steel: What is the Difference Between

Jul 03,2023

Chrome steel is a type of stainless steel that has been coated with a layer of chromium, which gives it its characteristic bright finish and makes it resistant to rust. Stainless steel, on the other hand, contains at least 10.5% chromium and other alloys such as nickel, titanium, and molybdenum, which give it its resistance to corrosion and staining, as well as its ability to resist heat and pressure. Chrome and stainless steel materials are durable and long-lasting, but they have different characteristics and are used in different applications.
If you want to know more about stainless steel, please refer to: galvanized steel vs stainless steel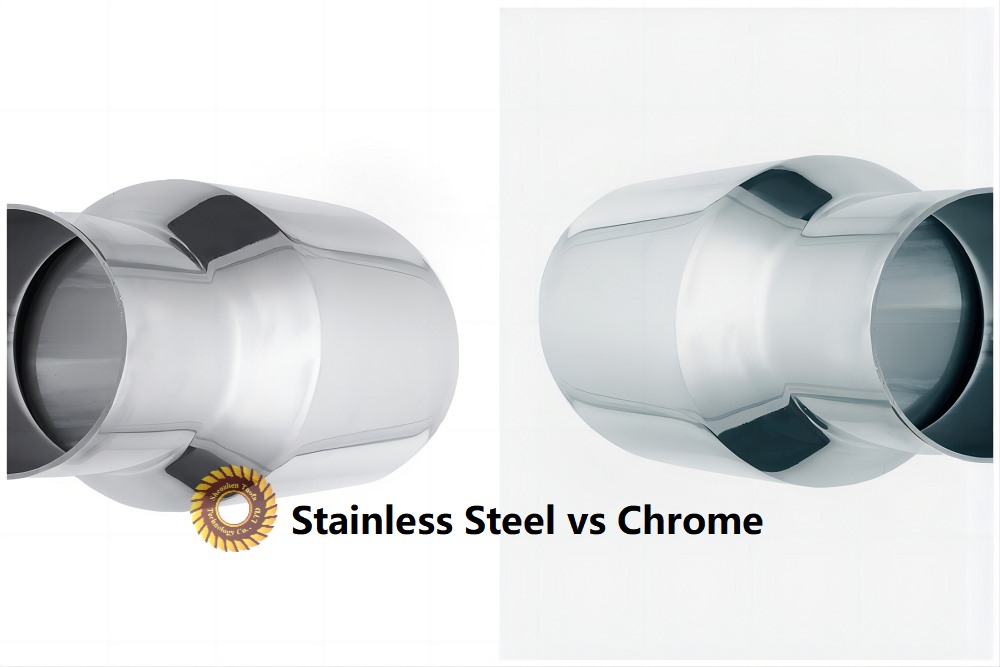 What is Chrome Metal
Chrome, also called chrome plating is a surface treatment that leaves a sleek and shiny surface on a metallic or plastic part. Generally, the go-to method of applying the chromium layer is electroplating, but its applications are generally restricted to decorative purposes.
The aesthetically pleasing exterior is not the only thing chrome plating has going for itself. It has numerous benefits ranging from a reduced frictional coefficient to corrosion resistance and enhanced durability. Chrome is a popular choice because it delivers an incredible balance between many capabilities and delivers an excellent final product.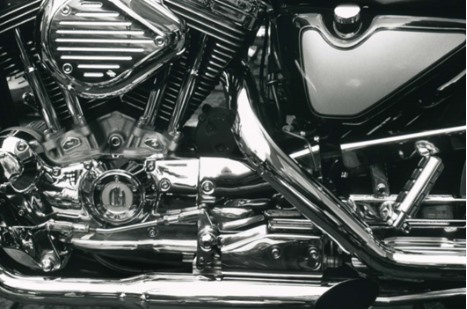 What is Chrome Made of?
Essentially, the chrome layer is nothing but a thin layer of chromium on the metal surface. Chromium generally is applied at the final step in most cases through electroplating, but it's not the final process. There is a lot of buffing, polishing, and other last-minute detailing processes that give chromium its incredible shine and make it 100% ready for the market.
Is Chrome Shiny?
Yes, that is one of the most dominant qualities of chrome plating. The final product after coating gives out the most distinguishable shine that lasts for the longest time. The lustrous mirror-like finish along with its protective properties are the main reasons why chrome plating is so popular in automobiles, industrial equipment, and other domestic fixtures.
The short answer is yes. The shiny and lustrous look is one of the most important qualities of chrome plating. The final product after all the processes gives a mirror-like finish and various additional properties that protect from corrosion and increases a material's durability. These qualities are the main reason behind the popularity of chrome plating in automobiles, industrial equipment, and domestic household fixtures.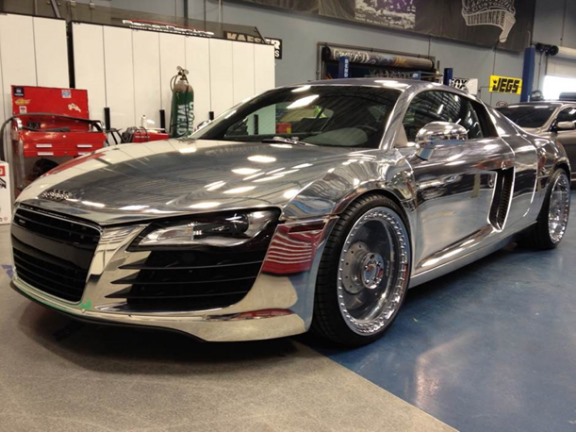 What Does Chrome Look Like?
Discussing the actual look of a chrome-plated product, the most distinguishing feature would be its mirror-like reflective finish. The process gives off a silver-gray color and an extremely smooth texture to enhance the sleek and polished look of the product.
Chrome plating is quite common on products that often catch the eye. For instance, they are common for vehicle trims, faucets, furniture accents, and other decorative applications.
Introduction to Stainless Steel
Stainless Steel is a metal alloy that doesn't have any surface treatment or enhancement. The components often include elements like carbon, chromium, nickel, silicon, and aluminum added to iron to get a strong, durable, and long-lasting material with versatile applications.
Properties and Characteristics of Stainless Steel
The exact composition of stainless steel depends on the overall requirements of the product and the deviations in properties due to composition are referred to as different grades of stainless steel. It's important to note that no two grades will have the same mechanical properties. For example, an alloy with 12% nickel will have better tensile strength than a variant with 10% nickel.
Stainless Steel also has extremely high corrosion resistance and can easily survive without rusting or corroding under normal conditions for the longest time.
Stainless Steel Finishes
When it comes to the appearance of stainless steel, it's almost the same as a chromium plate. It's so eerily similar that someone with no knowledge of metals and their properties will find it nearly impossible to distinguish between the two.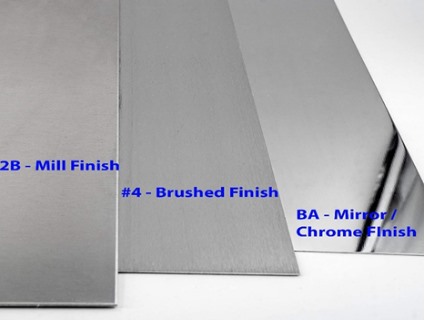 What makes stainless steel different is the versatility in the finishing. Stainless steel products can have a lot of finishes, but the following three are the most common:
Mirror Finish: Highly reflective and glossy finish. This is the most common stainless-steel finish and can be found anywhere ranging from daily use objects to aerospace components.
Brushed Finish: Also known as a satin finish. This is usually achieved by brushing the surface with an abrasive material to create a series of parallel lines or gains on the object.
Matte Finish: This finishing deliberately reduces the glossy and shiny appearance by bead blasting or other methods to give the product a dull or subdued look.
Difference Between Chrome and Stainless Steel
Stainless steel and chrome are quite popular across the industry because they provide an excellent balance between aesthetics and key mechanical properties like tensile strength, corrosion resistance, etc. However, they have many important differences as well. It's important to understand those differences as they allow manufacturers to make informed material decisions regarding their products.
Technically speaking, the biggest difference between chrome and stainless steel is the fact that chrome plating is a surface treatment while stainless steel is an alloy with inherent mechanical and physical properties. This key difference manifests in a lot of ways, but the following are the most important ones from an industrial perspective.
Corrosion Resistance
Both chrome-plated materials and stainless steel have great corrosion resistance but have different mechanisms to achieve that. Chrome plating offers protection by preventing contact between the corrosive element and the material in focus. Chromium forms a thin oxide layer on the surface that prevents the metal inside from reacting with the elements in the environment. This resistance prevents oxidation and corrosion which keeps the product effectively inert.
Contrarily, stainless steel is corrosion-resistant because it's an alloy that contains unreactive elements like chromium and molybdenum. The inherent corrosion resistance property isn't restricted to the rust on the surface only. Stainless steel also resists pitting and other forms of corrosion because it's an alloy. On top of it all, the corrosion resistance of stainless steel can also be enhanced by the process of passivation.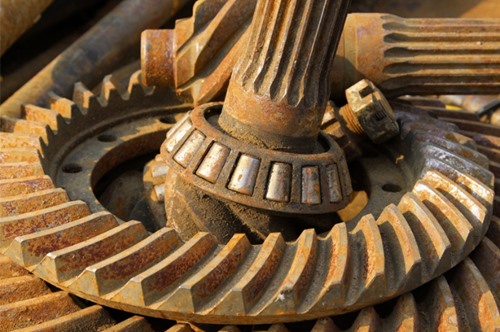 The passivation process is just like chrome plating where the chromium inside the stainless steel alloy forms a surface layer of chromium oxide after the removal of all kinds of impurities from the surface.
Summing up the discussion, it's quite evident that stainless steel has better inherent properties to resist corrosion relative to its chrome counterpart. It's a versatile material with a lot of applications across many industries. Furthermore, the material's overall properties can be enhanced by processes like passivation that protect the surface from any environmental contaminants.
Strength and Durability
Stainless steel generally has a higher strength than chrome because of iron, nickel, and other high-strength materials in its composition. Its applications range from everyday use to highly specialized industrial products used in automotive or the aerospace industry.
On the other hand, chrome plating is not something known for its strength. It's a surface treatment and has minimal effect on the strength. Instead, it's more focused on the overall aesthetics and the corrosion resistance of the material.
The overall durability of any material concerns its corrosion, abrasion, impact, and wear resistance. Both stainless steel and chrome-plated materials offer excellent durability characteristics. However, stainless steel fares overall better in comparison because chrome plating can be susceptible to scratching or damage, which then progressively damages the material inside as the chrome layer on the surface is the only protection it offers.
Surface Finish and Applications
The overall surface finish of chrome-plated materials is more mirror-like and glossy, which looks both sleek and smart. Chrome is among the most popular choices for applications where aesthetics play an important part. Its applications are mostly decorative, but it comes with corrosion-resistant properties to enhance both durability and performance.
Stainless steel, on the other hand, is very close to chrome plating in terms of aesthetics. It delivers a very similar glossy exterior but offers a few other finishing options, mainly brushed and matte finishes.
Today, chrome plating has a lot of applications across many industries. It's common in exterior vehicle trims, premium domestic fixtures, lights, and other decorative pieces. The sleek design and out-of-the-ordinary look chrome delivers is incredibly challenging to replicate with any other material in the industry.
Stainless steel, on the other hand, has a lot of versatile applications across different industries because of its perfect balance between aesthetics, functionality, and performance. Today, stainless steel is common in household utensils, aerospace components, and even medical equipment for surgery and other processes.
Maintenance and Care
One important maintenance tip for chrome-plated materials is to keep them dry after cleaning. This would prevent any spots on the surface that look really unappealing on the surface. Chrome-plated products also regular polishing to remove minor scratches and other flaws from different materials to ensure longevity and performance.
The maintenance requirements for stainless steel are very similar to chrome. However, the main difference is in directional cleaning as it's recommended to follow the grain or polish line to avoid altering the overall finish of the material. Another difference between stainless steel and chrome is passivation. The process allows repairing the chromium oxide layer on the surface of the material by following a specific process.
Overall, stainless steel is a lot easier to maintain relative to chrome-plated materials. The material has a lot of inherent corrosion resistance that can even be enhanced through the process of passivation.
Cost and Considerations
When it comes to cost considerations, chrome plating can be quite expensive because of the cost of chromium metal itself. The overall cost of chrome plating depends on the size and shape along with the complexity of the design. Furthermore, the maintenance of chromium-plated items also requires expensive polish and other processes, which further increase the associated costs.
Stainless steel has a lot of variable costs as the grade, finish, and condition of the material play an important role in determining the price. In most cases, stainless steel is more economical. But some high-grade and specialty options can be a bit more expensive than chrome.
chrome and stainless steel truck accessories
Chrome steel is brighter and smoother than stainless steel,
In truck accessories, chrome steel is mainly used to manufacture gears, bearings and other body appearance parts;
Stainless steel is more resistant to wear and impact than chrome steel,
Stainless steel is mainly used to manufacture axles, brake pads and other parts.
Is Chrome the same as Stainless Steel
For any manufacturing decision, an important factor is to know all the pros and cons of a particular process or material. Both chrome and stainless steel come with their own set of advantages and disadvantages that make them suitable or unsuitable for a specific application. Let's take a look at each.
Chrome
As discussed, chrome has a lot of decorative applications because of its aesthetic properties. It brings the following key advantages to the table:
Unique aesthetic appeal
Excellent corrosion resistance
Ability to operate in harsher conditions because of wear and abrasion resistance
There are a few drawbacks to using Chrome as well. Here are the main ones that should always be considered:
Exuberant costs
Environmental concerns due to processing requirements
Elaborate maintenance requirements
Stainless Steel
Stainless steel is among the most versatile materials that the industry relies on. It has several advantages, but the following are the most important:
Incredible corrosion resistance and durability
High strength
Versatile applications and simpler maintenance requirements
There are a few significant disadvantages as well. However, the following are the most important:
Variable costs
Limited appearance options
High brittleness in some grades
Is Chrome or Stainless Steel Better?
Chrome vs stainless steel is an important debate, but there is no clear winner. The right choice actually depends on the final application and its requirements. Generally, chrome is the right choice if the focus is solely on aesthetic appeal and surface protection.
Stainless steel, on the other hand, delivers an incredible combination of strength, durability, and versatility to the table. The material has several grades which means that its properties can have a lot of range and provide better options to focus on a specific characteristic like durability or strength. However, stainless steel doesn't provide the same shine and sleek look that chrome plating is known for.
Final Thoughts
Both chrome and stainless steel are excellent choices depending on the requirements and preferences of the manufacturer. While there is no correct or right choice between the two, it's important to ensure that an informed decision is being made regarding which material to choose. This ensures the best overall experience and minimizes additional costs and processes down the line. In most cases, any business' manufacturing partner would be the ideal choice to advise which type of material to select. Considering and accepting the expert's opinion in manufacturing decisions can go a long way toward streamlining the production process and ensuring its efficiency.
FAQs about Chrome and Stainless Steel
Does chrome rust?
Chrome steel is a type of stainless steel known for its resistance to rust. However, chrome steel can still rust with time and exposure to moisture, salt, and acidic environments. It is important to properly maintain and protect chrome steel to prevent rust.
How to fix scratched chrome?
Polishing: Using a polishing tool can help repair minor scratches. Example: sandpaper and polishers
Spray paint: If the scratch is deep, you can try to repair it with spray paint.
Electroplating: If the scratch is serious, electroplating can form a metal coating on the surface of the chrome steel, thereby repairing the scratch and increasing the corrosion resistance of the surface.