Galvanized Steel vs Stainless Steel: What is the Difference BVetween

Jun 21,2023

In our daily life, we see rusted pipes, chains, tarnished silver jewelry, structural steel parts and car bodies. Why would that happen? As per thermodynamics, every metal and alloy try to attain its lower possible energy. Insatiability of the metal with respect to water, metals, air or other factors, could cause corrosion. In corrosion process, metals and alloys try to achieve lowest possible energy state by chemically reacting with surroundings. It doesn't only degrade the component mechanical properties but also could result in catastrophic failure of the component. So, corrosion of metals and alloys has emerged as a whole field as it has direct impact on economy. It would be difficult to estimate the cost of corrosion as it is substantial.
As per well-known organization NACE International, 3-4% of the Gross Domestic Product (GDP) and while talking of USA specifically, loss is about hundreds of billion dollars. As per a reported generated by CORCON institute of corrosion, India damage is about 5% of GDP per year. As a huge financial support is required in repair and replacement of components and corrosion can't be excluded or minimized to zero percent. There are methods or techniques to reduce it which includes protective coatings in form of metal plating, protective coatings and sacrificial coatings along with some other parameters.
Contents
Click the links below to skip to the section in the guide:
Difference Between Galvanized and Stainless Steel
FAQs about Galvanized Steel vs Stainless Steel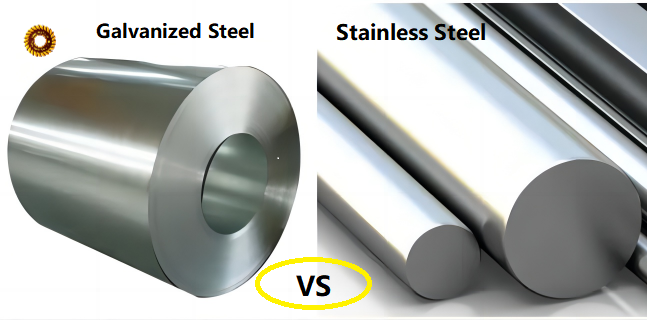 This article will be discussing the galvanic steels and stainless steels in order to avoid or minimize the corrosion in respective applications. It is very important to understand the advantages of both alloys and incompatibilities to utilize these alloys to their fullest potential in different aspects. Galvanized steel is relatively lower in price than other corrosion resistant alloys and stainless steel perform exceptional in aggressive environments such as in high temperature and in the presence of corrosive chemicals.
Galvanized Steel
A protected layer of Zn was formed on the surface of steels to protect them from uniform corrosion or rusting as a result life span of the component is increased There was a time when all the processes related to electrical reactions are known as galvanic process and in that regard, it became popular by the name of galvanic steel. As per ASTM, A 653-96, A 642-90, A 446-76 are few galvanized steel grades. During a manufacturing process, different layers of Zinc form as a result metallurgical reaction with the metal. Cross section revealed the presence of 4 layers known as eta, gamma, delta and zeta. Eta is the top layer of pure zinc whereas rest of the layers are intermediate.
Types of Galvanized Steel
There is various type of galvanized steel which offer its own specific set of properties and applications. As it is already mentioned that, name of the steel is given by the manufacturing process which is opted for coating the surface of the alloy. So, different types of galvanized steels are present which is basically variation in manufacturing process in order to produce a Zinc coating on the surface through galvanization process. Main types are: hot dipping galvanized steel (HGS), electroplated galvanized steel (EG) and galvannealed steel (GS). Most popular, easy and economical product is HGS.
Hot Dipped Galvanized Steel
HGS is relatively highly recommended in construction, automotive and agriculture and in heating, ventilating and cooling systems (HVAC) which emphases the importance of developing the understanding of this particular process. It provides high corrosion resistance, sustainability, high resilience and full coverage [8]. It is also quite cost effective in long term utilization although the initial cost is comparatively high. Basically, in this manufacturing technique component of steel immersed in the zinc bath at 450 °C as a result zinc reacts with steel and form metallurgical bonds. Prior cleaning of the component is mandatory to achieve adherent and uniform zinc protective layer on the steel surface. Number of intermediate layers are form between upper pure zinc layer and substrate.
Electroplated Galvanized Steel
EG steels are manufactured through electroplating technique as name depicts. In this process, steel is immersed in the electrolyte which is usually zinc sulfate solution. Direct current is passed through the electrolyte where steel act as anode and zinc act as cathode by completing an electric circuit. Due to electrical potential difference, positively charged zinc deposited on negatively charged steel as a result a thin layer of zinc forms on the steel surface. The zinc layer is thin as compared to the HDS and it is about few microns. It is extensively used for decorative purposes such as automotive [11]. As the atom-by-atom deposition of zinc occurs during this technique so the thickness of the coating can be controlled precisely. Zinc coating provide a sacrificial barrier to the steel from corrosive substances.
Thermal Diffusion
Unlike hot dipping process and electroplating, diffusion of zinc atoms is conducted through a well-designed technique which is also known as sherardizing. Dust of zinc is taken in a drum along with the inert filler materials (sand or glass bead). Steel component is placed inside the drum and heated up to 380-450 °C with continuous rotation of drum. Basically, temperature is below the melting temperature of zinc but can provide enough energy to the zinc atom to diffuse into the steel and agitation provides the maximum contact of zinc to the steel. Duration of the process is further managed by the required thickness of the coating. Also, temperature is considered as one of the major parameters to control thickness of the galvanized coating. It produces uniform but tightly adherent coating and applications includes the coating of fasteners, small components, sensitive to distortion parts and threads.
Hot Dipped Galvanized vs Stainless Steel
While comparing hot dipped galvanized steel and stainless steel, chemical composition and the process which is creating protective layer are quite important. In stainless steels chromium is added which reacts with oxygen and form chromium oxide whereas zinc coating is formed on the carbon steel in hot dipped galvanized steel. Stainless steel provide better corrosion resistance towards dust, corrosive substances and marine environment. On the other hand, hot dipped galvanized steel offer cost effectiveness in comparison with stainless steel. For aesthetically pleasing concerns, stainless steel is chosen. It is pretty hard to say that one steel is better than other because both offer their specific set of characteristics and should be chosen as per required properties in defined or desired application.
Stainless Steel
Stainless steel is an alloy which provide high corrosion resistance and durability in different aspects of life including automotive, food containers, medical equipment, and aerospace. It is an alloy of iron with main alloying element chromium which is ~11wt% along with carbon, molybdenum and nickel. Chromium content in the steel reacts with surface air and forms a thin and transparent protective layer which protect the steel from further oxidation. Corrosion resistance is one of the key features of stainless steel due to its stainless characteristic. Apart from corrosion resistant, it possesses high strength, heat resistant, hygienic and recyclable.
Stainless steel is divided into subclass which are austenitic stainless steels, ferritic stainless steels and martensitic stainless steels. These grades possess different compositions and offer different properties but all of them provide good corrosion resistance. As compared to galvanized steel, it possesses higher corrosion resistance and is more adherent as mentioned earlier.
Difference Between Galvanized and Stainless Steel
As both galvanized steel as well as stainless steel are discussed in detail, separately. A comparison needs to be drawn for better understanding of the topic and better utilization of both steels. Difference aspects of stainless steel as well as galvanized steel will be disused down below.
Corrosion Resistance
While comparing corrosion resistance of both steels, steel provide superior corrosion resistance whereas galvanized steel offer low to moderate corrosion resistance [20]. Galvanized steel can be used in less corrosive environment but is not suited for highly corrosive environment such as marine and in the presence of acid. On contrary, stainless steel is recommended for marine environment. Different grades of steel provide moderate of high corrosion resistance such as austenitic stainless steel provide high corrosion resistance in comparison with ferritic stainless steel [20]. Also, as zinc coating provides sacrificial layer to the steel from corrosive environment and protect it. With time, depletion of zinc coating occur which is not the case with stainless steel.
Is Galvanized steel strong?
Galvanized steel is strong but the strength is due to the underneath carbon steel. Galvanized layer on the surface of substrate proved corrosion protect by forming a layer of sacrificial cells on the carbon steel. As already mentioned, that the thickness of the protective zinc layer can be increased but still it has nothing to do with the strength. Strength comes from composition and microstructure of the substrate material and which processing route is opted is also significant. Protective layer form by chromium in stainless steel is very thin still stainless steel provide good strength. As, stainless steel provide higher range of strength as compared to galvanized steel due to its chemical composition and microstructure.
Appearance and Aesthetic
Stainless steel ha sparkly, brightly and metallic appearance and brightness vary with in the grades. It is finished in textured, shiny, matt and brushed appearance as per requirement [23]. Moreover, galvanized steel has dull-gray or silver-gray appearance and texture been found on the surface. With the passage of time appearance of the galvanized steel opt weathering appearance and achieve more uniformity in color after aging without compromising uniform corrosion resistance.
Fire Resistance and Welding Considerations
For welding considerations, galvanized steel is difficult to weld in comparison with stainless steel. Zinc coating need to be removed prior to welding as zinc generate harmful fumes and hazardous to the health. Ventilation is required during welding. Low melting temperature welding are suitable for galvanized steel which are Tungsten arc welding and Metal inert gas welding as heat input is controlled in these techniques. Welding of the stainless steel is tricky as it is high temperature resistant material. While considering the stainless steel, sensitization is an issue during welding at the temperature range of 450-850 ⁰C. In sensitization, chromium rich and chromium depleted regions are formed which ultimately cause corrosion. Optimized heat input should be used to avoid distortion and back purging should be carried out if required. Both steels provide good fire resistance properties but ultimately lose strength and structural integrity when exposed to high temperatures for longer period of time.
Environmental Impact and Sustainability
Both steels can be recycled and its rate is pretty high. In case of galvanized steel, zinc makes the recycling process difficult [27]. High energy intensive processing of these materials is required. Stainless steel is relatively more durable and possess longevity as compared to galvanized steel.
Price & Application
Price of the both alloys depend on various factors such as grades and processing technique. Generally stainless steel is expensive than galvanized steel. Galvanized steels are used in infostructures, construction, agriculture, automotives and electronics whereas stainless steel is used in medical, hospitals, food containers, automobiles and aerospace industry.
Difference Summary
Table 1. Comparison of galvanized and stainless steel.
Sr. no.

Properties

Steels

Galvanized

Stainless

1.

Corrosion resistance

Low to moderate

High

2.

Durability

Relatively low

Relatively high

3.

longevity

Comparatively low

Comparatively high

4.

Strength

Low-strength of carbon steel

High- strength of stainless steel

5.

Porous

Yes

No

6.

Applications

infrastructures, construction, galvanized tubs, galvanized steel sheets

Medical, food container
Here is an overview of stainless steel and galvanized steel: https://www.youtube.com/watch?v=2pbyQ-XE5HU
Galvanized Nails vs Stainless Steel
Stainless steel nails provide high corrosion resistance, durability and longevity in comparison with galvanized nails. Galvanized nails are more cost effective than stainless steel nails. If cost effectiveness is primary concern than you must choose galvanized nails otherwise stainless-steel nails are a better choice.
Do Galvanized Bolts Rust?
Bolts are galvanized to form a sacrificial layer on the bolts to protect it from corrosion. In certain condition, it will rust such as in the presence of corrosive environment, dissimilar metal contact and in case of zinc coating damage which expose the surface and result in rusting.
Is Galvanized Steel Better than Stainless Steel?
It is already mentioned that both steels possess advantages and disadvantages. Both steels are extensively used as per required properties in particular applications. This link provides the pro-tips to choose right material: https://www.youtube.com/watch?v=aZkH9t86OaQ
Conclusion
Main difference between stainless steel and galvanized steel is the mechanism involved in the formation of protective layer. In galvanized steel, protective zinc layer is formed on the carbon steel by utilizing hot dipping, electroplating and thermal diffusion methods. On contrary, in stainless steel chromium from the alloying elements of the steel form a protective chromium oxide on the surface and protect it from further oxidation. Chromium oxide layer is relatively more adherent and non-porous. Welding of both the steels is a work of art and experience with few considerations such as heat input and temperature range. Both steels offer their utility in different applications so it is really important to make a correct decision of material selection for particular application. In that regard, you must take consultation from experts for the right choice of the steel.
FAQs about Galvanized Steel vs Stainless Steel
Electroplated vs Hot Dipped Galvanized stainless steel
Electroplating is comparatively more controlled technique in which layer by layer deposition of zinc is performed and more adherent coating is obtained.
How to tell if metal is galvanized?
Appearance of the galvanized steel will be silver gray or dull gray and it will have crystalline and textured pattern.
Stainless steel or galvanized for outdoors
Stainless steel is suitable for outdoor applications due to its high corrosion resistance in corrosive environment and exhibit longevity and durability. Galvanized steel can also be used in outdoor applications but in less corrosive environment.