3003 Aluminum vs 6061: What is the Difference Between

Aug 08,2023

As you know aluminum is one of the most demanding elements globally due to its extraordinary characteristics and properties. Mainly its corrosion resistance and lightweight nature makes it suitable for many domestic and industrial applications. Many of you don't know that aluminum also has many grades like steel. and all the grades have their own unique features and uses. Here we will discuss two important 3003 vs 6061 aluminum. This piece of writing will highlight their comparison in detail including their properties and most importantly how to get a reliable supplier for these products for any project.
3003 Aluminum
3003 Al alloys have other elements. Such as manganese and copper Lightweight and corrosion resistant Al is high in demand for many applications. furthermore, 3003 aluminum properties include excellent conductivity and nonmagnetic nature. Both electrical and heat conductance make it the best option for industrial applications.
What is 3003 Aluminum used for?
3003 Aluminum properties are remarkable. These include rust free nature, weldability, and strength. It is considered an all-purpose applications alloy. Thus, it has a huge variety of uses. 3003 aluminum machinability is very high. Common uses for outstanding 3003 aluminum properties are in chemical industry for tools and equipment. In the food processing industries, it is used utensils and container. Other than these it has main applications in pressure vessels, tanks, sheet metal fabrications, cabinet, and hardware.
3003 aluminum diamond plate
3003 aluminum plate which has other name as diamond plate has many uses in processing techniques. It is a high textured finish used for outdoor and indoor uses. Diamond pattern on surface gives good textured finish. It is mostly utilized in trench cover, truck bed, as support structure, eyelet stock and ice cube trays. Corrosion resistance aluminum is a good option for diamond plate applications. 3003 aluminum machinability is good for diamond plate application.
Sheet Metal Forming
3003 aluminum machinability and weldability are the excellent features in 3003 aluminum sheets. It performs well in hot working and cold working processing methods. The general mechanical properties of3003 aluminum sheet is comparable to other aluminum series and therefore it has several applications in industries and domestic areas.
3003 aluminum tubing
3003 aluminum tubing has main copper and manganese main elements other than 98% aluminum in composition. This aluminum has higher strength and weldability than other grades and therefore possesses many engineering applications. It has high heat treatments abilities and malleability. Corrosion resistance aluminum can survive many years in harsh environments as well. Furthermore, 3003 aluminum tubing is cheaper than other materials and that is why it is a preferred choice for many industries. 3003 aluminum properties are good for tubing fabrication.
6061 Aluminum
Aluminum 6061 has magnesium and silicon. It is durable as well as it is rust free material. Furthermore, high thermal and electrical conductivity make it an extraordinary aluminum alloy. Aluminum 6061 has many applications. Such as in aerospace and automotive industries due to its amazing features.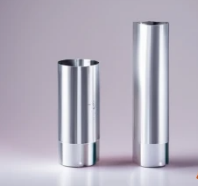 What is the Difference Between 3003 and 6061 Aluminum
Properties of these alloys are comparable. The main difference is in their composition. Major chemical properties difference occurs during heat treatments of these alloys. 3003 aluminum properties does not have much response to heat treatments. While 6061 gets most of its properties by heat treatments. This is normally present in T6 and T4 temper.
3003 vs 6061: Chemical properties comparison chart
| | | |
| --- | --- | --- |
| Elements | 3003 Aluminum | 6061 Aluminum |
| Aluminum | 98.6% | 97.9% |
| Copper | 0.12% | 0.28% |
| Manganese | 1.2% | - |
| magnesium | - | 1.0% |
| Silicon | - | 0.6% |
| chromium | - | 0.2% |
Physical properties
Weight
The weight of Al 3003 and aluminum 6061 is almost the same. The difference lies in their properties after going through heat treatment. Both are light weight material, but heat treatment imparts high strength on 6061 Aluminum with lower weight.
Density
Density of Aluminum 3003 in lb/in3is 0.0986. The density of Aluminum 6061 in lb/in3 is 0.0975. It is almost the same as density of aluminum in lb/in3.
Stronger
Aluminum 6061 is stronger than Al 3003. 3003 series aluminum has no response to heat treatments while heat treatments increase strength of Aluminum 6061.
Elasticity
Al 3003 has an elasticity modulus of 68.9GPa while Aluminum 6061 has elastic modulus of 70GPa.
Hardness
3003 series aluminum has a hardness of 55 and aluminum 6061 hardness is 95. This hardness is measured in Brinell units.
Heat resistance
Thermal conductivity of 3003 vs 6061 aluminum is not so different. The difference occurs in heat treatments as 3003 series aluminum has lower response to heat treatment than aluminum 6061.
Corrosion resistance
Aluminum 6061 is more resistant. The basic corrosion resistance nature found in both alloys in 3003 series aluminum and 6061
Mechanical properties
3003 properties are lesser than 6061. As 6061 hardness is higher. But 3003 aluminum machinability is good.
Strength
3003 have less strength than 6061. As aluminum 6061 hardness is higher.
Machinability
3003 aluminum machinability is higher. 3003 series aluminum has good weldability and machinability.
Is 3003 Aluminum weldable?
3003 aluminum weldability is good. It has high machinability and can easily be weldable. It can be deeply drawn or spun.
Price
3003 series aluminum has less price on the market as its production cost is lower. Aluminum 6061 is costly than 3003 series aluminum. Because it has extraordinary properties and high applications.
Summarize the 3003 and 6061 differences
As 3003 vs 6061 has many comparable features. These all are shown in the table below.
| | | |
| --- | --- | --- |
| Properties | 3003 Aluminum | Aluminum 6061 |
| Corrosion resistance | Moderate | High |
| Mechanical properties | Moderate | High |
| Hardness | Moderate | High |
| Machinability | High | Fair |
| Strength | Fair | High |
| Scratch resistance | Fair | High |
| Price | Low | High |
When to Use Aluminum 3003 or 6061
3003 series aluminum is good for machining applications. 3003 aluminum tubing and 3003 aluminum sheets have many uses. 3003 aluminum properties are compared to 6061. While 6061 is the best option for high strength uses. Aluminum 6061 hardness is higher and is more resistant. It is preferred for high strength applications.
If you are looking for a reliable supplier for aluminum sheet metal fabrication, TUOFA offers lean manufacturing, Rapid prototyping & custom manufacturing services. TUOFA provides custom machining services for aluminum, 3D printing for aluminum and sheet metal fabrication for Aluminum parts. For more information please visit: https://www.tuofa-cncmachining.com/
FAQs about 3003 and 6061
What is 3003 h14 Aluminum?
H14 refers to a temper treatment. It refers to the 3000 series aluminum that has gone through strain hardening and half annealing.
Aluminum 3003 h14 vs 6061 t6
3003 h14 aluminum is tempered aluminum that is strain hardened and half annealed. Aluminum 6062 T6 refers to artificially aged for high strengths.
Is 3003 Aluminum bendable?
It has a high elastic modulus of 35%. This means it is highly bendable than other 3000 series aluminum alloys. 3003 aluminum tubing and 3003 aluminum sheets are very bendable.