What is Metal Plating: Surface Treatment Guide

Aug 23,2023

Different Materials have different properties and characteristics making them special for specific applications. Sometimes, single material is not enough for certain applications so we have to combine the properties of one material with another. Metallurgists and Material engineers utilize different techniques to combine materials to enhance the all-selective properties for certain applications.
The cheapest, easiest, and most efficient way is the metal plating technique in which metal enhancement is done by coating a thin layer of expensive metal on cheap metal to achieve combined properties of both materials fit for certain applications. There are many metal plating techniques including anodizing, CVD/PVD, plasma coating, and cladding, and the most effective and cheapest metal enhancement for aesthetic surface finish is electroplating.
Metal finishing processes are used for the surface finishing of fashion accessories, electroplate jewelry, and plating color on decorative and functional hardware. Electrolyte plating on automotive parts such as titanium and chromium electroplating finish for heat protection and corrosion protection. Metal finishing on medical devices, aerospace, and aviation industries. Electrolyte plating can be done with different metals like Steel, Gold, Silver, Copper, Nickel, Zinc, Tin, Cadmium, and Brass.
What is metal plating?
Metal plating techniques involve a thin layer of metal enhancement on another metal. The plating process provides a surface finish to enhance the properties of cheap material like wear resistance, scratch resistance, conduction, corrosion protection, and for aesthetic looks. There is a plating process that gives you thin full coverage metal enhancement but is very expensive metal like PVD/CVD and, plasma coating used for plating surfaces of high-tech applications. On the other hand, some metal plating techniques are easy, fast, and effective like electroplating, galvanizing, cladding, and anodizing used for commercially large-scale metallic plating.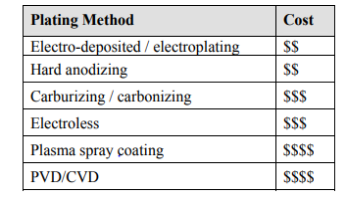 Metal plating techniques are listed on the bases of an increase in cost.
What is electroplating
The electroplating surface finish process is efficient, reliable, and inexpensive providing a metallic finish to a wide variety of sizes and shapes. In the electroplating process, enhancement is done by a thin layer deposition of metal atoms on another material. Metallic plating material is called substrate material and one which has to be coated is called deposition material. electroplating surface finishing enhances the chemical, mechanical, and electrical properties of the substrate material.
How does electroplating work?
Plating bath: a container containing the whole set up metallic plating process filled with an electrolyte solution which contains the plating surface metal ions.
Electrodes: The plating surface is connected to the negative terminal making it cathode (less reactive) while the deposition metallic plating is connected to the positive terminal making it anode which is active metal.
Power supply DC: which provides voltage. Attached between two electrodes for the conduction or electron for electrolytic plating.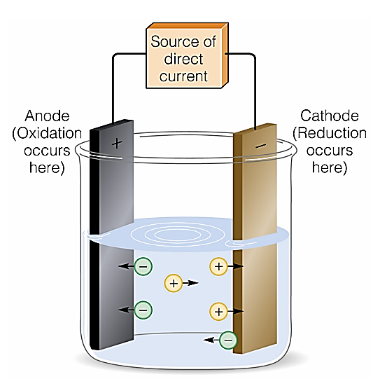 Electroplating set up
YouTube video explaining the concept of the electroplating process.
https://www.youtube.com/watch?v=PZKEavdDcyM&pp=ygUYZWxlY3Ryb3BsYXRpbmcgcHJpbmNpcGxl
Types of electroplating
Mass plating: This electrolytic plating is for mass production applications. Mass plating process thin metal enhancement for surface finishing can be done by barrel plating setup. This barrel plating process is economical for large-scale metallic plating of small parts. Barrel electrolytic plating is not suitable for high-tech applications that need detailed electroplating finishes without entanglement and scratches.
YouTube video of barrel plating process.
Rack plating: In the Rack metal finishing process, the larger parts are mounted on racks and are immersed in an electroplating bath. This Metal finishing process is expensive but gave more uniform high-quality surface finishing. Rack electrolytic plating is used delicate, fragile, and complex parts which require plating surfaces of gold, silver, tin, copper, and nickel.
YouTube video of rack plating process.
Continuous plating: This Metallic plastic process is used for surface finishing of long parts like metal tubes, stripes, and wires. This Metallic plating is also known as reel-to-reel plating in which long substrate material was plated color of deposition material by passing it at a specific rate through a chemical bath.
YouTube video of the continuous plating process.
https://www.youtube.com/watch?v=Il6mNOkY5VU&pp=ygUgY29udGlub3VzIGVsZWN0cm9wbGF0aW5nIHByb2Nlc3M%3
In-line plating: This metal plating technique does metal enhancement by assembly line. Line plating surface finishing is done by passing parts through different stations and automatic operation lines. This plating process is typically used for copper, chromium, cadmium, zinc, and copper.
YouTube video of the In-Line plating process.
https://www.youtube.com/watch?v=eAzG74MfDuQ&pp=ygUbbGluZSBlbGVjdHJvcGxhdGluZyBwcm9jZXNz
What metals can be electroplated?
Generally electroplating basic material requirement is that it should be conductive, but it's not that simple all conductive materials cannot be coated on others. Electroplating finishing of metal may require certain criteria on the basis of which cathode and anode are selected. The galvanic cell of electroplating must be arranged by looking at the standard electrode potential of metals listed below in Fig. This set of standard electrode potential help the chemist to set an effective electro potential difference between cathodes for effective electrolytic plating.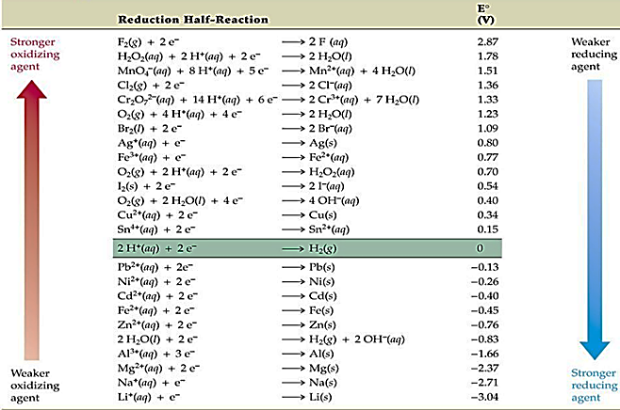 Table showing Standard electrode potential at 25
There is a set of metals that cannot be easily electroplated, only coated by special methods. Chromium, Aluminum, titan, stainless steel, tin, and refractory materials like tungsten have stable oxide layers providing excellent corrosion protection making them difficult to electroplating. Chromium can have gold metallic plated color in electroplating by a special gold electrolyte.
Steel Plating
Steel can be galvanized by zinc which act as sacrificing anode and provide corrosion protection to the steel. Chrome metallic plating provides a highly reflective and durable surface finish with high corrosion protection. Electroplating steel with copper to provide durable strong adhesive conductive copper plated color. Stainless steel is an iron alloy with nickel-chromium to increase corrosion protection on average contains 18% chromium and 10% of Nikel. Chromium's presence makes metallic finishing through electroplating difficult.
An easy way to strong acidic cyanide gold electrolytic plating causes metallic gold-plated color on stainless steel. This stainless steel Metallic gold-plated color is used in casual electroplated jewelry, decoration accessories, and crockery sets.

Stainless steel electroplated with copper giving it shiny copper plated color.
Gold plating
Gold metallic plated color is most demanding coating in jewelry making and decorating accessories. Gold electroplating finishing provides good solderability, good corrosion protection, and good wear resistance when alloyed with cobalt.
Gold plating process-specifications
Type1: used for general purpose, solderability, electrical contact high reliability, and wire wrap joiners. Has 97% gold with hardness grades of A, B and C.
Type 2: hardening agent in gold plating surface will oxidize that's why this metallic plating cannot be used for high-temperature applications. With a 99.0% gold minimum with hardness grades of B, C, and D, A.
Type 3: This grade metal finishing is used for nuclear engineering, semiconductor, thermo-compressor bonding, and for applications where high temperature is required.99.9% gold minimum with a hardness of A grade only.
The soldering requirement is highly achieved when 0.00005-0.0001inch of gold coating thickness is done. Copper-rich surfaces like beryllium, bronze, and brass when coated with metallic gold platted color the copper diffused inside the gold coating causing decreased nonoxidizing properties and hardness. Sulfamate nickel under metallic plating is recommended before the gold plating surface. Gold plating is highly used for electroplate jewelry.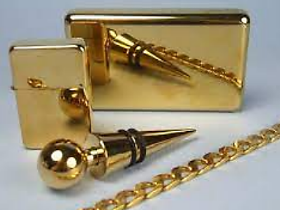 Metallic gold-plated color on objects due to electroplating of gold.
Silver plating
Silver electrolytic plating provides a highly electrically conductive surface. Silver metal finishing is best for engineering purposes for electrical contact characterization, thermal conductivity., wear resistance, spectral reflectivity, thermo-compression bonding, and corrosion protection. There are two grades of silver-plating process.
Tarnish resistance treatment supplementarily included.
Tarnish resistance treatment supplementarily not included.
Silver plating process must include nickel coating for thin metal enhancement of steel, copper, and zinc and its alloys.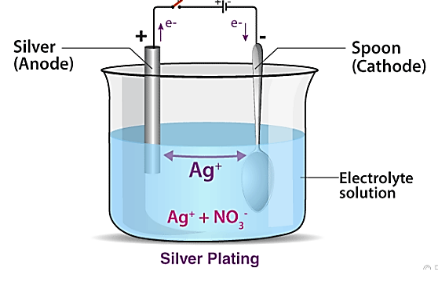 Silver plating on spoon.
Copper plating
Copper is second most popular metal plating surface behind nickel. It provides good electrical conductivity, solderable surface with soft, red, ductile and durable surface. Copper electroplating finish tarnish easily that's way mainly use under coating for other electroplating metals. Zinc die cast can only be electroplated with copper. Normally it is under coated in thickness of 100-200 micro inches provides smooth, uniform coverage to base metal.
Nickel plating
Nickel silver white plated color hard metal with bright luster. It has very high wear endurance and can't be built on edges. Nickel can give a uniform plated finish to blind holes and cavities. High corrosion protection due to a high percentage of phosphorous. The metallic nickel finish is smooth and uniform and is used as a barrier to attack base metal by electrolyte metals like silver, copper, and cyanide.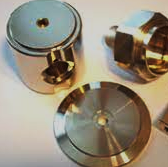 Durable metallic plating of nickel.
Brass plating
Brass is used to electroplating jewelry and other decorative accessories due to its fine metallic finish. Engineer applications like electroplating finish on the bearing, steel belts tires adhesion to rubber is enhanced by brass plated steel, and used in the anti-galling coating utilize nickel electroplating. Firstly, the surface is electrolytically plated with nickel and then by brass for 35-90sec. This highly fine surface finish is used in decorative lambs, electroplated jewelry furniture hardware, and builders' hardware. The electroplating finish that can be oxidized, buffed, and burnished can be heavily brass coated with 0.0003-0.0006 inches.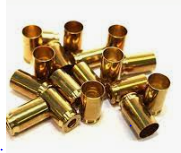 Antique brass golden plated color.
Zinc plating
Zinc plating also known as galvanizing helps base material improve corrosion protection, aesthetic appeals, and sacrificial protection. Zinc silver electroplating finish can be done in cost-effective and large-scale mass production of complex shapes. Zinc plating surface finishing is used in automotive industry, construction, hardware, agriculture equipment, and marine industry [16].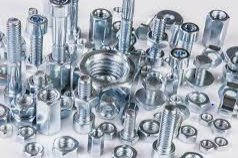 Zinc Electroplating surface finish
Tin plating
Tin silver plated color whose major application is unsoldering or soldering base material. Tin can be electrolytic plated with good coverage for wide complex shape ranges. Tin electroplating finishing surfaces are nontoxic and non-carcinogenic that's way used in food container applications. Tin also tarnishes easily that way and cannot be used in decorating applications. Tin soft and ductile surface finishing can be scratched easily. Alloying tin with lead is done for preventing whickering and reduce its melting point for the soldering application.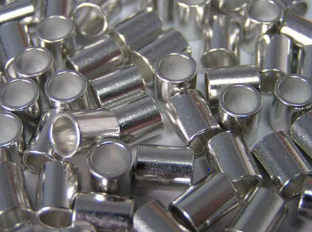 Tin Metallic electroplating on food cans.
Cadmium plating
Cadmium is a toxic heavy material that has raised many health problems beside this its electrolytic plating provides corrosion protection, lubricity, conductivity, and solderability to the base material. Cadmium electroplating is used in military equipment, electronic appliances, automotive brakes, springs and fasteners, and, aerospace components.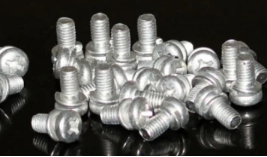 Cadmium coating screws
Plating Metals Summary Chart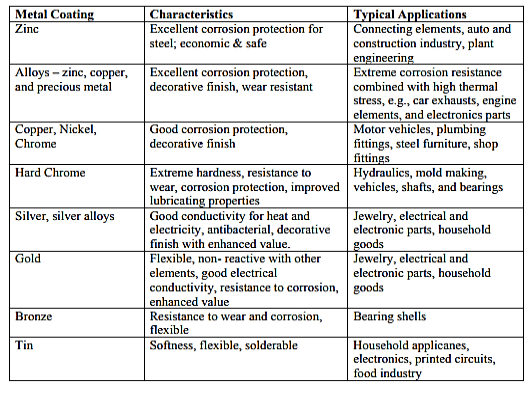 How to Plate Metal: Process and Steps
Electroplating start by sample preparation suppose you want to metallic plating of copper on stain less steel first we have to do hot degreasing. Then rinse the surface with a lot of water and dried. Next step in this metal plating technique is to activate surface for this we dip the solution in nickel salt containing solution so that the nickel ion absorbed on the surface activating it for zin coating. After that electrode is attached to negative terminal in electrolytic cell for electroplating. Select parameter according to desired thickness of the coating. After rinsing it with water to remove electrolyte residue again next electroplating set up is arranged for copper coating. Again, parameters of electroplating are set up according to thickness of the coating. After that again wash it thoroughly and dry. The smooth surface of electroplating is ready.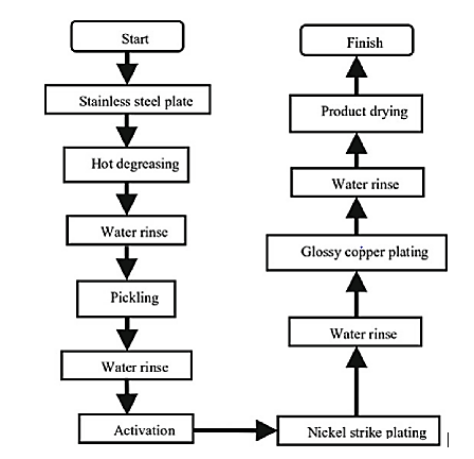 Flow chart of electroplating process
Metal electroplating colors
Silver plated color due to silver metal coating
Pale yellow to deep yellow range of plated color by gold electrolytic plating on different base material.
Silver white plated color by nickel electroplating.
Shiny and reflective blush silver color by chromium electroplating finishing.
Redish brown color by copper electroplating finish.
Electroplating examples
Electroplating is used in different industries listed below.
Jewelry industry
Automotive industry
Electronic industry
Decorative and table wear industry
Medical instruments
Fashion accessories
Construction and architecture
Military and defense industry
Factors affecting electroplating
Surface preparation: surface should be cleaned if not it will affect the adhesion of coating to substrate.
Electrolyte solution composition: concentration of metal ion and pH level effect the final appearance, adhesion, and electroplating rate.
Current density: depend up on the power supply heavy power supply may cause the irregular coating and even burning of substrate or coating.
Temperature: it influences the uniformity, adhesion and electroplating rate.
Agitation: it helps in maintaining ion concentration and temperature inside the electrolyte plating bath. Adequate agitation may cause problem in ion settlement near substrate and hence reduce the coating time.
Plating time: plays a key role in controlling the thickness of the electroplating.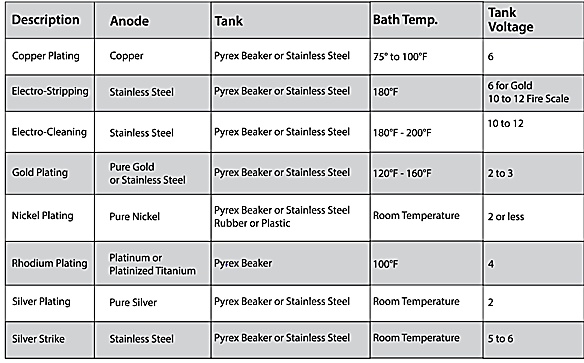 Different material electroplating parameters
Pros and Cons of AC vs DC Welding
Advantage
Durability: Known for its durability and ability to withstand heavy loads, sheet metal is ideal for construction, transportation and industrial applications.
Strength: Metal plates are strong and resistant to temperature extremes, chemicals, and corrosive elements.
Cost: Sheet metal is relatively inexpensive compared to other metals, making it a cost-effective choice for many applications.
Versatility: Sheet metal can be formed into various shapes and sizes for a wide range of uses.
Easy Repair: Sheet metal can be easily repaired using welding or other techniques, reducing downtime and maintenance costs.
Disadvantages
Weight: Sheet metal can be heavy, which can make it difficult to transport or handle in some applications.
Fragile: If mishandled or subjected to extreme stress, sheet metal can be fragile and could shatter or crack.
Stretchability: sheet metal may not be as flexible as other metals, which may limit its use in some applications where flexibility is important.
Thermal Conductivity: Metal plates conduct heat poorly, which may affect their performance in certain environments or applications where good heat dissipation is required.
Environmental impact: The production of sheet metal can have negative environmental impacts, including air and water pollution, deforestation, and greenhouse gas emissions.
Why Choose China Tuofa for Metal Surface Treatment Service
Tuofa is one of the best companies known for good quality and smoother electroplating surface finish. Their parameters are well known and controlled for appropriate thickness coverage with uniformity and conformity of electroplating. Their advanced electroplating plating setup ensures the gloss, texture, fine color, and smoother electrolytic plating on parts. Their distributors are well known for technology and can understand your demand and provide you with the best you can have in the market.
Can have more detail about the amazing service of Tuofa from this website.
FAQs
What is replating
Replating is done when an already electroplated surface after sometime gets tarnished or oxidized. In this case complete removal of the existing coating is more important than deep cleaning of the surface so that no remain of coating is left on the surface. Afterward, the same electroplating steps are followed for a completely new coating.
How is electricity used in the plating process?
Electricity helps the conduction of electrons between the cathode and anode. This electron movement towards the cathode cause the metal ions in the electrolyte to take electrons and deposit themselves in the form of metal atoms on the surface of the cathode. Without the electron movement towards the cathode, metal ions do not deposit on the cathode surface in the electroplating technique.
How to electroplating metal at home
Which the help of any small toy battery in the home you can set up a small electrodeposition setup. Take a copper wire and a steel chain from your jewelry and clean them up. Attach copper wire to the positive terminal of the battery and chain to the negative terminal of the battery. In a small plastic bath make water and copper sulfide salt solution ad set other assembles in the bath such that electrodes completely dips in the solution. After a certain time, you will see your chain getting plated reddish-brown color of copper.