Stainless Steel VS Sterling Silver: What's the Difference Between

Jun 19,2023

In this article, you will find all the information related to sterling silver and stainless steel jewelry for which you are carving and wandering here and there. Both, sterling silver and stainless steel has great application in the industry of jewelry industry. This article will not only distinguish between these two seemingly comparable materials but also provide you with sufficient information about their advantages and disadvantages. In addition to these this article also provides knowledge about properties and characteristics of sterling silver and stainless steel like life span, construction, cost difference, and maintenance. This article also helps you in deciding the material for your jewelry, which best suits your needs.
Contents
Click the links below to skip to the section in the guide:
Brief Explanation of Stainless Steel
Introduction of Sterling Silver
Is Stainless Steel the Same as Sterling Silver?
What is the Difference Between Stainless Steel and Sterling Silver
Is Sterling Silver Better than Stainless Steel
How to Tell Stainless Steel from Silver?
FAQs about Sterling Silver and Stainless Steel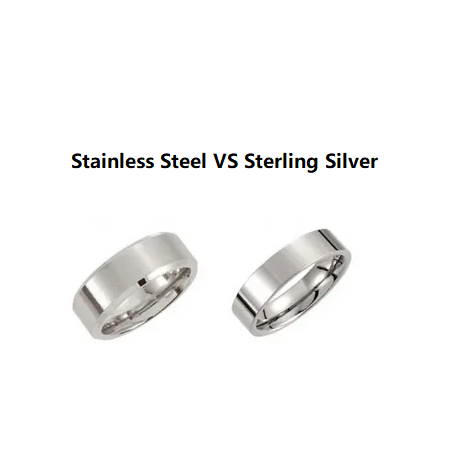 Brief Explanation of Stainless Steel
Stainless steel is very well known for his durability and its resistance to corrosion. It also enjoys a great place in alloys. It contains steel along with 10.5% of chromium. And when it comes in contact with air, a thin and transparent film chromium oxide develops in its surface. This layer then serves as a barrier to further oxidation and corrosion and it is also responsible for its exceptional resistance to rust and stains. Various other elements including nickel, molybdenum, and titanium are used in addition to varying amounts of chromium, in order to improve certain qualities.
Definitions and Composition
Stainless steel is a type of steel with a high usage rate, which differs from other steel materials in that it contains a large amount of chromium. Nickel, molybdenum, and titanium can improve their corrosion resistance and mechanical properties. Its composition depends on its properties and the purpose for which it is used. As mentioned earlier its exposure to air produced a thin layer of chromium oxide, which is passive and self-repairing. It protects stainless steel from getting rusted. This layer also avoids the fading of the color.
Properties
Strengths of Stainless Steel and also its Durability: The popularity of Stainless steel among other materials is due to both its strength and prolonged existence. This is due to the fact that it has an ability to keep its internal structure intact even when it is subjected to higher temperatures, which make it as a best choice for applications that call for strength and toughness.
Other metals (elements) including nickel, molybdenum, and titanium are added to stainless steel in order to enhance its durability.
Resistance to Corrosion and Tarnish: The presence of chromium stainless steel protects it from corrosion and tarnish. It avoids the rusting and also prevents the effects of temperature variation. It develops a thin layer of chromium oxide on its surface which self-healing and also acts as a barrier.
Available Finishes and Variation: Stainless steel can be divided into three categories: 400 series, 300 series, 200 series, and various finishes. Each developed for certain needs and aesthetic preferences. You can find various surface textures and reflectivity level with finishes like " No 1, No 2B, No 3, No 4, No 8, Hairline, satin, bead blasted, embossed. So choosing from a variety depends upon your personal needs like rough and texture, silky smooth reflective or patterned finishes.
Introduction of Sterling Silver
Sterling silver alloy has earned its name in the jewelry industry because of its charming look and aesthetic appearance. And its composition contains 92.5% original silver and 7.5% of other metals mostly copper. The word sterling was first used in England in order to ensure the presence of the silver. To preserve the original sterling silver from that of impurities they are usually hallmarked as 925 sterling silver or simple 925 on the back in order to confirm the required presence of silver. The copper presence provides sterling silver with dynamic superiority and soundness.
Properties
Sterling silver has various properties which make it a popular among consumers as well as among jewels manufacturers. Some of these properties are are discussed below
Polish and Appearance
The sterling silver has a unique silver-white sparkle due to the amount of silver present in it. It enhances its beauty as well as aesthetic offer. Due to its appearance it has been widely used in the production of gem pieces.
Perfection and Hallmarking Standards
Sterling silver is typically hallmarked on the back so that original quality can be protected from that of impurities or defect pieces. The hallmark is often done as 925 or 925 sterling silver. It also verified the 92.5% of silver in it.
Susceptibility to tarnish and oxidation
One of the major demerits of using sterling silver is that they can easily corrode and tarnish. When exposed to certain atmospheres, corrosion media, or with the passage of time they become dingy or drab and also may be rusted. This all leads to its failure. Normal cleaning and upkeep can offer support to protect its energy.
Uses
Sterling Steel Jewelry
Sterling steel jewelries are quite famous for their classy and stylish looks. They offer a comparable shiny appearance as well as are quite cheaper than other metals like gold and platinum. The presence of copper increases its durability and protects it from any wear and tear. These type of jewelries are usually used for special occasions and also sometimes for usual use. The main feature of sterling silver jewelries is that they are lighter and glossier. Its aesthetic value and effectiveness can further be enhanced by the addition of pearls, gems and other materials.
Stainless Steel Necklace
Due to their longer life span and resistance to corrosion and tarnish, the Stainless steel necklace has become quite popular. These types of necklaces are widely used for men's jewelry and timepieces. It also comes in a number of varieties at an affordable price and is cheaper than sterling silver necklaces.
Sterling Silver Earrings
Studs made from sterling silver offer a combination of excellence and strength. They are available in a number of varieties from classic to stylish. And help you to develop your entire look and go well with different categories of clothes.
Chains made of Sterling Silver
The aesthetic look, affordability, and robustness made sterling silver chains suitable for a number of applications. Due to the adaptability of sterling silver to acquire any change easily, they are preferred by consumers and manufacturers in jewelry as well as in chain because it enables them to complement a broad variety of styles and designs. Sterling Silver chains are also famous for their modern and stylish look and can be worn alone or with other chains to enhance the look.
Is Stainless Steel the Same as Sterling Silver?
No, these both are different types metal alloys with a completely different compositions. Although their appearance overlap with each other which cause hindrance in distinguishing between them. With the passage of time and on exposure to specific atmosphere corrosion and tarnish occurs in Sterling silver however stainless steel has the ability to resist them. This resistive ability of stainless steel is mainly due to the presence of chromium. They also differ in weight, life span, durability and maintenance techniques.
What is the Difference Between Stainless Steel and Sterling Silver
| | | |
| --- | --- | --- |
| | Sterling Silver | Stainless Steel |
| Composition | 92.5% silver and 7.5% other metals i.e. copper | Special type of steel consists of 10.5% of chromium |
| Durability | More durable due to the presence of chromium. Other elements like molybdenum, aluminium and nickel can be used to enhance its durability. | Less durable than stainless steel; however with the addition of certain elements its durability can be enhanced. |
| Tarnish and corrosion | Resistant to both tarnish and corrosion | Can tarnish easily with time |
| Maintenance | Require less maintenance | Requires extra care during maintenance process. |
| Repair and reshape | They are difficult to repair or reshape. | They are good in adapting changes so are easy to repair. |
Durability and Maintenance
Stainless steel and 925 Sterling silver are quite different from each other in terms of durability and maintenance techniques. Their durability and the maintenance methods are explained as follow:
Resistance to scratches and dents
The presence of chromium in stainless steel creates a protective layer over its surface which protects it from corrosion, tarnish and rusting. It also makes it harder enough to withstand the effects scratches and dents over time. It is harder than sterling silver. This property makes it perfect to use for jewelry that is used to be worn every day and for those which. Contrary to this, 925 Sterling silver are more prone to scratches and dents because they are soft in nature. They are also malleable it means they can be changed to a desired shape easily. When they come in contact with atmosphere containing sulfur materials, they start to tarnish and their color start fading.
Cleaning and Care Tips for Stainless Steel
Cleaning of jewelry after certain time, make them look like brand new and also help keeping their beauty for a longer period. Stainless steel jewelries are quite easy to clean than sterling silver. They can be cleaned by using baking soda or easily by using water and soap. These methods can also be employed for Sterling silver, but as they are delicate and require extra care than stainless steel, So it better to use silver polishing cloths to clean them. Moreover avoid cleaning your jewelry with aggressive cleaners that contain chemicals like chlorine as they can damage them. In order to remove fingerprints or hard strains glass cleaning or stainless steel cleanser are employed.
Aesthetics and Style
The aesthetic looks and stylish designs of sterling silver and stainless steel are very famous as well as have been admired by everyone. They come in variety of designs patterns to fulfill the modern stylish needs and provide its consumers with more aesthetically products.
Visual Appeal and versatility
Undoubtedly, sterling silver and stainless steel are famous for their beautiful jewelries. In most cases, they look very similar; Although careful observation reveals that pure silver jewelry has a more textured and high-end feel than stainless steel jewelry. And the pieces of jewelry have unique finishes.
In terms of versatility, the resistive property of stainless steel jewelry to corrosion and tarnish make it ideal to use regularly and it also used in other applications like surgery equipments. They also do not lose their shiny appearance when exposed to atmosphere as well as with the passage of time. On the other hand, when exposed to atmosphere containing sulfur sterling silver become corrode, rusted and tarnished. They also lose their luster with the passage of time.
Popular jewelry and accessory uses
Surely, all types and designs of eye catching jewelries and accessories can be made from sterling silver and stainless steels i.e. bracelets, necklace, earrings, pendants, and rings etc. They can also be used with diamonds to produce amazing ornaments. Along with their usage in jewelry sterling also plays a vital role in othr fields as well. In old time they are used as currency, to make knives and forks, dinnerware things, dishes, mirrors and more. Not only sterling silver but stainless steel is used to a great extent in other fields like; surgical instruments are made of stainless steel. They are also used to make parts of vehicles, cutlery, cookware, appliances, pipes, materials required for construction, and more.
Allergies and Sensitivities
The allergic and skin sensitive factor must also be kept in mind while selecting or buying jewelry because a wrong decision can cause harm to your health as well it is a loss of money. In such cases hypo allergic jewelries are best option.
Hypoallergenic properties
The one of the main characteristics of Stainless steel jewelries is that they are hypoallergenic. It means that for people with allergic and rash issues, these jewelries are best choice. Hypoallergenic sterling silver jewelries are also available but it is risky to wear them. This is due to the possibility, that they can cause a rash or an allergic reaction.
Sensitivity issues for certain individuals
Sensitivity issues does not react with skin and is hypoallergenic although it contains some amount of nickel. This property of stainless steel finds application in the surgical instrument. The people with sensitive skin should avoid their usage because it can cause allergies and rash on the skin.
Silver vs stainless steel color
Sterling silver and stainless steel looks like same when seen from naked eye. However, both are different in appearance and come in a variety of colors and finishes. Usually stainless steel color is silver grey while sterling silver color contains warm, white appearance. Sterling silver is also available in the form of mate and polished silver, silver pieces with gold plating. People also plate Stainless steel with other metals.
Which is more expensive sterling silver or stainless steel?
From economical perspective, Stainless steel is much cheaper than sterling silver and is available at affordable prices. This is the reason why everybody opt stainless steel because of its cheaper price as well as it has a long span of life than sterling silver. On the other hand sterling silver is more expensive due to pure copper presence in its composition. But it is less expensive than gold and platinum. These are mostly used to wear on occasions or special events due to their cost as well as they are delicate and easy to tarnish or corrode. 925 Sterling silver is thought to be an investment as its prices hike up with the passage of time.
Is Sterling Silver Better than Stainless Steel
It is quite too difficult to identify one as better than the other because both sterling silver and stainless steel jewelry have great value in the jewelry industry and are quite famous. However, there are various factors which may make one better for you than the other like: If you want to buy a piece of jewelry which beautiful and has a long span of life as well as has lesser expensive then stainless steel is a better choice for you. Although if you are looking for jewelry with more stylish, charming and eye catching jewelry for special cause then you must go for then sterling silver.
How to Tell Stainless Steel from Silver?
It is quite difficult to differentiate sterling silver from stainless steel by looking at their appearance. However there are various factors which help to distinguish between them. The sterling silver usually contains a hallmark on its back confirming the 92.5 percentage of silver in it. And stainless steel is quite famous for its resistance to rust and tarnish and they also have mirror-like structure. The other factor is the weight difference as sterling silver contains a large amount of silver in it so they are usually heavier than stainless steel. So while comparing between the jewelry of stainless steel and sterling silver, then the heavier among them is sterling and lighter one is stainless steel.
| | | |
| --- | --- | --- |
| Features | Stainless Steel | Sterling Silver |
| Color | silverish grey | Contains warm, white look |
| Allergic nature | Are hypoallergenic and does not cause any rash or irritation. | Due to presence of nickel they can cause irritations or rash |
| References to scratches and dents | Withstand all types of scratches and dents | Vulnerable to scratches and dents. |
| Heat Resilient | Have good resilience to temperature/ heat variations | These are also good resilient heat variation. |
| Cost | Economical than sterling silver and available at considerable price. | Expensive than stainless steel but cheaper than gold and platinum |
Conclusion
In a nutshell, both sterling silver and stainless steel has great applications jewelry industry and also play a key role in accessories and other applications. Stainless steel jewelry are best option for those looking for long lasting jewelry at affordable price. Stainless steel has made his name in the jewelry industry due to its durability and resilient property to corrosion, tarnish and rusting.
On the other sterling silver jewelries are expensive but they are famous for their uniqueness in beauty which you can't find in any other type of jewelry. In terms of maintenance stainless steel are easy to maintain and required less care while sterling silver requires special care. Also the most important factor is that stainless steel are hypoallergenic it means if you have sensitive skin and prone to allergies and rash then stainless steel is best option for you because sterling silver can cause rash and irritations on your skin.
After reading this article if you still need clarification on these two types of jewelry then it is recommended you to consult with a jewelry expert. They provide you the required knowledge about these materials as well as help you in differentiating between sterling silver and stainless steel. They also tell you which one is best for you according to your personal experience and health. Surely, there guidance will help you a lot while selecting the jewelry of your needs.
FAQs about Sterling Silver and Stainless Steel
Between sterling steel and stainless steel jewelry, which one is better than the other?
This depends upon your personal experience as well the price that you can afford. Stainless steel is best choice if you are looking for jewelry that will long last and has affordable price and also if you are looking for a jewelry for everyday use. But if you are not allergic and wants to buy jewelry for a special event that provides extra charm then sterling silver is best selection for you.
Sterling silver or stainless steel for sensitive ears?
If you have sensitive ears (skin) then stainless is finest choice for you. Due to its hypoallergenic characteristics it does not cause any rashes on the skin. Opposite to this presence of nickel in sterling silver cause allergic reactions on the body.
Is it possible to wear both sterling silver and stainless steel jewelry together?
Yes, you can wear these jewelries together in order to look more fashionable and fascinating. You just need to keep various trends and style in your mind while wearing them