Polished Nickel vs Chrome: What's the Difference Between

Jun 21,2023

While observing surfaces, shinny, glossy and tarnish free surfaces are more likely desirable than dull and tarnished surfaces. Different industries use multiple techniques to achieve that goal. In this regard, surface treatment has emerged as a field and development in this field is happening with every passing day. Polished nickel and chrome plating are considered very important techniques in this field. Polished nickel and chrome deliver aesthetically appealing looks with good corrosion resistance. Wide range of metals and alloys can be chrome and nickel plated and this versatility and adaptability make them renowned techniques. Stainless steel and chrome plating sever as corrosion resistant materials in even harsh environments.
Contents
Click the links below to skip to the section in the guide:
Comparison of Polished Nickel and Chrome Plating
Advantages and Disadvantages of Chrome Plating and Stainless Steel
Difference Between Stainless Steel and Chrome
Which is Better Chrome Metal or Stainless Steel?
FAQs about Polished Nickel vs Chrome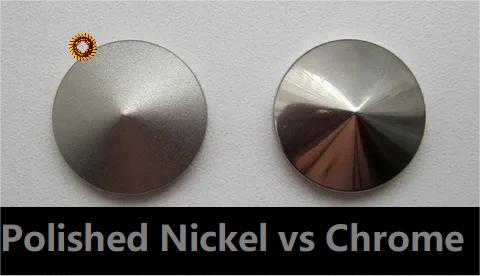 Chemical process is involved in chrome plating to develop a chromium oxide layer on the substrate. Both corrosion resistant techniques, act efficiently and effectively in corrosive environment and usually give long lasting shiny surface. To make an appropriate selection of surface treatment as per application is essential, so the understanding of these techniques is quite significant. Purpose of this blog is to develop the understanding and make the reader expert enough to make the right decision about the selection of surface treatment and material as per required characteristics.
What is Chrome Metal
Chrome metal belongs to 6th group of the periodic table. Chrome is basically a short form of chromium and symbolically it is represented as Cr. The atomic number of Cr is 24, has a high melting point of ~1907 ⁰C and brittle in nature. It is hard for processing so commonly used as a thin layer on metal and alloys. It considered as third hardest metal. As far as safety concerned, it comes under the umbrella of hazardous metal and can affect eyes, respiratory system, skin and blood.
What Color is Chrome Finish?
Passivation of chromium in the presence of oxygen is a natural process and the quality of the protective layer depends upon number of factors such as cleanliness of the surface, purity of chromium, environment and moisture presence in the vicinity. Ionic bonding exists between oxygen and chromium which makes a stable crystalline structure. Chrome (Cr2O3) finish is shinny as well as bright and can also be found in brushed chrome (linear texture), satin chrome (muted and less reflective), black chrome (black tint added), colored chrome (desired tint added).
Is Chrome Shiny?
Yes, naturally it is shiny in nature and its surface is highly reflective as a mirror. Mentioned property make it a suitable candidate for aesthetic and decorative purposes. Moreover, high quality reflective surface is achieved by electroplating. Quality of reflectivity depends on factors such as electroplating, cleaning condition of the surface as well as lightening conditions [7].
Stainless Steel
Iron and chromium are main alloying elements in stainless steels. As, already mentioned, chromium forms a thin protective layer which is a few nanometers thin but provide lustrous and reflective surface. Stainless steel is also available as chrome stainless steel and polished stainless steel. It acts as a barrier layer between aggressive environmental conditions including moisture, acids, humidity and marine environment. Three major grades of stainless steels are developed and under utilization as per their properties in different applications which are:
Families, Properties & Appearance
Table 1. Main characteristics of different grades of stainless steel
Sr. no.

Families

Grades & Properties

1.

Austenitic stainless steel

316: Highly corrosion resistant and good ductility (EL 42%). Tensile strength is 680MPa and yield strength is 500 MPa.

304: Highly resistant to specifically chlorine and recommended for marine environment. Ultimate tensile strength (UTS) is 621 MPa and yield strength is 205 MPa.

2.

Ferritic stainless steel

430: High corrosion resistance and low forming as well as welding properties than austenitic stainless steel. UTS is 517 MPa and yield strength is 345 MPa.

444: Provide high corrosion resistance to the chlorine and used in water treatment plants. 585 MPa and 165 MPa are UTS and yield strength, respectively.

3.

Martensitic stainless steel

410: high resistance to corrosion is provided by this grade along with high strength and hardness. Applications are usually found as a wear resistant material. 510 MPa and 290 MPa are UTS and yield strength, respectively.

4.

Duplex stainless steel

2304: It has good pitting and crevice corrosion resistance. Also, offers good strength such as UTS is 600 MPa and yield strength is 400 MPa.

5.

Precipitation hardened steel

17-7PH: It possess good ductility and high corrosion resistance. Usually used in surgical instruments and springs. 1170 MPa and 965 MPa are UTS and yield strength, respectively.
Comparison of Polished Nickel and Chrome Plating
In polished nickel, nickel is applied on the substrate of metal whereas in chrome, chromium oxide layer is applied. In comparison with surface finish, nickel gives warm tone silver or one can say a slightly pale or golden kind of hue whereas chrome provides bright silver look or one could say a bluish tint . In comparison of corrosion resistance, chrome plating offers superior properties than polished nickel.
Utility of polished nickel are found in decorative applications and chrome plating applications are found in aerospace and automotives.
Corrosion Resistance
Till now in this blog, it is established that when chromium (10 wt.%) is added in steels or chromium layer is deposited on base metal, corrosion resistance/ rust resistance properties will improve due to protective passive layer. Kiram Lakkan et al. have studied corrosion properties of austenitic stainless steel and pitting resistance assessment, and concluded that by increasing chromium and nickel content, corrosion resistance can be enhanced for pitting corrosion. Here is the link to further explore corrosion resistance
Strength and Durability
In tensile strength analysis of stainless steel, range is 180-1550 MPa and hardness comparison of stainless steel grade is as low as 22 HRC and as high as C35 to C49. Mechanical properties of chrome plated steels are entirely dependent on the underneath material capabilities. Suppose underneath material is a carbon steel of AISI 1045 and the strength will be sponsored by substrate material.
Chrome plating improves corrosion resistance, durability along with increase of hardness. If you want to know that whether chrome plating is imparting strength to substrate or not? Then answer would be No. Chrome offer high corner retention along with high wear resistance due to high hardness (600-1000 Hv) but stainless steel possesses good combination of mechanical properties.
Surface Finish and Applications
Home decoration, jewelry manufacturer and automotive industry look up to chrome plating for upgrading their product and to make it aesthetically appealing. Surface finish is exceptional, bright and lustrous. As the surface is smooth so it is also utilized in applications where low friction is required such as gears. Multiple components in automotive such as cylinders, shock absorber is chrome plated as it is durable and that component has to go through cyclic loading. Chrome plating is not only facilitating various industrial applications such as automobile, in aerospace vehicle parts i.e., landing gears which are hard chrome plated. Home decor includes, chrome faucets, sanitary items, chrome kitchen faucets, chrome door handles, chrome fixtures and window handles.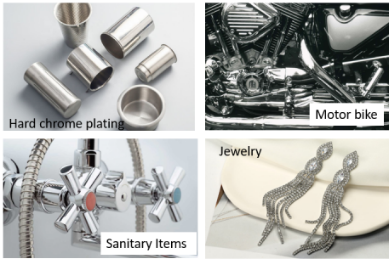 Stainless steel is a utilized in numerous applications such as automotive, aerospace, marine, medical and food processing and home decor. In home decor outside furnishing, door knobs and railings.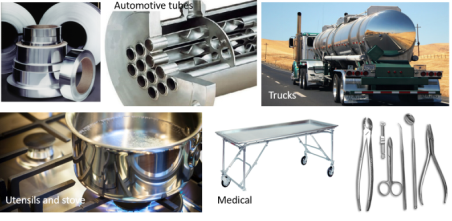 Cost and Considerations
If you want to understand the cost effectiveness of chrome plating and stainless steel then it is essential to comprehend the factors which take part in cost estimation. Stainless steel has different grades and each grade has different prices due to compositional differences and heat treatment conditions. Moreover, thickness and intricacy of the component also determine the cost of the product. Chrome plating is merely a surface treatment and its cost is determined by the electroplating process where trivalent chrome is used or hexavalent chrome was used to develop the chrome layer. Also, the thickness of the layer also effects the cost. In chrome plating, cost of the base metal is also added.
Chrome plated carbon steels are lower in price as compared to stainless steel. Stainless steels are readily available as number of manufactures are working on different grades of stainless steel and can easily be procured and same is the case with chrome plating. None of these materials are hard to find [25]. Chemicals involve in the production of chrome plating are hazardous and toxic as mentioned earlier. If you are working with these chemicals, they have environmental implications and should be disposed of as per standard operating method (SOP) whereas stainless steel involves toxic byproducts.
Advantages and Disadvantages of Chrome Plating and Stainless Steel
Stainless steel and chrome plating are in extensive use in many aspects of life due to extra-ordinary set of properties but also have drawbacks. Their pros and cons are discussed below:
Chrome Plating Advantages
It is not an expensive technique as compared to stainless steel.
It is versatile as different metals and alloys can be chrome plated.
It provides good corrosion resistance.
It makes the surface of the metal or alloy aesthetically appealing and improve abrasive properties by increasing the surface hardness.
It increases the value of the product.
Chrome Plating Disadvantages
Hexavalent chrome was used for developing chrome plating which is toxic and people are getting lung cancer and other health issues so need to be used with proper care and protection.
High cleanliness and maintenance required as compared to stainless steel.
Stainless Steel Advantages
It possesses high corrosion resistant and can be used in marine environment.
Chrome protective layer on the stainless steel is not porous and toxic which makes it a suitable material for food processing or storage.
It suitable for high temperature applications as it has high melting point.
It provides good set of mechanical properties which includes high tensile strength, toughness, ductility and hardness.
It is recyclable and durable.
Stainless Steel Disadvantages
It is not a cost-efficient material.
It has high melting point which make it difficult to weld.
It can be used in marine environment but direct contact of stainless steel with water could cause pitting a crevice corrosion.
To further understand the advantages and disadvantages of steel check this link out: https://www.youtube.com/watch?v=rAMcomI95qc
Maintenance and Care
Stainless steel is a low maintenance material as compared to the chrome. Here are few tips to keep both materials clean and lustrous by utilizing those surface protection methods.
Don't use aggressive cleaner or chlorine-based cleaner as chlorine is capable of causing pitting or crevice corrosion in stainless steel and is also not good for chrome.
Use detergent or soap with soft piece of cloth. Make a soap solution and spray it on effected area and wipe it with soft cloth.
Avoid the use of abrasive or steel wool on the surface.
Finger prints and stubborn spots can also be removed by vinegar from stainless steel and chrome. Olive oil is also used to keep the shine intact.
Dry water spots after cleaning.
Difference Between Stainless Steel and Chrome
| | | |
| --- | --- | --- |
| Properties | Chrome plating | Stainless Steel |
| Corrosion resistance | Moderate | Excellent |
| Durability | Good | Good |
| Toxic | Yes | No |
| Recyclable | Yes | Yes |
| Porous | No | No |
Which is Better Chrome Metal or Stainless Steel?
Both offers good corrosion resistance towards aggressive environment. Chrome metal is brittle and hard to process however chromium is present in the composition of stainless steel which provides good combination of strength, ductility, abrasion resistance and wear resistance. Also, different grades of stainless-steel offer specific properties as per requirement. Stainless steel is a better choice.
Conclusion
Chrome plating is an economical solution to improve the corrosion resistance of various metal and alloys. It is a surface treatment where through electroplating technique chromium oxide layer is deposited on the base material whereas stainless steel contains chromium in its composition which from chromium oxide layer and protect it from further oxidation. Chrome plating improve corrosion resistance along with increasing the hardness of the surface but doesn't take part in improving strength of the base metal. Stainless steel has superior mechanical properties than chrome plated carbon steel. Chrome plating process is toxic whereas stainless steel is environment friendly can be recycled. Both candidates have their pros and cons and stainless steel or chrome plating should be selected as per required demands. In that regard, you must consult an expert to save your time and resources.
FAQs about Polished Nickel vs Chrome
Does chrome steel rust?
Chrome steel is usually chrome plated steel and yes it can rust if the layer of the chrome is damaged or scratched out; the base alloy will corrode.
Can you chrome stainless steel?
Yes, stainless steel can be chrome plated and can be called chrome stainless steel. It improves the corrosion resistance, durability and hardness of the stainless steel. Surface cleaning, electrolytic process and finishing polishing steps are involved.
Does polished nickel look like chrome?
Both provide aesthetically appealing bright and shinny look. Nickle gives warm hue whereas chrome offers bluish, cool tone. Chrome requires less maintenance than nickel polish.