PVD Stainless Steel: The 8 Key Factors You Want to Know

Aug 29,2023

Physical vapor deposition (PVD) is one of the advanced technologies of coating. Compared to other conventional coating methods along with the wet chemical coating method. PVD is a more precise and accurate coating technology. PVD with its modified forms like CVD and ALD has revolutionized the world of surface engineering and coating. PVD Stainless steel is coated with different materials to enhance the surface properties of stainless steel for desired applications. PVD vacuum-plated stainless steel provides capabilities and opportunities to be used in different applications by surface engineering its properties.
What is PVD coating on stainless steel?
PVD stainless steel means that different metals in the form of vapors are deposited on the surface of stainless steel. These PVD-finished stainless steel provides wear resistance, corrosion protection, aesthetic PVD finish, durability, sustainability, improve cleanability, and help in fiction reduction. There are different grades of stainless steel used which are depending on their properties for different applications. Some of them are listed below 200 grade is the cheapest and used for low-tech applications while 300 grade is expensive with good corrosion resistance which is used for high-tech applications.
200 grades: provides good formability but poor corrosion resistance and has a low content of nickel and a higher content of magnesium.
300 grades:is the expensive grade with good corrosion resistance, formability, and wettability. The most commonly used grades for different applications are 304 and 316.
400 grades: commonly used for applications where high heat resistance is required but has poor corrosion resistance. It has high magnetic properties with high carbon content.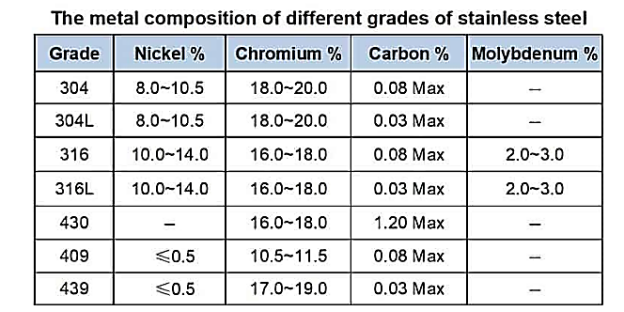 PVD metal finish
Physical vapor deposition as the name describes uses the metal in vapor form to be deposited onto the metal surface. The formation of metal vapor does not require any chemical reaction rather it's a physical method of vapor formation. Physical vapor formation in PVD is done by physical means like heating, induction heating, resistance heating, electron beam, laser, and plasma. PVD finish is precise and accurate because it is an atom-by-atom top-down approach of coating.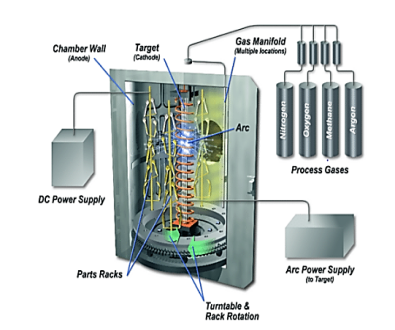 PVD equipment set up.
YouTube video showing PVD finish surfaces.
https://www.youtube.com/watch?v=6V_-ABAJloc
Black PVD stainless steel
PVD finished stainless steel finish is used for a sophisticated aesthetic look to the product and for durability. Normally this PVD stainless steel finish is done on decorative accessories, jewelers, watches, and rings to give them a black-colored aesthetic look including Diamond-like carbon finish (DLC), Titanium Carbonitride (TiCN), and Chromium Nitride (CrN).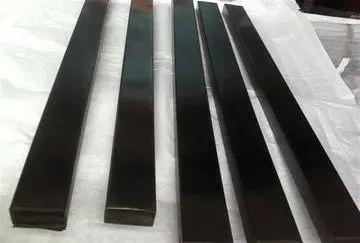 YouTube video showing black PVD finish on Stainless steel.
https://www.youtube.com/watch?v=QAwuLYswkBg
Gold PVD stainless steel
To enhance the properties and aesthetic look of stainless steel, it would be given a PVD finish. The gold PVD stainless steel meaning they are coated with a material that provides them different shades of gold colors depending on the grade and type of stainless steel you are coating. The shades also depend upon the surface roughness and surface treatments before the PVD finish. The gold PVD-finished stainless steel means these are coated with zirconium nitride or titanium nitride. There are different grades of gold PVD stainless steel coatings listed below.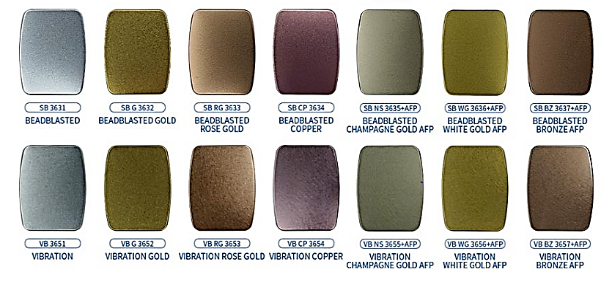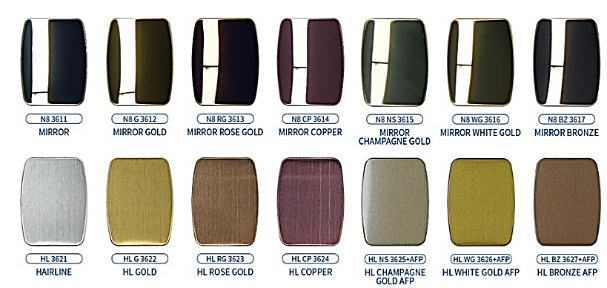 8 Factors you should Know about Physical Vapor Deposition:
Substrate finish and preparation: For the best PVD finish, the surface should be contamination-free and fully clean for good adhesion and PVD coating. The surface should be roughened for better adhesion. PVD sheets for coating should be buffed and polished before coating.
Adhesion: PVD vacuum-plated coating must be strongly adhesive to the base material retaining its properties for a longer service time. The PVD finish with good adhesion can be enhanced due to ion bombardment during deposition and proper cleaning effect.
Uniformity and conformity: Due to the atom-by-atom deposition approach, the PVD finish is uniform all over the surface. It provides good conformity to the finished product.
Complex surface coverage: The vapors are a gaseous state of matter due to their Brownian motion they can move to every space available to them. This Brownian motion of vapor allows them to uniformly cover the complex shapes giving them uniform and conform PVD finish.
Less weight-high strength: We know that PVD vacuum-plated parts are precisely lightweight coatings with high adhesion to the surface, providing them with high strength. This ability makes them suitable for high-tech applications where lightweight fabrication is key for aerospace and automotive industries for less fuel consumption.
Less material more output: Physical vapor deposition because of its ability to deposit by vapor phase deposition uses very low material with full uniform coverage. Providing full strength and high coverage output with less material utility. Making PVD finish a material-sustainable method of coating as compared to the conventional method.
Aesthetic PVD finish: Provides a fine, uniform, precise, and accurate PVD finish.
Pure metal PVD finish and alloy PVD finish: We know that some metal gets oxidized when subjected to high-temperature melting for coating. These materials like Aluminum and titanium are very hard to coat in pure form by conventional methods due to their ability to form a quick oxide layer in the presence of air. From physical vapor deposition, pure metals like aluminum and titanium can easily be coated in a vacuum that prevents the oxide formation. Similarly, alloy coating is possible by PVD.
What is PVD coating used for
PVD finished stainless steel coating is used to enhance properties like durability, aesthetic look, wear and corrosion resistance and increasing fatigue life by the smooth finish for different parts used in different industrial applications. Some of them are:
Architecture designs: The exterior and interior elements of architecture are given a black PVD stainless steel finish.
Electronics parts: Smartphones, mobile and laptop bodies, washing machines and refrigerator parts, and other electronic devices are PVD stainless steel finished.
Kitchenware: Utensils and appliances used in the kitchen are black PVD-finished stainless steel for durability and authenticity.
Medical devices: For wear resistance, corrosion resistance, and cleanability the medical devices are black PVD finished stainless steel.
Automotive industries: Less weight coating with less material utility but high outcomes and good strength, PVD vacuum-plated metal coatings are the best choice for such high-tech applications.
Watches and Jewelry: black and gold PVD-finished stainless steel gave watches and jewelry a luxurious aesthetic look.
Here is a YouTube video of a PVD stainless steel sink.
https://video.search.yahoo.com/search/video?fr=mcafee&ei=UTF&p=application+of+PVD+stainless+steel&type=E210US91215G0#id=3&vid=4b6145f15483f2a0236e2d52d2971d23&action=click
PVD stainless steel sheet

Stainless steel PVD sheets have a normal thickness of 0.1-0.2 microns but to increase their durability, corrosion protection, wear resistance, and scratch resistance we can make thicker coating some of the sample types with their thicknesses and natural coating is listed below in the table.
Different stainless steel PVD sheet types with thickness variations.
PVD stainless steel means different material coating giving them different aesthetic colors listed below.
Gold PVD sheets
Coffee PVD sheets
Champagne PVVD sheets
Black PVD sheets
Copper PVD sheets
Carbon Black PVD sheets

Different sheets color of PVD finished stain less steel.
There is different type of physical vapor deposition stainless steel sheets given below
Etched PVD stainless steel sheets: This etched PVD stainless steel is the protective acid resistance film which was was applied on an efficiently polished surface. The unprotected part was acid etched. There is multiple way of applying the film by hand painting, silk screening, and other methods. This PVD-finished stainless steel is high-end, elegant, with high corrosion resistance, and available in different patterns and colors.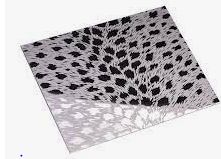 Etched PVD-finished stainless steel.
Bead blast PVD finished stainless steel sheets: After PVD coating, it was processed by zirconium beads giving the sheet a fine bead-like surface. This PVD sheet gives a rich color, aesthetic look, excellent mechanical properties, and high corrosion resistance.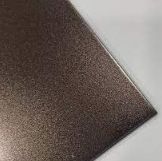 Bead blast PVD finished stainless steel sheets
Embossed PVD finished Stainless steel sheets: PVD sheets are finished by pre-metal stamping process to produce a sunken design. These patterns are formed by passing sheet through rollers. Then PVD coating is done. These PVD finish are popular in high traffic areas reduce the fiction from 30-70%, increasing the strength, increasing scratch resistance and anti-pressure property.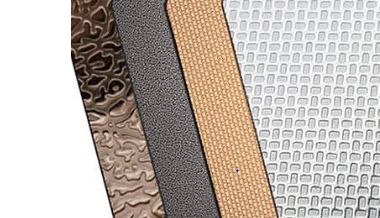 Embossed PVD finished Stainless steel sheets.
Anti-fingerprint PVD finished stainless steel:
It's the advanced nanotechnology process that gives long-lasting protection to stainless steel. It protects the surface from dust, water, fingerprints, and oils. It's easily to clean. These PVD finishes provide high film adhesion, corrosion protection, and durability.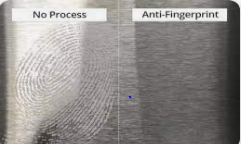 Anti-fingerprint PVD finished stainless steel.
Mirror PVD finished stainless steel sheets: These PVD finish are highly polished surface come with double PVC film. There are two types of Mirror PVD stainless sheets ordinary and super mirrors. These PVD finish surfaces are easy to clean, elegant and have high corrosion resistance.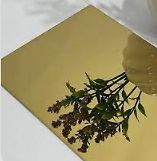 Mirror PVD finished stainless steel sheets.
PVD stainless steel jewelry and watches
PVD finish is required to stainless steel and it provides color to stainless steel jewelry and watches, avoid rust and corrosion, give cleanability, shiny appearance and help in avoiding scratches. There are normally two methods to plate jewelry and watches.
Electroplating
Physical vapor deposition.
Why PVD is better than electroplating?
PVD-finished stainless steel coating remains longer than electroplating. Coloring the stainless jewelry with electroplating is not a vibrant and stable choice compared to which PVD is best. PVD provides a shining glowing texture but can also provide Matt texture. Helps in providing multiple exciting textures to jewelry and watches. IPG machine is used stainless steel jewelry PVD coating.
PVD coated stainless steel pipe
PVD vacuum plated stainless-steel pipes are used in diverse applications like corrosion resistance to railing components, automotive exhaust system and architectures industries. These PVD finish provide durability, aesthetic looks and wear and corrosion resistance.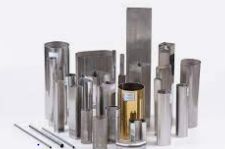 PVD coated stainless steel pipe
PVD stainless steel Fitting
PVD finished stainless steel fittings used in benefiting exhaust system, interior and exterior fittings in architectures parts, automotive fitting parts, and medical equipment's fitting parts. They help to increase the base material properties like durability, cleanability, wear resistance, and corrosion protection.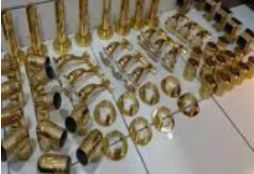 PVD finished stainless steel fittings.
PVD stainless steel vs stainless steel
Stainless steel is best known for its corrosion protection due to the presence of chromium but for high-tech applications and high aesthetic look only stainless steel is not enough. So, we surface-engineered the surface of stainless steel with PVD coating to enhance its properties. PVD stainless steel opens a long range of applications for stainless steel by increasing its wear resistance, high thermal sustainability, durability, and corrosion protection.
Stainless steel vs black stainless steel
Black stainless steel used for giving sleek, sophisticated, expensive, and aesthetic look to parts compared to normal stainless steel. This Black PVD stainless steel means that a thin layer of diamond Carbon-like coating is done to enhance the stainless-steel properties.
Does PVD coating wear off?
Different factors may influence the wear of PVD finish like
Thickness of the metal coated
Presence of abrasive metal or chemical
Extreme temperature exposures
Long time UV rays' exposures.
The composition and strength of coated material.
The type of chemical and method used for cleaning and maintenance of components.
How long does PVD coating last?
The PVD coating life depends upon the type of composition of the coating, its compatibility with the base material, adhesiveness to the base material, and most importantly the environment of on-service life. The environment in which it is placed is harsh and abrasive the coating will be damaged earlier compared to the healthier environment. Along with avoiding harsh on-service environment maintenance and cleaning plays a key role in the life of PVD finish.
Pros and Cons of PVDS stainless steel
Advantage
PVD vacuum-plated finish provides the following benefits to the parts.
Low fiction
Increase wear resistance
Provide corrosion resistance
Aesthetic appearance
Durability
Tailored properties.
Disadvantages
PVD vacuum-plated finish provides the following disadvantages to the parts.
Thickness limitation
Expensive
Complex technique
Adhesion challenges
Metal that cannot be vaporized cannot be coated
Base material compatibility issues
Color variations.
Which metals can be PVD coated
Metals that have appropriate vapor transition temperature. As, the PVD happens in vapor form so the metals that undergo vapor formation at very high temp cannot be PVD coated. The metal should have ability to be uniformly coated atom by atom. Followings are the name of metals capable of PVD coatings.
Stainless steel
Aluminum
Titanium
Zirconium
Nickel
Copper
Tin
Gold
Silver
Cobalt and platinum.
Why choose Tuofa for PVD Stainless Steel Service
Toufa is one of the most highly equipment company with advance coating techniques in China. Toufa is well-known for its excellent service of providing highly advance machining parts with highly precise coating techniques. Toufa is well-known for their expertise in hard metal manufacturing. It has advance expertise in providing highly precise and thin stainless steel coated parts with highly advanced PVD techniques. They have expertise in providing 50 surface treatment services. You can get more information from Tuofa.