Metal Strength Chart | Complete Guide 2023

Aug 14,2023

Before selecting a material, you must have complete knowledge about its strengths under different working conditions. This will help you in setting a factor of safety before making its structural components. Using a wrong metal will result in a terrible failure. Through different metal strength charts, you can select a metal suitable for the required application.
Metal Strength Chart
A metal strength chart shows different types of strength of same or different metals. A metal has different types of strength depending upon the magnitude of load and how the load is applied, without taking in regard of applications.
| | | | | |
| --- | --- | --- | --- | --- |
| Types of Metals | Tensile Strength (Psi) | Yield strength (Psi) | Hardness Rockwell (B-Scale) | Density (Kg/m³) |
| Stainless steel 304 | 90,000 | 40,000 | 88 | 8000 |
| Aluminum 6061-T6 | 45,000 | 40,000 | 60 | 2720 |
| Aluminum 3003 | 22,000 | 21,000 | 20 to 25 | 2730 |
| Steel Grade 50 | 65,000 | 50,000 | 74 | 7800 |
| Copper | 32,000 | 28,000 | 10 | 8940 |
| Phosphor Bronze | 55100-65260 | 55,000 | 78 | 8900 |
| Aluminum Bronze | 100000 | 27,000 | 77 | 7700-8700 |
| Titanium | 63,000 | 37,000 | 80 | 4500 |
Tensile Strength (PSI)
It is a measure of how long a metal can be stretched under axial loading before fracture, the load at that point is tensile strength. In other words, the metal's ability to sustain tension is measure by this. There are further three types of tensile strength.
1.Yield strength (PSI)
It is the maximum amount of load material can bear without showing any sign of plastic deformation during stretching. Many manufacturers consider yield strength as the safe stress of material.
2.Ultimate strength
The point where material can bear the maximum stress before breaking under tensile loading is called ultimate tensile strength.
3.Breakable stress
Breakable stress also known as fracture stress. The load at which final fracture takes place after necking process. This can be shown with the help of stress-stain curve.
Brinell hardness
Hardness is material's tendency to resist from wear, tear, indent and scratches. It also known as ability of material to bear localized plastic deformation. Brinell hardness number is measured by the hydraulic indentation of a steel or carbide ball.
Density (Kg/m³)
Density of the material is also very important and it gives us an idea about materials strength to weight ratio [5].
Rockwell hardness
In Rockwell test you measure the depth of the indentation and in Brinell hardness test you measure the width of the indent produced [6].
Angle iron strength chart
Angle iron is basically a category of steel that is made into a 90-degree L shape. This provides the required strength and stability to the structure bearing heavy loads. It is of great use in construction due to its high strength, stability and also it is highly durable. The strength of the angle iron is dependent upon its dimensions such as width, length, height and alloying elements that it contains. Angle iron strength chart shows the allowable load at different dimensions.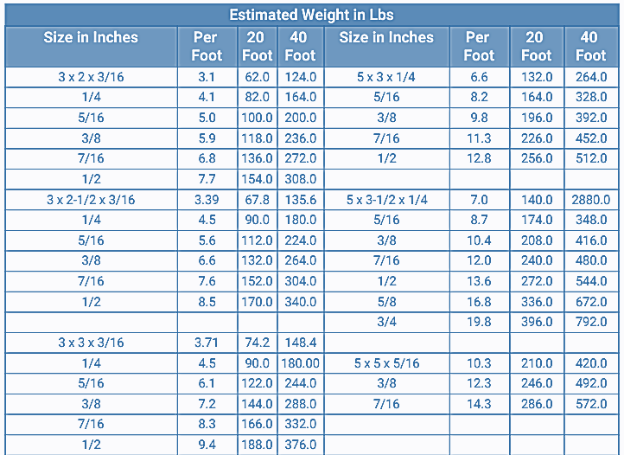 Steel strength chart
A steel strength chart gives you different mechanical properties of a steel alloy or compares mechanical profiles of different steel alloys. It helps you in selecting the alloy which is most suitable for the required application.
| | | | |
| --- | --- | --- | --- |
| Mechanical properties | Carbon steel | Stainless steel | Alloy steel |
| Density 1000kg/m3 | 7.85 | 7.75-8.1 | 7.85 |
| Elastic Modulus (GPa) | 190-210 | 190-210 | 190-210 |
| Tensile strength (MPa) | 276-1882 | 515-817 | 758-1882 |
| Yield strength (MPa) | 186-758 | 207-552 | 366-1793 |
| Hardness (Brinell 1000kg) | 86-388 | 137-595 | 149-627 |
| Percentage Elongation (%) | 10-32 | 12-40 | 4-31 |
| Poison's ratio | 0.27-3 | 0.27-3 | 0.27-3 |
Aluminum strength chart
Aluminum strength chart shows the properties of various aluminum alloys and helps you choose according to the required application. It can compare one or different properties of various aluminum alloys. Given below chart represents tensile strengths of various aluminum alloys with corresponding applications.
| | | |
| --- | --- | --- |
| Aluminum alloy | Ultimate Tensile strength (MPa) | Major applications |
| 2024 | 469 | Aircrafts, high strength structures or pistons etc. |
| 5052 | 228 | Architecture usage, automobile industry or pressure vessels etc. |
| 7075 | 572 | Highly stressed structures, aircraft parts or machine parts etc. |
| 6061 | 310 | Bicycle frames, pipelines, truck components or window panels etc. |
For selecting the right aluminum alloy, you can review this comparison guide between 2024 and 6061 Aluminum alloys
https://www.tuofa-cncmachining.com/tuofa-blog/2024-aluminum-vs-6061.html
Metal strength to weight ratio chart
Engineers, architects and industrialists can utilize a metal strength to wait ratio chart for selection of the best material. In aerospace industrial, materials providing high strength ratio are considered really important. The table below is comparing the aluminum and steel grades. Here, we can see that the aluminum alloys have the higher ratio value as compared to steel grades. That is the reason why aluminum alloys are more suited for aircrafts and automobile parts. Here, yield strength and ultimate tensile strength are also given along with the ratios.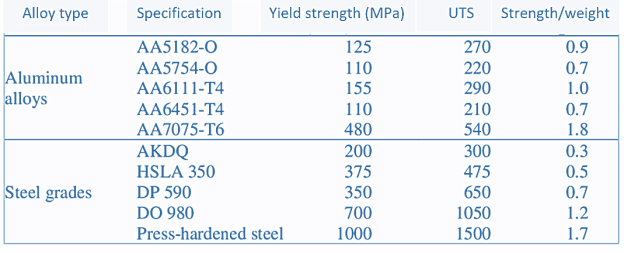 Metal yield strength chart
This type of chart will provide you with yield strengths of different metals. As described earlier yield strength tells you about the ability of metal or an alloy to withstand maximum amount of load without showing any signs of plastic deformation. The chart below shows the yield strength of different metals and alloys. Pure titanium and molybdenum have higher yield strength as compared to other metals.
| | |
| --- | --- |
| Material | Yield strength |
| Brass | 75 |
| Iron | 130 |
| Nickel | 138 |
| Aluminum | 35 |
| Titanium | 450 |
| Zirconium alloy | 380 |
| Alloy 304L stainless steel | 241 |
| Molybdenum | 565 |
Impact strength of metals
The capacity of metals to endure abrupt, strong loads without breaking down is referred to as impact strength. It gauges the most energy that a metal can hold before cracking or breaking.
Impact strength of steel
Impact strength is one of the important properties that you have to keep in mind during selection of a material while sudden loading or jerk is involved. It is the measure of total energy absorbed by the metal before undergoing a failure. Impact strength and hardness are different from each other. High impact strength doesn't mean material has high hardness value.
Sheet metal shear strength chart
Shear strength of a metal is its maximum capacity to bear loading at 45⁰. It is also known as the material resistance to load that can cause the internal structure to slide against each other. This type of chart gives shear strength of different types of metal sheets.
| | |
| --- | --- |
| Sheet metal | Shear strength |
| Aluminum alloy | 70 MPa |
| Structural steel | 450 MPa |
| Carbon Iron | 240 MPa |
| Titanium | 550 MPa |
Here is complete guide on how to bend a metal sheet with hands:
https://www.tuofa-cncmachining.com/how-to-bend-metal-sheet.html
Tensile strength of Metal
It is the measure of material performance under tension. It is basically the maximum load that a metal can bear when it is under tension. The schematic diagram given below shows how tensile testing is done by placing the metal specimen in universal testing machine (UTM).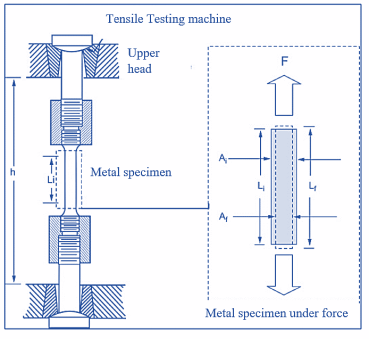 Tensile strength of steel chart
Steel has vast applications because of its high tensile strength and also gives excellent corrosion resistance because of the incorporated chromium. A tensile strength steel chart shows tensile strengths of different steel grades and helps you choose the best one out of them following the required application. Here, is a table showing tensile strength of steel grades in psi. These tensile strengths can vary depending upon the heat treatment and manufacturing process used.
| | |
| --- | --- |
| Steel Grade | Tensile Strength (PSI) |
| AISI 1018 | 64,000 |
| AISI 1045 | 82,000 |
| AISI 4140 | 95,000 |
| ASTM A36 | 58,000 - 80,000 |
| ASTM A588 | 63,000 - 70,000 |
| Fe37 | 33,000 - 36,000 |
Expanded metal strength chart
Expanded metal also known as extended metal is multipurpose material which is obtained by cutting and stretching a sheet of metal. It has an interconnected mesh like pattern, this makes it durable, light weight and has good ventilation potential. Due to these characteristics, it is widely used in filtration, fencing, walkways and aesthetic features etc.
An expanded metal strength shows you mesh size, opening dimensions, strand thickness and load bearing capacities. Using the required strength requirements this table helps you in choosing the best extended metal variation.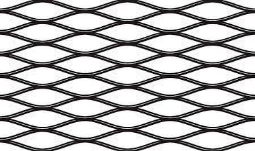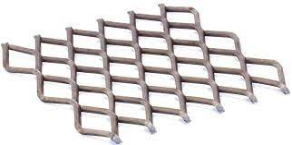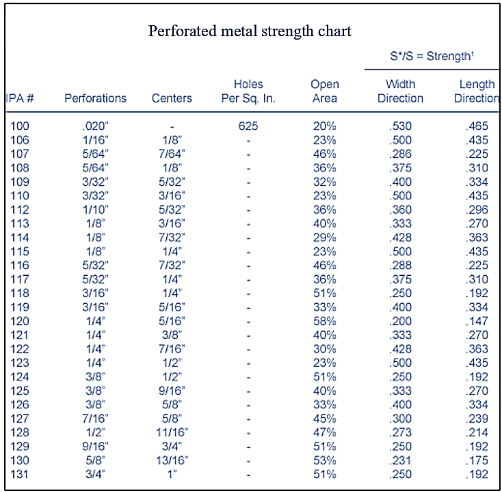 Perforated sheet is also a type of expanded metal. Given below is a perforated metal strength chart.
S = Tensile strength of unperforated metal
S* = Tensile strength of perforated metal
Metal stud strength chart
Metal studs are used to build walls, partitions and frame in different types of constructions. Cold forming of steel can result in producing different sizes and shape to create metal studs. Metal studs are ductile in nature. Metals studs are straight in nature unlike woods and they are resistant to fire, insect and rust. Because of their light weight they are easy to move and are used for partitioning, gates opening etc. The have variety of shapes and sizes.
Metal stud strength chart shows frames of different thickness and their relative strengths. Also, they compare different grades of a metal.
Strong types of metal
Metals having high tensile, compressive and impact strength are considered as strong metals. Not only these metals have higher strength but also have preferred characteristics such as high temperature and corrosion resistance. We will discuss some of the strongest metals currently used for various applications.
Tungsten
Tungsten is a very hard metal having high melting temperature 3422 oC. It also retains its strength at elevated temperature. Due to its very high tensile strength approximately 980 MPa, it can be used in various applications such as tools used for cutting, jewelry, armors and tungsten filament bulbs.
Titanium
Titanium is known for its highest strength to weight ratio of all metals known to man. Titanium also has good corrosion resistance but has low electrical conductivity. Providing the same strength, it is 45% lighter than that of steel. It is very popular in aerospace industry. The minimum tensile strength of pure titanium is 240 MPa but after adding alloying elements it can reach up to 1400 MPa
Steel
Steel is basically made with the combining a small percentage of carbon in iron. This provides high strength in iron. Higher percentages of carbon can also make steel brittle so it is carefully added. Along with high strength, it is also durable and low in cost as compared to other metal and alloys. Steel has a very large range of tensile strength is usually starts from 450MPa and maraging steel has tensile strength of 2600MPa.
Inconel
Inconel is a nickel-based alloy which has high strength and thermal stability. Main constituents are chromium molybdenum and niobium along with nickel. It has a tensile strength of approximately 1375 MPa and 1100 MPa at elevated temperature.
Chromium
Chromium is a part of this list due to his high hardness value. It is famous for its usage in automobiles plating. It has a high tensile strength of 413 MPa. Chromium is also added to a lot of alloys for providing strength and corrosion resistance.
Tantalum
Tantalum has a blue-gray color and is very hard in nature. It has highest corrosion resistance and excellent thermal stability. It is not easily available in market and also very expensive. It has high durability.
Vanadium
Vanadium has a high tensile strength of about 800 MPa. To improve shock and crack resistance vanadium is also added in iron. It is used in making automobile parts like pistons and also used for the refining uranium.
Lutetium
Lutetium is also in the list of rare metals and is also very expensive. It is mostly used as a catalyst in hydrogenation, alkylation and other processes. Some grades of lutetium are also used for cancer treatment and radiometric dating.
This YouTube video is comparing titanium and tungsten. This will give you an idea which one is the strongest.
https://www.youtube.com/watch?v=LwCZ8xdiYK0&pp=ygUVbWV0YWwgc3RyZW5ndGggY2hhcnRz
How much pressure can steel withstand?
The amount of pressure that steel can withstand depends upon which grade you are using, also its thickness, size and shape. Hot rolled structural steel has the breaking strength in tensile and compressive loading is about 50,000 psi. Mild steel can withstand pressure from 53,000-7300 psi.
What is the weakest metal?
Mercury is the weakest metal as it is present in liquid state at room temperature. Tin has the least tensile strength ranging from 11-17 MPa which is much lower than the other metals so tin can also be one of the weakest metals.
Why Choose Tuofa to Custom Metal Parts
Titanium, steels, brasses are extensively used material among non-ferrous and ferrous metals that Tuofa provides services for. China Tuofa provides you with metal CNC machining, sheet metal fabrication and 3D printing services for 50 different metals. It can also provide many types of surface treatments.
Here is guide if you have interest in exploring it further:
https://www.tuofa-cncmachining.com/
Customer satisfaction lies in the top priority of the organization. At tuofa small to large number of samples can be processed. Functional prototyping is also available which will save time and material.