Anodized Titanium: The Definitive Guide

Aug 12,2023

Anodizing is a famous electrochemical technique to develop colours on different metal and alloys. Anodizing of titanium is different than aluminum anodizing as it doesn't involve any dye. An electrochemical process is implied and colour variation is created by the material's reaction with oxygen. Thickness of the oxide layer translates the colour. Titanium anodizing is popular in medical, aerospace, automotive and jewels.
Low cost and biocompatibility have played an important role in its extensive usage. Moreover, in automotive parts, it reduces friction and has good corrosion resistance with increased hardness, which makes it a well-suited technique for passivation. This article will cover many aspects of titanium anodizing to develop an understand of reader in effective ways.
Quick View of Article Content
Titanium Anodizing Color Chart
Skills in Anodizing Titanium Oxide
Pros and Cons of Titanium Anodized
Titanium Finishing and Properties
Why Choose Tuofa to Custom Anodized Titanium Parts
FAQs about Titanium Anodized Service
What is Anodized Titanium
Anodized titanium is the manipulation of surface properties of base titanium. Titanium is attached to the positive terminal of the battery, also called anode. Titanium is used as anode in the process and electric current passes through the cell, as a result, oxidation of anode occurs. It is an electrolytic process which involves the oxidation of surface layer and creates a passivated layer on titanium. Thickness variation of oxidation layer, provides different colours. ASM 2488 is aerospace industrial standard for anodized titanium.
Can you anodize titanium
Yes, titanium can be anodized and are used in different industries. Anodizing involves number of steps which are different than aluminum anodizing. If you want to do it at home, then it would be hazardous as it involves electricity and chemicals. At lab scale or industrial level, it would be easy and safe.
Titanium Anodizing Process
Titanium anode is immersed in the electrolyte which is usually sulfuric acid or phosphoric acid, or salts are used. When cell is turned on, electricity flow through the cell, as a result electrolysis of water is carried out which splits hydrogen and oxygen of water. Now, the potential difference will force the oxygen to react with titanium surface and create a passivation layer.
Clear or undyed - Type 1 anodized titanium
It is relatively a simple process as comparatively a thin layer is created on titanium surface. In type 1, surface of the titanium is cleaned and immersed in the electrolyte and low voltage is applied and in short time required layer is obtained which is about 0.5 to 2.5 micrometer thick. It is usually used decorative purposes and is known as commercial anodizing. Although, thickness of the layer is very small but it still provides improved corrosion resistance. Naturally, it exhibits a dull silver or gray colour.
Wear Resistance - Type 2 anodized titanium
Thickness of type ll anodized titanium is higher than type 1 anodized titanium. It is more controlled process and it provide better corrosion resistance and abrasion resistance with improved hardness. It doesn't provide vibrant colours, as provided by type lll. The thickness of layer is about 5nm which is composed of titanium dioxide. The colour of the layer is gray colour and can easily be differentiated between steel and anodized titanium. It is utilized in applications where mechanical stress and friction is involved.
Color Titanium -Type 3 anodized titanium
Type lll provides thicker and denser layer of titanium oxide than type l and type ll. It provides variety of colours as it has more command on colour development by decreasing or increasing the oxide layer thickness. Sulfuric acid is used as electrolyte in its development.
Differences between Type 1, 2, 3 Titanium Anodizing
Differences of type 1, 2 and 3 titanium anodizing are listed in the table, given below;
| | | | | |
| --- | --- | --- | --- | --- |
| Sr. no. | Properties | Type 1 | Type 2 | Type 3 |
| 1. | Thickness | Low | High | Highest |
| 2. | Thickness ranges | 0.5 to 2.5 Micrometer | 2.5 to 25 Micrometer | 25 to 100 Micrometer |
| 3. | Corrosion resistance | Good | Better | Best |
| 4. | Hardness | Low | High | Highest |
| 5. | Abrasion resistance | Low | High | Highest |
| 6. | Colour intensity | Dull | Dull | Vibrant |
| 7. | Colour | Dull silver | Gray | Green, blue, violet, purple, golden |
| 8. | Purpose | Commercial | Functional + aesthetics | Aesthetic + functional |
| 9. | Uniformity | Less | More | Most |
| 10. | Commercial names | Chromic acid anodizing | Sulfuric acid anodizing | Hard coat anodizing |
| 11. | Application | Improve adhesion of coatings and paints | Improve corrosion resistance, wear resistance | Improves corrosion resistance, wear resistance and mechanical properties |
Titanium Anodizing Color Chart
Achieving the desired color and repeatability depend on number of factors along with oxide layer thickness. Voltage, purity of titanium and electrolytic composition makes an anodizing a complicated process. At different thickness, titanium oxide layer shows different colors as shown in the chart.
Constructive and destructive interference of light with oxide layers result in different colours. Light falls on the oxide layer, a part of it reflect whereas a part of it travels through the layer and reflect at the interference of metal and layer interface, as a result constructive and destructive interference occur and show different colours.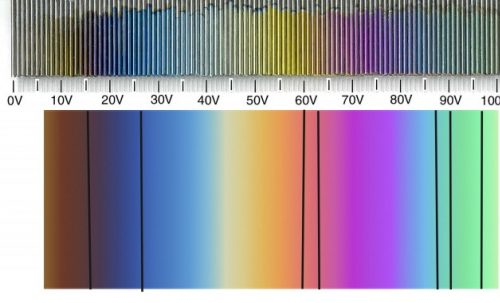 Different colors shown by anodized titanium at different thicknesses are given in following table;
| | |
| --- | --- |
| Thickness | Colour |
| Approximately 100 nanometers | Dark blue |
| Approximately 900-950 nanometers | Bronze |
| Approximately 800-850 nanometers | Green |
| Approximately 700-750 nanometers | Deep blue |
| Approximately 600-650 nanometers | Purple |
| Approximately 500-550 nanometers | Turquoise |
| Approximately 400-450 nanometers | Light blue |
| Approximately 300-350 nanometers | Yellow/Gold |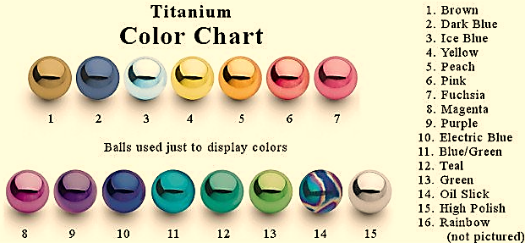 Titanium anodizing patterns
Anodizing of titanium has evolved into a sophisticated and controlled technique and different kind of textures and designs are created by controlling voltages and masking. Following patterns are obtained after titanium anodizing;
Spattering pattern
Strips/bands
Gradient pattern
Two tone patterns
Polished
Brushed
Textured
Masked designing
Etched pattern
How to Anodize Titanium
Following steps are involved in anodizing titanium;
Cleaning
Clean the surface of titanium specimen to get rid of dust, oil or grease. Contamination can cause uneven anodizing of the titanium surface. Alkaline cleaning is recommended to remove oil and grease from the surface and the water resining is preferred.
Anodizing
In anodizing number of steps are involved which are;
Plastic container
A plastic container of sufficient size must be taken to immerse anode and cathode. Aluminum foil lining is necessary in the tank.
Electrolyte preparation
Electrolyte is chosen wisely for required coating; number of electrolytes are available to acquire desired thickness such as;
Chromic acid
Used for thin coating as mentioned earlier in type 1 and type 2 of titanium anodizing. Acquired thickness will be in the range of 0.1 to 0.3 mil.
Sulfuric acid
It is used for thick coating. In this case thickness of the coating is about 0.1 to 1 mil.
Hard coat: Concentrated sulfuric acid is used for this method and it forms nonconductive surface with the thickness range of 1 to 5 mil.
Phosphoric acid: it is also used for thin film development of having thickness of 0.1 to 0.2 mil.
Anode and cathode
Titanium will be attached to the positive terminal of the battery which is the anode of the cell and on the other hand negative terminal with be connected to the aluminum foil.
Current supply
DC current is supplied which result in the hydrolysis of electrolyte and result in the formation of oxygen and hydrogen. Due to potential difference, oxygen will react with titanium and form titanium oxide. Thickness of the oxide layer will be altered by the duration of anodizing.
Coloring (if required)
Different titanium anodizing color can be achieved by varying the voltage. At higher voltage, gold and pink colors are obtained and at lower voltage blue and purplish toned colors are achieved.
Rinsing and sealing
To improve the properties of the oxide layer, it is thoroughly rinsed with water to get rid of any electrolytic residues. Later on, it is dipped in hot water to seal the pores of the oxide layer for better corrosion resistance.
Finishing
After anodizing, finishing of the surface is carried out as per requirement such as buffing, polishing, texture and brushing.
Inspection of anodized titanium
After anodizing, inspection of the oxide film is carried out.
Splash anodizing titanium
In splash anodizing, above mentioned process is carried out and different colors are obtained as per electrolyte selection, voltage variation and thickness variation. Due to the interference of light on the oxide layer of titanium, it results in different colors. Electrolyte is splashed on to the electrode/anode and reaction will occur which will cause the artistic pattern on the surface of titanium oxide layer. Ink of different colors is also splashed on the anodized titanium and dried out. Excess ink is removed by soaking it in the solvent.
Heat anodizing titanium
Heat is applied by using flame or any heat gun. In the presence of heat, thickness of the oxide layer varies and shows different colors. Exposure of heat and temperature are important factors along with the cleanliness of titanium surface.
For further understanding, click this link
Black anodized titanium
In black anodized titanium, comparatively higher thickness of oxide film on the titanium specimen is desired. In that way, maximum light will absorb and will show black color. Once the desired color is achieved, pores of the oxide layer should be sealed.
Blue anodized titanium
Blue anodizing is basically used to get the blue colour of titanium oxide layer. It is pretty clear that oxide layer thickness decides the colours. So it is a very controlled anodizing process. 700-750 Nanometers and 400-450 nanometers of thickness are desired in anodizing for the development of blue colour.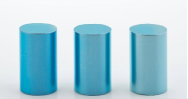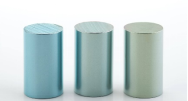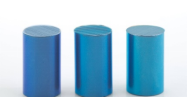 Hard Anodized vs Titanium
Basic difference between hard anodizing and anodizing is in the variation of thickness. Hard anodizing has higher thickness than anodizing. It provides better corrosion resistance, wear resistance and abrasion resistance. It has higher hardness.
Nonstick
Titanium anodized nonstick pans provide corrosion resistance and high durability of the product. It is easy to clean and also saves you from using excess oil in cooking. Aluminum bottom provide uniform heat distribution.
Jewelry
Anodized titanium anklets, bracelets, rings, necklace and ear rings are famous due to their durability, light weight and high corrosion resistance. Jewelry is hypoallergic which indicates that it doesn't cause any irritation or allergy to the skin.
Knife
Titanium knifes are corrosion resistant and textured anodized titanium handles provide good grip. It is durable and light weight along with the ease of use. Heat resistance property of anodized titanium makes it well suited for kitchen usage.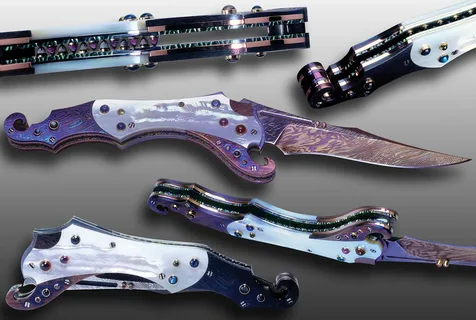 Titanium valves
As already mentioned that titanium has good heat resistance and anodizing improves corrosion resistance along with wear and tear resistance. Titanium valves are low maintenance and long lasting.
Titanium exhaust
It is light weight and can easily be installed in automotive. As it has high corrosion resistance, heat resistance and good durability, so it is a better choice than stainless steel exhausts.
Skills in Anodizing Titanium Oxide
Following skills are need to be developed to master the technique of titanium anodizing;
Learn proper cleaning of titanium surface for anodizing and how it can affect the result.
Have knowledge of the titanium alloys and how composition of the alloy influence the result.
Have basic understanding of electrolysis reaction and must have knowledge of different electrolytes for achieving the required color.
Get familiar with plastic tanks and batters for better understanding of anodizing.
Skills regarding masking techniques, sealing the pores and inspection of oxide layer need to be developed with time.
Titanium anode rod
Different types of titanium rods are used. Grade 7 and grade 12 are titanium alloys which are extensively used. Also, commercial or grade 1 is approximately pure titanium anode rod. Platinum coated titanium anodes are also utilized.
Does anodized titanium wear off
It can pass years without getting damaged if oxide layer is not scratched. Yes, it is prone to number of factors such as harsh chemical, mechanical impact, applications of abrasives, under friction and poor maintenance.
Pros and Cons of Titanium Anodized
Titanium anodizing has advantages that it improves corrosion resistance, durability, wear resistance and hardness of the surface. It also provide attractive colors. It is biocompatible and can be used in number of applications. On the other hand, it is complex process, and hard material can chip off oxide layer and color depth is difficult. To achieve uniform thickness of oxide layer is complicated.
Anodized Titanium Bolts Advantages
Light weight bolts are fabricated from anodized titanium with good wear and tear resistance. As anodizing improves hardness, it is also considered as an important factor. Light weight bolts are required in aerospace applications.
Anodized Titanium Bolts Disadvantages
Dimensional changes might occur in anodizing of titanium bolts as it is a process of building an oxide layer on the surface. Corrosion occur in the presence of acid and improper sealing of pores could result in corrosion or dirt entrapment.
Titanium Finishing and Properties
| | |
| --- | --- |
| Pattern/texture | Description |
| Spattering pattern | It is achieved by the application of electrolyte non-uniformly results in selective oxidation of titanium by giving artistic pattern. |
| Strips/bands | Strips of different colors are achieved after anodizing by applying masking before anodizing. |
| Gradient pattern | In this pattern, gradual masking is used along with changing of voltage. |
| Two tone patterns | It is also obtained by masking some area and achieve on color on unmasked area. Later on, mask colored area and now anodizing of remaining surface is carried out. |
| Polished | It is also available in polished form. |
| Brushed | Brushed surfaces have parallel lines on the surface which provide texture. |
| Textured | Texture surface doesn't have smooth layer but uneven surface which gives textured surface. |
| Masked designing | As described earlier, masking is highly used in titanium anodizing in developing different designs and patterns. |
| Etched pattern | Titanium surface is etched and then anodized to achieve textured surface. |
Titanium welder parts
Titanium MIG 140 is a good welding machines. Welding torches, guns, electrodes, tables, shielding, electrode holder, wire feed and nozzles are parts which are used in titanium welder.
Titanium machining
Machining of titanium is a challenge and selection of machining tool is very important. Ceramic or carbide tools are used with low cutting speed along with coolants. Chip management is essential otherwise, titanium machining result in long strip/chip formation which could wrap around the tool.
Why Choose Tuofa to Custom Anodized Titanium Parts
Tuofa provides set of facilities to meet the desired needs of clients with high quality equipment's, availability of different materials and experts opinion under one roof. Tuofa also provides consultancy to help you make the right choice and save you from financial loses by saving your time.
FAQs about Titanium Anodized Service
How to anodize titanium at home
You need a titanium anodizing kit which includes a plastic tank, titanium rod, aluminum foil and a battery with DC supply. For electrolyte, you can use chromic acid or phosphoric acid. Add electrolyte in the tank and immerse titanium in it. Connect one terminal of battery with titanium and negative one with aluminum foil. Turn on the battery and by varying voltages, different thickness of titanium oxide is achieved.
How to blacken titanium
Relatively thick oxide layer is developed to get back colour. In case of thick oxide layer, light can become invisible and dissipate in the layer as a result black colour is perceived.
Is anodized titanium hypoallergenic
Yes, it is not irritating to skin and doesn't not cause any allergy. Titanium anodized colorful jewelry are quiet famous and are in extensive use.