Anodized Aluminum Color: The Ultimate Guide

Aug 06,2023

Aluminum has a protective oxide layer of Al2O3 which prevents aluminum from corrosion. Taking benefit from this property aluminum is anodized and an oxide layer is formed artificially over the surface of sample though an electrolytic reaction. This layer is corrosion resistance, durable and aesthetically sound. A good surface finish increases the life of the material by increasing fatigue life and improving wear resistance.
Different colors can be produced using anodizing. It can also be done after anodizing using pigments and dyes for adhering them to the porous layer of oxygen. This article will guide you how anodizing works and how different colors can be applied over the aluminum substrate.
How does anodizing work
Anodizing is a process of adding an oxide layer over the surface of metal. It increases the thickness of the metal also provides corrosion and wear resistance. Hence, increases the life of the material. Sometimes it is also used for the aesthetic appearance of the metal.
The procedure is started by dipping the metal substrate in an electrolyte solution. The metal substrate act as anode and is attached with the positive terminal of the battery. Whereas, negative terminal is connected to the metal bath containing the electrolyte solution. Electrolytes like sulfuric acid and sodium phosphate are used for this purpose. When the current is flow through the electrodes, metal substrate act as anode and attracts oxygen ions from the solution whereas metal bath act as cathode. As a result of this electrolytic reaction, a layer of oxide is formed over the surface of metal.
Anodizing is popular in Aluminum alloys and sometimes this process is also used for Titanium and Magnesium.
Aluminum anodizing process basics
Aluminum anodizing is a method that improves the surface of aluminum by producing a durable oxide layer via electrochemical reaction. This layer also identified as the anodic film, offers improved corrosion resistance and wear resistance by providing decorative and coloring choices.
Aluminum anodizing is carried out in following steps:
Cleaning
This process is used to remove grease/oil from the substrate which may interfere with the anodizing process. This is done by dipping the substrate in acidic or alkaline detergents.
Etching
Caustic or acidic etching is used to remove the minor imperfections on the aluminum surface before anodizing. In this step a thin layer of aluminum is removed to develop a fresh surface for anodizing process.
Anodized colors for aluminum
After removing the etchant, the aluminum is then dipped in the sulfuric acid bath for anodizing. Through the supply of electric current to the cathodes an oxide layer develops onto the surface and is porous.
Coloring
Metal salts or organic dyes can be introduced in the porous oxide layer if any coloring is required.
Sealing
In the last step the porous surface is sealed by dipping the substrate in nickel acetate solution and produces a highly durable finish.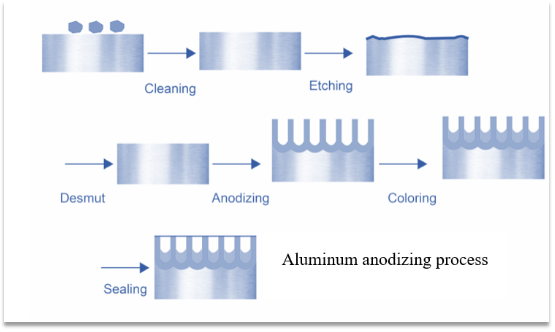 Here is a YouTube video of step-by-step anodizing of aluminum.
https://youtu.be/0yl35W0o9S0
Anodizing of aluminum is divided into different types such as chromic acid anodizing, sulfuric acid anodizing, and hard anodizing, each type is according to a specific application. Aluminum anodizing is being used in industries like automotive, aerospace, electronics, and architecture.
Aluminum anodizing dyes
Anodizing dyes are applied after the anodizing process when oxide layer is formed over the surface. It is done by immersing the aluminum substrate in the dye bath. The dye is then absorbed by the porous oxide layer in a controlled temperature and pressure. These dyes can provide you with custom color anodizing.
Different types of dyes are used in industries:
Acid Dyes:
These contain organic compounds used to dye aluminum in acidic conditions. e.g., Acid red 88, Acid blue 90, Acid Black 1 etc.
Metal Complex Dyes
Common examples of these dyes are nickel sulphate dye, cobalt sulphate dye, copper sulphate dye etc.
Organic pigments
Organic pigments also provide a variety of colors and are stable. e.g., Phthalocyanine Green, Quinacridone Red, Perylene Violet etc.
Color Matching (Various colors suitable for aluminum)
Color matching is done by using a specific dye for the required color. Mostly grey color is used for aluminum its neutral and also modern. Adding color to aluminum also depends upon the selected method. There are different ways for the color addition.
Electrolytic coloring
This process is done by dipping the aluminum substrate in the bath containing metal salts and then providing the electric current. The common colors that are used for this process are basically bronze and black. Colored surface produce by this technique shows UV resistance.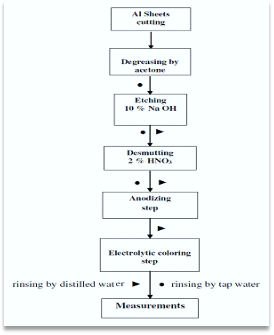 Dip coloring
In this method anodized aluminum is dipped inside a dye tank. When the pores are filled completely with the dye, substrate's surface is boiled inside an iodized water tank. It has vast variety of colors but unlike electrolytic coating, it does not offer UV resistance. Integral coloring and interference coloring are also being used in the industry.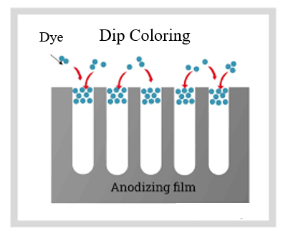 Color matching of anodized aluminum is a subtractive process unlike painting which is an additive method. Normally you see a color of a material which is reflected by its surface. Anodized film act as a filter, light passes through the porous layer and is reflected by the aluminum surface beneath. This increases the complexity of the process.
Anodized Aluminum Colors Chart
Anodized aluminum charts show comparison between the anodizing process and the color range that they can offer. These charts also depend upon the grade of aluminum being used and its surface finish. Here is standard anodized aluminum colors chart for better understanding.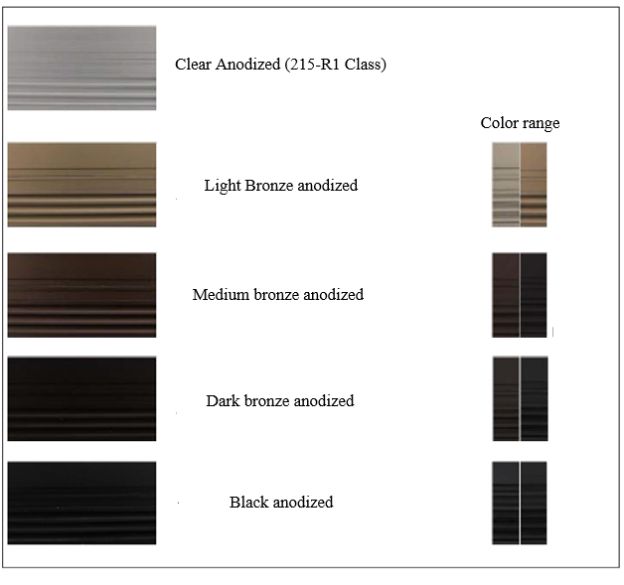 The question is what colors can aluminum be anodized in. Aluminum can be ionized into wide range of colors you will have to see some examples:
Purple anodized aluminum: purple color is attained when you mix red and blue anodizing dyes.
Orange anodized aluminum: orange anodized aluminum is a result of dye known as Acid Orange 7.
Grey anodized aluminum: grey color is obtained using the dye named as Acid Black 1.
Red anodized: red color is the result of the dye known as Acid Red 88.
Color anodized aluminum
Color anodized aluminum is made using three types of anodizing processes. During Type I anodizing the substrate is placed in the chromatic electrolyte solution which produces a porous oxide film. Mostly this method is done prior to painting the substrate. This method also produces a bronze anodized aluminum. Type II process has sulfuric acid electrolyte solution. Generally, it is used before applying dyes. Its porous structure incorporates the dyes when the substrate is dipped inside. Type III contains a mixture of sulfuric acid and dissolved aluminum parts. It increases the surface hardness of the material.
Color anodized aluminum: process
First of all, anodizing of aluminum is done through electrolysis. Then the material is dipped inside the tank containing dyes or organic pigments. Coloring can also be done using simple electrolytic process and depends upon the electrolyte mixture being used for the coloring process.
Multi-color anodizing aluminum
Multicolor anodizing is done with the help of selecting masking over the substrate. First, the substrate is cleaned carefully after that a mask is applied over the selected areas. After that, the substrate is dipped inside the electrolyte solution. An anodized layer is form over the exposed regions. When the desired thickness is achieved mask is removed and a substrate with different colors is achieved. This type of anodizing color variation is required only in applications requiring aesthetic appearance or color coding.
Hard anodized aluminum colors
Hard anodizing also known as type III anodizing produces components with different colors. These colors depend upon the aluminum grade and the thickness of the oxide layer. Before dying clear anodized aluminum, colors are dark gray or bronze gray color. After dyeing full black finish can be achieved. Bases on this they have to major classes. Class I undyed specimen has deep grey or black color and bronze grey color. This class is not usually used for decoration purpose. In class 2 hard coat anodizing, black is preferred for most cases. The chart below is showing hard natural anodized aluminum colors.
Hard anodizing process pdf
Hard anodizing process is little bit different from the conventional anodizing process. First, the substrate is placed in a sulfuric acid electrolyte tank which contains 180g per liter of acid. After that, air bubbled through the solution. Further circulation of the air help in maintaining the temperature of sulfuric acid near to freezing point. Later on, oxygen from the electrolyte forms a layer of oxygen over the substrate surface. The current is continuously applied to achieve the desired thickness.

The thickness of anodized hard coat ranges from 13 to 150 microns. This thickness range is much higher than type I and II anodizing.
Can you change the color of anodized aluminum?
Yes, anodized aluminum is customizable to any color you desire. It can be done by processes such as using dyes or electrolytic coloring.
Dye
After anodizing aluminum, the dyeing process is quite simple, the sample has to be immersed in a bath that contains dissolved organic/inorganic dye. It is a short process which usually takes ten minutes for the dye to penetrate in porous anodic coating and become trapped in it. The resulting color depends on several key factors which include thickness of the anodic film, the dye concentration, duration of immersion and temperature.
Electrolytic Coloring
This method involves immersing the anodized aluminum in an acidic bath containing metal salts then followed by an alternating current for the deposition of metal salts on to the anodized surface. The resulting color depends on the size of the ions and the voltage applied. Wide range of colors can be achieved by different electrolytes, such as tin, nickel and cobalt.
How to clean colored anodized aluminum
The process is quite straightforward when it comes to cleaning colored anodized aluminum. Simply wash with warm water but in case of stubborn dirt use a soft cloth with mild soap solution and rinse thoroughly. To keep the surface finish intact one must avoid using harsh acidic or alkaline cleansers and use mild pressure while cleaning.
Anodized aluminum paint color
Anodized aluminum paint colors are used on anodized aluminum, which will further improve the outer appearance. Different paints can be applied onto the anodized aluminum such as acrylic, epoxy and polyurethane-based. For applying the paint any method can be utilized such as spraying, brushing or dipping. Final substrate is mostly used in the architecture and customer products.
Factors to Consider When Choosing an Anodized Aluminum Color
The color matching process of anodized aluminum is quite challenging as it acts as a filter rather than reflector. To achieve the color consistency of anodized aluminum several factors are observed. Each aluminum grade varies in its color and shade, to achieve optimum results. It is necessary to opt for right grade. The type of metal finishing can be either matte or glossy. So, for color matching, consider sample having homogeneous finish. Increasing the quantity and number of layers of dyes can lead to variation in colors. The last factor to be considered is the crystalline structures of materials, one has to ensure the right angle of reflection as the lattice structure effects how anodized aluminum reflects light.
Why Choose Tuofa Custom Anodizing Aluminum Service
China Tuofa is known for its CNC machining but it also provides services like aluminum anodizing. The labor is skilled and competent enough to deal with the complexity of the problem. You should choose Tuofa because of their:
Modern Technology
Customer satisfaction
Low cost
Customer satisfaction lies in the top priority of the organization. At Tuofa small to large number of samples can be anodized. Functional prototyping is also available which will save time and material [15].
FAQs
Does anodized aluminum wear off
Yes, anodized aluminum can wear off with time. The oxide layer produced by anodizing has good wear resistance but it's not immune. Factors like environment, weather and abrasion can produce wear in the oxide layer. By avoiding harsh cleaning and regular inspection you can increase the life of the anodized aluminum.
Aluminum anodizing service cost
Service cost of the anodized aluminum depends upon the aluminum grade and temper number, size, complex shapes, types of anodizing done, quantity of aluminum samples that can be anodized. You have to consult with different industries if they provide the same surface finishing then you have to compare and choose the industry which gives excellent processing with low cost.
Does hard anodized aluminum work on induction
No hard anodized aluminum does not work on induction, cookware made from this aluminum is not suitable for cooktops because no induction between cooktops and hard anodized aluminum. Cookware mostly use a magnetic material for induction purposes. Hard aluminum specifically made by this process has a base of magnetic materials like stainless steel.