Aluminum 6061 vs 7075: What's the Difference

May 29,2023

In the ever changing approach towards manufacturing and processing, right choice of the material has gained enormous importance for the durability and attainment of the product. Aluminum alloys are considered for structural components as it delivers promising set of mechanical properties and by attaining merely one-third of the steel weight. Aluminum alloys have emerged on the array of materials when high strength to weight ratio required. Captivating set of properties of these alloys have a massive impact in different fields whether it is aerospace, construction or sports. This article will elaborate the advantages and disadvantages of 6061 and 7075 to ensure the selection of correct material as per application. Also, the purpose of the article is to develop the basic understanding of the key features of both alloys and further revolutionized the poles apart sectors by in cooperating them.
Contents
Click the links below to skip to the section in the guide:
What does the 6061 Mean in Aluminum?
What does the 7075 Mean in Aluminum?
6061 vs 7075: Aluminum Alloy Mechanical Properties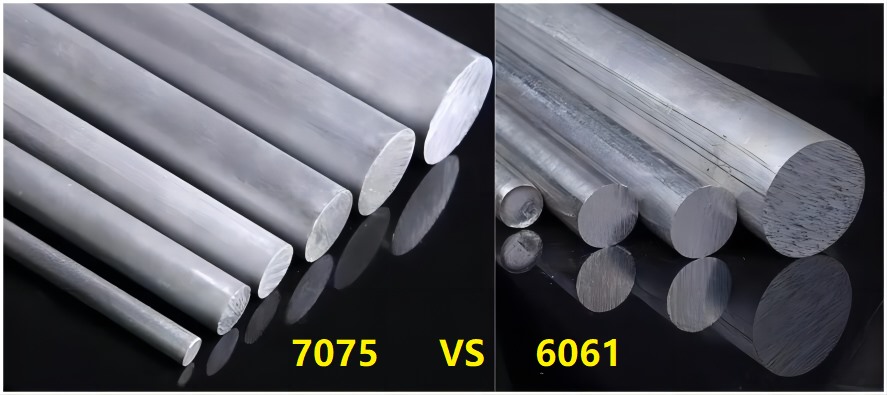 What does the 6061 Mean in Aluminum?
6061 is a wrought alloy (heat treatable) and as per Unified Numbering System (UNS) aluminum wrought alloys are graded in four digits system with a prefix (UNS A96061) [1]. In the grade name, first letter, six is depicting main alloying elements: Magnesium and Silicone. Second digit is 0 which means it is not modified but standard composition. Last two digits represents the concentration of Mg and Si which is 1.0 wt% Mg and 0.6 wt% Si.
What does the 7075 Mean in Aluminum?
In addition to aluminum in 7075 aluminum alloy, zinc is the second largest chemical element. It is also composed of small amount of chromium, zirconium, copper, magnesium and silicon. It is the strongest alloy of Aluminum. As it is mentioned earlier, this designation is assigned by UNS which is A97075. A9 is used as prefix and 7075 represents type of alloying elements. 7075 and 7085 are most popular alloys of 7xxx series which can be found in aerospace components and military vehicles, respectively.
Aluminum Alloy Composition
In order to modify the properties of the pure metal, different alloying elements were added to get required properties. Following Table-1 is showing the amount of different alloying elements in 6061 and 7075.
Table 1. Chemical composition of al 7075 vs al 6061
Alloys

Elements (wt%)

Al

Mg

Si

Fe

Cu

Cr

Zn

Ti

Mn

others

6061 aluminum composition

Bal.

0.8- 1.2

0.4-0.8

0- 0.7

0.15-0.4

0.04-0.35

0-0.25

0-0.15

0-0.15

0.15

7075 aluminum composition

Bal.

2.1 – 2.9

0.4

0.5

1.2-

2.0

0.18 – 0.28

5.1 – 6.1

0.20

0.30

0.15
6061 vs 7075: Aluminum Alloy Mechanical Properties
As the selection of accurate material for certain application is essential to ensure utilization of material in a best possible way. Selection of material can influence directly on expenses, safety, performance, optimization and compatibility. So, understanding of the physical properties along with mechanical properties has remarkable significance in product performance and integrity. The key features of the 6063 and 7075 alloys in T6 condition are as follow;
Density
Density of the material depends on mass per unit volume. This properties is crucial when it comes to light weight applications such as aerospace components and automobile parts. There is a slight change in the density of the 6061 and 7075 alloy due to the presence of different alloying elements and microstructure. The density of 7075 is relatively higher than 6061 which are 2.81 g/cm3and 2.70 g/cm3, respectively. Higher density of 7075 is due to the addition of heavy alloying elements such as Zn and Mg.
Ultimate tensile strength
Stress-strain curve is quiet important for the understanding of number of mechanical properties of the material. Standard sized tensile samples of both materials are formed to quantify the data. Ultimate tensile strength composed of elastic as well as plastic deformation. Maximum strength attained before failure is known as ultimate tensile strength (UTS). 7075 has higher strength as compared to 6061 alloy. The UTS of 7075 is 510-538 MPa whereas 6061 has at least 290 MPa.
7075 vs 6061 aluminum yield strength
Yield strength is explained as a transition point from elastic region of the stress-strain curve to plastic region. It means that if load is removed, after passing yield point, material will not go back to its original shape. So for any application, applied load is kept below yield point. As no deformation in component is acceptable in service. As the strength of the 7075 is higher so is the yield point as compared to 6061. Yield strengths of 6061 and 7075 are 241 MPa and 434-476 MPa, respectively. Higher yield strength means that the material will be permanently deformed at comparatively higher loads.
Shear modulus & modulus of elasticity
Resistance towards deformation of 7075 is higher as compared to 6061. Shear moduli of 6061 and 7075 are 26 GPa and 26.9 GPa, correspondingly. 7075 alloy needs more force to show deformation along the plan of the direction of the force. Elastic moduli of 6061 and 7075 are 68.6 GPa and 71.7 GPa. As 7075 possess high elastic modulus which indicated that material has high resistance towards springiness and elastic deformation would take higher load whereas 6061 is relatively show high springiness.
Fatigue strength
Fatigue strength of 7075 is 159 MPa and 96.5 MPa is for 6061. As fatigue strength values point out that 7075 has higher fatigue strength than 6061. It evocates that 7075 will take higher loads for specific number of cycles than 6061. Fatigue strength is very important in applications where cyclic loading is concerned. As 7075 is used as aerospace structural material so it has to bear vibrational loadings. As per this aspect, 7075 will be the superior material for the aerospace applications in structural components.
Thermal properties
Thermal conductivities of 6061 and 7075 are 151–202 W/m*K and 130–150 W/m*K, respectively. 6061 exhibit higher thermal conductivity. Correspondingly, Linear co-efficient of thermal expansion is 2.36*10−5 K−1 and 2.32×10−5 K−1 for 6061 and 7075. Melting temperature of 7075 is 477 °C which is lower than 6061 (585 °C).
Surface finish
Surface finish and machinability of 6061 is superior than 7075. Both alloys can be used for multiple applications but if good surface finish is the primary requirement than 6061 will be preferred. In case, surface finish is secondary requirement and high strength is primary, then 7075 will be ideal because it can still be machined with slightly low-quality surface finish with relatively high strength.
Corrosion resistance
Aluminum alloys are capable of making an oxide layer on the surface, which protect it from further oxidation or corrosion. Corrosion resistance depends on the temperature and aqueous environment around the product. Good corrosion resistance is offered by 6061 in the presence of nitric acid, ammonium hydro-oxide and ammonia. Presence of Cu content in 6061 reduces its corrosion resistance. 7075 aluminum series has better corrosion resistance than 6061. Presence of Zn in 7075, improves corrosion resistance. Moreover, 7075 provides promising results in stress cross ion cracking conditions.
Heat treatment
Both alloys has to go through same T6 heat treatment by differing temperatures and holding times and different type of precipitates form during artificial aging in both alloys. Table-2 is enlisting the different temperate ranges and holding times for both alloys.
Table 2. Heat treatment cycle of 6061 and 7075

Alloys

6061

7075

Heat treatment

Solution Heat treatment

(For homogenization)

540-560 °C for specific duration, depends upon the dimensions of the sample

470 °C for specific duration.

Quenching

(To retain homogeneous solid solution)

Rapid cooling from elevate temperature to room temperature. Usually oil or water spraying are implied for quenching.

Rapid cooling down of the sample by immersing in quenching media such as water.

Aging

(To precipitate out the strengthen phase in solid solution - theta prime strengthen phase forms)

Holding the sample at 160-180 °C for 18 hours.

Holding the sample at 120-130 °C for 24 hours.
Manufacturing and Processing
Extrusion of 6061 is better than 7075 due to high strength. High strength of 7075 makes extrusion comparatively difficult as high temperature, pulling load is required and high die wear is expected with more distortions.7075 can be found in sheets, billets and extruded parts. Machining and shaping of 7075 can be carried out but 6061 offers better results. Forming such as bending and forging process can be carried out on both alloys.
7075 Aluminum Price
Yes, the cost of 7075 is higher than 6061 as it contains expensive alloying elements such as Zinc and copper. The demand of 7075 alloy is high in market due to its utilization in high performance applications and aerospace components. High demand and low supply ratio has increased the price of 7075 alloy as compared to 6061. Product manufacturing of 6061 is comparatively less complex and challenging which contributes in relatively market cost of 6061.
Anodizing Aluminum
Anodizing is the formation of oxide layer on alloys and dyed in required color. Actually, aluminum oxide layer is porous and is sealed by the formation by immersing in hot deionized water. As the composition of both alloys is different so it would respond different towards oxide formation. As anodized 6061 displays relatively darker color and good finish as compared to the 7075. As the strength of the both alloys are different so will be the hardness of the anodized layer. Hardness of 7075 alloy with anodized layer on, is greater than 6061. Both alloys required same pre-anodizing treatment which is cleaning and etching. Anodizing parameters will also differ, 7075 required higher voltages for the formation of oxide layer.
Aluminum Uses
7075 and 6061, both alloys are structural grade alloys and used in the manufacturing of heavy-duty applications. 7075 is used in aircrafts, construction, fittings, missiles, gears, shafts, regular vales and automotives. In contrast, 6061 used in truck frames, ship building operations, rivets and rail coaches.
Aluminum Bike Frame
Both alloys are used for in bike frame as both are structural grade alloys. 6061 is used in frames where light weight, durability and strength is required. 7075 is also used in frame components such as head tubes, brakes, and frame tubes where high strength and stiffness is essential requirement. Moreover, both alloys are used in the manufacturing of crankset (transfers forces from peddling to drive). As 7075 offers rigidity and high strength which make it a suitable candidate for crank arm. 6061 is used in stem and seat post production by keeping the bike light weight and corrosion resistance. Furthermore, it is used in shifters a brake levers.
Due to the high strength and fatigue resistance, 7075 is used in off road bikes where shock absorption is required such as suspensions, pivot points and shock linkages. Long lasting performance, high strength, and capability of transferring power efficiently, 7075 is used in cassette bodies and hubs. As these components are extensively use and extremely important during acceleration and brakes.
Both alloys are used for the manufacturing of handle bares of the bike, as both offer sufficient strength which can withstand the force applied by a rider. 6061 possess good formability so any shape of the handlebar can be formed .
FAQs About 7075 Aluminums
Answer to this question could never be a straight yes or no. They all have their own advantages and disadvantages. Selection of the alloy depends on the application. Suppose high strength is required, 7075 is better than 6061 in this regard. If low cost is the primary requirement and strength is secondary, then 6061 will be chosen. If high springiness is required and one alloy is need to be selected among 6061 and 7075 then 6061 will be the better choice. So, application and requirement of properties will decide the criteria for the selection of material.
FAQs About 7075 Aluminums
Why use 7075 aluminums?
7075 offers high ultimate tensile strength, fatigue resistance, better stiffness and easily available in market. This alloy is also durable and provide good performance with long life time if design and manufacturing is on point.
What are the disadvantages of 7075 aluminum?
7075 offers higher strength at the expense of ductility. It has relatively higher cost among aluminum alloys. Therefore, the scope of use of 7075 aviation aluminum is not so wide. It has poor machinability and brittle in certain conditions.