Copper vs Bronze vs Brass: What is the Difference Between

Jun 29,2023

Copper is one of the oldest found and employed metal for several applications by humans. In current scenario, copper is extensively used in electrical components, heat exchangers, health care and plumbing due to extraordinary set of properties. Tin and Zinc are added as an alloying element in copper to make bronze and brass. Both alloys have their own significance in corrosion resistance, durability, strength and aesthetics. Utilizing these alloys effectively and efficiently, it is important to understand the key features of these materials. The purpose of this article is to develop an understanding and making you capable of selecting the most appropriate material for particular application.
Contents
Click the links below to skip to the section in the guide:
Difference Between Copper Bronze and Copper
Choose the Right Metal for Sheet Metal and CNC Machining
FAQs about Copper vs Bronze vs Brass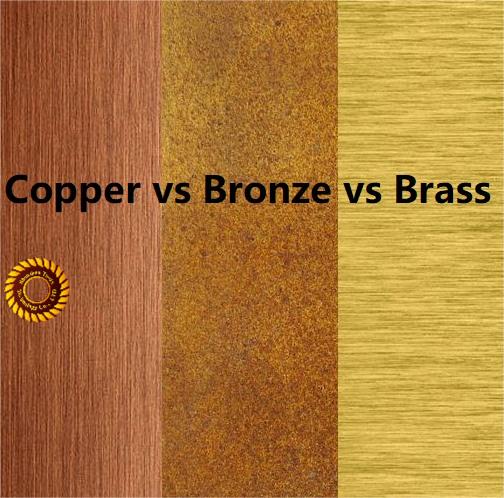 What is Bronze
10 wt. % of tin is added in copper, mainly and other alloying elements such as aluminum, manganese, silicon and nickel are also added. It has 350-650 MPa tensile strength. One of the famous types of Bronze is Naval Bronze and it is used in marine environment.
Bronze is an Alloy of Copper and Tin
No, tin and copper alloys are typically called bronze but several types of bronzes are available in market. In these alloys, respective metal like in aluminum bronze, 5 to 10wt. % of aluminum is added in copper instead of just tin. Likewise, bearing bronze has 6-8 wt. % lead with copper instead of tin and improve wear resistance of an alloy.
What Color is Bronze
It has metallic appearance and naturally found in dull golden or brown color with pings of reddish or orange color. Color of the bronze also changes as per the formation of compound in an alloy for example aluminum and lead bronze has pale yellow color, manganese bronze has chocolate brown color and phosphorous bronze has reddish brown color.
What Does Bronze Look Like
Bronze gives warm toned colors such as burnt sienna and russet. Freshly polished bronze looks lustrous and shiny warm reddish golden color. Bronze can develop different colors as per surrounding such as in the presence of moisture as a result copper carbonate form green patina developed. Green patina can be seen on statue of liberty. Surface treatments of the bronze can also takes part in its appearance and also texture or engraving is also carried out to give various kind of appearances.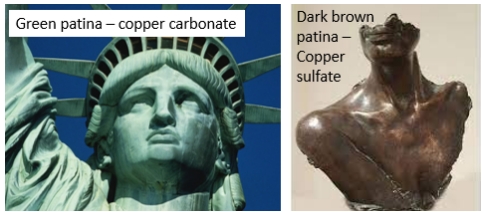 Bronze Alloy Types
Different types of bronze alloys are given in table along with chemical composition and their properties.
Table 1. Types of bronze alloys
Sr. no.

Type

Composition

wt.%

Properties

1.

Tin Bronze

12% Sn + Cu [7]

High strength

High hardness

Good ductility

2.

Aluminum bronze

9-14% Al + 4% Fe + Cu

Good wear resistance

Good castability

Improved weldability

3.

Manganese bronze

2.5-5 Mn + 25% Zn + 3-7.5% Al + Cu

Improved lubricity

Good strength

Excellent corrosion resistance

4.

Lead bronze

9% Pb +5% tin + Cu

Medium wear resistant

Excellent corrosion resistance

5.

Phosphorous bronze

0.5-11% Sn + 0.01-0.35 P +Cu

High corrosion resistance

Good spring properties

Excellent fatigue resistance

6.

Nickel aluminum bronze

6-13% Al +7% Fe + 7% Ni + 1.5% Mn +Cu

Good strength

Good corrosion resistance

7.

Silicon bronze

3-4% Si + Cu

Good strength

Good corrosion resistance properties

*Cu = Copper, Sn = Tin, Fe = Iron, Al = aluminum, Pb = Lead, Mn = manganese, Si = Silicon & Ni = Nickel
What is Bronze Used For
If you learn to select the right type of bronze for particular application than here is a brief summary of utility of each bronze type. Aluminum bronzes are used in architectural applications, pumps, marine, valves, heat exchangers and sculptures. Tin and manganese bronzes are utilized in tool industry, jewelry and bearings. Silicone bronzes offer applications in welding rods, electrical components, and hydraulic systems and in marine industry. Nickel bronzes are used in aircraft industry as landing gears brushing and also used in valves and off shore applications.
Is Brass an Alloy
Brass is composed of zinc and copper, typically. It has exceptional workability. Wide range of brass types are available in market which offers excellent combination of properties. It is an alloy and also considered as a mixture.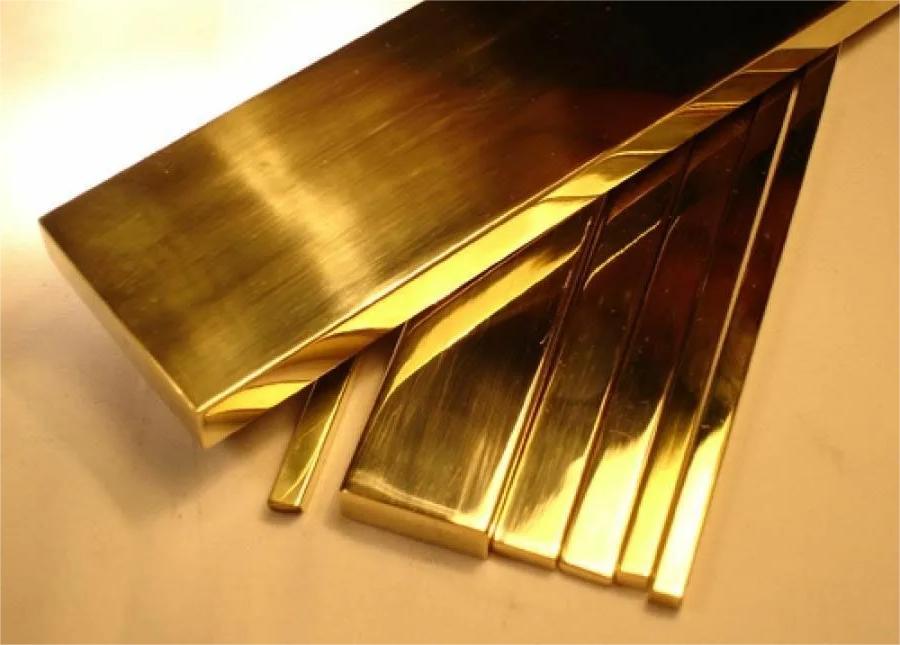 What Color is Brass
It has bright, shiny yellow color or dull golden color. By looking at bronze and brass, you can differentiate as bronze has faded rings on the surface whereas brass doesn't have those rings. Brass is lighter in color than bronze. After getting aged or oxidized it exhibit greenish or brownish color and gives antique brass look. Satin brasses are also available in market.
Brass Alloy Type
Different type of brasses and their compositions are as follow;
Alpha-brass: 35 % Zn + Cu
Alpha-beta brass: 35-45 % Zn + Cu
Dezincification brass: 40% Zn + Cu
Cartridge brass: 30% Zn + Cu
Naval brass: 30-40 % Zn + 11% Sn + Cu [20]
What is Brass Used For?
It is used in ammunition casting, musical instruments, precision components, automotive components, jewelry, coins, decorative purposes, marine applications, plumbing fittings and electrical components due to their exceptional properties such as antimicrobial properties, corrosion resistance, ductility, good machinability, excellent malleability and good electrical and thermal conductivity.
What is Copper
Copper has atomic number of 29 and is metal. The symbol of copper is Cu. It is extremely ductile and a very good conductor of heat and electricity. It is very soft as a result it can be drawn in thin wires. At room temperature it has density of 8.96 g/cm3. It has high melting point which is 1085 ⁰C. Smelting and electrolysis processes are used to extract copper from its ore (bornite or chalcopyrite).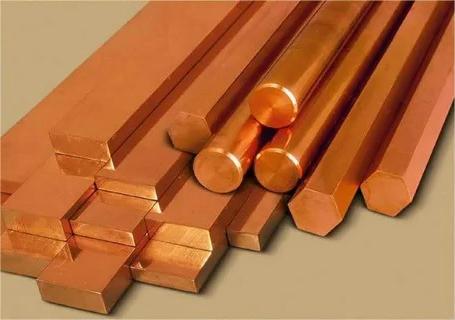 What Color is Copper?
Copper has very bright and metallic reddish-orange color when polished, freshly.
What does copper look like?
Surface of copper can react to the elements present in the environment such as oxygen, moisture, and humidity and as a result developed a compound with copper. Such as aged copper usually shows dull greenish-blueish color after longer exposure to the environment, it indicated the formation of copper carbonate or copper hydroxide.
Copper Alloy Types
Following are the types of copper alloys;
Cathode copper: It is 99.95% pure and used in electrodes. It is prepared through electrolysis process and typically used as a raw material for the development of copper alloys.
Copper alloys: Brass and bronzes are the alloys of copper which are already discussed. Cupronickel is also an important alloy which offer excellent corrosion resistance and used in marine applications. Another important type of coper alloy is copper nickel zinc alloy which is silver in color and used in musical instruments.
Machinable copper: It contains sulfur and tellurium which improves machineability and it is known as machinable grade of copper.
Copper oxides are also very famous due to copper patina and used in pigments.
What was Copper Used for?
It is used in industrial machinery and electrical components. As it exhibits good thermal and electricity conductivity which make it useable for many applications such as roofing, plumbing, electrical wiring, heat exchangers. It is also used as catalysts and pigments. It is used in decorative applications and crafts. As mentioned earlier, it is used in electrical applications such as printed circuit boards and wires, insulation wires and also used copper tube are used in several application.
Difference Between Copper Bronze and Copper
Brass and bronze are alloys of copper. These three materials offer different set of properties due to their compositional changes and a comparison insight is given below;
Weight
Copper is heavier than brass and bronze by possessing density of 8930 kg/cu. Brass is lighter (8400-8700 kg/cm3) whereas bronze is heavier (7400-8900 kg/cm3 ).
Strength
Strength of copper is lowest and bronze has highest strength. When high strength is in demand, bronze (UTS=350-635 MPa) is better than brass and copper (338-469 and 210 MPa, respectively).
Corrosion
Brass has lower corrosion resistance than copper and bronze. Brass changes its colour from yellow to pink after zincification. Bronze is used in marine applications and exhibit good corrosion resistance. With passage of time, copper from the bronze alloy reacts with the surrounding and form copper oxide layer which is a protective layer and it prevent it from further oxidation. Bronze has better corrosion resistance in comparison with copper.
Durability
Bronze is more durable than brass, as brass is more prone to cracking but easily machinable. Copper is more flexible and bendable to bronze. It can't get easily scratched or cracked like bronze. In comparison with brass and bronze, bronze is long lasting.
Finishes
All three are given metallic and lustrous look when freshly polished. Finish look of the brass bronze and copper is like gold, reddish-brown and reddish-yellow, respectively. Different textures are available which are as follow;
Brushed
Brushing creates parallel line texture. In copper, matt and satin look achieved with texture after brushing and in bronze warm tone further improved.
Polished
Polished surface creates lustrous, bright surface in bras bronze and copper.
Oil rubbed
Oil based chemical used to create antique look or oxidized look. In brass and copper, darker patina developed after oil rubbing and in bronze depth is added to the surface after oil rubbing. Oil rubbed bronzes are very famous.
Price
Copper is more expensive than bronze and brass. Brass is less expensive than bronze. Price of bronze increased by the addition of alloying elements as it possesses good strength and corrosion resistance. So, brass is less expensive and readily available as compared to copper and bronze.
For further understating, open this link;
Is bronze and copper the same
Copper is mostly composed of copper and zinc, but bronze is composed of copper and tin, lead, and antimony. Bronze is more corrosion-resistant than brass, harder and stronger, and is used to make elastic parts and wear-resistant components.
Is brass better than copper?
Answer to this question is not black or white but is gray area. If excellent corrosion resistance is required with high ductility than copper, is a very good option. On contrary, if high strength is required then brass will be a choice.
More valuable
Bronze is worth more than copper and brass. Brass is valuable in context of affordability and copper is valuable if purity is in demand.
Advantage
Brass, bronze and copper provide good corrosion resistance. Brass and copper provide good ductility and malleability. Bronze provides higher strength and wear resistance so it is used in gears and bearings.
Shortcomings
Brass contains zinc and zincification is a problem due to low corrosion resistance. Bronze is hard with high strength and as a result its formability or machinability is challenging. Copper doesn't have high strength. Price volatility is also one of the short coming due to market demand fluctuation. Bronze is less malleable than brass.
How to tell brass or bronze or copper
These metals can be detected by their appearance and use.
The color of brass is yellowish, the color of bronze is brownish, and the color of copper is purple or silvery white. Brass has good machinability and corrosion resistance, and is suitable for making various parts and appliances. Bronze has high strength and hardness and is suitable for making mechanical parts and tools. Copper has good electrical and thermal conductivity and is suitable for the manufacture of electronic components and precision instruments.
Summary of copper brass bronze properties
| | | | | |
| --- | --- | --- | --- | --- |
| Sr. no. | Properties | Copper | Bronze | Brass |
| 1. | Corrosion resistance | Good | Excellent | Low |
| 2. | Durability | Good | Good | Good |
| 3. | Strength | Low | High | Medium |
| 4. | Recyclable | Yes | Yes | Yes |
| 5. | Machinability | yes | yes | yes |
| 6. | Electrical conductivity | Excellent | Good | Good |
How are Copper and Bronze Similar
Copper and Bronze are similar in that they are both alloys made up of copper and other metals. They also have similar properties such as being good conductors of heat and electricity, long service life and resistant to corrosion. However, there are some differences between them, such as the amount of other metals used in their composition and the level of oxidation that occurs during their formation.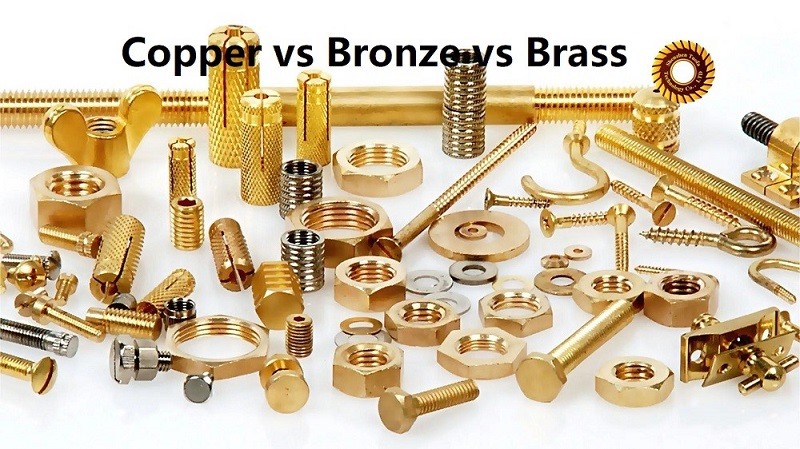 Choose the Right Metal for Sheet Metal and CNC Machining
Brass has good ductility and comparatively lower hardness which makes it a potential candidate for CNC machining and sheet metal forming. Bronze can also be used in sheet forming and CNC machining, but it is challenging. Brass and bronze can be 3D print by Selective laser melting process. Copper can also be used in sheet forming, CNC machining and 3D printing.
Conclusion
Copper, brass and bronze provide unique set of properties and offer wideset of applications. Corrosion resistance of bronze is better than brass and bronze and has ability to perform well in marine environment. In comparison with brass and copper, bronze offers higher strength. Where high purity is required such as in electrical application, copper is considered as first choice. It also offers good thermal properties.
It is highly ductile and can be drawn into thin wires. Brass is comparatively more affordable than copper and bronze. These metal and alloys oxidized in the presence of oxygen and form oxide film which protects substrate from further corrosion. Selection of appropriate material is an art which is mastered by experience. In this articles, brass, bronze and copper are comparatively studied with positive and negative aspects. Still, expert opinion has immense weightage in the selection of right material as per application. So please consult our experts in the process of making right decision.
FAQs about Copper vs Bronze vs Brass
How to tell brass or bronze or copper
Copper has reddish orange colour, brass has yellowish-golden colour an bronze has reddish brown colour. Brass and bronze surface is relatively smoother than copper. Bronze and copper developed natural patina by oxidation. Brass and bronze are denser than copper. By keeping these points in mind, you can identify among brass, bronze and copper.
Is bronze and copper the same?
No, copper and bronze are not similar. Bronze is an alloy of copper.
Antique brass vs bronze
Antique brass has darker yellow colour whereas antique bronze has darker brown colour with hint of greenish or reddish patina.