Types of Screws | Quality Screws Selection Guide

Jul 24,2023

Types of Screws Introduction: In order to fasten two structural bodies many fastening methods or techniques are available, but screws are used to hold variety of dissimilar materials with conventional method. Many types and material of screws are available in market, therefore in depth knowledge for different types of screws is necessary for proper selection of it. Proper selection of biological screws can increase the bone joint life and can prevent impurity spread inside blood.
Quick View of Article Content
What are Screws Made of Screw Material
Different Types of Screws and Their Uses
Why Choose Tuofa Custom Different Types of Screw
What are Screws
Screws are metallic pin type fasteners having threads on middle portion, which takes shear load by interlocking with the same female threads in counterpart. Frictional contact forms between them, which can hold them in longer term without dismantling process. Sharp pin is present in boring direction and head forms the other side of it. Head dictates about installation of screws with different tools and torque in particular position.
Following link of youtube videos can help in understanding of it:
Parts of Screw
They consist of following parts with different types of screws configuration and counterpart materials:
1. Screw Head Style
2. Screw Shank
3. Shape of Edge
4. Counterpart female thread
5. Tools require to operate
6. Self-Tapping profile
These parts make function of screw and minor change in any of them can create another type with different function. Thus standard profile is always need for same job repetition and reliability.
What are Screws Used for?
They have application in fastening of metal to drywall, drywall to wood panel, metal to metal, composite to metal and plastic to plastic joints. Their basic function is to provide non-permanent joint between two structures which cannot go for difficult joint techniques like welding etc. due to critical position and material behavior. For example in joining outdoor water pipe with masonry wall, only screw joint is feasible option due to simple, ease and re- work aspects.
How Many Types of Screws are there?
They have many types and basis for their classification is Screw Styles, Screw Types, Screw shank, Fastener names and material morphology. Upper head shape can be countersunk, flat and hexagonal. But main thing of this division comes from application of same article. Allen key shape screws are also available to apply torque with custom values. Thus different types of screws are available due to change in structure, shape and material.
Types of Screws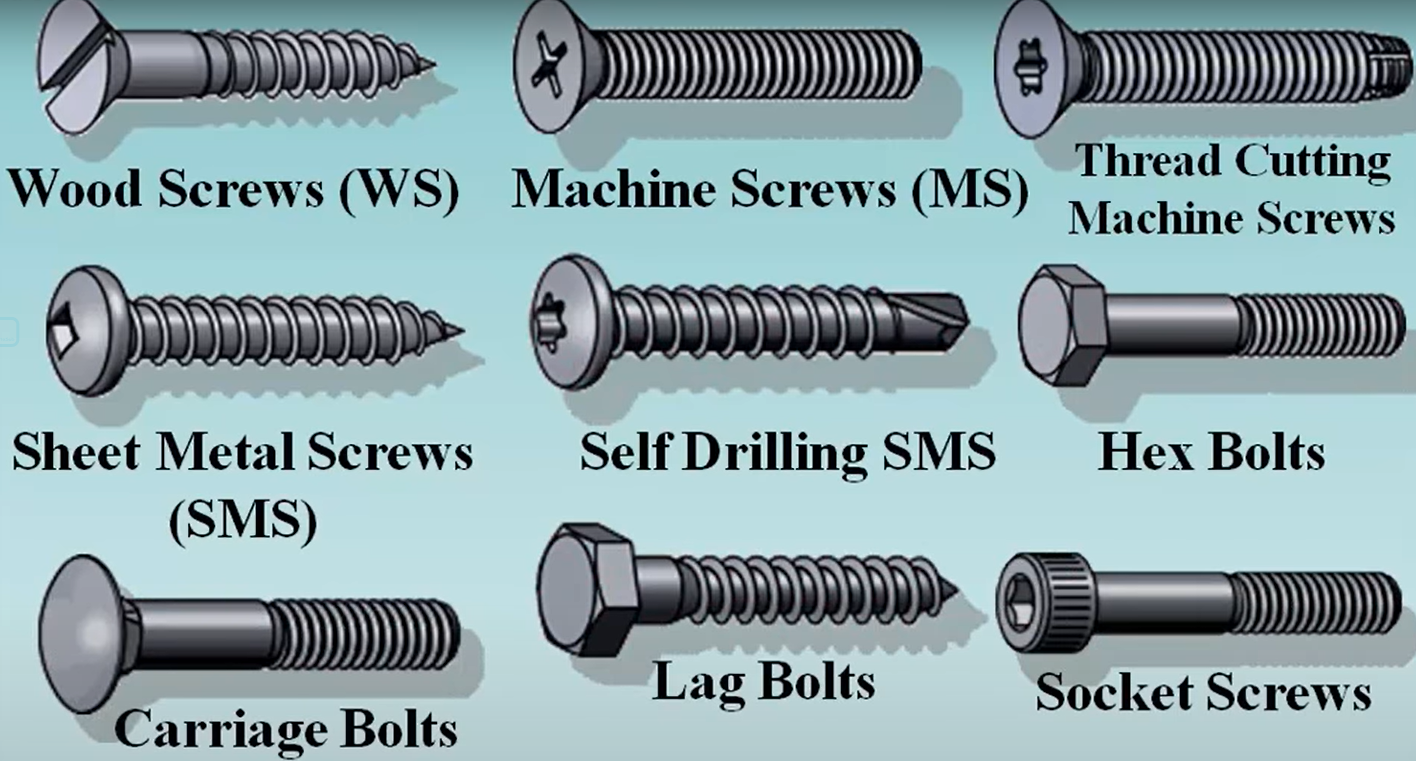 Screws have classification depending upon Head type, Shank thread pitch / configuration, Material, Counterpart hardness and Dimensional parameter. Following is the detail of screw types:
List of Screws
They have list as per application and dimension. Following is the list of screws:
1. Machine Screws
2. Wood Screws
3. Drywall Screws
4. Sheet Metal Screws
5. Eye Screws
6. Concrete Screws
7. Set Screws
Screws with Flat Heads
It has countersunk shape with linear slot line on head and famous for fastening of common structure materials. Thread and screws styles of this classification makes it conventional for use and manufacturing. Flat head provides easy access to tightening tool due to straight surface presence, rather it does not interact with edges and outer circle of tool.
Pointed Screw
It is independent type self-tapping fastener which can make thread in female counter part without additional tapping tool. It has sharp tip present at end of screwshank which can make self-tapping on the softer material like wood or composite of it. Screw part of this item contains low pitch threads so that it can make thread in counterpart with chipping of material. Its material is usually stainless steel in hard wood but brass material also has an application whenever humid and acidic atmosphere interacts with active attack on fastener joint. Smooth Shank Screw:
It has flat or slight twisting impressions on shank which can penetrate another part with force. It can even penetrate in hard counterpart because it does not need any type of thread formation during penetration and cannot chip hard brittle surface like masonry wall. Only shank impression can make cold bond with counterpart and frictional resistance force clamp it during rest of life span. It needs only striking force tool so that engagement length can go inside counterpart material without damaging and chipping of it.
Type S Screw
They are self-tapping screws with fine threading portion and drywall fastening mechanism. It has good application in fastening between drywall and metallic panels or wood sheet. It has fine threading which can increase engagement surface area drilling speed without any secondary accessories. Usually four types of screw lines are present on top of head so that strong gripping is present during tapping r holding in application. They are permanent joint because once it goes inside surface of masonry material, permanent shear bond which holds it during remaining lifespan. These types are famous for hanging application in non-safety parts.
Allen Screw Types
They have Allen key hole on the top surface of the head and can receive low torque value to tight it for assembly fitting. They have three types of screws and uses in fastening structural components during easy grip of furniture and automotive parts. Types are:
1. Socket Head Allen Key Screw: Cylindrical head with Allen key pocket can provide protrude surface from reference substrate d make tight grip during torque application.
2. Flat Head Allen Key Screw: Flush surface provides greater strength of twisting moment because no protruding surface is present outside of threaded part. Thus great frictional contact between head, shank and counterpart material is present.
3. Hex Head Allen Screw: Wood for furniture assembly needs them because easy grip by tool is present with the help of protruding surface. Anatomy of Screw:
Its constituting elements are present in Figfure.No.1. Following is detail for different parts.
Figure.No.1.Anatomy of Screw.
Head shape: Head shape defines the drive mechanism for screw on different materials and describe gripping behavior. Types of screws classification comes from this part.
Shank: Flat area of pin portion (shank) between head and tail describes shear force mechanism and frictional bond between material and screw.
Thread: Thread defines penetration mechanism and tapping requirement in counterpart.
Tip at Tail: Tip at tail tells about penetration behavior and self-tapping requirement of it Chart Types of Screws:
Different types of screws with graphical and tabular presentation is present in Table.No.1. Their graphical representation describes shape, shank pitch, and head style.
Name of Screw. Graphical Representation. Sheet Metal Screw. Drywall Screw. Wood Screw. Eye Screw. Machine Screw. Type S Screw. Smooth Shank Screw. Allen Key Screw. Pointed Screw. Set Screw. Table.No.1 Chart Types of Screws.
What are Screws Made of Screw Material
They are made of Steel, Stainless Steel, Copper and Brass. Hard substrate needs steel and stainless steel material while softer one can accommodate brass and copper. Copper and brass have application in fastening of joint
where corrosion and chemical fume environment is present to attack on material and pitting can damage holding strength of it. What Screws to Use for Wood?
Wood is common material for clamping and hanging of structural components with Masonry wall, Metallic frames and Composite panel. Wood furniture also require screws to hold two pieces together so that it remains intact during loading and idle condition.
Types of Screws for Wood
Types are:
1. Countersunk Screw
2. Steel Round Screw
3. Pozidrive Screw
4. Brass Screw
Types of Metal Screws:
They have screw material of metallic nature either it is soft one or hard one. They can penetrate with force and can have option of self-tapping due to pointed tip at tail portion. Screw material is the major design parameter during calculation of structural and shear force behavior. Of course large force and deflection can have resistance from strong screw material. Major types of metallic screws are:
1. Machine Screws.
2. Self-Drilling Screws.
3. Self -Tapping Screws.
4. Machine Screws.
5. Allen key screws.
6. Brass Screws.
7. Copper Screws.
8. Steel and Stainless Screws.
What does a Metal Screw Look Like?
It has hard looking surface with thin surface feature due to strength of low profile edge and hardness value. It has metallic appearance without any coating and and surface treatment due to metallic shine of surface morphology. Figure.No.2 shows metallic look of same item.
Figure.No.2 Metallic look of Screw.
Best Screw for Metal
Best screw selection always need specification of engineering work of structure, because low stress structure can even accommodate brass material but if tension and shear forces are the major requirement then stainless is best one.
What Screws are Best for Plastic
Nylon can accommodate Lightweight, Corrosion resistant and Low strength plastic structure with screw material due to presence of stress resistance and manufacturing ease. Metallic screw can also work in this case but it can damage female counterpart thread with high shear forces and even it can chip out material by high torque. Thus nylon can fasten it by medium size pitch and nominal diameter.
Different Types of Screws and Their Uses
They have different types due to their use, working atmosphere and stress criteria condition. Application can even change pitch and material of it. Some common types of screws are:
Types of Furniture Screws
Furniture items need wood and composite clamping with good strength and corrosive resistance but dimension can change high cost selection to low cost screw names. Types of screws can have application for it but usually size # 8 have good application due to optimum loading resistance. As all furniture items have same type of clamping force need therefore screw of size # 8 can accommodate panel joint with good shearing resistance. Brass and bronze are best material due to presence of chemical constituents in lignin and suberin phase of wood.
Machine Screws Types
They are essential element of any machine design product because welding and riveting is not an option in all condition. Thus it is necessary to have classification of it so that good selection is always available to accommodate machine elements with fine pitch and optimum engagement length. Types of it are:
1. Hex Head Machine Screws
2. Flat head Machine Screws
3. Oval Head Machine Screws
4. Cheese Head Machine Screws
Types of Screws
Different types of it define Application, Force resistance criteria, Hanging load and Corrosion resistance. Head type defines the twisting moment and frictional contact between substrate and metallic body. Thus selection of different types of screws is important aspect when designer mark it on engineering drawing. Major types are:
1. Machine Screws
2. Wood Screws
3. Plastic Screws
4. Masonry work Screws
Machine Screw vs Wood Screw
Machine screws are always work for machine elements of steel structure but wood screw have application for furniture items, Wood frames and Composite structure. Table. No. 2 describes difference between them.
Machine Screw. Wood Screw. -Can accommodate machine elements and structure. -Can accommodate furniture items and wood panels. -Have high pitch. -Have low pitch. -High strength material. -Low strength material bronze can also do work -Can have coating. -Always require coating or stable material. -Usually have pre drill hole. -Usually work with self-tapping. -Major types are Hex head, Flat head and Cheese head. -Usually countersunk and Self- Tapping.
Table.No.2. Machine Vs Wood Screw.
Types of Fasteners
They are the joining elements to make bond between two structural elements so that reusable option is present when maintenance need it. Fasteners can hold two components with clamping force and cold bond between it. Different classification of fasteners is as:
1. Bolt and Nuts
2. Riveting
3. Types of Screws
4. Clamps
Best Fasteners: Best fasteners for structural components with low force resistance and reusable property is types of screws. But if high clamping load is need of structure with heavyweight elements then Bolting is best fastener method for stability and integrity.
Screw Parts in Orthopedics
Orthopedics treatment need screws when two bones need joint between them and remains stable during rest of life span, usually titanium material is best choice due to resistance of corrosive attack against blood constituents and biological substance. Fracture bon need large diameter screw with fine pitch so that strong bond make it intact and un-damaged bone needs ow pitch deep length thread. In this way undamaged bone does not takes risk of cracking in it. These are double side threaded and medium length items with proper finish of surface. Figure.No.3 describes orthopedic screw:
Figure.No.3 Orthopedic Screw.
Hardware
Hardware items need screws to hold two pieces tougher so that they can perform function and go to easy dismantle process during maintenance and packing stage. Machine screws are the best option to use when it comes to pack hardware things without any obstacle in function.
Drywall
Screw for these items have high pitch and considerable length with the property of self-tapping mechanism so that holding of item is possible with frictional force. It usually uses wood panel and light material to hang with drywall surface.
Screw BoltsTypes
It uses threaded portion of screw with the nut as clamping or tightening element so that it can old with torque. Otherwise it can exist in structure without any nut but in this way surety of clamping is present so that it can work during the rest of life. They have application whenever some construction code or standard need it in engineering drawing. Following are the type of it:
1. Hexagonal head
2. Flat Heat
3. Allen Key
4. Cheese Head
Types of Bolts with Pictures
They have classification due to their use, loading capacity, accessibility, threading configuration and material type. Table.No.3 describes different bolts with pictures.
Bolts Pictures. Anchor Bolt Hex Head Bolt Eye Bolt Flange Bolt Allen key bolt Carriage Bolt Socket Head Cap Bolt U bolt Table.No.3. Types of Bolts with Pictures.
Types of Screw Holes
They are necessary elements for clamping of screws and provide anchoring position for the head style otherwise complete screw assembly can lose strength. Different types of screw holes are:
1. Counter Sunk Screw Holes
2. Flushed Hexagonal head screw bolt
3. Counter bore Screw holes
4. Tapped Screw holes
5. Spot faced screw hole
Why Choose Tuofa Custom Different Types of Screw
Screw selection, Shear force calculation, Thread configuration and material parameter need inside depth of this industry otherwise it can damage complete structure with wrong selection. For custom product no catalogue is going to offer selection of screw and offer its parameters with drawing. But Tuofo has team of experts, ISO 9000 certification and Mechanical design experience so it can provide good selection of screws.
And for more information please visit toufa-cncmachining.com.
FAQs about Screw
Do Sheet Metal Screws rust?
Yes, it can have rust attack if proper coating or surface treatment is not present on it. Blackening is the technique which is usually present on it. But if it is not present on it then rusting can produce on it and weak strength structure can damage screw bond.
What is Best Screws for Metal Studs?
Self-tapping screw is best for metal studs because it can save time and tools to install panels on metal stud frame without damaging thin sheet edges. These crews can help in replacing panel from metal stud whenever maintenance and time span need it.
What Size Screw for 1x4?
This is common nomenclature in screw market for #8 or #10 wood screw having length of 1 to 1-1/4 inches with coarse pitch and self-drilling property. It can remain standard item with other metallic fixture of wooden frame so that installation process becomes easy.
Types of Rivets: Quality Rivet Selection Guide
Types of Rivets: Quality Rivet Selection Guide. Introduction: In engineering industry joining materials is critical task for Structural integrity, Joints, Strength during life span, Connection with metallic body and Ease of assembly operation. Riveting is

Jul 17,2023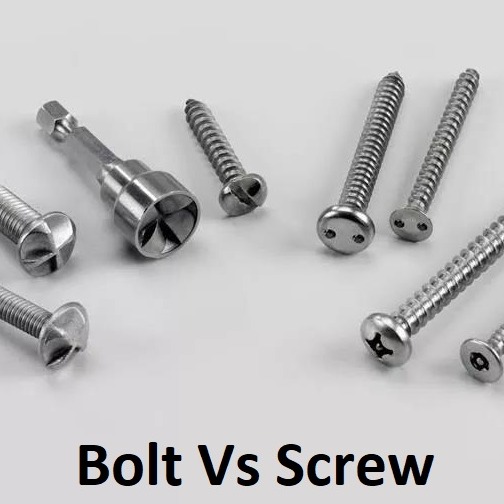 Bolt Vs Screw: What is the Difference Between?
Bolt Vs Screw: What is the Difference Between? Both fasteners have application in structural part of machines due to ease of joining process, disassembly option, equivalent strength to weld and provision of clamping force. But they have different types wi

Aug 06,2023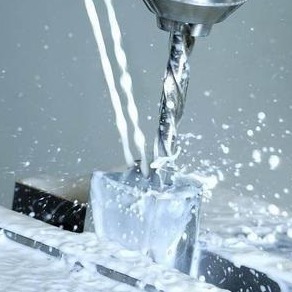 How to Drill Metal: 15 Ways
How to Drill Metal: 15 Ways. Introduction: Everyassemblyjobneedfasteners, penetrationsandthroughholes forparticularpurpose and this all is possible making by drills in same assembly with particular size. But to complete the drilling job you have to select

Aug 24,2023