How to Weld Titanium: 6 Expert Tips

Sep 26,2023

Weldingtitaniumisthefabricationwaytojointhismaterialsothatinsteadofbolting, riveting andanyothermechanicaljointshighstrengthjoint mayformwithanothermetallic material with the help of titanium welding services. Thus it is important to learn titanium welding techniques for selection of right process, filler material and shielding with anti-oxidation and ductile weld pollprocess.And these titanium weldingservices canimprove final NDT, Integrity, Lack of porosity, nonmetallic inclusion and LOF.
Quick View of Article Content
How to Weld Titanium: 6 Expert Tips
Application Industries of Titanium Welding
Why Choose Tuofa for Custom Welding and Machining Services
Understanding Titanium
It is corrosion resistant material with half density as compare to stainless steel but has an equivalent strength of it, thus can offer the same corrosion resistance with half weight of stainless steel and alloy steel with good paint on it. Titanium oxide surface present on the surface of it has great potential to resist thesea atmosphere and chloride fumes because this oxide cannot allow the attacking oxygen to make penetration inside the material. That is why surgical instruments which need high degree of inert reaction with human blood flesh are of titanium material and its alloys with Alumnium.
Can Titanium be welded?
Yes welding is possible with MIG welding titanium / TIG technique because in these titanium welding techniques shielding gas, surface preparation, atmosphere control and welding parameters are very easy to control. Welding titanium alloys can improve the application of it substitute of stainless steel material because it can offer same corrosion strength with half weight and relevant surface finish of job need. Titanium melting point makes welding of it same as of stainless steel and carbon steel, because same welding parameters, current and voltage can introduce fuse welding pool in this material and simplify the titanium welding equipment for comparison.
Is Titanium Hard to Weld?
Difficulty in welding of this material is due to surface contamination, brittle range, cracks in material, damage in titanium and discoloration of surface, but there may be big defect than all of these small defects i.e. delay cracking in material. Thus it is need of any welding person to study titanium welding tips and tricks for sound weld and defect free job to pass thequalitycheckofassemblyinfinalinspectionotherwiserewildingis theoptiontocounter such rejection.
Brittle range for this material after welding is 400 centigrade that is why it is always choice of expert welder to program titanium welding equipment in such a way that welding titanium alloys can make quick and fast temperature down in this range.
Welding Titanium AC or DC?
DC polarity is the best option to do welding of this material because in this way you can introduce single way of introducing heat in pool for fusion and production of heat inside weld metal pool for high strength joint. AC polarity cannot do oxide removing mechanism in this welding process due to sensitive nature of brittle titanium compounds present in welding scheme thus only possible solution to this problem is use of direct current electrode system for welding and facing of this material. Another aspect for this material is selection of filler material with matching composition of base metal.
Table.No.1 shows the welding parameters of welding titanium.
| | |
| --- | --- |
| Parameters | Values |
| Frequency | 50 Hz |
| Welding Current | 280 Amp |
| Arc Voltage | 26 V |
| Weld Speed | 0.6 m/min |
Table.No.1. Welding Parameters of Titanium.
Difference between the two types of welding can have understanding at this link of Difference between AC and DC welding.
Titanium Welding Process
TIG or GTAW welding process is the best process to do the welding of this material with low heat inside the weld pool so that heat affected zone of material does not remain in the range of 400 centigrade and material can get through brittle range. Another aspect of the samethingisthatgasshieldinghas itsownimportanceinthefieldofprotectionbydifferent oxides from the metallic material so that material degradation is not possible by welding configuration. In conclusion titanium has sound weld by heat input control, filler material and refrain from brittle range.
Figure.No.1 showsTIG welding titanium.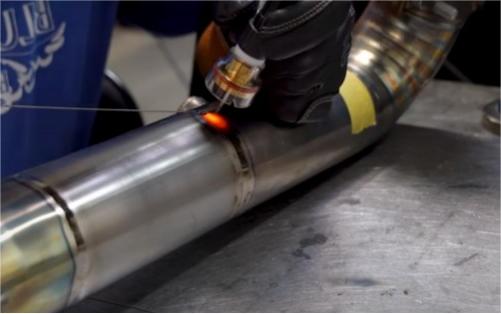 Figure.No.1.TIG Welding Titanium.
Can You MIG Weld Titanium
Titanium welding tips and tricks has application in MIG welding of same material because in this way shielding gasses can protect the bare metal by provision of extra shielding protection, automatic welding process and ass production rate to job. Titanium exhaust is another aspect for MIG welding because in this way health hazardous fumes can goto the isolation in particular space without making damage to welder, helper sensitive jobs / materials and people in vicinity. Off course if laser welding is the option to do all these things then fumes and weld spatters cannot do any harm to people.
Can You TIG Welding Titanium
Yes it is suitable technique for welding of this material because in this way control on the speed of weld and maneuvering can easily do the thing of interest otherwise MIG can do the same but with less control of welder. Spot welding of titanium is also possible by this method because TIG can do welding at one place or even for small length of material otherwise mig welding titanium needs some length of weld for high titanium melting point. In this technique there is no need of titanium exhaust due to less availability of gaseous fumes and hazardous compounds.
Table.No.2 shows the chemical composition of Titanium filler metal.
| | |
| --- | --- |
| Elements | Values |
| C | 0.03 - 0.10 |
| H | 0.020 |
| Fe | 0.008 |
| Ti | 0.20 |
| | Remaining |
Table.No.2. Chemical Composition of Titanium Filler metal. Proper selectionof thesetwoprocesses can have betterunderstandingat this link of MIG vs TIG welding.
Can You Stick Weld Titanium
Stick welding is possible but it is not ideal condition to do the welding of this material because in this way slag compounds are present on the top of weld liquid pool and can go inside of same material. Another problem for this kind of material is that it has application in spot welding titanium but whenever it go with this material then shielding gasses are not present at moment to cover the inclusion of non-metallic inclusion in metals.
Pre Welding Preparation
There are many needs for preparation of this material before welding process because it is very sensitive to brittle range of material with different, which can make it difficult to weld without any pre welding preparation especially in case of laser welding titanium.
Safety First
Safety is the main aspect which have thing to save people working on workplace and can do the right job without any damage of life and resources of titanium job welding. Fumes of welding, which can damage the lungs of welder, should goto titanium exhaust system becauseinfacttheycandamagehumanlifeandpreciousmaterialpresentonthe welding workshop for welding titanium material. Contamination from welding process have great health hazard with air quality index of atmosphere because in this way working atmosphere can have pollution for the employees of workshop and auxiliary process.
Material Preparation
Material should be clean and have no surface oxide or contamination that can cause compound formation of brittle range process because in this way welding titanium jobs can have lot of welding defects and porosity. Chemical cleaning is the best method to make surface of titanium in right direction without formation of brittle range defects and slag presence at top of welding pool and then final pass.
Choosing Right Welding Method
Right method is key to sound weld at end of this process because if welding process has any defect during process and it does not conform to material specification then you cannot conform to qualificationcriteria of weldingtitanium. TIGis the best methodto make this process because in this technique you can select the right filler metal wire, shielding gasses and position to do the same with right strength, quality and passing criteria.
Proper Gas Shielding
Gas shielding can protect the weld metallurgy because it can provide resistance against the intermetallic compounds which can damage the quality of welds. Correct rate for provision of gas shielding is 20 cfh because in this way metal can protect the formation if hazardous oxide of the brittle nature and can do the best for ultimate quality strength of final job inspection.
Figure.No.2 shows porosity in Titanium welding due to lack of shielding gasses.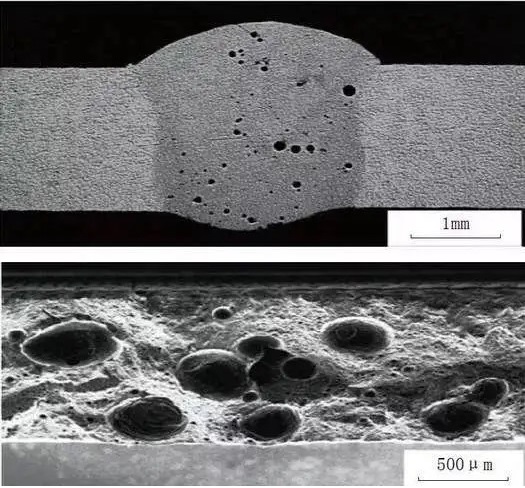 Figure.No.2.Porosity in Titanium Welding Structure.
Selecting the Right Filler Material
Alloy titanium welding is the best option to provide strength and ductility to the material because in this way structure can get correct ultimate tensile and yield strength of material with good percentage of elongation. ERTi-2 is the best filler material for near to pure grade of titanium and it can provide tensile and yield strength near to the mechanical properties of the titanium material with good percentage of elongation.
How to Weld Titanium: 6 Expert Tips
It should have some basic need for welding preparation because in this way this material can get the best possible way of get rid of welding defects, porosity, intermetallic compounds, lack of fusion and lack of penetration.
Tips 1: Reduce Contamination
Contamination can go outside of titanium welding by chemical cleaning, mechanical brushing, hand tool operation and final gas shielding during the complete process, so that ere is no chance of air and hazardous compounds to get in this weld pool. Contamination can also go outside of this material welding by proper selection of gaseous composition and filler material composition during welding process because these aspects can remove chance of formation of brittle compounds.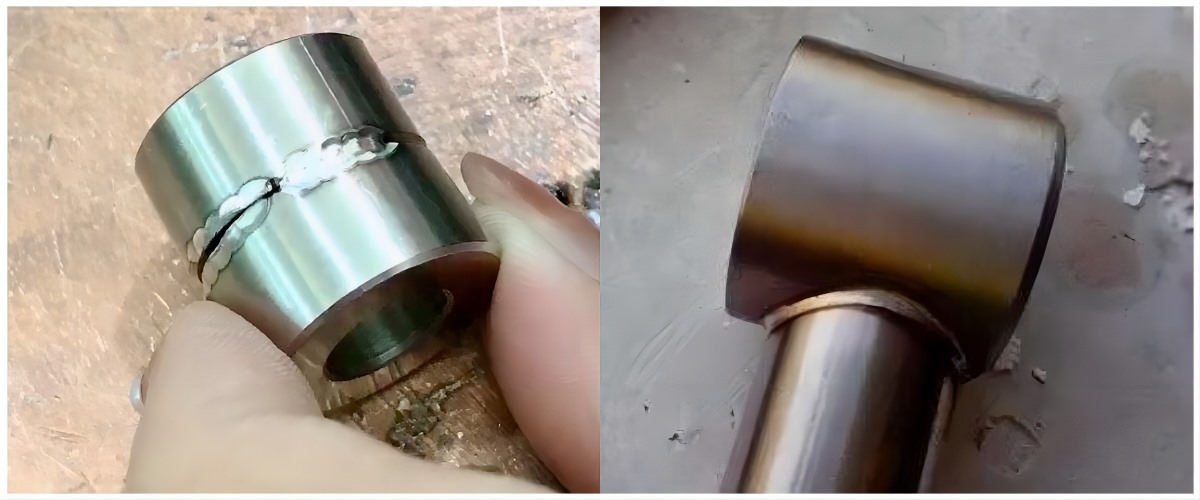 Tips 2: Low Heat Input
Low heat can introduce less chance of formation of intermetallic compounds at heat affected zone of the titanium material and can produce stresses gradient at level of base metal and weld material. Another aspect of this thing is formation of high complex compounds due to presence of high temperature and little oxygen with high affinity of chemical reaction.
Tips 3: Good Gas Coverage
Gas coverage can determine the quality of your titanium welding because it can provide the protection against chemical compounds which have no good relation with quality of weld and its metallurgy. Thus expert who can determine which titanium weld is best is with which gas coverage rate is the one who can provide best results to you without any use of extra treatment on weld after the completion of process.
Tips 4 : TIG with Right Feature
Onlyweldingtechniquecannotdeterminethat whichfeatureisbestfor yourweldbecause there are so many parameters inside that process which have relation with the quality, qualification and fabrication of weld. Thus to be expert in those parameters you have to get information about that parameters and welding technique.
Tips 5: Keep Optimal Heat Setting
Heat setting is the parameter of welding current, voltage and travel speed because in this way you can determine that which heat is going to the weld pool and which one is making danger to your welding quality. Thus heat setting is also need of an expert to qualify welding titanium joint with narrow zone of HAZ and low chance of brittle material of same base material.
Tips 6: Color Scheme of Weld Joint
Color of titanium joint can also tell you that which weld is acceptable for you and which one is not good for quality titanium joint because in this way you have to decide the rejection and acceptance of final pass of weld. Blue color with light yellowish scheme is not good for your titanium weld joint because this is then indication of formation of that compounds which are not going to anywhere with any post weld heat treatment and pickling / passivation.
Figure.No.3 shows bluish color in Titanium welding which can cause its rejection.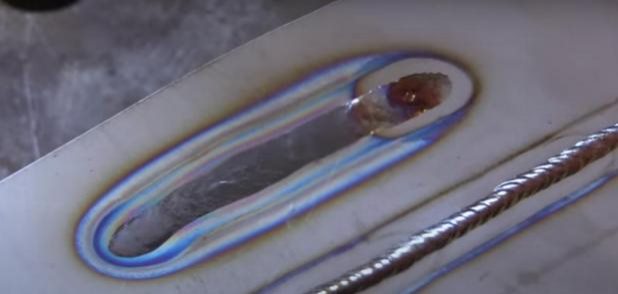 Figure.No.3.Bluish Color in Titanium Welding.
Post Weld Treatment
This treatment is need of titanium weld joint, whenever thickness of base metal is above than 10 mm, because in this there is chance of stress gradient between base metal and weld metal. Thus heating of base metal with weld metal in range of post weld heat treatment can reduce the stress level in joint and can increase the chance of ductile behavior of same base metal in combination of weld metal.
Application Industries of Titanium Welding
Titanium welding industryhaveapplicationin marine, aerospaceandsurgical instruments because in these industries one need to have corrosion resistant material with good surface finish and inert behavior of infinity of chemical compounds.
Why Choose Tuofa for Custom Welding and Machining Services
Professional deal of welding titanium is only possible by use of experience team of welders with welding procedure qualification that is why it is need of titanium industry to choose authentic organization for welding Titanium. Tuofa China is perfect place for this kind of work due to:
1. ISO 9001 Certification.
2. Experienced team of welders.
3. Modern Welding machines.
4. CNC machining facility.
5. Simulation work to calculate stress gradient in welding material.
For instant quotation of titanium welding and quotation, Send part drawings: [email protected]
FAQs about Weld Titanium
Can you Weld Titanium to Steel?
Yes this weld configuration is possible but it can happen only with the use of tantalum interlayer and provision of buffer zone to the titanium material on the side of titanium so that high heat affect comes to titanium material without any damage.
Can you Weld Titanium with Stainless Steel Rod?
Yes this weld is possible but to weld it, filler material of composition having both stainless steel and titanium is need of structure metallurgy because this is the only solution to weld materials of different composition and properties.
Welding Titanium vs Stainless Steel
Titanium is difficult to weld in this case because titanium can have brittle material range of composition metallurgy but on the contrary stainless steel can have weld with any common welding technique and parameters without any use of additional buffer layer.