How to Drill Metal: 15 Ways

Aug 24,2023

How to Drill Metal: 15 Ways. Introduction: Everyassemblyjobneedfasteners, penetrationsandthroughholes forparticularpurpose and this all is possible making by drills in same assembly with particular size. But to complete the drilling job you have to select, process and finish the right tool and bit for completion of job otherwise defective drilling is the final product in your job which can create the rejection in final quality check of job. This article describes complete guide for same process.
Following are the Youtube Links for better understanding of drill metal:
https://www.youtube.com/watch?v=Fu6Mdrp8fy8
and
https://www.youtube.com/watch?v=KHCjxCJDgxk
15 Tips for Drill Through Metal
Why Choose China Tuofa Custom Metal Drill Services
How to Drill Through Metal
It needs Drill press, Bit, Cooling agent, Tools, Clamps and workpiece to make the hole of required size without any thermal or hammering process. CNC machine also offer the same capability to make drill on the workpiece without any further manual drill press, accuracy of CNC machine is also much more than manual process. Because in CNC drill bit operates with special numeric control system and mechanize clamping motor system which can move drill in linear and angular position close to tolerance value. It also depends on material plastic deformation which further relates with aspects of drill into hardened steel.
Which Drill Bit for Metal?
It is common practice that cobalt metal bits are much suitable for metallic material having around five to six percent of Co in hardened steel material, this makes it harder than normal steel material so that it can penetrate the material in right time. Heat dissipation is also less in this way because it makes less consumption of plastic deformation and heat energy, thus process becomes smooth and steady for drill hole in material. It needs another major requirement of high hardness of drill bit material without any brittle property, and Co metal bits are best bit to drill steel.
Click herefor professional approach and get services of drilling.
15 Tips for Drill Through Metal
Drill metal seems to be simple process of just making drill hole in the body but due to material hardness, heat generation, drill bit selection, cutting speed and feed it is tricky for non-professional person having no background of drill metal. Thus some factors of Preparation of metal drill surface, lubrication, metal bit selection and post cleaning operation are the necessary tips for machinist to do metal drill inefficient way, these tips are described in sequence:
Click hereforgetting consultancy of drilling metal services.
Cleaning the Drilling Bench
Workstation cleanliness is always important to any type of work because whenever the job is lying on the bed then are many factors which are governing its surface finish, job alignment and center of punch a hole in metal. Another factor which makes it necessary to do it is rolling mechanism of metallic ships on the surface of drilling bed, because these metallic chip can roll the job on the surface of bed and create safety hazard during drilling process.
Is Metal Drill Bits for Steel?
Bits for drilling metal are available with variety of material because many materials have capability to cut the metallic material i.e. Co drill bits, Black Oxide Drill bits and High strength Steel drill bits with tungsten / diamond addition. But optimum material out of this is cobalt drill bit because it can do the drilling on metal without making heat, wandering on surface, undue plastic deformation and self-damage of bit in half of hole. Black oxide and highstrengthsteelcanalsodo goodjobforsoftermaterialbut incase of high yieldmaterial they halt in drill hole.
Wear Safety Gear
Safety is first in case of any industrial and fabrication process due to its importance which relates to human life, thus drill metal process has also some particular properties which make it resist the work hazard parameters. Those parameters are:
Safety googles
Emergency Stop button setup
Safety gloves
Safety clothes
First aid Kit
Metallic chip Shield
These safety items can ensure the safety of machinist to perform duties without fear of injury, their importance becomes so much prominent in case of variety of job because every job has its own safety risk.
Firmly Clamp the Metal Parts
Clamping is the important aspect of any machining process also because in this sequence there are many parameters which can affect the product quality like:
Tolerance of workpiece
Waviness in job
Wrong cutting or drilling reference
Problem in surface flatness
If clamping of drill metal job is not up to the mark then deviation of it from the design parameter is obvious due to unavailability of surface reference of job. In modern CNC machines or drill metal press there comes special tools to clamp job of different profile with its bed with Ctype clamps.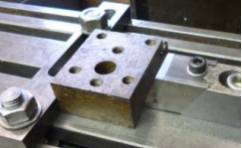 Figure.No.1 shows job clamping during drilling
Start with a Pilot Hole
These holes are necessary for drilling process because drilling on metal can become wandering on surface due to un availability of reference hole on its surface and reference level. Now if pilot holes is present on the surface then already available hole can do its job by make guide of best drill to drill steel with smooth and linear motion withintolerance. These holes also need some types of charts and tables to do thing because one dimension cannot tackle all the jobs with different sizes, material and profile.
How Big Should Pilot Hole be?
This hole can guide bits for drilling metal when it is of optimum size around sixty to seventy percent of its basic dimension of final hole size. Because clear hole can make problem in achieving tolerances and too much tight hole can damage the initial drill into hardened steel by wandering it either left or right around the central axis of drill hole. Therefore it is necessary to make this hole fro already set guides or published industrial standards or codes.
Pilot Hole Size Chart
Size of pilot hole should be optimum to each size of the drill because for each size there exist optimum diameter for which drill can go with particular clearance to avoid wandering on surface, excessive plastic deformation, heat generation and tool damage. Table.No.1 shows proper pilot hole size chart for the drill metal.
| | |
| --- | --- |
| Sheet Material Thickness (mm) | Pilot Hole Diameter (mm) |
| 0.57 to 2.50 | 2.9 |
| 2.51 to 6 | 3.5 |
| 3.51 to 10 | 4.2 |
| 4.76 to 10 | 4.8 |
| 5 to 10 | 6.3 |
Table.No.1 Pilot Hole Diameter for Job.
When Drilling Metal Should I Use Oil?
Heat generation is obvious phenomenon during metal cutting, grinding and drilling operation and it is much necessary to avoid thermal energy during this process because of metal and bit surface damage. Thus in order to reduce this heating effect there exist simple solution and it is application of oil / cutting fluid during the drilling operation which take thermal energy and drain out. These oils are not organic one's because they should have property of heat removal, low viscosity, stable behavior towards metal and undamaging effect in drilling bench.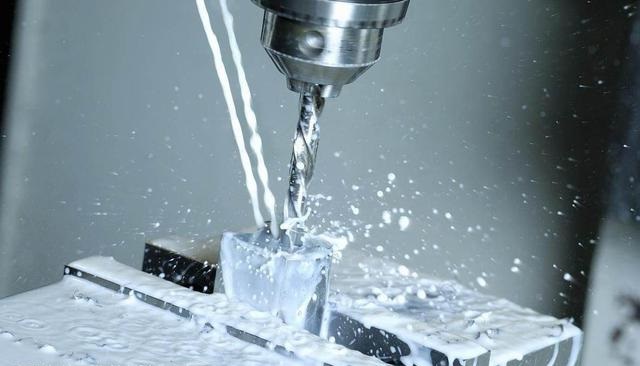 Figure.No.2 shows use of Cutting Fluid during drilling.
Go Slow and Steady
Cutting speed and feed always have relation with quality of cutting or drilling job because plastic deformation rate is particular to surface hardening phenomenon in metals and same have relation with each other. Another factor which makes it more relevant are bit wandering on the surface of the job to counter the bore because fast drilling speed and canwanderthebit ormakeit innon-lineardirection. Toomuchslowspeedcanalsocause excessive heat generation on workpiece therefore it is not the demand of this process for proper quality and finish of job.
Regularly Pause to Cool the Drill Bit
Cutting and drilling heat generation does not have control by application of cutting oil becauseoilcanextract heat fromjobsurfaceuptosomeextent especiallyif youtalk about thick plates with high strength. Thus another option to counter this effect is use of pause during drilling operation because pause can allow the workpiece to come to room temperature without any force convection. Another advantage of pause is that by doing this you can check the status and quality of drilling in job.
Drill through Thick Metal: Peck Drilling
Thick metal drilling is not an easy task due to heat generation, bit wandering, harder material and linear deviation chance. Thus it is need of process that you have to pay special attention to thick metal drilling because if job gets defect then it is obvious that it will be great financial loss because thick metal has greater volume, weight and dimension as compare to thin metal. Peck drilling counter this effect by introduction of intermittent speed and no of steps during the process because this can verify your job for hole and do smooth drilling operation.
Avoid Vibrations
Vibrations can introduce misalignment in job or workpiece by movement in linear or axial direction during drilling process, and can have straightness problem during assembly process. Thus vibration control is much important to save the job after drilling process, otherwise job can have defect in hole center alignment eventhough you punch a hole in metal. Easy methods to do vibration control are proper clamp of job, pilot hole presence, surface finish of job and chip removal from edge of hole. Thus bed should have these propertiestocountereffectsofcenterout, edgeremovalandmisalignment producedfrom vibrations.
Mark the Hole
Marking is an important thing in every field of fabrication and machining because it tells operator and machine to where work and hole are present on drawing. It is also an another method to counter verifythe CNC drilling process because it tells you that manual mark and CNC operation are on one pint for drill through steel. Another advantage is that you can calibrate the other references present on the job surface without making new reference so that counter verification of each machining operation is present and chance of error becomes so much less after process. 12.Use a Depth Stop:
Drill metal needs particular depth of hole which comes from the requirement of drawing and charts available in guidebooks because through hole is not all time requirement in job. Thus depthstopis theuseful tooltosolvethis problem it has topperto make indication that final depth is here to stop the process and make next CNC machining operation on the job because if depth becomes more than the requirement then it will be difficult to achieve the original material state because material once gone cannot comeback.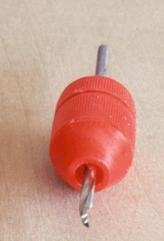 Figure.No.3 shows depth stop on drill bit.
Maintain Bit Sharpness
Drillintohardenedsteelisdifficulttaskthatis whyit isnecessarytohavebitingoodposition because it can create problem in defective position, and can cause jam hole with presence of defective bit in it. That is why it should be the part of SOP or drilling procedure that bit sharpness is up to the mark or not, and another machining process should be present in adjacent to drilling bench for countering of dull bit surface after drill metal job.
Make Sandwich
Wood is good material to provide sandwich of drilling job because it can clamp the job by making sandwich process and provide cushion to job for absorbance of uneven force on its surface. And when bit comes incontact with the jobthenfirst materialis woodthickness which can guide initial hole dimeter and location in softer material with ease and suitable way to guide it further into metallic surface. This sandwich can protect surface of workpiece from foreign particles and metallic intrusion with the provision of change of wood material whenever it needs for fresh drilling operation.
Make Dent
Instead of making pilot holes on the surface of job you can make dent shape impression toguidethebitonworkpiecesothatdrillingoperationis possiblewithout wanderingdefect. It is cheaper and simplest solution for job which cannot have pilot hole due to some limitation or any other reason because of distinct profile.
How to Drill Through Metal with a hand drill?
Hand drill option is viable in case of limited access for workpiece because very job cannot goto drilling bench for CNC operation and drilling by press. Thus it is necessary to use hand drill in this case with portable drill bit, marking tools, measuring tape and deburring tool in the sequence of cleaning the substrate, marking the hole alignment and do the drilling of drawing size.
Pros and Cons of Drill Metal
Job can have other options to make ole on the surface, you can make thermal cutting, hammerorself-tapscrewbutthedecisionhas relationtoprosandconsofdrillmetalwhich are present in Table.No.2.
| | |
| --- | --- |
| Pros | Cons |
| Accurate method to drill | It needs capital cost at start |
| Efficient way to make dimensional tolerances | Training of operator is need |
| Cost effective method | Make noise during operation |
| It is versatile nature of technique | Cannot operate in every profile |
| It is safer to operate | Chips can penetrate vicinity area |
Why Choose China Tuofa Custom Metal Drill Services
Drill metalis ordinary jobfor simple oneortwo drill of routine metalplatebut when it comes question of custom parts or involvement of drawing in metallic job then there is need of certification, training and proper machine calibration for dimension tolerance and job quality. That is why if you need any custom metal drill services thenTuofa China can help and provide quotation within 24 hours after making decision on your engineering drawing requirements. Tuofa china has CNC drilling experience, ISO 9001 certifications and High tech. machines to control the drilling quality and operation during this process.
For more informationclick hereto Contact Tuofa, China.
FAQs about Drill Metal
How to drill through thick Steel?
Thick metal is not an easy task for drill metal because of its thickness and large volume to counter drilling bit, but there are certain techniques to do this process in smooth manner
which are: Making stop during machining, Use of Step Bit, Cool job or workpiece and Use sandwich layers for job.
How to drill a hole in metal without a drill?
There can be job which have limitation togo to drilling bed, therefore it is difficult to move job but you can drill it by use of Thermal Cutting, Nail, Awl, Hammer and Self Tapping Screw drill.
CNC Drilling Feeds and Speeds?
Speed is for tool to cut and feed is distance moves by job, for diameter of under 1/8 inch feed of 0.001 to 0.003 inch per revolution and for up to 1 inch feed of 0.015 inch per revolution is enough. While speed of 80 SFM for carbon steels enough for HSS Drills.
Jigs for Drilling holes in Pipe?
Rectangular tube frame holds the pipe in orientation to make its face towards drilling bit and then position fixation by bolts is the final clamping mechanism so that drilling process can make its way in pipe.