How to Bend Metal Sheet | By Hand and 6 Tips

Jul 05,2023

All engineering design organization, forming institutions and workshops need process of bending for fabrication of job. Because only welding, thermal cutting and machining cannot fulfil the requirement of fabrication technology plan. But to bend the job with right bend sheet metal curve, radius, angle, thickness, metal brake and material one has to gain manufacturing and metallurgical knowledge. Otherwise wrong bending parameters can destroy the physical microstructure and mechanical grain texture of material. Thus learning process for aforementioned topic is essential for metal bending either in development or mass production work.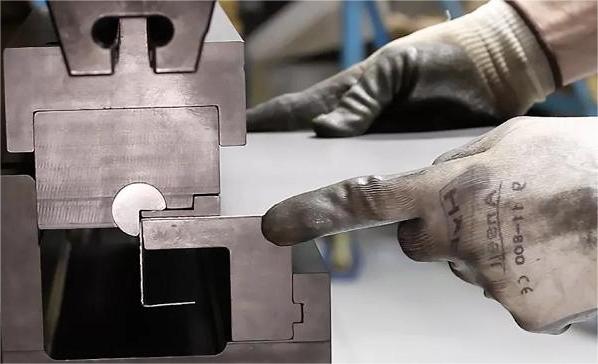 How to Bend Metal Sheet
Metal sheet bending needs Metallic material, Metal brake, Bending tools, Gauges, Vice, Radius Charts, Furnace (for hot bending) and Testing lab for post qualification. In the first process right radius and metal bending / brake machine comes to the sequential procedure for preliminary treatment. Then combination of material and radius decides that either room or high recrystallization temperature is the requirement for this material and process. And material goes to corresponding section with clamping force and ending mechanism to form into final dimension. This complete process needs final qualification of physical and mechanical properties as per construction code and standard.
Tool to Bend Sheet Metal
Tool are the essential requirement of this process, because without proper selection of tool process becomes lengthy and defective. Following are the tools which makes multi radius and thickness bending process into useful product:
Metal Brake
Dies and preforms
Vices
Gauges
Tongs
Job carrying trolleys
Testing Tools
Furnace for heating job
Lubrication gun
Hand carrying trolleys transmits the job from one place to another for performance of bend plate and measurement process. Dies and preforms measures the final radius and angle of job as per technical specification and drawing.
Folding Sheet Metal Techniques Types
Metal bending techniques can have multi-dimensional aspects of bend sheet metal fabrication in different orientations. In each technique different types of metal bending tools have application to bend sheet metal at metal bending tolerances. Description of different techniques are present in Table. No. 1.
| | |
| --- | --- |
| Sheet Metal Techniques | Description |
| V Bending | Plunger of metal brake puts force up to bottom point of V shape cavity. And plunger makes job to touch bottom of v shape cavity extra force |
| Air Bending | Plunger of metal brake puts force up to partial distance of cavity. Job does not touch the bottom of v shape cavity. Thus bending angle is always less than 90 degree |
| Coining | In this technique sheet metal bending calculations suggest to exert about ten times force of v bending and prevent spring back phenomenon. When material goes to plastic deformation range with extra force then addition of strain does not allow spring back action to happen again. Thus metal stays in permanent shape always. |
| Roll bending | Roll bending bend the sheet metal by tertiary points force exertion and form the radius of suitable proportion. Minimum radius is larger than metal brake equipment because three rollers can only maintain minimum radius in limiting position. Hot bending metal is the option for stock thickness sheet of relative equipment capacity. |
| Draw Bending | Drawing makes custom metal bending option for special die to draw sheet in particular pattern. This process involves some extra cost due to machining process. Machining of custom die puts extra cost for each design and profile. |
Table.No.1 Types of Folding Sheet Metal Techniques. Different types of folding metal sheet techniques are present if Figure.No.1,2 and 3.

Figure.No.1 V-Bending.

Figure.No.2. Air Bending.

Figure.No.3. Coining in Bending.
For more information following YouTube videos make concept clear: https://www.youtube.com/watch?v=50DfkV9Y4Dk and https://www.youtube.com/watch?v=1Jsxi-rAcNc
What is used to Bend Metal?
Bending force of plunger is responsible for bend sheet metal with combination of Drawing, Hammer, Metal forming methods and heat. Upon application of plunger / hammer force sheet metal yields to its stress point and deform in plastic region. Sheet metal bending machines holds the job and facilitates the complete process in this regard. Bend sheet metal fabrication workshop has these all metal working processes under the one roof because sometimes output of one process becomes input of second one on urgent basis.
Industrial Sheet Metal Bender
Industrial metal bending application involves those applications which have large dimensions and mass productions for particular brand or product. Thus metal bending industry requires that job which needs bending operations on regular basis and can perform metal bending service of stock thickness without defects. Custom metal brakes are very common for performance of industrial jobs in varying dimensions and mass. These machines are available in engineering market and provide custom solutions of bend sheet metal for common metal bending angles.
How to Curve Sheet Metal By Hand?
Bend sheet metal is not always the involvement of metal bending considerations with heavy equipment and tools for plastic deformations. This job has application to do it by manual hand practice at lower force by taking mechanical advantage. In this process one can hold hob on vice and follow metal bending guidelines for achievement of bend sheet metal radius. Material selection is base for this metal bending considerations.
What thickness of Sheet Metal can be bent by Hand?
Optimum thickness criteria to curve sheet metal by hand is between one to two millimeter thicknesses with the help of vice on plain carbon steel material. But sheet metal bending tips says that this topic depends on the material texture, grain, strength and class. Because every materials does not follow the stress strain curve in one elastic modulus direction for plastic deformation and bend sheet metal radius. Therefore thickness for bending does not have any importance unless material texture and class is not available. But this process cannot give precision metal bending results due manual manipulation in the process.
Sheet Metal Bend Allowance
Sheet metal bend allowance depends on following factors for near radius and tolerance in curve path,
Bend Angle.
Bend Radius.
Constant K value
Thickness of plate
Formula for this phenomenon is as,
Bending allowance = A (Pi/180) (R+KT)
Where A= Bending angle in degrees.
R= Bend radius in m.
K= Constant value.
T= Thickness.
So bending allowance have extraction from the theoretical calculation but actual value comes from experience and formula calculation. Because there exists some random error in the formula calculation always which can affect the actual scenario of bend sheet metal.
Sheet Metal Bend Radius Chart
Either it is incremental bending which takes flat plate to the curve path or it is full coining, both needs metal bending guidelines. Therefore standard charts are available to do this job. Basic theme for making these charts is present in Table.No.2.
Material. Minimum Bend Radius.

Steel.

4t

Bronze.

4t

Aluminum.

6t

Bronze.

4t

Stainless Steel.

6t

Titanium.

3t

Magnesium.

13t
Table.No.2.Sheet Metal Bend Radius Chart.
"t" describes thickness of object in Table.No.2. From Table.No.2 it is prominent that minimum bend sheet metal radius for any metallic job is approximately three times of its thickness, otherwise metallurgical defect will cause rupture in it. While carbon steel is very common material for bend sheet metal workshop and it is clear from Table.No.2 that minimum bend radius is more than four times of its thickness.
Example: For example one has 5 mm carbon steel plate for bending at an angle of less than ninety degree without making rupture of it. Then minimum bend radius for same plate is 20 mm, but this radius value is not absolute one. Because lot of other factors depends upon random conditions also. Grain size and heat treatment condition dictates this value in random manner.
Bend Metal Back into Shape
Major problem exists in the process of bend sheet metal industry is that due to partial plastic deformation material comes back into little original state with permanent set. Sometimes in strong material this effect leads to violate the metal bending safety rules. Thus coining allowance addition is necessary or bending metal sheet at appropriate radius. Sheet metal bending tips are available in literature to counter this effect in dimension and incremental bending steps. Heat ending is another option to counter this effect because heating soften the material and helps it to deform permanently at lower force.
What is the Best Way to Bend Sheet Metal?
Best method is to calculate the bending allowance, add safety margins, go to appropriate V bending or Roll bending machine and bend the material at room or high temperature. It is always need of this process that sheet metal does not disturb its grain texture, because bending becomes useless in this way. If it gets failure in its microstructure. Thus another best way to bend sheet metal is qualification of prototype sheet with same parameters, bend radius, allowance and material.
What is the Easiest Way to Bend Metal?
Easiest way to bend sheet metal is with metal brake, at maximum bend radius, minimum thickness and small application of heat (if needs). In this way it can goto final shape without making problems of procedure. But easy way is not always priority for bend sheet metal industry. Microstructure and metallurgical qualification makes bending process difficult in way that requires mechanical bending steps. In each step qualification criteria meets with procedure guidelines. Thus easy bending process can do work only in ordinary bend sheet metal procedure.
How to Bend Sheet Metal without a Brake?
Bend sheet metal without metal brake is easy, quick and common technique for ordinary and non-coded practice of engineering workshop. One can do it with some necessary tools and training. Even some instructional videos can help to do this job in technical way. Some major tools should be available for doing this job, which are:
Vise
Radius Profile (may be of wood)
Hammer or striking plunger
Die (if needs)
Heating Torch
Angle gauge
Otherwise roll bending and tube bending are also option to do the sheet metal bending without using metal brake and accessories.
6 Key Tips of Bend Metal Sheet
Tips to bend metal sheet are having proper metal bending tools, radius profile, sheet metal bending tips and angle gauge. 6 key tips are as follow:
Calculate Bend Allowance
Always calculate metal bending allowance with the addition of proper practical deviation margin before start of process.
Mark Lines on Job
Mark the bending line on job so that pattern formation is visible during bending process.
Place Radius profile beneath Job
Always place radius profile beneath job to allow bending radius formation with foundation support on vice.
Take care of Surface
Surface of bending job should be under observation so that any crack formation becomes visible at early stage.
Apply Heating Torch
Apply heating torch if necessary to make bending process easy. Heating makes material softer so that further processing can take place.
Measure with Angle Gauge
Always measure with angle gauge to find out that either material bend is on final radius or it requires more bending.
Why Choose Tuofoa for Custom Metal Bending Parts
Metal bending cannot be easy job if it comes to some custom and standard code job. For example if one needs custom metal bending with certification and material qualification as per ASME,ASTM or GB then this job does not have scope in common workshop. It needs some engineering manufacturing company which have ISO and material certification for custom bending jobs. Here comes Tuofoa for precision metal bending. Because Tuofa has ISO and material certification for bending and CNC machining. Tuofa can convert your technical drawing in final bending product with expertise.
For more information please visit tuofa-cncmachining.com
FAQs about Metal Sheet Bending
Is Bending Metal a Physical Change?
It is physical change because no new chemical compounds are making part in this process with the addition of carbides. But in case of austenitic stainless steel some martensitic structural changes can happen by bending process which can go to its original shape with solution treatment process in quenching and tempering furnace.
How to Bend Steel Plate?
It is very common practice by clamping job on metal brake or vice, apply plunger force on it, put lubrication on cavity, measure the angular profile, apply some heat and qualify the material for bending radius. Always remember to qualify prototype job before actual material bending.
How to Bend 14 Gauge Sheet Metal?
Bending 14 gauge sheet metal has relation with its profile and material texture. Because if it consists of simple plain carbon steel for maximum bend radius then manual bending can be the option on vice with some application of heat and hammer.