AC vs DC Welding: What is the Difference Between?

Aug 01,2023

AC vs DC Welding: What is the Difference Between? Introduction: Welding is structure fabrication technique for joining of metals by fusing them, mixing liquid metal, make solid and stress relieving with compatible strength of base metals and heat affected zones. There can be two polarities for it, one is electron flowing from fixed high potential electrode or base metal to counterpart (DC Welding) and second one is that in which polarity keeps on changing (AC welding). Both process have application with respect to metallurgical and materials engineering. That is why it is important to understand each of them in detail and depth.
For more information please see following youtube videos,
Article Contents
What is Difference Between AC and AC Welding
Which is Better AC or DC Welding
Pros and Cons of AC vs DC Welding
How to Choose in Machining and Welding Projects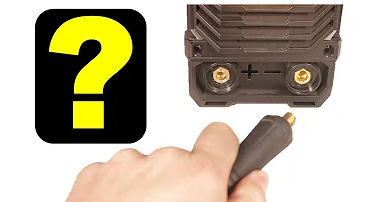 What is DC Welding
In this process either electrode or base metal electric polarity is fixed with respect to their counterpart potential so that current, heat, arc and penetration flows in fixed direction. There can be two types of it,
1. One is called Direct Current electrode Positive (DCEP), in which current, heat and arc flows from welding job to welding electrode holder for uni-directional circuit current.
2. Second one is Direct Current Electrode Negative, in which electron, heat and arc flows from welding electrode holder toward job for uni-directional circuit current.
Figure.No.1 shows schematic of this process.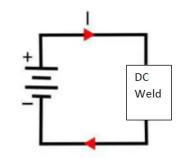 Figure.No.1.Schematic of DC Welding.
What is AC Welding
In this process electric polarity keeps on changing between two terminals having same configuration as of main country power source, that is why it does not use any type of polarity convertor in its equipment. It can have arc blowing with uncontrolled direction but the same configuration can be used for joining of certain oxide making metals for their defect free joint. Because static calm arc (of DC) cannot chip out the defective oxide as much of alternative arc (like of AC), that is why it is particular and exclusive for aluminum welding. Figure.No.2 shows schematic of this process.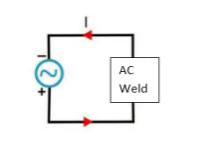 Figure.No.2. Schematic of AC Welding.
What is Difference Between AC and AC Welding
Both process have difference for Oxide chipping, Arc stability, Heat penetration and Spatter dispersion. Thus base metal and filler material decides that which technique is well suited for structure construction process because each process has certain advantages and disadvantages which make it particular for one technique. Of course both process can join metals but optimum results are always present in one technique for defect free, sound and good quality weldment. One factor cannot decide that which technique is good for joint but Structure Design, Base metal, Filler material and Metallurgical structure can dictate about good selection of polarity.
Comparison Between ac and dc welding pdf
Technical comparison between both processes have description for Heat Input, Arc stability, Power consumption, Weld quality, Appearance and efficiency. Table.No.1 describes key difference between both processes,
| | |
| --- | --- |
| AC Welding | DC Welding |
| Heat cannot go straight in base metal | Heat can concentrate and go inside base metal |
| Arc is not stable | Arc is stable to do job |
| Power consumption is low about thirty to forty percent | Power consumption is high aboutsixty to seventy percent |
| Weld quality is full of patter in mostof cases except aluminum | Weld quality is good |
| Appearance is rough | Good looking appearance |
| Electrode are particular for this | Mostly electrodes are used for this one |
| All materials cannot undergo through this process | Almost all material have good suitability with this technique |
Table.No.1 Difference between AC and DC Welding.
Figure.No.3 shows lot of spatter in AC welding.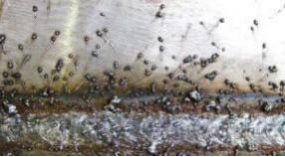 Figure.No.3 Spatter in AC welding.
AC Stick Welding vs DC
For this welding technique AC has historic significance due to less availability of polarity convertor with equipment. However now DC has most suitability with this technique, reason is that it has arc stability, heat penetration, less spatter and good efficiency. Off curse it is requirement of welder that either heat concentrate on base metal or filler metal but AC cannot achieve this due to on and off presence of heat concentration on different elements. Another thing is that this joining process does not bear flux heating / melting fluctuation with current polarity, hence DC is most suitable for it.
Aluminum Stick Welding AC or DC
DC is recommended for this process and material due to problems associated with stick flux and manual control. AC can goto sever wrong weld quality and in this way oxide chipping advantage becomes less beneficial as compare to other unstable welding results. Thus to address the question of is stick welding AC or DC in this case has much importance regarding price, accessibility, electric power availability and welder expertise.
TIG Welding Aluminum AC or DC
For this process AC is suitable process because oxide layer is present on surface which can only go to outside surface of puddle by changing current polarity. Thus AC can do this in right way and due to fine process of TIG there is no chance of other welding defects, which can produce defects in final process. This is most suitable option for nonferrous industry and can produce relevant stable puddle layer without impure oxidation traces. Thus question to address AC vs DC Tig welding has potential for thinking and feasibility reporting during premature meeting at welding engineering design stage.
DC TIG
DC can also do it but it cannot produce quality results due to presence of aluminum oxide and other bad constituents, thus welder has to move to AC option in this case. In final result, DC TIG welding aluminum is not good quality option for delicate and critical structure with surface and nondestructive testing requirements.
AC TIG
AC is most suitable process for provision of oxide free weldment material at joint of two base metals of aluminum and can easily produce foundation for next intermittent layer of weld.
AC vs DC Arc Welding
This process produce resistance arc to generate heat and then melt the subsequent solid metal and join it in weldment form, thus current polarity has importance for it. AC can provide surface chipping but arc stability, heat penetration, spatter presence and efficacy is problem for it. DC can overcome all these problems with stable and high energy arc for joining material.
AC vs DC MIG Welding
This process has arc production between electrode and base metal therefore if AC has application then consumable electrode have disturbance for melting and arc polarity change at one time. Thus DC is suitable for this process so that heat generation is always towards electrode and it goes directly to pool after melting. Concept of AC vs DC welding for this case is present in consumable wire stability and its working because if it has disturbance during melting then it cannot give good result.
AC vs DC Flux Core Welding
In this process electrode in welding gun should beat positive polarity (DCEP) because it should have non-current facing side toward job or weld base metal, otherwise it can get disturbance in it. Flux is present at circumference periphery of wire, therefore it is essential that polarity should not meet flux and consumable wire toward welding gun. Shielding gasses are present in vicinity to avoid inclusion from outside atmosphere or within system.
Which is Better AC or DC Welding
AC vs DC welding in every aspect has very deep content and solution to this answer is present in Weld Design, Joint compatibility, Material Composition, Metallurgical behavior, Weld Parameters and off course joint accessibility. AC is not suitable for most of cases due to its problems associated with arc stability, heat penetration, spatter production and power efficiency. On the other side DC can easily do joining with different techniques, parameters, machines, consumables and fixtures. Thus overall direct current (DC) process can easily solve metallurgical and weld examination problems with special techniques and equipments.
AC or DC Welding for Metal
Metallic materials always need melting temperature to fuse and then solidify in particular pattern with production of heat affected zone and oxide layer in it. Thus it is obvious that problems are present with respect to same parameters i.e. oxide layer, heat affected zone and microstructure of material. Now AC can only do best process for aluminum case because it has fortunately one advantage over DC that it can go without production of aluminum oxide layer in weld bead and heat affected zone which in final examination can do problem for microstructure. But DC can do good joining of almost all metallic material with perfect results of nondestructive and destructive examination i.e. PT, UT, RT and Microstructure testing.
AC or DC for Aluminum TIG Welding?
DC polarity for this kind of joining process cannot chip out oxide layer and imprint pure aluminum metal in molten form because arc and moving electrons always have unidirectional in it. Thus only AC can remove stability of this oxide so that it cannot remain in permanent position and mix with slag for venting out in final chipping process of welding. Therefore if AC vs DC Tig welding is aspect on discussion table of weld design then AC process have more sound results and quality of final joint.
7018 Welding Rod AC vs DC
This consumable is best material for carbon steel structural components in stick welding process and it can weld in almost every direction so that ultimate strength of weldment can go near about 70,000 Psi. But its flux has chemistry design of that nature that it can produce smooth arc with stability factor, thus reverse polarity cannot damage its welding process with arc direction related changes. Another factor make it suitable with any current polarity is that it has low hydrogen property in flux with less strength, therefore AC or DC process cannot disturb its good quality joint production.
6011 Welding Rod AC or DC
It is low strength carbon steel structural consumable with different chemistry of flux, thus it has low voltage requirement during arc production so that particular value of electric resistance in air arc can fuse metallic material. And this low voltage requirement can producestable and feasible arc during alternate current polarity but on other hand expert welder can do Dc process with same consumable material at particular parameters of welding.
Pros and Cons of AC vs DC Welding
Pros and Cons of AC vs DC welding can have description with respect to their parameters, appearance, penetration, material and off course equipment cost. Table.No.2 describes these pros and cons,
Pros and Cons

AC Welding

DC Welding

Pros

Oxide layer removal from non-ferrous metal

Good Filler metal deposition

It has simple equipment to purchase

Almost good compatibility with any material

Does not require current polarity convertor

Good Arc stability

Cons

It has high spatter rate on surface of weldment

Equipment cost is high

Arc stability is worse

Cannot solve problem of oxide layer in non-ferrous metals

Can weld ferrous metal in stick welding process only

It can have drop in voltage due lengthy leads
Table.No.2. Pros and Cons of AC vs DC welding
Advantages and Disadvantages of DC
This process has many advantages which make it suitable for perfect joining process and feasible for weld accessibility, penetration, material properties and arc stability.
DC Advantages
Following are main points which can reflect that its performance is up to mark:
1. Mostly feasible consumable material has good relation with base metal microstructure and final quality.
2. Uniform distribution of fusion heat.
3. Arc stays at one point.
4. Less spatter on surface.
DC Disadvantages
It has certain problems which can reduce its performance during fusion stage:
1. Equipments cost of many additional components is high. 2. Arc has concentration for severity and difficult to control. 3. Arc can deviate path due to magnetism and HP curve.
4. Can take more electric wattage for power consumption.
What is DC Welding used for?
This process have several applications in joining metal project because it can handle almost all materials, can use GTAW, GMAW, SMAW, can provide optimum results with variety of equipments and provide good result with pass criteria of nondestructive examination. Thus this technique have no substitute for high value result in metallic material joining or fusion process. Almost all metallic grades and non-magnetized metals have good parameters to work with this technique.
Advantages and Disadvantages of AC
This process have application of particular nature because all materials does not give good results when make interaction with this type of technique.
AC Advantages
1. It cannot develop voltage drop even though job is remote and need long welding cables.
2. It can join aluminum without having content of aluminum oxide and cannot introduce nonmetallic intrusion in weldment.
3. Equipment becomes less expensive after using this instrument because it does not need converter from reverse polarity to straight direct current.
AC Disadvantages
1. Arc cannot stay stable because it goes wither from or to consumable material without reasonable time stay.
2. Good strength joint does not have application with it because it cannot fuse inside of material.
3. Surface spatter can cause stress concentration when this technique is in work.
What is AC Welding Used for?
It can go for process when job is far away from base foundation because in this case equipment cannot reach the joint, therefore only available option is togo with this process so that voltage drop does not occur. Magnetic material cannot get disturbance due its nature of melting, thus it has good application in it. Oxide layer removal feature makes it best technique for DC Tig Welding Aluminum joint fusion and pass criteria of nondestructive examination.
How to Choose in Machining and Welding Projects
Both materials have common application in standard and custom projects, thus material composition, parameters, metallurgical criteria, tolerances and fabrication technology should have relation with Machining and Welding process. Aluminum need one technique for welding as compare to stainless steel and then compatible with low feed of machining in contrast to stainless steel. Thus for good quality machining and welding process, need of expert opinion can value a lot in better operation of weld joining and machining / cutting operation. Tuofa CNC (with ISO 9001 certification and expert team) can suggest the right joining and machining / cutting process for both.
For more information please visit www.toufa-cncmachining.com.
FAQs about AC or DC Welding
When to use AC or DC Welding?
AC vs DC welding have relation with joining process material, parameter, strength, nondestructive examination criteria and nonmetallic inclusion. But in general sense AC have application in remote jobs with need of oxide layer segregation in contrast of DC which have application in almost major structural materials without any fear of arc disturbance, spatter, less penetration and low deposition rate.
Why is AC used for Welding Aluminum?
AC is good technique for it because in this process current polarity alternation can make segregation of aluminum oxide on top of molten layer which can become part of slag at end. While in DC technique same is not possible due to uni directional flow of current and oxide can get chance of making cold bond in material.
Do you TIG Weld Stainless Steel on AC or DC?
DC process have good compatibility for it because it can provide stable arc, good penetration, high penetration, material compatibility and clearance of non-destructive examination. But in case of tub sheet to tube joint low penetration and reasonable current is requirement, thus AC mixed with DC has good option for it.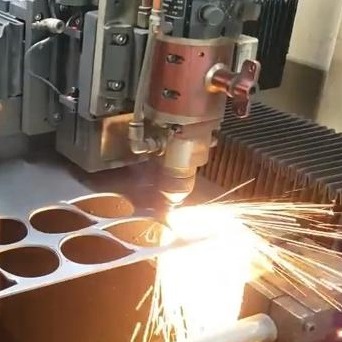 How to Cut Stainless Steel: Metal Cutting Guide
Stainless steel is renowned for its extraordinary corrosion resistance and durability and is widely used material in the industrial world. However, due to its hardness and specific properties it is difficult to cut through stainless steel. There are vario

Aug 04,2023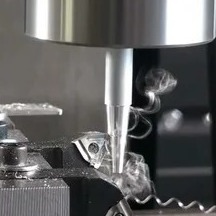 How to Cut Aluminum | 5 Cutting Ways
Cutting technique selection is dependent on the type of material because methods are different for thin and thick sections. Normally, thick materials are difficult to cut and could be costly as compared to cutting aluminum. Aluminum has good machinability

Aug 08,2023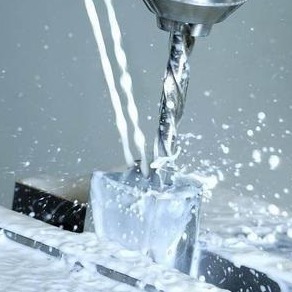 How to Drill Metal: 15 Ways
How to Drill Metal: 15 Ways. Introduction: Everyassemblyjobneedfasteners, penetrationsandthroughholes forparticularpurpose and this all is possible making by drills in same assembly with particular size. But to complete the drilling job you have to select

Aug 24,2023